CNers have asked about a donation box for Cloudy Nights over the years, so here you go. Donation is not required by any means, so please enjoy your stay.


0
TMB Supermonocentric: 6mm 1st Run vs. 6mm 2nd/3rd Run
Discuss this article in our forums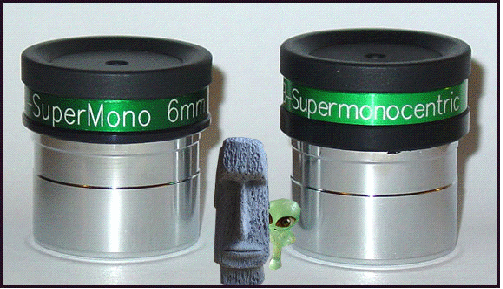 As many are aware, the TMB Supermonocentric eyepieces had multiple runs by the factory. The 1st run eyepieces were not parafocal, while the subsequent runs were parafocal; and blackening and baffling were also improved in the later run models.
Back in January or 2009 I had the opportunity to compare a 6mm 1st run model pictured on the left (courtesy of CN member SteveC) to a later 2nd / 3rd run 6mm pictured on the right (I did post this back then as a CN thread, but wanted it to be more accessible as an article as I continue to get questions regarding the different runs). I am not sure if my later run eyepiece was from the 2nd run or the 3rd run, and I am not sure if there is a way to determine the 2nd run from the 3rd run units. The obvious difference that is unique to the 1st run units is that the lettering on their housing says "TMB-SuperMono," whereas on the later runs this is fully spelled out as "TMB-Supermonocentric."
I was curious, other than the obvious parafocal improvement of the later runs, if these two eyepieces would show any optical performance differences in the field. My assumption was that they would not given that I am not aware of any marketing related to the later runs being improved optically in any way. To test these two eyepieces, I used my Orion XT10 Dobsonian, which is a 10-inch f/4.7 Newtonian with a 1200mm focal length. These 6mm eyepieces therefore produce 200x magnification with an exit pupil of approximately 1.3mm. I chose a variety of bright targets as I felt these bolder targets would more readily show differences: Saturn, Venus, Rigel, Sirius, M42, Trapezium, etc. The results I observed were as follows:
| | | | |
| --- | --- | --- | --- |
| Item | Category | 1st Run | 2nd / 3rd Run |
| 1 | Saturn - polar shading & colors | >> Preferred << | -- |
| 2 | Saturn - definition of cloud bands | >> Preferred << | -- |
| 3 | Saturn – brightness | Tie | Tie |
| 4 | Saturn - starkness of edge-on rings | Tie | Tie |
| 5 | Saturn - overall color/tint differences | Tie | Tie |
| 6 | M42 - definition / mottled structure | >> Preferred << | -- |
| 7 | M1 / M42 - brightness | Tie | Tie |
| 8 | Prominence of Trapezium-F | Tie | Tie |
| 9 | Prominence Rigel's companion | Tie | Tie |
| 10 | Ghosting/Flare | Tie (none) | Tie (none) |
| 11 | Glow from Outside Field Stop | Tie (none) | Tie (none) |
| 12 | FOV Brightening Near Field Stop | -- | >> Preferred << |
| 13 | Scatter | -- | >> Preferred << |
| 14 | AFOV Size | -- | >> Preferred << |
| 15 | Focus Snap | Tie (excellent) | Tie (excellent) |
| 16 | Inside Barrel Light Control Features | -- | >> Preferred << |
The vast majority of the differences observed between these two eyepieces were very close and required careful scrutiny. While differences were definitely observed, because they were so close I would say that these differences could be caused as much by manufacturing tolerances from eyepiece to eyepiece, as from any differences due to the differing factory runs. So for most of these differences I would expect them to coalesce to being judged equal if more samples were evaluated.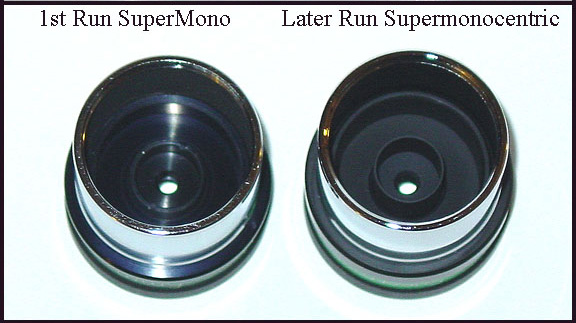 However, there were three items (#6, #12, and #14) which were prominent enough that I feel these may indeed be a general difference between the various factory runs.
Item #6 -- definition of the mottled structure of the nebula in M42 was an obvious difference during my observations. While both runs showed good definition, when compared the 2nd/3rd run unit showed the mottled structure as more washed out, milky and subdued, compared to the 1st run unit which showed a much greater range of register from dark to bright in the nebula structure. This was noticed consistently over several evenings and mornings of observations.
Item #12 -- brightening of the field of view near the field stop (when a very bright object was placed just outside the field stop) consistently occurred and only occurred in the 1st run eyepiece. When Sirius, Rigel, or Venus was placed just outside the field stop, the background of the field of view, perhaps 10% from the field stop, became slightly lighter in appearance than the central region. This was consistently repeatable with the 1st run unit and I could never make it occur in the later run unit. Examining the better level of barrel blackening in the later run unit (as seen in the photo), it can be seen that the later run unit had no shiny black surfaces for light to reflect from and had the addition of a long cylinder baffle extending up from the field lens. These improvements may possibly be a reason for the better extraneous light control observed in the later run unit.
Item #14 -- the AFOV size in the later run unit was easily apparent to be slightly larger than the AFOV in the 1st run unit. In fact, given how difficult it was to tell the eyepieces apart in the dark from their feel, it became quite easy knowing which was in use as the perception of a slightly growing or shrinking AFOV when switches were made was obvious. I do not feel the difference is significant, probably only one or two degrees, but this was certainly enough to easily see when switching between the two eyepieces.
Overall, it was interesting to be able to compare these two eyepieces and I felt both performed excellently and fairly equally on their primary audience, planetary. For both units, Saturn was etched against a very black backdrop. The top of the rings were lit very brightly while the underside of the rings appeared as a starkly black line. At the very edge of the rings the location of the Cassini Division was easily seen, and overall the planet showed a very three-dimensional character. Finally, cloud bands in the atmosphere were easily seen stretching across the orb, and subtle shades of blue-grey stood out nicely in the opposing hemisphere.
While the apparent performance difference in showing mottled structure of the nebula in M42 between these two eyepieces was unexpected, I personally found this of little consequence as I prefer wider field designs for observing extended nebula and other similar deep space objects. In the end, both the 1st run and the later run of the TMB Supermonocentric eyepieces performed outstandingly showing at best only minor differences between them. Both fine examples of some of the highest levels of performance that can be achieved.
~ ~ ~
All graphics and images by the author. For a PDF version of this review email wapaolini@hotmail.com.
Article: TMB Supermonocentric: 6mm 1st Run vs. 6mm 2nd/3rd Run