CNers have asked about a donation box for Cloudy Nights over the years, so here you go. Donation is not required by any means, so please enjoy your stay.


0
iOptron Smartstar Cube 80mm Refractor Review
Discuss this article in our forums
iOptron Smartstar Cube 80mm Refractor
by Max Byerly
I just want to start out by saying that I am not affiliated with any of the companies and dealers that will be mentioned in this review.
I was in the market for a quick grab and go telescope that you can observe wide field open clusters, nebulae, the moon and the planets with some details. Also one that you can easily assemble if your skies suddenly clears up. After doing quite a bit of research on the internet, I found some Celestrons that were under $500, some Meade's that were under $500 and some iOptrons which were also priced under $500. I had to decide refractor or Maksutov-Cassegrain because these were the two primary optical design choices you could choose from at this price point. I narrowed it down to the Meade ETX-80 and the iOptron Smartstar 80mm Refractor. Some things attracted me to the Smartstar E from iOptron, like the Vixen style dovetail. You could attach any telescope that is under 10 pounds on this Cube mount. Also, the focuser on the iOptron refractor has 6 inches of travel behind the OTA. Perfect for most cameras, and eyepieces. The ETX-80 you move the whole front objective to focus. The ETX-80 has a built in barlow that is probably made of cheap plastic lenses, so I steered clear of these things.
UNBOXING:
Unpacking the scope, that was ordered from iOptron, It comes in one fairly large box. One box instead the large box contains the tripod, one for the Cube mount and one for the refractor OTA. Together, they all fit perfect and all were packed with nice styrofoam around everything to insure safety upon delivery. Very well packed iOptron!! Pulling everything out you get the Cube, tripod, OTA, 25mm and 10mm eyepieces, a 45 erecting prism, hand controller with cable, and a AC to DV power converter.
FIRST LOOK:
First of all, I was VERY impressed with the first look of the Cube mount. It a solid piece of aluminum. It has plastic covers on each side, one for the control panel, and one for the battery compartment. But other than that, the whole mount is pretty much a aluminum body. It was about 2-3 pounds raw, which is perfect. The tripod is the weak point of the telescope. It only has 1-inch stainless steel legs, which is fine, but its hard to focus at any power which that much vibration. The tripod only stands around 40 inches tall. Even with a telescope on it, its still a little too short for the average height person. The OTA is made of I believe aluminum. It could be plastic, but it gets a lot colder than plastic when your out at night, so it could be aluminum. The 1.25" rack and pinion focuser is made of plastic and the focuser has some flop in it. These are not big problems. The main 80mm objective is nicely multi-coated. I was impressed with the overall build quality and materials they used on this baseline telescope.
HAND CONTROLLER:
The hand controller on this Cube is the lowest database for objects, with over 5000. This hand controller is pretty much made for this model and the GPS model of the Smartstar Cube. If you upgrade one more to the Cube Pro, you get a hand control with over 100,000 objects. But, with this 80mm refractor, you'll never see the 5000 objects anyway. The hand controller does have the largest display of all the hand controllers out there. These can tell time, date, Azimuth, Altitude, RA, Dec, GPS status, speed of the hand control, and the object selected all on the same screen at the same time. Navigating through the menus in this hand controller are sometimes confusing. Stars are by numbers, not in alphabetical order, and some other little quirks that could be updated.
ALIGNMENT ROUTINES:
Alignment with this telescope can be confusing for some, especially those who have Meade and Celestron scopes were they want you to face the telescope north and level. This one is exactly opposite, south and straight up. You face the mount, using the little indicator to south, and then point the OTA straight up at zenith. You also have to make sure you level the tripod. The more time you spend getting the scope south, level and pointing zenith, the more accurate on GoTo pointing and accuracy you will get out of it. For just rough looking at the Sun during the day or quick observations of something, you don't need to break yourself getting it perfect. Even for general observing, you don't need to get it perfect. The things I do like about the alignment routines, you can align on any planet, the Sun or the moon. For daytime observations, you can use the run and will automatically engage in Solar tracking rate. Other than the Solar System align, there is the standard 2-star and 1-star alignment methods which work the same way, just under the starry night.
OPTICAL PERFORMANCE:
The first night I went out, I carefully leveled the scope, pointed the mount south and up at the zenith and performs a standard two star align. The refractor delivers nice and sharp images of stars and deep sky objects. After alignment, all objects were in the field of view of my 32mm eyepiece. And they were well in the field of the eyepiece. I few weeks later I tried to observe a Io shadow transit on Jupiter, with a 6.7mm Explore Scientific eyepiece, which would make Jupiter about the size of a dime in the scope, and I was able to detect it. The seeing was not good that evening, even for a scope that size. But, it is a scope that does very well on wide field open clusters, nebulae, some wide double stars, and it does well surprising on the moon and planets. It is a achromatic refractor, so it will have the bluish halo around bright objects like the Moon, Jupiter and Venus, but that doesn't affect the clarity of the image. That is the greatest thing about this, even with an eyepiece that gives this telescope around 15 power, stars to the very edge are still nice focused images. The clarity of the image really is nice.
GOTO AND TRACKING ACCURACIES:
Like I said earlier in this review, the more time you spend getting it level and facing South, the more and more accurate your going to get it. Its also important to pick two stars on opposite sides of the sky. One on the western half, and one on the eastern half. This help a lot for accuracy. One alignment is completed, this little scope puts objects almost always in the eyepiece. Even after hours of using the scope, the accuracy still stays and still can locate targets. Tracking accuracy on this mount is surprising excellent. I located Pleiades after alignment one night and M45 was only 10 degrees above the horizon. I went about doing something with my other scope and came back over three hours later to find the Pleiades still perfectly centered in the eyepiece. Zero tracking drift in any direction. And I found even in the zenith, it tracks flawlessly. I think in EQ mode, this could deliver some nice images.
If you purchase the 8401 hand controller from iOptron as a upgrade, it will give you a larger database, but also the ability of using it in EQ mode. I tried this in EQ mode and I have to say if you get a good alignment, it tracked M42 dead center in the eyepiece for over an hour and it was still centered perfectly. I think this could be a good astrophotography scope if I can hook up my camera when I get a chance. Some pictures at the bottom show the scope set up in EQ mode.
COMPATIBILITY:
All iOptron Cube mounts can be used with just about any OTA. This particular cube series can take up to 12 pounds of the OTA. It's rated 7-12 pounds. I'd probably try to stay around the 7 pound range. So, this particular Cube can house scopes up to 90mm refractors, 127mm Maksutov-Cassegrain, and reflectors up to around 5".
Also, if you purchase something the Orion L-Bracket that has the dovetail on it and can attach anything with a 1/4-20 bolt on it. So, therefore, you can use the Coronado PST, or attach your DSLR cameras.
VERSIONS AND COLORS
The Smartstar Cube comes in many variates and colors. The Cube-E, which is the lowest priced, comes in Orange, Blue, Pinkish/Purple and Green. The green one I got was more of a lime color, so I would image the others are bright colors as well. The Cube-A comes with a GPS and a larger database hand controller. The next model up has GPS and a built in wedge or EQ photography. With the tracking accuracy of this mount, I would not be surprised if you could get some pretty good astro photos.
So, overall I'd have to highly recommend this beginners telescope for both people that are starting out and that are looking for a nice little portable telescope. It's easy to use once you get used to it. And if you can get past the little quirks, you can have yourself a little beauty.
THE GOODS:
-Extremely portable
-Large enough to see bright deep sky objects, planets, Moon and Sun
-Accurate GoTo and tracking
-Flexible with what you can mount on it
-Good quality materials, aluminum case mount and stainless steel tripod
-Solar system align
-Solar, Lunar and Celestial tracking rates
THE BADS:
-Acetal/Nylon worm and transfer gears
-Menus in hand controller can be confusing
-Star numbers in HC rather than alphabetical order
-tripod is somewhat light duty
So, all in all, the scope is a home run for iOptron in my mind. For under $500, this mount can do just about anything. I ordered my from telescopes.com and got mine shipped to my door for $280. For that money, there is no other scope on the market with this much versatility and capability. You can mount anything under 10 pounds on it, it tracks better than some pricier telescopes and its easy to use. My two cents, get one, you won't regret it.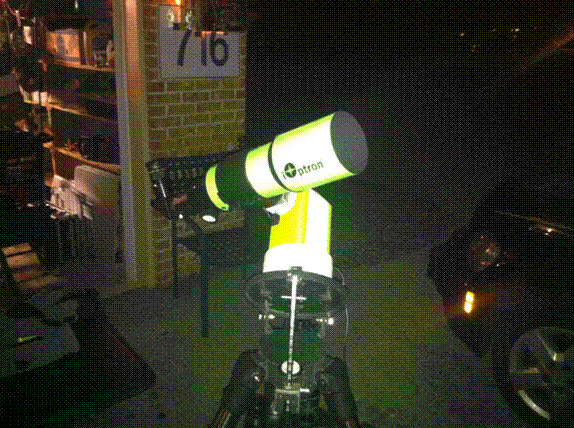 Sergey Pletnyov, gfstallin and Odancoiler like this
Article: iOptron Smartstar Cube 80mm Refractor Review