CNers have asked about a donation box for Cloudy Nights over the years, so here you go. Donation is not required by any means, so please enjoy your stay.


0
iStar Optical's Phantom FCL 140-6.5 review
Discuss this article in our forums
iStar Optical's Phantom FCL 140-6.5 review
Tested and written by Josef Ladra
(I have no financial or other interest in iStar Optical, its owner and employees. All tests were performed and described to my best abilities of a highly experienced amateur astronomer)
iStar Optical has been successfully manufacturing 127-250mm F5-F15 achromatic lenses for many years. These lenses are also purchased by various professional manufacturers of achromatic telescopes, as well as by amateurs who build refractors for themselves.
Technologically advanced achromats with the designations R30-T, R35-S, and R50-S (Anastigmatic, T-thick, S-slim) are also very well known because the optical design reduces chromatic aberration by 30-50% when compared to Fraunhofer's conventional achromat designs. This is due to an improved false color correction due to incorporation of a dense flint (type of an ED glass) in the design.
H-Alpha (solar) 150 mm, 228 mm, and 250 mm lenses, which are used by solar observers and imagers achieve outstanding results, have also become very popular and successful on the global market.
Recently, iStar began to sell the long-awaited apochromatic telescope Phantom FCL 140-6.5 and has also designed a 170 / F7 model.
In the first series, the OTAs were manufactured with a standard tube length with matching 100 mm (4") rack and pinion focuser with 80mm tube travel. This is a fairly common issue where a standard length of the main tube sometimes does not allow the use of some accessories with a longer optical path. Most manufacturers end up producing their telescopes with shorter tubes and then customers are forced to purchase an extension tubes of various lengths to remedy the problem. iStar approached this issue from a different angle. Even though iStar is still producing a certain number of telescopes with standard tube lengths, the second and latest series is being designed and produced with a removable (threaded) 80 mm rear section of the tube. By removing the rear section it is now possible to use the scope with all types of bino-heads (binoviewers), filter wheels + OAG, other specialized imaging equipment requiring longer back focus distance. For example, my own Baader-Zeiss Mark V binoviewer still have a 25 mm reserve in focus.
As can be seen in the next picture, with the OTA not shortened (the 80mm rear section attached), the telescope is slightly longer than the TEC 140 / F7. However, after shortening the tube by removing the rear 80 mm section, the Phantom is significantly more compact than the TEC 140. The Phantom focuser has 80 mm tube travel and has a rotary lock mechanism attached via M61 thread. Unfortunately, on one of two tested Phantom FCL 140-6.5 OTAs, this mechanism does not clamp the accessories 100% and tends to slip slightly from time to time. The mechanism is secured with several worm screws and is attached on a M63 internal thread into which other accessories such as a flattener/reducer (F/R), cameras, etc. can be inserted.
This is an illustration of how you can disassemble the rear section of the focuser for the use with other accessories.
I decided to compare the Phantom CFL 140-6.5 with the top-of-the-line TEC 140/F7, which was produced in the ED version, using FLP-53 optical glass manufactured in Ohara, Japan. Today it is produced in the FL version (CaF2). The TEC 140 refractor has an aplanatic three-element oil lens, which means that the lens behaves like a compact optical element with two optical surfaces. This offers an advantage in contrast, as it creates a minimum of reflections over the air-spaced triplet used in the Phantom, which has six optical surfaces. However, when observed, I did not find a difference in contrast in the image of the Phantom and TEC refractors. When I first looked at the diffraction pattern of the star Vega, it was immediately clear that the Phantom has a better color correction of the spectrum than the TEC, which was an unexpected surprise to me. I compared the in/out of focus star diffraction rings and both telescopes showed textbook set of concentric rings.
The diffraction pattern (IN/OUT) on Arcturus shows the slightly turned-up edges of this particular telescope lens, however, it is completely within the limits of high surface accuracy of RMS 0.024 and the resulting excellent Strehl 0.977.

Click on image to launch full-sized version in a new tab
The Ronchi test shows the Phantom has an excellent lens, and I have no reservations about that. The objective collimation was checked by the GMK collimator (Grzybowski) and shown to be practically perfect. The inside of the telescope tube is well blackened and there are no shiny reflective surfaces anywhere. The telescope has three knife-edge baffles mounted inside the tube.
The next was a photographic test, showing stars without chromatic aberration, and how big of a field of view can Phantom actually produce (the full resolution image must be opened in a new window). I took the first cropped image with an APS-C format using non-modified SONY A7SII (pixel size 8.4 μm). It can be seen that near the corners, the stars are beginning to have an elliptical shape and being slightly out of focus that is expected from a very fast APO triplet. However, the specially designed Starizona Apex ED-L reducer / corrector (R/C) designed for APS-C sensor, or WO flattener 68III for Full Frame, fully remedies this issue (Starizona is currently testing their brand new FF (Full Frame) field flattener matched to the Phantom FCL 140-6.5. These new units should become available for sale by early 2022). Other universal field flatteners/reducers can also be used. There is absolutely no chromatic aberration visible on white stars. Unfortunately, I took tests in the MSA 20.4 area, so I used a SkyTech QuadBand filter on some images, which turned out to be inappropriate because it creates a visible halo around the stars. There was also a considerable amount of moisture in the high layers of the atmosphere.

Click on image to launch full-sized version in a new tab
Following images were taken using ASI071MC camera (4.78 μm pixel) with and a QuadBand filter from SkyTech.

Click on image to launch full-sized version in a new tab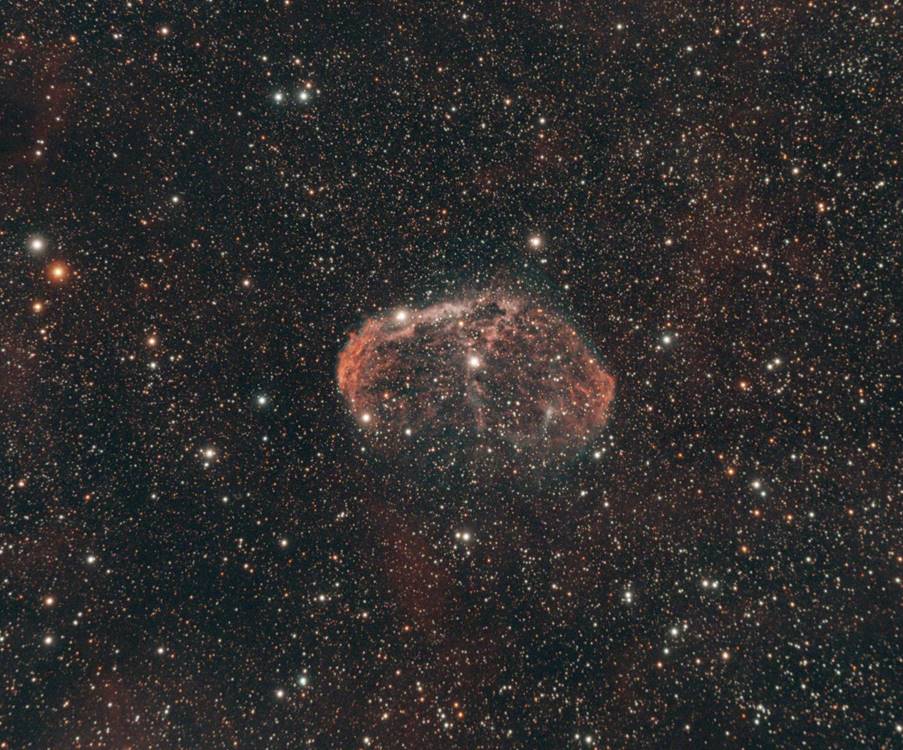 Click on image to launch full-sized version in a new tab

Click on image to launch full-sized version in a new tab

Click on image to launch full-sized version in a new tab
In the next series of tests I performed observing the sunspots, and here again the Phantom proved to be practically flawless. Image reproduction of the spots, granulation and foculae, all in great contrast, everything as it should be with a high-quality refractor.
Next, I observed Jupiter and Saturn, attaching Zeiss Mark V binoviewer without power-mate and Nagler 5 mm eyepieces. The image quality was excellent with great level of contrast. When observing stars, globular clusters and DSOs with the Panoptic 24 mm eyepiece, the stars retained perfect image quality all the way to the very edge of the field of view. Absolutely comparable image quality with my TEC 140.
Conclusion:
From what I was able to see, I conclude that the optics belongs to a Super APO class, which is highly suitable for both visual observing and astrophotography. Unfortunately, I have to state that the TEC 140 lost in the direct side-by-side chromatic aberration comparison test, otherwise the TEC is practically perfect from the optical point of view. The Phantom FCL 140-6.5 is, therefore, a great all-round refractor, and the manufacturer has promised to remedy the minor mechanical issue with the amount of "grip" of the rotary lock. Therefore, iStar Optical can be congratulated on a very well made optical instrument.
Technical specification of the telescope:
Lens diameter: 146 mm (class FPL-53 (Hoya FCD100) + 2 x ED glass) FMC layers on glass-air surfaces
Clear aperture: 140 mm
Focal Length: 910 mm (F/6.5)
Theoretical max. Resolution: 0.8 "
Focuser: 100 mm (4.0 ") with reductions to 2" and 1.25", with rotary locking system
telescope length (retracted): 826 mm
Tube diameter: 144 mm
Back Focus: 138 mm
Focuser tube travel: 80 mm
Dovetails: Losmandy 300 mm & Vixen 300mm (each scope is supplied with both) the Vixen dovetail serves as a handle
Fully Retractable dew shield with lock
Weight: 10.1 kg (including CNC machined tube rings and dual dovetails
Guaranteed minimum Strehl: 0.90
Guaranteed minimum PV: lambda 1/5
Manufacturer's website: Istar-Optical.com
Bob Campbell, Gregory, jimegger and 18 others like this
Article: iStar Optical's Phantom FCL 140-6.5 review