CNers have asked about a donation box for Cloudy Nights over the years, so here you go. Donation is not required by any means, so please enjoy your stay.


0
Meade AR-6 review
Discuss this article in our forums
Meade AR-6 review
By Stan Herman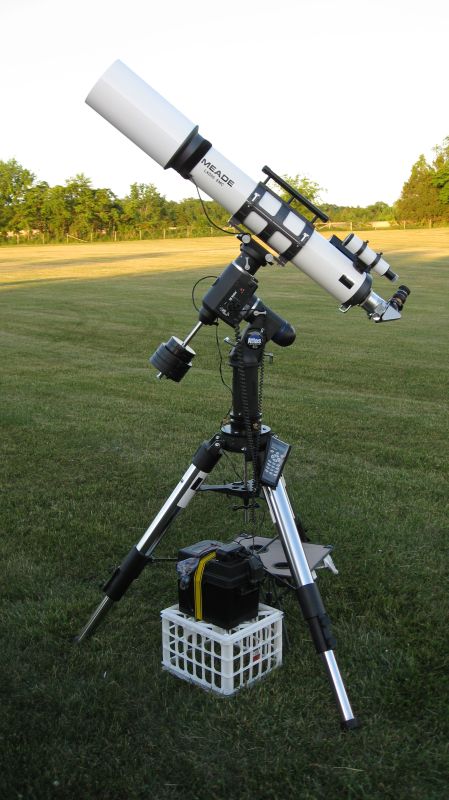 Figure 1.
The Meade AR-6 is a six-inch diameter achromatic refractor with a focal length of 1200 mm (f8). It has been around for the past nine years or so, and it normally has been sold with the prior LXD-55 or current LXD-75 mount. There does not appear to be many reviews written on this telescope, and the few that have been written seem to be positive, at least for the scope itself. I have had my AR-6 for the past four years, and over that time I have made improvements to it that I consider essential or at least highly desireable, at least for my needs. In its current configuration, I consider my AR-6 to be a true bargain and a very satisfying telescope, well worth the time and effort required to haul it out and set it up (at least a few times per month). This article describes my experiences to date with my AR-6 and the upgrades I have made to it and to its mounting system.
I love telescopes, and I am starting to like astronomy almost as much. I know that sounds a bit odd, but I am a Mechanical Engineer, and I always have been fascinated with optical devices – telescopes, microscopes and cameras. I still fondly remember those Unitron refractor catalogs from the fifties and sixties (they are available free on line by the way), and they were in a big way responsible for my budding interest in telescopes. My fascination with telescopes and astronomy took a back seat right after college, and for almost 25 years I was involved with other interests, including work and family. The spark returned about 10 years ago, and I bought my first "modern" scope, and ETX-125. It was off to the races after that. Also, belonging to an astronomy club with friendly and knowledgeable members, really closed the deal for me on this hobby. No turning back now!
I am fortunate to own a herd of scopes that include SCTs up to 9.25 inches, refractors up to six inches, dobs up to 14 inches, and a collection of binoculars up to 25x100. I use all of these instruments depending on what I want to see and how much time I have available to set up and tear down. I live in the Northern Virginia area just outside of DC, and have belonged to the Northern Virginia Astronomy Club (NOVAC) since 2001. I also spend time in New Hampshire at my second home, and am a member of the New Hampshire Astronomical Society (NHAS). I do mostly visual work, but am getting started in astrophotography with recent purchase of a Cannon XSi DSLR. I'm not a telescope theorist, but I have a reasonable amount of experience owning and/or using several of them.
I do mention a few telescope equipment vendors throughout this article, and I want to state here that I have no affiliation with any of them other than being a satisfied customer.
What is my favorite scope, or what type of scope is my favorite? That is a hard question to answer. All of the three types (refractors, reflectors and compounds) have their advantages and disadvantages. However, for me, a large refractor is something special. Its views of solar system and deep space objects provide a uniqueness to me that the other telescope types just cannot match. Unfortunately, for refractors particularly, as the aperture increases, not only does the cost start to soar exponentially (particularly with APOs), but the mounting system assumes astronomical proportions, both in size and in cost. So, there is a limit as to just how big one can go with a refractor while retaining some semblance of light gathering, vibration-free views, and fiscal harmony within the family/marriage!
For me, the "big" refractor solution was the Meade AR-6. I bought my AR-6 optical tube assembly (OTA) second hand (less than a year old and hardly used) from a friend and co-worker who just could not make good use of this brute scope, especially with the LXD-55 mount that had been packaged with it. I had a pretty good idea of what I was getting into, and I considered the AR-6 OTA to be a challenge that would take some time and patience to overcome. Following is a discussion on my experiences with, and upgrades to this refractor and my Atlas mount that carries it.
My stock AR-6 initially needed a bit of collimation tweaking, and I used a simple Cheshire eyepiece to achieve what I considered to be a very good result. My AR-6 has held its collimation for the entire time that I have owned it. I do star test the scope each time I have it out just to be sure, and I continue to see concentric bullseyes. So, the AR-6 is easy to collimate, and it holds its collimation very well.
The stock focuser was a study in frustration. It was very difficult to focus the scope accurately at moderate to high powers, and there was image shift as well. I knew that if I did not change the stock focuser, I would not be keeping the scope. Also, the AR-6 is relatively heavy; one reason for this is because Meade installs an internal weight at the rear end of the tube to allow the scope to sit more symmetrically on the mount. Otherwise, the scope's rear end would protrude disproportionably far. That six-inch objective assembly must be relatively heavy. The result of this added internal counterweight is both good and not so good. Good, because one does not have to lie on the ground when looking toward the zenith (plus the scope on the mount looks much nicer!). Not so good, because the OTA weight increases. It is relatively easy to remove the counterweight, but I consider the benefits to outweigh the detriments, and I have kept it in.
For "first light" I mounted the AR-6 on my stock Atlas mount (the largest mount I have), and the Atlas barely carried the scope to my satisfaction. Vibrations were very noticeable, especially when using the stock focuser, or when the wind picked up a bit. Oh well, I knew I had a work in progress when I bought the scope. The good news was that once those vibrations stopped, the views were very nice. False color was not that evident, especially below 150 – 200X. Stars were pin point, and the surrounding sky was inky black. So, I knew that the optics were performing as I hoped they would. After that first night out, I retired the scope to my workshop, rolled up my sleeves and prepared to "make it right."
My approach to making the scope and mounting system work for me included the following:
I "deep sixed" the stock focuser and installed a Wyorock Crayford unit. One ships the stock focuser assembly to Wyorock, and they do their thing. They cut the focuser tube portion from the focuser assembly, and then install their Crayford unit in the remaining portion of that assembly. The machining and accuracy of refit appears to be very accurate and durable. I ordered the optional rotatable unit, and it works very well. Advantages to this type of modification are: (1) the original internal counterweight still can be used, and (2) the relatively long focus travel provided by the original focuser is retained. That Wyorock billeted aluminum Crayford focuser was an epiphany for this scope. What a difference! It is not a dual speed (unavailable at the time I ordered it), but the action is so precise; I do not consider this to be an issue. Also, there is no slippage with my heaviest 2" eyepieces, even when looking straight up.

I replaced the stock dew shield with an Astrozap solid and much longer unit. The stock dew shield is ridiculously short and probably not very effective (plus it looks funny). The Astrozap solid AR-6 dewshield fits perfectly, is painted to precisely match, is flocked inside, and is long enough to be effective in combating dew and stray light. Plus, it looks way cool. I do use the stock dew shield on the scope when storing it in its original shipping cartons.

I installed a ScopeStuff carrying handle that fits nicely on top of the AR-6 cradle. It may seem unnecessary, but try moving this beast around in the cold weather while wearing gloves. That handle gives me much more confidence, much less back strain, and my mental stress level stays low when I have to mount or unmount the scope.

The Atlas mount head is up to the task of carrying a nearly 30 lb, rather long refractor with its accessories. However, there is a problem is with the stock tripod. That tripod works well for my C-9.25, but the C-9.25 is short compared to the AR-6. With the AR-6, we have a relatively long tube that is weighted at its ends, and the resulting polar inertia challenges the two-inch diameter, thin walled tripod legs in such a way that vibrations are very evident. Astromart to the rescue here – I was able to purchase a used (but like-new) Meade Giant Field Tripod with an ADM adapter to receive the Atlas mount. As luck would have it, the seller lived just a short distance from me, so I did not have to pay shipping for this monster. This tripod has three-inch diameter steel legs, and is built like the proverbial Sherman tank. It is heavy (over 50 lbs.) but it does the job. My only concern now is that if someone bumps into my set-up at night, I may have a personal injury lawsuit on my hands. The system will not be damaged – it will impart damage!

I wanted to be more comfortable when viewing towards the zenith, so I decided to use the eight-inch Atlas mount extension that I had purchased early on. This not only allows the scope to ride higher off the ground without having to extend the legs, but it also prevents possible contact of the diagonal to the tripod legs when the scope is aimed straight up. (My Atlas is Go-To, and it could have been possible for this contact to occur if I was not paying attention.)

I replaced the stock Meade dovetail with a solid aluminum unit from ScopeStuff. I wanted a more solid dovetail to better support all that weight and torque. I eventually may switch to a Losmandy type wide dovetail vice the current Vixen type narrow one (I have changed the saddle on the Atlas to the wide Losmandy type that uses a clamping jaw vice setscrews, and I use an ADM adapter, also with clamping jaw, for the narrow AR-6 dovetail), but for now all seems to be fine.

Oh, an item for those who have similar tubular tripods. Following the advice on one of the user groups, I installed three-inch inside diameter PVC coupling halves (cut from stock three-inch PVC couplings) on each leg where the spreader makes contact. This does two good things. One - it protects the finish on the legs, and two - it tends to minimize any harmonics that may develop in the legs (Think guitar frets and strings.).

Adding a few accessories, such as a Telrad, Velcro everywhere, a Kendrick objective heater dewstrip (It does get quite dewy here in the DC area) completed the project for now, and all of these upgrades are shown in my photo.

Figure 2.
So how did all of this play out?
Well, the AR-6 is not an APO. I knew that going in. But, I am very pleased with the performance. I can view Jupiter at 300X and see a clear image, detailed and with minimal false color. If I use a variable polarizing filter, any slight false color vanishes. I also have a Sirius MV-20 minus violet filter that I use with my ST-120 and ST-80 scopes, but I have seen no need to use it on my AR-6. I do use good eyepieces; TeleVue Panoptics, Radians and Naglers; Vixen LVs; and Orion Stratuses. But even lowly generic Plossls give good results. However, the wide field, better quality eyepieces really bring out the best in this scope.
Clusters are superb. Tiny sprinkles of sugar grains on a velvet background. The view of the Double Cluster with a Panoptic 35mm is exquisite, and M-13 with a 10mm Radian is equally nice. I cannot get these views with my C-9.25, nor with my XX-14i. Those views may be brighter, but they are not the same as in theAR-6. It is not necessarily a question of "better," rather one of "different." I believe contrast is at work here.
Nebulas also are very nice. Here the AR-6 is giving up brightness to the two other scopes, but the contrast seems to make up for it. The nebulas, while dimmer, seem to stand out better from the surrounding black sky. IMHO, if you can see the object with the AR-6; it will be a nicer image because of the increased contrast.
Galaxies are probably the "weakest" area compared to my other two larger telescopes. In the AR-6, galaxies are very sharp if you can see them, but six inches is six inches. When I want to really see galaxies, it's time for my larger diameter scopes.
So my bottom line is this. The AR-6 is a great value, provided one is prepared to upgrade it and the mount that will carry it. For a significantly lower cost than a six-inch APO, one can get that "big refractor view" yet keep the family budget intact. Yes, it does require quite a bit of weighty equipment to properly carry it, and all that support equipment is carrying "just" six-inches of aperture. But I feel the views are worth it. I just won't use this setup every night! Once a month, at my club's dark sites is enough for now.
I hope that my review and some of my upgrades might be of value to you. Good seeing.
Stan Herman
Hawkeyenfo, paulkerry, dannyg and 3 others like this
Article: Meade AR-6 review