CNers have asked about a donation box for Cloudy Nights over the years, so here you go. Donation is not required by any means, so please enjoy your stay.


0
Moravian Instruments G4 16000
Discuss this article in our forums
Review of the Moravian Instruments G4 16000
by Michael Miller
Moravian Instruments G4 16000
Kodak KAF 16803
http://ccd.mii.cz/art?id=383&lang=409
I have been testing a Moravian Instruments G4 for the last 90 days. The camera is on loan from the company. Below I have listed my findings from experiences over a variety of imaging sessions performed during that time frame. Filters used were AstroDon Gen II E series. The equipment is located at a remote observatory and images were shot all hours of darkness about 70% of the evenings.
Initial impression-
The camera is very well built, solid and reminds me of a QSI body design. The filter wheel is very compact considering it holds 7 50 mm square filters. Connections were straight forward and solid. Installing the filters was simple and took less than 20 minutes.
CCD Chip characteristics-
The Kodak KAF 16803 chip displayed no detectable bad columns in calibration files and was on the upper quality level of chips I've used. The AP4Win measurements are:
Bias Sum Mean: 999.901 ADUs
Bias Diff StdDev: 7.9189 ADUs
Flat Sum Mean: 80021.4 ADUs
Flat Diff StdDev: 234.557 ADUs
Dark Frame Mean: 506.992 ADUs
Derived Results.....
Conversion Factor = 1.44 electrons/ADU
Readout Noise = 8.05 electrons RMS
Mean Dark Current = 0.005625 e/pix/sec during 1800.0 second exposure at -29.8 C
The read noise is below Kodak specs and was evident in the images. Images calibrated very well and minimal noise reduction in post processing was necessary.

Click the image to launch the full-sized version (3000px X 2400px, 847 KB)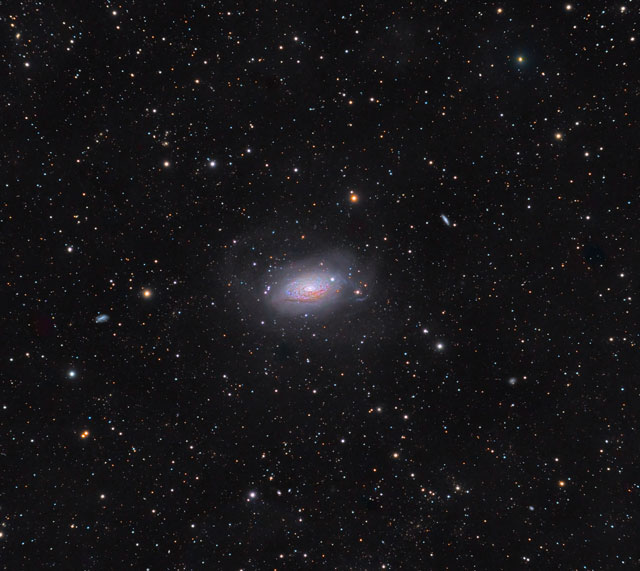 Click the image to launch the full-sized version (3780px X 3372px, 990 KB)

Click the image to launch the full-sized version (3000px X 2400px, 684 KB)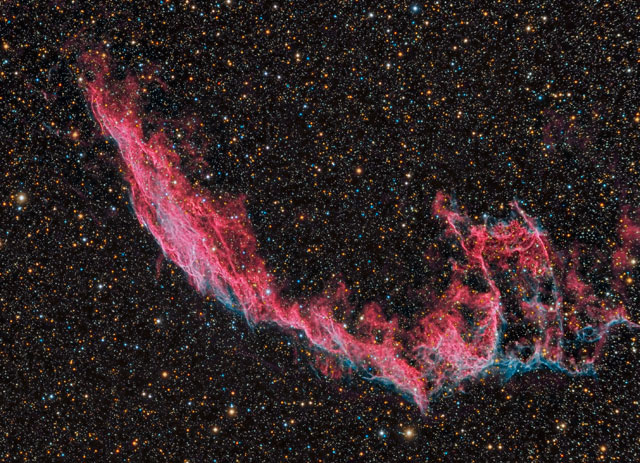 Click the image to launch the full-sized version (2931px X 2121px, 1.38 MB)
Camera operation and functionality-
The included Maxim DL drivers are fully ASCOM compliant and connected flawlessly. The filter wheel worked perfectly and cooling was very stable. I had no trouble maintaining -45 degrees Celsius below ambient. Image download time was about average given the size of the files (32 mb). In shooting short exposure frames (1 second or less) I saw no shutter effect in the images. Image quality was outstanding and because of the high QE of the chip, I found it necessary to decrease my normal exposure time.
Summary-
I am very pleased with results from this camera and have been able to produce some outstanding images. The camera does not have some of the newer features currently offered from competitors such as Ethernet and wireless, but I find most of those to be unnecessary options that only add to the cost of the camera. This model is currently available only in Europe, but hopefully will soon be a good alternative in the U.S. market for those looking a top quality camera and a large format chip at an affordable price.
newtoniansteve likes this
Article: Moravian Instruments G4 16000