CNers have asked about a donation box for Cloudy Nights over the years, so here you go. Donation is not required by any means, so please enjoy your stay.


1
Astro-Tech Voyager Mount
Discuss this article in our forums
The Astro-Tech Voyager Alt Az Mount
By Jason Blaschka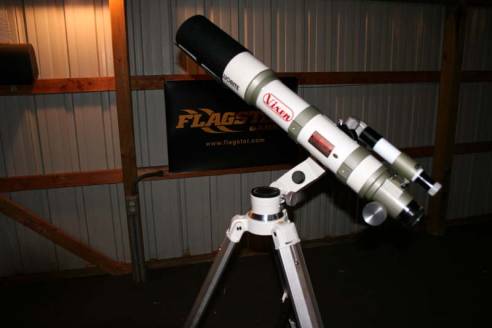 Early in my amateur astronomer days, I was never a big fan of altazimuth mounts. I had always used German equatorial mounts, mostly a Vixen GP that I have had for many, many years. After getting my first dobsonian mounted reflector, I thought it would be nice to have a quick set up for my Vixen FL80S as my time is limited more and more as my 5 kids get older and into more school activities. I have been through quite a few of the lower priced alt-mounts including a Towa made Meade mount, the Vixen Custom-D, and a Vixen Porta. I have also had a chance to extensively use a few owned by my observing buddies that include the WO Easy Touch, various Unistar mounts and the Disc Mounts DM4. Last year, while at NEAF, I finally picked up what for me is the perfect altazimuth mount: The Astro-Tech Voyager. At $299 (I paid $249 as an Astronomics NEAF special), it is the perfect blend of price vs. performance.
Made by Astronomy Technologies in Oklahoma and sold by Astronomics and a few other dealers, the Voyager is very similar in design to the Vixen Porta and Unistar mounts. It is rated to hold 20 pounds, accepts any scope with a "Vixen style" dovetail and also has dual axis slow motion controls. The knobs are very nicely finished aluminum and it also comes with one flexible slow motion cable on the altitude axis. The fit and finish of the mount is excellent as it is one nice looking mount.
Stability
I have found this mount to be a very nice blend of size, weight and stability. The tripod is virtually identical in appearance to the very sturdy HAL110 tripod that Vixen supplies with it's Sphinx and GPD mounts. It is much sturdier than the thin aluminum tripod supplied with the Porta mount or the tripod supplied with the Synta/Sky-Watcher/Orion AZ3.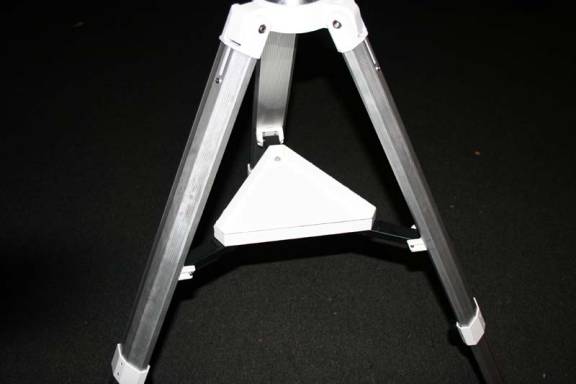 I mostly use the Voyager with my 80mm F8 Vixen refractor as I can carry the complete set up out in one trip. I have also used it with a few other scopes including a 90mm F6.7 triplet refractor, a TMB 80SS (80mm F5.6 triplet refractor) and most recently, my 6" F5 Newtonian. I also had a very short session with a buddies 5" Celestron SCT.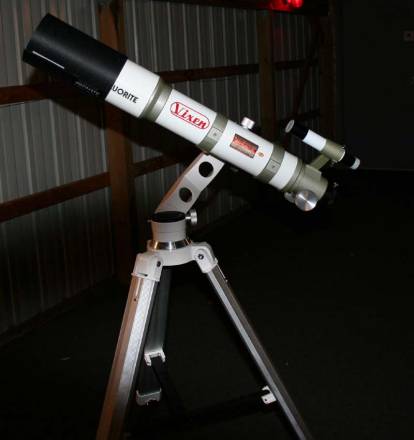 When using the small refractor on the Voyager, it is quite stable. Vibrations dampen out in about 2 seconds on concrete and in about 1-2 seconds on grass. This is with the legs fully extended. The mount did not come with an accessory tray but I ended up having an extra Vixen one that fits the tripod perfectly and definitely stiffens the mount up a bit.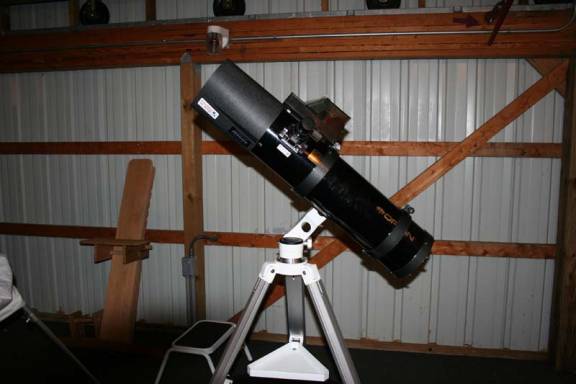 When using the much large 6" F5 Newtonian, I set the tripod at it shortest height. Vibrations dampen in about 1-2 seconds with this set up as well. I can also carry this set up out in one trip. This set up has worked very well when I want a more aperture than the 80mm but still am only going out for a short session. On one particular night, I watched a Jupiter transit for almost ½ an hour with this set up at about 200x without any issues stability wise or tracking wise. I also thought the mount held the 5" SCT extremely well though that was an extremely short session and didn't get a good chance to really try it out.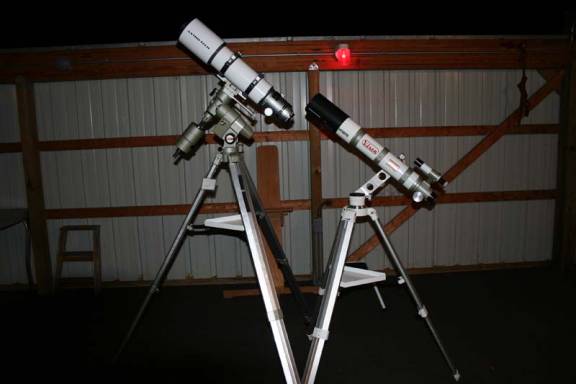 As you can see in the photo above, the tripod is much shorter than the Vixen HAL110 tripod on my Vixen GP mount. This is the one negative I have found when using this mount. This means I have to sit to comfortably view high overhead. This is usually not a problem when studying a particular object for a long period of time (for which I usually use my EQ mount) but in my opinion, kind of defeats the purpose of the "quick-look" mount if you need to haul out a chair. To help solve this problem, Astro-Tech recently introduced a half-pier extension to raise the mount/scope another 8". I plan to add this soon!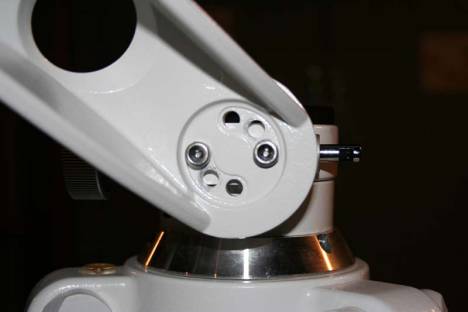 The mount's arm angle can also be adjusted so that the arm is either straight up (which will put the scope up a few more inches) or set at a 45 degree angle, which is my preference as I find it easier to use refractors longer than about 20 inches or so in length (my little Vixen is about 24" long). When used in the straight up position and with the half-pier, I think that would put the scope high enough for most taller users to remain standing, especially when using a short scope like an SCT or short tube refractor.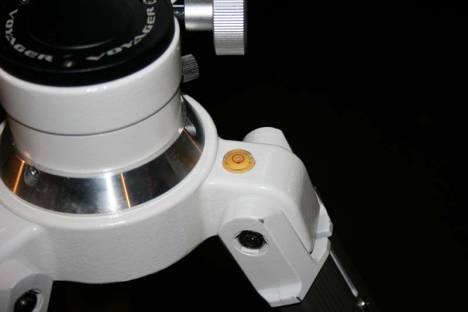 A nice added touch is the built in bubble level on the tripod.
Movements and Slow Motion Controls
The motions of this mount are very smooth. Another distinct advantage that this mount has over the Vixen Porta mount (it's primary competitor, IMHO) is that it does not require tools to adjust the tension of the mount's movements. Instead, there are large knurled thumb screws. This makes it much easier to swap between heavier eyepieces and different OTA's. When using the small refractor, I usually just barely tighten the set screws. I barely have to push to move the mount from one object to the next.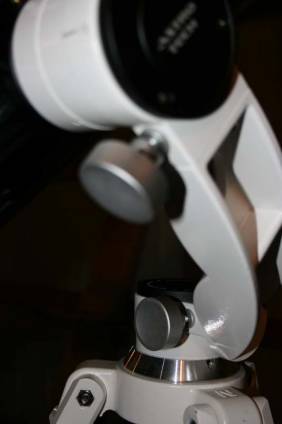 Unlike a lot of cheaper Chinese mounts and the older Vixen Custom D, the Voyager has 360 degree slow motion controls that do not require "resetting" like the aforementioned older mount's worm gear slow motion controls required. The slow motion controls work very well regardless of how much tension you apply to each axis. I did find that if the telescope was not perfectly balanced in altitude, a bit more tension was needed to engage the slow motion control on this axis. Not being a big fan of the flexible slow motion cables (I feel they add more vibration to just about any mount), I only use the two aluminum knobs that attach directly to the mount. I find this works just fine and doesn't add any vibration to the image when I use them. They too are very smooth and make this mount a joy to use.
Summary
I have found the Voyager to be the perfect mount for my needs: a smooth, stable mount for those nights when I am too lazy to drag out the bigger scopes or short on time. While it doesn't have the capacity of the larger and heavier Unistar and DM mounts, it definitely matches them in functionality. It provides a very smooth moving and stable platform for the abundant small APO's and SCT's on the market. I consider it a step above the very similar Porta mount due to the heavier build, optional half-pier and the lack of needing tools to make adjustments to the movements. Astro-Tech has provided a very affordable, high quality mount for those not wishing to hassle with an equatorial mount but still wanting the added convenience of slow motion controls.
Article: Astro-Tech Voyager Mount