CNers have asked about a donation box for Cloudy Nights over the years, so here you go. Donation is not required by any means, so please enjoy your stay.


0
Helix Hercules Single-Arm Alt/Azm Mount
Discuss this article in our forums
Helix Hercules Single-Arm Alt/Azm Mount
An informal review by Jay Moynihan.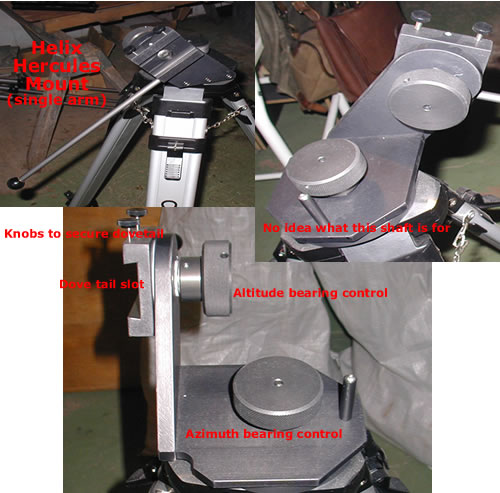 I do not have any financial, or other relationship for gain with the manufacturer/seller. This product was purchased from Helix Manufacturing / Helix Observing Accessories.

I bought this mount early last fall, and am finally getting around to writing a review of it. I live on the South coast of Lake Superior, in Ashland, Wisconsin, U.S.A. I have been using telescopes for about 48 years off and on, since age 4. The scopes I have owned include both long and short focus refractors mounted in a variety of manner, Dobsonian and equatorial mounted Newtonians, a fork mounted SCT, and Maksutovs. Aperture range of those owned has been 60mm through 254mm. My viewing preferences are essentially, general, though my current locale, (light pollution) has shifted me towards planetary and lunar of late.

I had been searching for a few years for a high-quality alt-azm mount for a small refractor, that was also affordable. I had tried some out here and there, and was never quite satisfied. I wanted slow motion controls, since the mounts generally needed them in my opinion. But having used a dob for a number of years, I knew that if I could find a smooth enough "dob-like" mount, that would suffice. After seeing some comments on CN from the "earliest adopters", I decided to give this model a go.

The reason I got a single arm model was that I needed an alt-azm mount for my Orion 80ED. When I ordered the 80ED I suffered under the misapprehension that I would use it on one of my photo-tripods. Nope!. I then got the Orion Skyview Pro mount (which I still have and like). But the SVP seemed to a lazy soul like I, a lot of fuss for a 80mm/600mm scope, being I do not do imaging. Hence the Hercules.

The head weighs about 6 pounds, I have it on a surveyor's tripod. The base plate of the head came pre-drilled for the two standard tripod screw sizes, and the standard size for surveyor tripod mounting bolts. The model I have is I think the second generation model (pictured). I had originally gotten the first generation one, but it did not have the hole drilled for the aiming arm, which I wanted. They were nice enough to offer to send me the newer model, as long as they had to swap the mount out anyway.

The movement differences between the original and second generation one are not apparent to me. The original one had a proprietary mounting plate and the jaws had one large knob/screw to secure it to the mount. The newer one (pictured) accepts the Orion style dovetail, and has two smaller knob/bolts to secure it to the mount. My comments about operation (other than about the aiming arm) are applicable to both models.

The Mount is a very handsome piece of machining. Very solid, precise, and smooth. The bearings appear to involve Teflon, but I have no intention to take this puppy apart. The two bearings are loosened/tightened by large, well made, textured knobs. You mount your tube assembly, then adjust the two bearing control knobs to the right pressure or friction, and that is about it. I like that part a lot.

I mounted a 105mm f/10 and a 127mm f/15 tube assembly on it (separately) with their respective finders, diagonals, etc. on it. Did not really do observing with them, just wanted to check out how they rode, in case I ever wanted to use them on it. Seemed able to handle them.

My Orion 80ED (with 2" Televue diagonal and zero-power finder, and supplemental dew shield) live on this mount now. I do not fiddle with the control bearing at all during use. Once the tube is on, that is it. Leave it in a position and it stays there.

The mount is "over-built" for this scope, but I like that. No vibration issues. The eyepiece range I use on this scope is 32mm 2" Konig down to a 4mm University Optics Ortho, (19x -150x). If the seeing is REALLY good, I will on occasion slip the 5mm ortho into a 2x barlow for 200x.

The movement of the mount reminds me of a smooth Dobsonian mounting. I could probably end my comments there. Wide-field, low power sweeping is as good as one would expect. I also though regularly use the 150-200x in planets and moon. Smoothest motion I have tried in an alt-azm mount, short of a 10" smooth dob. I have never tried a Discmount. Have used it from -5 degrees to 85 degrees F., the movements the same.

Here is one way to describe using this thing, that may make sense, at least to dob fans. If you have a smooth dob, do you know how you learned to put both hands on it and essentially, "slide" the motion in a combination of both attitudes at once, to keep an object in the field of view? Well, you can do that with this thing by holding the aiming arm, and a tube ring or such in the other.

What don't I like?

The two knobs used to secure the dovetail are kind of small, and while they work, are not in keeping with the fit and feel of the rest of the mount. I liked the bigger knob on the first generation one more.

Another thing is not about the mount, rather its about the surveyor tripod. I have had to replace the chain used to brace the legs, due to one length of it breaking. They should come with stronger chain.

While I have not tried it, I think this mount would be a great, steady match for a 6" f/5 or so newtonian tube. If you are tall, or would otherwise like to use a 4.5" to 10" short "dob" Newtonian standing up, you may want to consider exploring the possibility of using the apropos version of this mount on a surveyor's tripod or a nice pedestal. If I ever got a pair of really big binoculars, I would definitely use the two arm version of this mount.

The mount's quality has also unfortunately engendered day dreams. Such as, what about their two arm model for an 6" f/8 or 8" f/6 newt, or a 6" f/8 refractor.

A keeper.
Article: Helix Hercules Single-Arm Alt/Azm Mount