CNers have asked about a donation box for Cloudy Nights over the years, so here you go. Donation is not required by any means, so please enjoy your stay.


0
Simple ALT/AZ Mount
Discuss this article in our forums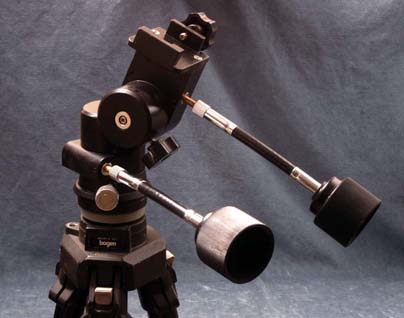 $20 ALT/AZ mount w/Vixen dovetail saddle.
I almost walked past the "cheap scope" at a flea market recently but something about it caught my eye…it had a fairly robust ALT/AZ mount with a Vixen dovetail saddle instead of the fiddly EQ or simple fork ALT/AZ mount. It was a Meade 60AZ-AD, a common 60mm refractor from a few years ago, probably cost about $150 when new, common for about $25 on eBay/Craigslist or at your local flea market.
The mount is straightforward, two locking knobs for gross adjustment and two flexible cables with knobs on the end for fine adjustment.
The OTA actually performs fine on bright objects, planets, the moon and the like, but the tripod is simply awful. What an effective tool to make someone feel like they really wasted their money and to fully discourage any further interest.
So I took the scope off and removed the mount from the tripod by removing three cap screws from the bottom. I then drilled three holes in the top plate of an old tripod that had a ¼-20 threaded hole in the center. The three holes lined up with three threaded holes under the mount and I used the original bolts to put the two together. I now had a plate on the bottom of the mount with a ¼-20 threaded hole to fit any tripod, and had a standard Vixen dovetail saddle on top. I at first thought of making the adapter from wood or thick kitchen cutting board (white, Teflon-like material) which both would be easy to drill/shape, but I remembered the old tripod so I cannibalized it.
The saddle does not have a safety screw and isn't very long, so you wouldn't be able to hang too much weight on it, and you really have to wail on the clamping knobs to keep the scope in one place, but there are plenty of light/small/short refractors (one of the popular 66mm f6's would be perfect) that would work fine on this mount.
A cheap grab-n-go mount.
Article: Simple ALT/AZ Mount