CNers have asked about a donation box for Cloudy Nights over the years, so here you go. Donation is not required by any means, so please enjoy your stay.


0
Stellarvue M6HD Mount
Discuss this article in our forums
Stellarvue M6HD Mount
Add Some Stability to Your Life.
Have you been shaken or rocked lately? Looking for a little bit of stability in your life? Do you want to have a decent view for a change? Well, do I have a solution for you!
No, it's not another quick fix from the local store, or another snake oil sales gimmick offering self-help from the late night TV, but a system built to reduce those shaky views. Well, my friend if you think that dancing stars and planets are the norm let me introduce you to the life of stability. Stabilty with a rock solid mount that is.
Living in the Midwest near Kansas City, and with over ten years experience with equatorial mounts, twin-forked mounts and up-swing mounts, I thought all mounts were generally the same. Many years later, I've found that some are just better, hands down.
My initial requirements for a mount were: for a quick assembly, capable of holding either a large or heavy refractor, and fast settling times when arriving at the destination. You can read that as 3-seconds or less of jiggling and wobble at high powers (>300x).
Stellarvue, a known manufacturer of quality refracting telescopes also manufactures two great Altitude-Azimuth (Alt-Az) mounts. I chose the bigger and more massive M6 heavy-duty (M6HD) mount and the Stablelock Tripod-pier (TSL5). It had all the features and allure of being what I wanted. Although the web pictures make it look like other Alt-Az mounts, the similarity stopped there. Stellarvue's Vic Marris quickly explained their approach and design differences. He wanted not just another mount, but a mount that was rock solid, nice to the touch, and something everyone would be proud to own and use. He convinced me. I placed my order and then waited about a week for delivery.
First Encounters
My first encounter with the combination mount/tripod were after unpacking the delivered goods; three big boxes containing all that is needed to make life a little more stable. Assembly required no tools, very little help needed (as it was intuitive), and about thirty minutes of playtime. The mount came supplied with hex wrenches to adjust the stiffness of movement in both axes. Everything else assembled with a twist here and a turn there; completely tool less. That's a great feature. Simple but simply a delight to have everything fit together without an extra part needed or any "enhancements".
Mount Hardware
The M6HD heavy duty mount is made of CNC machined 6061-T6 aluminum with two sealed stainless steel roller bearings in altitude and a 4 1/2" loaded Teflon and aluminum bearing surface in Azimuth, all beautifully anodized to black silk finish.
The pier portion is black powdercoated aluminum with attaching solid, heavy-duty walnut adjustable legs with machined large aluminum knobs bearing the SV logo. Attaching the pier to the tripod and adding rock solid stability, Stellarvue chose to use a handsome circular plate (appleply) with attaching aluminum struts and black knobs.
Okay, everything looked sweet!
Okay, how did it operate? Was it stable?
Answer the questions in short: Wonderfully, and YES!
I assembled the mount onto the tripod/pier and then hoisted the entire setup (less the stabilizing plate and anchoring knobs) out to my patio and yard. The total weight was approximately 40lbs, not much more than an assembled 10-inch DOB, but certainly less than a big German Equatorial Mount (GEM). Putting the stabilizing bar and eyepiece holder onto the base of the pier and then attaching it to each of the legs took less than a couple of minutes. All set up. As Vic said, it was steady to the touch. Not moving except when wanted with any push or pulls on the mount.
Steady she goes. There were no feeling like it would teeter; I placed my 115mm f/7 Optical Tube Assembly (OTA), a refractor, weighing about 16lbs (without diagonal, finder, or eyepieces) into the cradling rings mounted on a 3-inch jaw (TD3) that fits a Losmandy-like dovetail plate. On the other side of the telescope held on a tangent bar, a 12lb steel counterweight balanced the load. Balancing was easy. Making adjustments to either the position in the cradle or position of OTA in the cradle was simple and easy. This is very much like what you'd do with adjusting OTA's on a GEM.
Both axes have large aluminum knobs for setting the amount of tension to control up-down (altitude) or left-right (azimuth) motion. In addition, there are two inset hex-screws to adjust bearing surface tension in either axis. If you find the knobs are easier and don't mind applying more force, you need not adjust the hex-screws.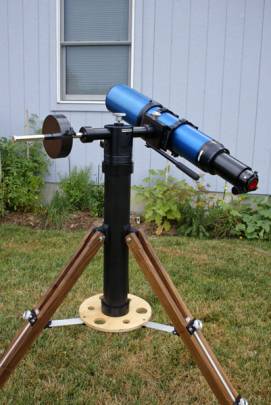 It took very little force to move the OTA in any direction. It moved where you wanted it to go and it stopped where you wanted it to stop. No pushing it a bit more to overcome friction or uneven tightening to hold it in place, it simply fun. Stellarvue calls this as being Isostatic movement. So it is.
At 50x power, Jupiter's bands were easy to see. At 200x power, however, the Great Red Spot and Jr. were identified and noted in the observation log. At 300x power, Junior looked just ma-va-lous. Splitting tight doubles, not to worry, I was only limited by Mr. Dawes. Tracking an Alt-Az is also a breeze. The slight push or pull in either axis kept me in the center of the eyepiece without a lot of strain to overcome friction made this mount a joy to use. Even tracking at x300 was not an issue with placing it squarely in the eyepiece or the time for any vibrations to settle out; less than a second. Very clean operation.

Was it steady? Really, c'mon, really?
My only jitter came from me, as I moved the eyes and head to get color to jump out from doubles. Really. In less than a second, all my observing views were steadied to pure bliss of solid views. I know it's a clich?, but it was rock-solid. It truly convinced me that observing can be fun again without all the shakes and rattles.
What's the down side?
This is not a "grab-and-go" mount combination. It weighs enough to offset any concerns about stability, but it's not for the meek of heart or one handed carry. Stellarvue states it capable of handling 45lbs. I believe it a conservative load estimate, but your OTA length and weight should be considered before putting it one any Alt-Az mount.
Another note, leg width and angle of separation from the pier are set to a fixed angle by the spreader bars attaching to the legs. You can adjust the leg height from about 38-inches to 50-inches, but your area of tripod leg coverage is set at same angle. Allow for some room.
I found I could sit on a standard chair and observe at pretty much any angle without hitting the legs; my OTA is about 35-inches with dew shield extended. So, if you have a big scope (read that as long extended tube) you might have to consider your scope length and leg placement when viewing at zenith.
Overall, it's a big thumb's up in my opinion.
I am not in the employment of Stellarvue nor have any influence with astronomical sales from Stellarvue or any of its agents. I simply like their instruments.
Article: Stellarvue M6HD Mount