CNers have asked about a donation box for Cloudy Nights over the years, so here you go. Donation is not required by any means, so please enjoy your stay.


1
Universal Astronomics Dwarfstar Mount
Discuss this article in our forums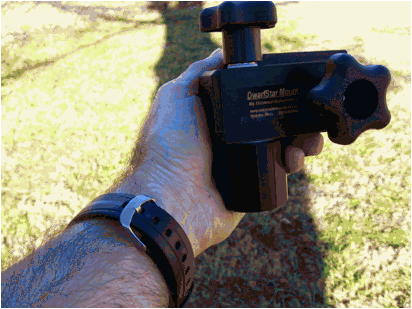 UNIVERSAL ASTRONOMICS DWARFSTAR MOUNT
(How can something this small work so well?)
The short tube ED doublet refractor has become a popular item now, and why not? These telescopes offer excellent image quality at a price tag only dreamed of just a few short years ago. Compact and lightweight, they are easy to handle and require smaller mounts than their long tube cousins. The 66 to 80mm sizes seem particularly desirable due to their small size and medium price tags. But while shopping for one, or after buying one, the question of what kind of mount would be suitable for a telescope of this size certainly comes to mind. You can put your new telescope on a heavy duty EQ or altaz mount, but suppose you don't want to drop another four or five hundred dollars on a new mount and tripod? Suppose you want to keep your mount small, light weight and packable? Well, consider this new product from Universal Astronomics, the DwarfStar mount. Marketed on the fall of 2008, it is one of the newest players in the arena of micro-mounts.
Don't let the small size of this mount fool you. It has a one-to-eight weight ratio, that is, it weighs only one pound but has a load rating of eight pounds. The DwarfStar is a complete mount head, ready to be mounted on any tripod with a 3/8" stud, like my Bogen 3020. It has a 2" dovetail mount that will accept most any kind of 2" saddle or mounting plate, including the mounting shoes that often come installed on the telescope itself. The telescope is secured with a single medium sized set screw, making for quick and easy installation and removal. Its overall design allows for any size and shape of telescope optical tube, limited mainly by its maximum load of eight pounds.
Fit and finish is excellent, in fact typical of the equipment that Larry Patriarca, the owner/founder of Universal Astronomics makes. I also own a UA Unistar Deluxe, a much heavier and more expensive mount. I find that the quality of the machining and manufacturing to be the equal of my Unistar, just in a smaller package. You can customize your mount with some options and accessories. (I'll go further into that later on.)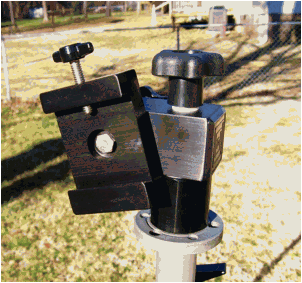 There are two knobs which adjust the tension of the altitude and azimuth movements. When you first install your telescope, move the scope's mounting shoe or rail back and forth in the dovetail plate until it is balanced and then tighten the set screw. I find that this screw holds my telescopes firmly and securely, with no fear of the telescope slipping out of the plate.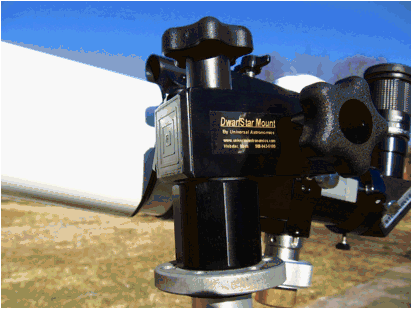 You can now adjust the tension of the two knobs to preference, and your telescope is ready for the universe! If you have your equipment completely broken down into mount, tripod, and telescope, assembly and setup takes only about 60 seconds. Alternately, you can leave your scope set up in one corner of the room ready for those quick grab and go operations.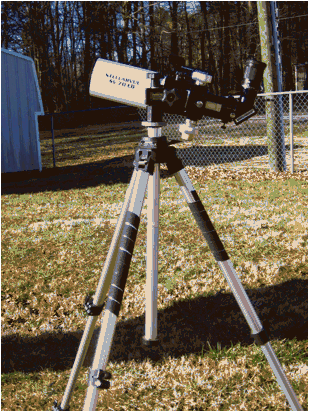 Operation with my 70mm ED doublet is a joy. With proper balance and tension adjustments, slewing the telescope is made easy simply by grabbing the focuser and nudging the telescope up-down, left-right. The movements are smooth, and I experience very little or no backlash. Balance is the key on a mount like this, the better the balance, the smoother the operation is going to be. The tension knobs can also lock the mount so that you can change eyepieces or transport the telescope without it swinging around on you.
Dampening times are excellent for a mount this size. In fact, how much of the "shakes" you get when slewing really depends on the strength of the tripod you are using, as well as how high you have the center post adjusted. With my Bogen 3020 tripod (used in the photos) and my SV70ED (with a combined telescope weight of about 5-1/2 pounds fully loaded as shown in the photos) dampening times are under one second. With my SV85S doublet refractor I have a combined telescope weight just over 8 pounds, and dampening time with this tripod now reaches over two seconds. You can reduce dampening time by keeping the center post as low as possible, and by making sure your tripod legs are on secure ground.
Looking at the design of this mount, with the scope's attachment point so close to the center of the mount, I thought that slewing at zenith would be impractical or impossible. To the contrary, my telescopes easily slew at zenith, but you may have to raise the center post a bit to get the scope to clear the tripod parts.
As I mentioned above, the mount (at its current base price of $149) is ready to mount on a tripod for immediate use. But what about a mount handle? I found that slewing my SV70ED was easy enough without the handle. I experienced no problems slewing the telescope from the focuser, or even occasionally grabbing the mount itself for azimuth adjustments. My SV85S though is a larger and heavier scope, and I found using a handle to be more desirable. The handle is installed to the mount itself on a block and is secured with a single thumb screw. It can be easily removed for transport or storage. The foam grip on the UA handle is comfortable and warm to the touch in cold weather. I also like the handle option for use at star parties, so I can tell someone that wants to slew my scope around to grab the handle and not the telescope. Adding a handle block and handle is an option at additional cost that must be ordered at the time of the mount, so if you think you might want to use a handle I would call or email Universal Astronomics to discuss this option.
Another accessory is the eyepiece tray. As with the handle, you need to specify this option at time of purchase. (You can actually retrofit both of these accessories, but that would require returning the mount to UA increasing your shipping cost and giving you down time.) As with the handle, it attaches to the mount and is secured with a single thumb screw, so installation or removal is quick and easy.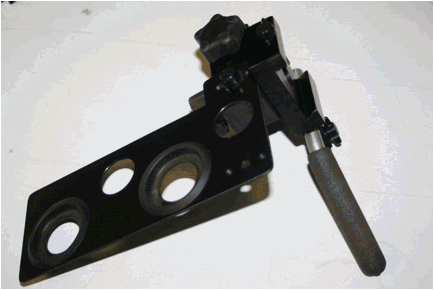 The above photo shows the DwarfStar with the optional handle and eyepiece tray installed. (Photo courtesy of Universal Astronomics, used with permission.)
Have a pair of binoculars? A binocular mounting bracket is yet another option available from UA for this mount. As with using a telescope, you are limited mainly by the weight of the binoculars, and stability is determined largely by the quality of your tripod.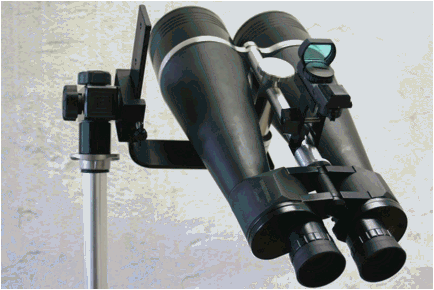 Above photo courtesy of Universal Astronomics, used with permission.
One more option you can choose is to order the mount to fit on your own type of tripod. It comes with a 3/8" thread as standard for Bogen or Bogen-type tripods. But if you have a camera photo tripod you can get an aftermarket ¼" to 3/8" stud adapter. It can also be adapted to a surveyor's tripod with UA's optional post and sleeve mount. This will provide the best stability, albeit with the most weight.
In conclusion, the DwarfStar has lived up to my expectations. I wanted a small, lightweight mount that gives professional performance and I have found it in this mount. It handles all my small telescopes, from my little 66ED to my Vixen 95L Maksutov to my hefty SV85S. With the current population of small, inexpensive telescope mounts I believe the DwarfStar deserves your attention.
David Elosser
Kernersville, NC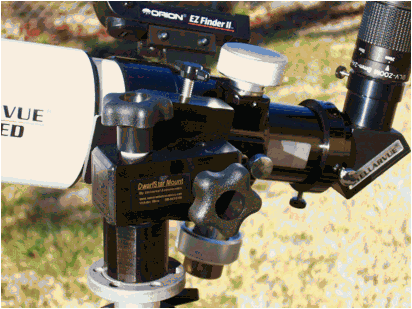 Scott Beith, jrbarnett, MortonH and 6 others like this
Article: Universal Astronomics Dwarfstar Mount