CNers have asked about a donation box for Cloudy Nights over the years, so here you go. Donation is not required by any means, so please enjoy your stay.


0
Universal Astronomics Unistar Basic Mount
Discuss this article in our forums
My interest in astronomy started at young age after finding an old college textbook in my attic and seeing photographic plates taken with the Mount Palomar Observatory 48" Schmidt Camera.  After seeing those images I was hooked.  I wasn't able to afford a telescope during my formative years and my interest in obtaining a telescope wained.   About 6 years ago I rekindled my interest in the night sky and have been observing actively for the last 6 years or so.    I've owned and still own several types of scope including dobsonian reflectors, refactors and SCT's.   My current equipment is a Celestron C11, a SkyWatcher 100ED refractor, and a Celestron Onyx.    My mounts are an Atlas EQ-G which I use for the C11 and my newly obtained Universal Astronomics Unistar Basic of which this review is about.   I have no financial or vested interest in any of the astronomy companies that are mentioned in this review. 
I started my collection of scopes with an 8" dobsonian which served me well.   Soon after I caught the refactor bug and purchased an Orion 80ED on a GEM.    I immediately had a distaste for the GEM for visual use as I felt it was constantly in the way and I used my 80ED mostly for sweeping the sky so having the abilitiy to track wasn't something I wanted or needed at the time.     Thus began my quest for the perfect Alt/Az mount.   In my quest I have owned and sold the following Alt/Az mounts over the last 5 years:
Helix Single Arm on Bogen Tripod
Vixen Icarus-D
Meade AZ-3
Stellarvue M1 on Bogen Tripod
Discmounts DM-4 + Ash Tripod
Out of this bunch the only mount that I found solid was also the most expensive, the Discmounts DM-4.    This is a very  nice mount.  It's well made, can hold a good amount of weight and is smoother then all the other mounts in it's alt/az motions once you have the balance configured.    The real drawback to this mount is that it's extremely expensive.   At the time I had owned this mount I had two young children, a hectic work schedule as well as other interests that were vying for my time.   I made the decision after owning this mount for about 6 months that I couldn't justify the cost of such an expensive piece of equipment that wasn't being used as much as I would have liked.   I think this is a problem that some people in this hobby  run into when you don't have the free time to always go outside every clear night - you end up with a lot of expensive gear that just sits idly by. 
There were two issues with the DM4 that I didn't like:
1) the ash tripod was very heavy and awkward.  It didn't have any handles or an easy way to grab and move the tripod with a scope attached to the DM-4 (which some would argue isn't a good idea anyway :-)). 
2) You can't view at the zenith (I know there is now a tripod extension which alleviates that problem but it wasn't available at the time and it's also another fairly large expense - almost as much as the fully functioning Unistar).
All that being said the DM-4 is still a good choice if you can afford it.  Also the intergration with SkyCommander is also excellent.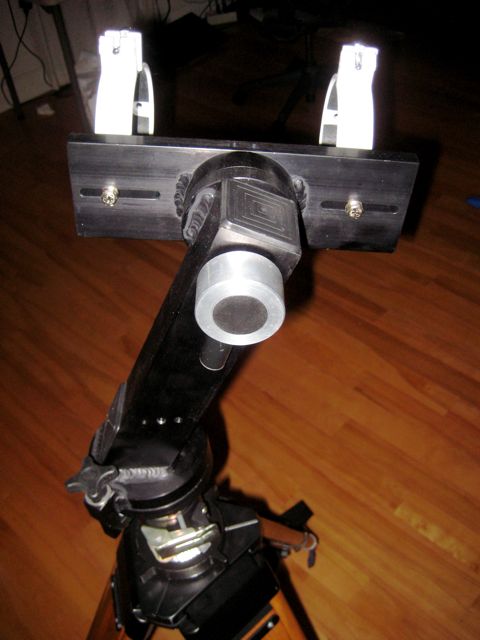 After the sale of the DM-4 I went a year or so without an Alt/Az mount.    I was taking a trip and wanted to bring along an ultra light G&G setup and decided to try a new mount from Universal Astronomics called the DwarfStar that I couldn't find any reviews about but the size was just right so I gave it a chance as it was reasonably priced and I already had a carbon fiber tripod to put it on.    When I received the mount I was amazed at the quality of the mount and how well it performed considering it only weighs around a pound and easily fit in the palm of my hand.   It handled my 8 pound rig with ease and the movements in altitude and azimuth were very smooth with very little stiction in movement.   In fact it was far smoother then my M1 was with a lighter scope.    Universal Astronomics had won me over in price performance with this small mount. 
A few months later I decided I was ready for a larger high quality alt/az  mount to go with my new 100ED scope and called Larry at Universal Astronmics who walked me through what would work best for me based on the scopes I would be using, what tripod, etc.    The UA website I must admit was a bit confusing for me as to which mount and what accessories I should purchase but a quick call and a few emails to Larry straightened me out and I was soon eagerly awaiting for a UniStar Basic mount of which this review is about.    
The mount arrived well packaged in about a week and had a small instruction manual (2 pages really).   The first thing I noticed was that, like it's smaller sibling, the Unistar is extremely well made.   The mount weighs about 7 pounds and is rated for up to 30 pounds with a price of $299.00.    I already owned an Obewerk surveyors tripod all ready to put the mount on that I was able to buy on clearance for $99.      The Unistar basic has a single plate (included in price) that you can attach tube rings to which is a little different then most other mounts where you slide a dovetail into a clamping mechanism of some sort.   If you were going to be swapping OTA's out often you'd probably want to look at the Unistar Deluxe which I believe has the ability to clamp onto a dovetail. 
For first light I took my 100ED mounted on the Unistar out into the field behind my house and gave it a run through.   I started in Cassiopeia and began picking off open clusters and immediately noticed how smooth the motions in both altitude and azimuth were.    There was as far as I was concerned "no" stiction at all on the bearings.  I only spent a minute or two getting a rough balance of the OTA too so I was very surprised at how well it was working.   I swapped out eyepieces from my 13mm Ethos to my Nagler zoom which gave a fairly broad range of eyepiece weights and again there was no rebalancing needed nor was there any stiction in movement noticeable.    Later in the night I was able to view M31 in my 24mm Panoptic near the zenith without knocking into the tripod legs (note the 100ED is an f/9 scope and about 35" long with a diagonal attached). 
Now for the true test, high power planetary observing.  I'm not a huge planetary observer but I always peak at Jupiter and Saturn most every viewing session if they're riding high.    But the first night I was out Jupiter was riding reasonably high so I put my Nagler 3-6mm zoom into my 100ed and tried my hand at Alt/Az tracking.  The Unistar performed extremely well.   In my opinion,  for high power viewing of planets I think you're better off with a motor driven mount but that being said I found it very easy to nudge the OTA along while viewing and almost no settle down time required.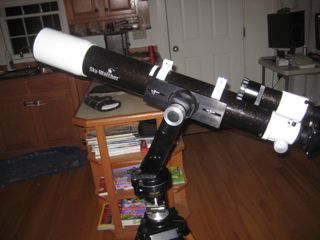 I have since had the mount out about a half dozen more times and the more I use it the more I like it.   I don't really know how to explain it other then it disappears and all I have to focus on is the view.   No other mount that I have owned has done that.   There was always some compromise that forced me to acknowledge that there was a mount between me and the view.    Not so with my Unistar Basic.   I think I finally have found the one mount that will keep my happy for Alt/Az observing. 
Galicapernistein likes this
Article: Universal Astronomics Unistar Basic Mount