CNers have asked about a donation box for Cloudy Nights over the years, so here you go. Donation is not required by any means, so please enjoy your stay.


0
William Optics EZtouch Alt-Az Mount
Discuss this article in our forums
William Optics EZtouch Alt-Az Mount
It doesn't get any EZier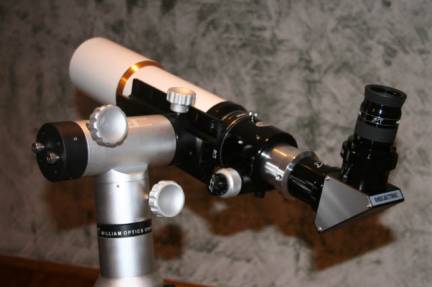 "The best telescope to buy is the one that you will use the most". That's a great answer for someone who is asking which telescope they should buy. The only problem is, to use the telescope; you have to set it up first. While that may seem obvious to those who already own one, the problem is, that it takes time and effort to setup your mount and telescope before you can even start observing, and nearly as much time to put it all away when you are done.
Life is busy for many people today; there's work, commuting, household chores, projects, family, and all sorts of other activities that keep people from getting out and using their telescopes. Now add light pollution, clouds, pollen, cold weather, and insects, and there are loads of excuses not to observe because there just isn't enough time tonight to bother with setting everything up when you only have a half hour on a week night. My number one problem is not having enough time to observe with my telescope.
Along comes the WO (William Optics) EZTouch mount to the rescue of people like me, who just never seem to get in enough observing time. This mount might just save you from the "I don't have enough time to observe tonight" excuses, and make looking at stuff up in the sky a whole lot "EZier" and fun again. You may even find that you don't know or care what's on TV any more at night!
Describing the WO EZTouch mount
It couldn't have a more accurate name. It's easy, and you just touch and push your scope around to view whatever you want.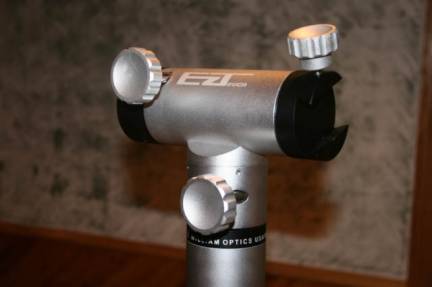 It looks like a big satin finish silver letter T on a tripod, and appeared in pictures to me, to look like it would be rather lightweight. It's hard to get a feel for how heavy and solid it is, until you open up the box and realize that this is one seriously well made mount. I weighed the mount, and it alone weighs about 7.5 lbs. It is made for William Optics by AOK in Switzerland who has a web site, if you can read Swiss, I believe. Fortunately for me, the WO site is in English (and other languages), and describes the mount and tripod nicely with a variety of pictures that clearly show various configurations with WO scopes on it. The setup is rated to handle 20lbs or so of scope between the two sides. The full instruction manual is also downloadable as a PDF file with nice photos, and straightforward steps. The mount is available separately from WO, and can be mounted on a different tripod if you like, but I have the package which includes a wood tripod from WO, which currently sells for $499. The mount has two axis of rotation, and is an Alt-Az mount, sitting atop a sturdy, wood surveyor's type tripod.
For those who are reading this, and new to telescope mounts, there are two basic types of mounts, Alt-Az and Equatorial. Alt-Az (altitude - azimuth) mounts move in one direction that is up and down, and another that is around the center axis. An equatorial mount moves in two directions as well, but is designed to be polar aligned (a fancy way of saying the mount is tilted so that one axis points toward the North Star), which will allow the user to track objects in the sky either manually or with a motor, by turning in only one direction to match the apparent rotation of the object in the sky. Of the two, Alt-Az is simpler to use, but requires that the user compensate for the apparent rotation of the sky by moving the scope as needed. This becomes even more apparent as the magnification is increased. Many beginners, and some not-so beginners, find Alt-Az mounts much easier to use, and more intuitive to navigate the sky with. I've used both types of mounts, and have a modified Nexstar GT GoTo Alt-Az mount that I also put my 80mm refractor on, and it really comes down to personal preference, but there is no question that for me, the EZTouch mount is an easy mount to set up.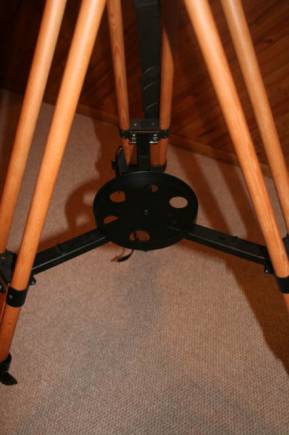 The tripod includes a small plastic eyepiece tray, which screws into the center support held by three plastic cross support arms. The tripod also has a build in heavy duty nylon carry strap, and stow strap to keep it the legs together when it is folded up. All of the other hardware on the tripod is metal, and the construction seems good, with the legs smoothly expanding and retracting, and securely tightening in place. It's not made from a fancy exotic wood species, nor is the finish anything more than a basic finish. In other words, it seems well made, very functional, but nothing fancy or complicated. The tripod and top connection piece weighs about 19lbs and that makes the entire package about 26lbs. With the EZTouch head installed, the center of rotation ranges from 42 inches from the ground when the legs are fully retracted, to 61 inches from the ground when the legs are fully extended. This gives the tripod the ability to adjust to a wide range of scopes and different sized people.
There are no weights, no slow motion controls, no cables, no hand controllers, nor any level or alignment tools. Quite simply, you extend the legs, attach and balance the scope and start observing. It doesn't even have to be level. The mount has two scope mounting ends on it, which allows for the attachment of two scopes at the same time, or one scope on either side. There is no need to add any counterweights with small scopes, but WO recommends that if you have a larger scope on only one side, that you balance it with a weight on the other side for stability. One side has a standard Vixen style dovetail slot, which accommodates standard dovetails, which screw down securely in the dovetail slot, via a nylon tipped hand tightened bolt.
The other side of the mount is drilled to accept a Losmandy style plate/dovetail, and includes a variety of holes in appropriate sizes and patterns to accommodate either the WO Losmandy style plate, or one of the various other companies compatible plates. There is likely to be a way to attach nearly any scope that you like to this mount. There is sufficient clearance for the scope to swing completely around, pointing from horizon to zenith with my 80mm refractor. Measuring from the center rotation point of the altitude rotation reveals that there is approximately 11.5 inches until the tripod would come into contact with whatever telescope is attached, however this might vary due to the additional distance away from the EZTouch head mounting surface that would be needed for the mounting brackets and hardware of various options that are available. Using the WO Vixen style dovetail plate, I measured the closest point to be 13.5 inches, which means that based on some simple calculations the mount should be able to handle a very wide range of scopes and still easily be able to view objects at Zenith.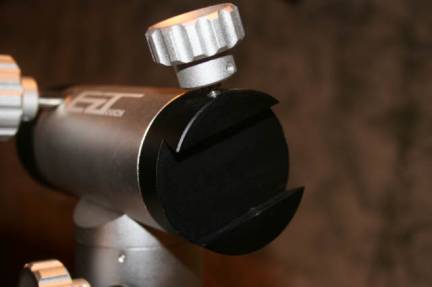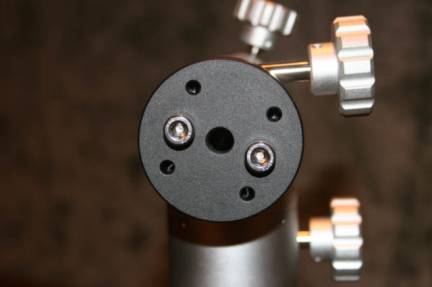 Again, this is a manual mount, and WO does not currently offer any sort of motorized option, nor any sort of GoTo, or Push-To computerized object location. It appears from the AOK site, that AOK does offers some options for digital setting circles on their larger version of a similar mount, but since I can't read the site, I am not sure what is offered, nor what the cost is. In either case, this mount requires you to find things, and track things on your own.
Assembling the EZTouch Mount
Assembly is simple, consisting of a couple of large hand tightening screws, attached to a very nicely finished preassembled mount. The mount head is placed on the tripod, screwed down and ready to go. The only tools required are allen wrenchs of several sizes that are not supplied. Do yourself a huge favor and buy a set of both metric and English allen wrenches. I recommend the type attached to a handle so that you don't keep losing them like I used to. They will work on all sorts of things, cost about $7 each, and you will be happy you have them. The least understood part of assembling the mount was trying to understand what the round tapered silver collar did, which sits at the base. I realized after assembling it all, that it is really more or less just for show. It does look nice! The tripod simply opens up, the legs extend as expected, tighten, and the small plastic tray spins on in place. The tray has holes in it for 1.25" and .965" eyepieces (does anyone use .965" eyepieces anymore-)
What if you have a tripod you want to use-
Well fortunately, WO and AOK have a really slick solution for this. The EZTouch mount comes standard with a 10mm Metric threaded hole on the bottom of the mount, which works with the WO supplied tripod included in the package I bought, or with a variety of other tripods that I have seen in pictures posted in various web forums. But it also has a secret, hidden, 3/8-16 threaded hole for people who have a sturdy photo tripod that they want to use. This is accessed by unscrewing the bottom half of the round silver part of the mount, right below the black ring, which reveals the extra hole ready to go. This holds a world of possibilities for someone who has a good photo tripod, which is likely to come standard with a threaded elevation post that this could fit on for traveling, or just because someone wants a lighter setup. Keep in mind, that the weight of the mount and scope is likely to be too much for inexpensive consumer grade photo tripods, so if you are thinking about doing this to save money, you will be better off buying the complete package. My older, sturdy, consumer grade photo tripod has a 1ž4-20 threaded stud, and just is not sturdy enough to use with this much weight on it.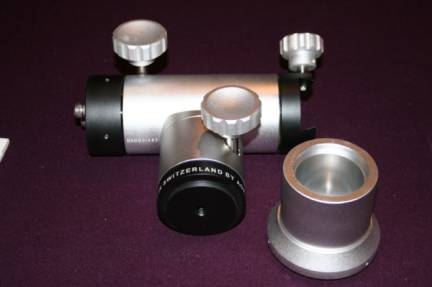 A word about the WO Vixen-style dovetail plate
I opted for the simplest connection possible, which for me was to use the built in L-Bracket on my refractor, and attach it using a standard 1ž4-20 allen head bolt, through one of the holes in the WO Vixen style plate. The WO Vixen style plate is a wonderfully made plate of nicely finished sturdy extruded aluminum alloy, with holes drilled in it for all sorts of combinations of rings, or other attachment options. It has a very nice, high quality, anodized black finish on it. I found that I had to very slightly drill out the second center hole to accommodate the 1ž4-20 bolt, which now attached securely to the L-Bracket. To keep it from twisting, I attached six small round self sticking cork pads to the bottom of the L-Bracket, and once tight, it doesn't move at all while observing. The plate now sells for $88, but since I can use it without rings actually ends up being the least expensive option from WO. There are other compatible dovetails for less money, but this plate is very versatile and can be used with rings or other scopes "if" I buy them some day. See the William Optics web site for more pictures and details of the various mounting options.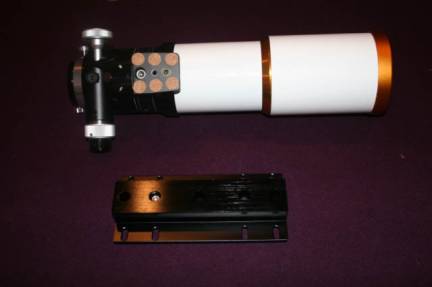 Using the WO EZTouch mount
I've been using the EZTouch now for over 6 months, with my WO 80mm Megrez II FD APO Refractor attached to it. The mount is an incredibly versatile, configurable mount that has a way to attach pretty much anything you might want to mount to it using brackets or mounting hardware from a large number of possible suppliers, including William Optics. A number of possibilities exist for any combination of one or two scopes, and I have seen pictures of everything from an 8 inch SCT, to a variety of refractors ranging in size from 66m to 120mm attached to it. I've seen scopes attached with rings from various manufacturers and plates and dovetails from various sources. Another popular option seems to be to attach solar scopes to it for viewing our nearest star, the Sun. I think you would have trouble viewing straight up with longer refractors and reflectors unless you can get more tripod clearance, but nearly all shorter scopes should work well.
I start by adjusting the legs of the tripod before attaching the scope, and for my height I generally pull the legs out until the top of the extendable portion meets the brace that holds the tray. It goes higher, and for viewing objects at or near the Zenith I sometimes extend the legs all the way. For objects lower in the sky, I sometimes adjust the legs shorter. The best part about this, is that since there is no alignment for this type of mount, this can be done while observing, and adjusted up or down to your liking and to level it as needed. The wood legs release, extend, adjust, and tighten down easily, so it's no problem to move the entire setup (if you are strong enough, since mine fully assemble with everything is probably about 40 pounds), or readjust it if needed, and in seconds you are back to observing. This is something that is of course impossible to do with an Equatorial mount without doing a new polar alignment, and with any sort of computerized mount without doing a complete realignment.
The tripod with only a single 80mm refractor is very stable, however a number of other people have reported putting the mount on larger and more rigid tripods for dual scope setups, or larger scopes, and have had good results at the extra cost of the larger tripods. With the scope attached to the WO Vixen style dovetail plate, the combination slides nicely in place, and allows the scope to be balanced easily after attaching the diagonal and eyepiece.
Tip:
Make sure that the Vixen style dovetail plate is firmly tightened to prevent it from accidentally sliding out when viewing objects at different altitudes.
I have found that I like to put in my heaviest eyepiece, a 2 inch diameter 33mm WO SWAN, and then focus the scope at infinity, and adjust the balance so that it is essentially in balance at this weight distribution. Then I tighten down the Altitude adjustment knob enough to just keep it from moving on it's own with my lighter 1.25 inch eyepieces. The Azimuth control is so smooth it can just be tightened or loosened to your liking. The biggest thing I had to get used with this mount was adjusting the tension a little tighter than I initially needed for smooth movement, because I found I was moving the scope accidentally when changing eyepieces. I sometimes tighten the adjustments a little further while switching eyepieces, to prevent accidentally moving off the object, and then loosen it again once I have the new eyepiece in place. It's easy to change the tension while viewing, and there are no secrets to using this product, just simple trial and error to get the balance and tension the way you like it. It's also easy to rebalance if you find that you have it not quite as balanced as you like it when switching eyepieces, again you just loosen the bolt by hand holding the dovetail in its slot, and slide the entire scope forward or back to get good balance. I also discovered how nice it is to have a well made fully rotatable focuser, since the scope is now hanging sideways from the L-Bracket. Make sure you plan for this with whatever bracket, rings or dovetail you use, since I find that I am able to rotate the focuser to nearly any position, and allow the shorter observers in my family to view objects they would normally need a stool to see.
For viewing at magnifications up to 200x, I have found the time to settle down to be very short with my 80mm refractor alone on this mount, at about 1 second, and that is while on my solid wood deck, sitting on cut out pieces of an old neoprene mousepad (cheap alternative to anti-vibration pads). On grass, there is no settle down time even noticeable. The ability to track at high powers takes some practice, since the views in the refractor are reversed left to right because of a star diagonal, but it becomes second nature after a while. The best part about it is that if you decide you want to change areas of the sky, or simply roam the sky, there is no waiting; it's all real-time pushing of the scope wherever you feel like traveling.
I can't make any comparisons to any other Alt-Az mounts of this type since I haven't used any but I can make some simple comparisons to the two other mounts I mentioned. I own a Nexstar 114GT single arm Alt-Az GoTo mount that I modified to allow for the attachment of my 80mm WO refractor. The Nexstar mount works well, and once aligned properly finds objects most of the time. It does occasionally go off in some direction in outer space that appears to be random, but usually allows me to locate nearly any object in it's hand controller list. It doesn't track well, and even though I have replaced the vibration prone aluminum legs with home made oak, it still does not provide for very steady viewing. I believe this is mostly because of the inexpensive single arm mount design, being taxed by the weight of the refractor. So in conclusion, the Nexstar mount is nice for finding things, but not nearly as good as the EZTouch for viewing things. The other mount I have used is an Equatorial mount from a Hardin Star-Hoc which when polar aligned tracked things quite well with my refractor. Viewing was steady even at high magnifications, and the tripod was much sturdier. There was no goto feature, and being essentially an EQ3 equivalent mount, was more than substantial for my 80mm refractor, so it was not all that easy for me to get used to for finding objects. It provided stable viewing, and good tracking, but viewing was sometimes very awkward due to the position that an EQ mount puts the scope in, depending on where it is pointed in the sky. It also was not substantial enough to do any real long exposure astrophotography with, and went to a good home after I borrowed it for several months.
Some hidden extra costs, sort ofÉ
I originally started with plossl eyepieces in 26mm, 15mm, 11mm, and 8mm sizes, but this mount begs for wide field and super wide field eyepieces. I have since sold the plossls and have wide angle 2" 33mm WO SWAN and 2 extra wide angle WO UWAN eyepieces, in the 16mm and 7mm 1.25" sizes. These are much more enjoyable to use. Higher powered widefields also provide an easier way to locate objects, and many times I simply leave the finder scope in the case and use the 33mm WO SWAN eyepiece in place of the finder. And speaking of the finder, by using the scope in the configuration I do, it places the finder on the right side of the scope now, which I prefer, since my left eye is my better eye, but the scope can be mounted either direction, there is no real front or back side to the mount, and both axis's can rotate a full 360 degrees without stopping. With rings, the scope could of course be rotated in any position desired.
But where are the handles and slow motion controls-
Quite simply, there aren't any because they aren't needed. I have found that if everything is securely tightened, there is absolutely no give in the system and I can simply grasp the diagonal of my refractor and push the scope smoothly and easily to any place in the sky. Even viewing moving objects like satellites or jets flying overhead can be tracked easily by hand. Of course, with a star diagonal you have to get used to the reverse image, and it get's harder to track at higher powers, but I was amazed the first time I saw a satellite or plane zip into view, and I started tracking it just for fun. I accidentally found M3 one night following a little satellite zip across the sky, and was amazed since I had never found M3 before without a GoTo mount. Sometimes dumb luck, or just exploring the sky randomly produces amazing results.
For terrestrial viewing, or photography, it works equally well, and again the balance is the key. Photos of the Moon are also very achievable, and perhaps any short exposure or webcam photography would also be acceptable. But keep in mind, this mount is not really designed for any sort of traditional astrophotography.
PROs
The setup is fast and easy. With setup and tear down times at 5 minutes or less for me, there are no more excuses for not going outside on a clear night to observe for even a short time. This is the single biggest PRO for me, because it means my scope and mount gets used a lot, and I am getting better at finding and observing all sorts of objects. Using the 16mm UWAN eyepiece has proven to be a real marvel for finding and seeing various deep space objects. I believe it will be much more enjoyable to observe in the cold weather in the Winter when so many clear cold nights provide excellent viewing, but the thought of spending my first 15-20 minutes freezing while I setup has often prevented me from even attempting to view some of the Winter objects. Like anything else, the more you observe, the better you get at it, and I have read stories of far too many people who jump into this hobby, only to be disappointed when they realize how much work it is just to deal with transporting and setting up all the gear they have purchased, only to view smudges of things that don't look anything like the Hubble telescope pictures.
It's just a lot of fun to use a mount that is very simple to use, and I find that I spend much more time just looking at low to medium magnification wide fields of stars, and star clusters which is what my 80mm refractor excels at.
This mount is incredibly adaptable to a variety of configurations. Versatile mounting and viewing options - one or two scopes, Losmandy or Vixen compatible mounting hardware, and a highly adjustable tripod (or use on another compatible tripod) allows for this mount to be used in a large number of setups. While the alignment of two scopes may be a bit more work (based on what I have read), this mount can accommodate a large number of standard and custom options for viewing. My plan is to get a bigger scope to attach to the other side of this mount, and I think that it could easily handle an 8" SCT, which might turn out to be the perfect match up with my existing 80mm wide field refractor. Another option is to invest in a larger APO refractor to go along side my 80mm refractor so that two people can view at the same time.
The final pro is that this mount is perfectly suited for those who need portability. Whether it has to be carried to the back yard, up and down steps, or taken on a drive in search of a dark site, the ability to simply and easily transport, set up, and tear down a highly portable, yet stable combination is something that has proven to be very desirable for me.
Both PROs and CONs - a toss up
The price - while it is not super expensive, it is also not super cheap. For me, it's all about getting a good value, and at $499 with the tripod, this mount has turned out to be an excellent value. But one does need to keep in mind that there might be additional costs, like dovetails and rings, or however the scope will be attached, depending on what you already own. There is also the cost of upgrading to wide field eyepieces, that this mount has convinced me are worth the extra cost. I am very happy I have started upgrading, and I will leave the WO UWAN eyepieces to another review, but I would bet that most people will not be as happy with narrow field of view eyepieces like I wasn't, and might feel the need to upgrade to widefield eyepieces.
There is no option for Digital Setting Circles, or GoTo, or Tracking Motors, but honestly, after having used the mount the way it is now for 6 months, I know that I would not be willing to pay the several hundreds of dollars that these add to the mount. Therefore, this a Con and a Pro, since I am not tempted to make this mount into something more complex by adding extra electronics, alignment routines, and thereby increasing my setup time, and defeating what is my primary Pro, fast and easy setup. I think that if I want to invest in a better GoTo mount, there are lots of other options out there and there are likely to be more in the future.
The mount is ideally suited to small to medium sized refractors. This is a pro for those who have telescope that this mount works well with, but a con for someone who doesn't have one or has a larger scope, in particular, one with a long tube where this style of mount is going to be hard to use. With so many people gravitating towards small APO refractors, this is probably going to make this mount appeal to a much large crowd than it would have a few years ago.
Note: I have recently seen pictures posted on various Internet forums from various users who have made very interesting extension tubes, allowing the EZTouch mount to be easily elevated above other heavy duty tripods which allow the mount to be used with very long refractors. While not available from WO at the moment, these sort of custom solutions can be easily sought out and viewed for ideas if someone wants to create what appears to be to be a very easy user modification, and hence removes the issue of not having enough tripod clearance, at least for long refractors. Long reflectors, on the other hand, would require a ladder to use in this configuration, unless some sort of pier setup was employed.
CONs
The tray is too small, but it's easily replaceable if a user is willing to do some work on their own. The tray I built required me to take some extra 1/8 plywood I had, cut a round circle, drill holes with hole saw bits for 1..25" and 2" eyepieces, stain, varnish, and sand. To attach it, I drilled a center hole, and bought an 8mm x 20mm Allen bolt, that holds it nicely in place. Had William Optics offered a larger tray, I would have probably just paid extra for it. Others have used other types of pre-made plastic and metal trays, pizza trays seem popular for example, or other options are available, but this is considered a con since it is extra work for the user. I probably have a couple of hours into mine, but I tried to make it look nice as well as be functional.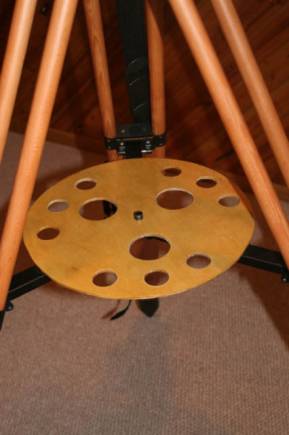 Custom Tray that I built pictured above
The EZTouch mount head, while versatile, requires that the proper connection be made for a secure hold on the telescope, and this usually means buying some extra gear. Dovetails, plates, rings, and various combinations can all be used, but they do add an extra cost that needs to be budgeted for. Depending on your existing setup, you may find yourself adding several hundred dollars of additional hardware to get things working and looking nicely. There are a number of options that vary greatly in price, so you will likely want to decide for yourself which one works best for you, and best meets your budget.
Note: William Optics has just started offering the EZTouch in packages with mounting hardware and telescope on their website! This is exciting to see as it saves the user money.
The Final Conclusion
I love computers, the Internet, technology, and GoTo scopes, but there is just something unexplainably fun about just plopping yourself down and looking at the sky through a good wide field APO refractor on a high quality Alt-Az mount, without having to do anything other than enjoy what you are looking at (once you find it yourself). Quite simply, this is the best astronomical investment I have ever made because I am using my telescope so much more than I ever did before. This is a mount I believe I will keep the rest of my life, as it will never go out of style, will never need a software upgrade or a firmware upgrade, does not have cables, connectors, gears or motors that will wear out, and will never stop being fast and easy to use. This mount goes a great way towards solving my first problem, which is not having enough time to use my telescope. Now if only William Optics could somehow solve my second biggest problem; Light Pollution!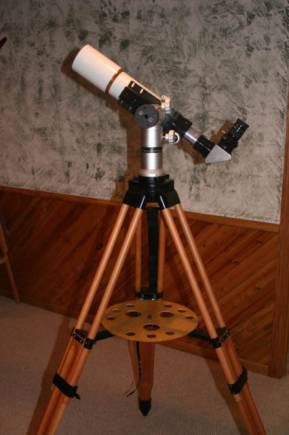 Article: William Optics EZtouch Alt-Az Mount