CNers have asked about a donation box for Cloudy Nights over the years, so here you go. Donation is not required by any means, so please enjoy your stay.


0
Meade LXD75 Mount
Discuss this article in our forums
I've been an amateur astronomer for nearly 40 years and have owned many mounts and many scopes over the years. I've either owned or used everything between a 60 mm refractor and a 25 inch reflector at one time or another. I'm fairly active in both deep sky and solar system observing and astrophotography.
I bought a Meade LXD75 mount when they first became available some years ago. It replaced my LXD55 mount. I used them both initially with Meade 5 inch refractors and found the LXD75 to be of noticibly higher quality with overall smoother operation. In time I ended up mounting a Celestron 9.25 inch OTA to the LXD75. I've used it for many years now and also have years of experience with a much more expensive and much higher quality Takahashi EM-200 mount. This review summarizes what, in my opinion, are the good and bad features of the LXD75 mount. The photo below shows the LXD75 mount with a Celestron 9.25 inch F10 SCT and a setup for lunar spectroscopy.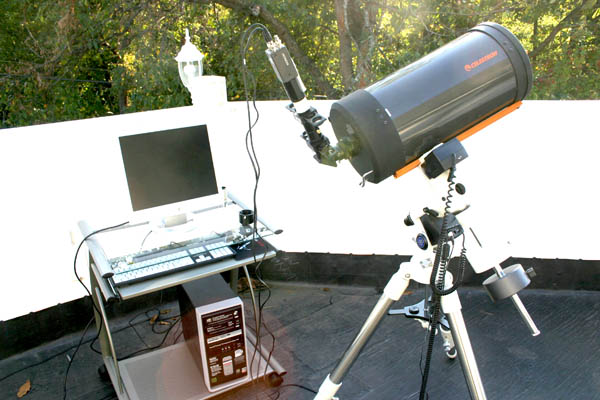 What I like about the LXD75 mount:
It is a bargain for the price and is really inexpensive.

It is very lite weight and easy to move around.

It tracks stars, planets and the moon extremely well.

The GOTO system is adequate and functional.

Polar alignment with the scope is a snap and is very accurate.

It is adequate for most 5 inch refractors and for SCT's up to 9.25 inch aperture.

The Autostar system is functional and somewhat "on target".

The tripod is stable.

For deep sky imaging, the mount tracks accurately for about 1 minute without
any corrective inputs. This improves tremendously with use of even an inexpensive autoguider, but after several minutes tracking always fails briefly but drastically and I have always thought this was due to the worm gear re-setting (but I'm not really sure of the cause). Even so, by anticipating the failure, good
deep sky images are possible by combining subexposures.
The hand controller works very well and it isn't necessary to use a laptop to find and center an object of interest.
What I don't like about the LXD75 mount:
Both axes show really horrible back-lash when positioning a feature in the cross-hairs of a guide scope or keeping an object centered in a camera imaging field. Nothing like this problem exists with more expensive, higher quality mounts like the Takahashi EM-200.

The scope must be really precisely balanced along both axes for the mount to
function well.
The plastic drive casing is subject to crack if the mount falls over.
Conclusions:
The LXD75 mount is much better than the LXD55 mount.

The mount is a bargain for the price.

The mount will handle a 5 inch F9 refractor or a 9.25 inch F10 SCT.

The mount is a fantastic visual mount.

The mount can be used for limited deep sky astrophotography with subexposures up to 1 minute unguided or 3 minutes autoguided.

Both axes show very annoying and consistent back-lash, but once an object is
is centered tracking is very good.
Polar alignment is accurate and fast and easy to accomplish.

The mount is very lite and easily transported and set up in the field.

Tracking of the stars, planets and the moon is quite accurate.

The Autostar system is quite good.
Article: Meade LXD75 Mount