CNers have asked about a donation box for Cloudy Nights over the years, so here you go. Donation is not required by any means, so please enjoy your stay.


0
Mountain Instruments MI250 GOTO Mount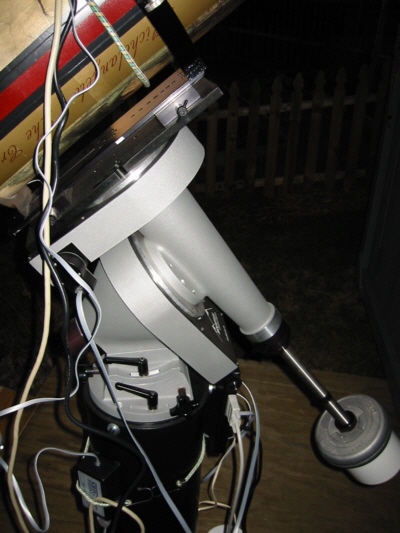 I haven't seen many reviews of the Mountain Instruments MI250 Goto German Equatorial Mount so I thought that I would share some of my experiences. My love of astronomy was sparked as a seventh grader in Mr. Bruce's science class and it has continued for some 20 years since. Over the years, I've owned SCT, Newtonian and classical Cassegrain telescopes and also have had the pleasure of using a couple of large (7" +) university refractors including a historic Fitz refractor while a midshipman at the US Naval Academy. I have also ground and figured an 8" mirror and have ground and partially figured a 12.5" mirror (a work in perpetual progress). The 8" F6 I am currently using I built myself.
In the fall of 2001 I began searching for a top quality equatorial mount to be permanently mounted in my backyard observatory. After weighing a variety of factors, I decided to buy a MI250 Goto mount from Larry Meyers of Mountain Instruments. Since I intended to use the mount mostly for imaging with occasional visual use, stability and excellent tracking accuracy were my top priorities. The 65 - 70 lb payload capacity of the mount supports my 40 lb 8" f6 Newtonian well and will easily handle the 8" F11 MCT I am expecting any day now from the fellows at TEC.
Unpacking and Setup
The mount arrived about five weeks after I placed my order and several weeks earlier than Larry had promised. It was very well packed with ample protection from numerous layers of styrofoam and packaging peanuts. The RA and Dec assemblies were shipping in individual boxes with the various cables, Gemini Goto system and counterweights occupying additional boxes. Everything arrived in perfect condition save a small metal shield over the Dec encoder plug that had been knocked loose. After applying a dab of epoxy to the part and reattaching it to the mount, I was ready to set the mount up.
The assembly was straight forward and the directions supplied with the mount, while not overly detailed, are more than adequate for someone with a modest amount of GEM experience or mechanical aptitude. All of the pieces fit together with precision and within 15 minutes I had the mount completely assembled Despite the rather large size of the RA and Dec assemblies, each was quite manageable and lighter than my eyes initially suggested. The only assembly related item I would change concerns the bolts used to attach the Dec assembly to the RA assembly. An allen key is required to tighten each of the four bolts. While the use of an allen key to set up the mount is not an issue for a permanent setup, for mobile users it may be a bit of a hassle especially if one is setting up under low light or dark conditions.
The finish of the mount is battleship gray with tasteful black and white accents. It has a functional look to it and the quality is obvious.
First Night Out
The MI250 uses two Losmandy clamping mechanisms to hold the OTA on to the mount. It is a sturdy connection and is relatively easy to use. The dec shaft is threaded and the counterweights (not threaded) are held in place by two locking nuts. While some users may prefer this configuration, I have found that adjusting the 20 LB counterweight (2 are included with the mount) is a bit tricky since one must support the counterweight while adjust the locking ring. For those who prefer counterweights that clamp to a smooth DEC shaft such as those found on the G-11, Mountain Instruments offers an alternative DEC shaft and counterweight system made by Robin Casady at Carmel Coast.
The MI250 Goto uses the Gemini goto system. The DEC and RA axes are driven by DC servo motors and the Goto system can function standalone using the hand controller. No PC is required although the system is compatible with popular planetarium software programs such as TheSky. I found the instructions for initially configuring the Gemini system a bit thin in places, but after a couple of false starts, I was able to use the Goto system on my very first night. With only ho-hum polar alignment, I set about aligning the Gemini system on five stars in order to help the Gemini model the behavior of my mount. I successfully completed this step and subsequently was able to slew to a variety of objects (with meridian flips) and have them land in a 150x field of view around 75% of the time. After modeling another five stars across the sky, the Gemini system placed 100% of the objects within the 150x field of view. The mount had a robotic-like hum to it when slewing and the motors never stalled under the load of my 50" long 8" F6 OTA. All in all, my first night out was a success and I found the Gemini system to be user-friendly after a bit of a learning curve.
The MI250 supported my 8" f6 without complaint and was noticeably sturdier with less backlash than the Losmandy G-11 it replaced. Of course, my G-11 had not be permanently mounted so I am making a bit of an apples to oranges comparison. The RA axis had very minimal backlash and the DEC axis had only the slightest hint of any play. I was very satisfied with my purchase and was excited to use it again. Of course, as fate would have it, there were a couple of glitches that would delay further use of the mount for a few weeks.
Second Night - Dead Battery
Now, the Gemini manual states that once certain parameters are set in the system, they will remain in the memory system of the Gemini and will not have to be entered each time the user fires up the mount. So, when my Gemini system dropped all of the parameters I had entered just a few days earlier, I suspected that something was amiss. A quick call to Larry Meyers at Mountain Instruments revealed that a couple of Gemini units had shipped with a faulty capacitor (or something like that) that caused the CMOS battery to drain over time. Unfortunately, the fix required me to send the unit back to Scott Losmandy. Two weeks after it left my home in Kansas, the Gemini was back in my hands and ready for use. In the interim, I had purchased my first CCD camera and was eager to use it to determine the tracking accuracy of the mount. I'd read good things from other users about the mount and I was looking forward to validating their claims.
Putting the Mount to the Test
Armed with the new CCD camera and eager to test the mount, I set about recording the periodic error of the mount. I oriented the camera axes to N/S/E/W and made a couple of data runs, each lasting just over 8 minutes representing two complete cycles of the worm. My initial indications which were reinforced by several other data runs indicated that the PE of the mount was around +/- 4 arc seconds, or 8 arc seconds total peak to valley. Very good. However, I noticed that the curve had an interesting saw tooth pattern that repeated as the worm cycled. After further investigation, I found that one of the worm bearings had a slight but noticeable rough spot. I can't say with certainty that the bearing was causing the saw tooth pattern but it was a likely culprit. Larry Meyers graciously offered to replace the bearings and I took him up on his offer. He not only replaced the bearings, but also installed a new worm assembly and a new, improved RA gear! Throughout the process, Larry was extremely responsive and obviously had a commitment to my satisfaction. His service has set a new standard for me of what customer service should be.
And so on . . . . .
I have used the MI250 Gemini Goto combination on just about every clear night since and have found the mount's performance to be top notch. The pointing accuracy of the Gemini system is good enough to place objects on my ST7E chip (around 20' long axis FOV) every time after 15 or so stars have been added to the pointing model built into the Gemini system. With TPoint, I have been able to improve my pointing to an accuracy of 1' RMS. I have taken numerous 5 minute guided exposures and have found well over 85% to be satisfactory. The mount is very stable and I've have been able to image with success in modestly breezy conditions.
The mechanical adjustments on the mount are precise but require a bit of practice and touch to use effectively. I found that the best way to achieve good polar alignment is to sneak up on the pole from a single direction when adjusting either the azimuth or the altitude of the mount. If I overshot and had to reverse the adjustment knobs to move the mount in the other direction, the backlash in the adjustment mechanism made it difficult to estimate how much the mount had moved.
Once I got the knack of moving the mount in a single direction in very slight increments, I was able to reduce drift to almost zero over 10 minutes indicating that I had good polar alignment. The clutch adjustments use bolts that require an Allen key. Again, I would like to see these bolts replaced by some which can be adjusted by hand.
My tests of the periodic error of the "new" RA/worm gear assembly indicate that the PE of the mount is approximately +/- 4" if not a smidgen better.
Summary
Plus
Bedrock stable

Excellent tracking (+/- 4" on my system)
Accurate Goto system
Outstanding customer service!!!
Minus
Required use of alley keys to assemble mount and adjust clutches
Don't tell your wife" expensive, but quite comparable to other similar mounts such as AP900 (my wife knows, btw)
Documentation adequate but could be better
A few glitches that required manufacturer attention to fix, no problems since
In my experience, the MI250 Goto mount has proven to be an excellent performer. It is very stable, has excellent tracking and the Gemini Goto system is accurate and reliable. While I did experience a few glitches with my mount, I believe them to be relatively isolated incidents. And the seemingly universal praise MI250 owners heap upon the mount and its creator, Larry Meyers, seems to back up my opinion. The mount has met my expectations and I intend to use it for many years. Furthermore, a top quality mount should be backed by top quality customer service. Mountain Instruments has provided outstanding customer support and by all measures, Larry Meyers has dealt with the problems I experienced graciously, promptly and completely. I heartily recommend the MI250 Goto mount and would be willing to share my experiences in more detail with anyone who wishes to contact me.