CNers have asked about a donation box for Cloudy Nights over the years, so here you go. Donation is not required by any means, so please enjoy your stay.


0
Parallax HD150C Mount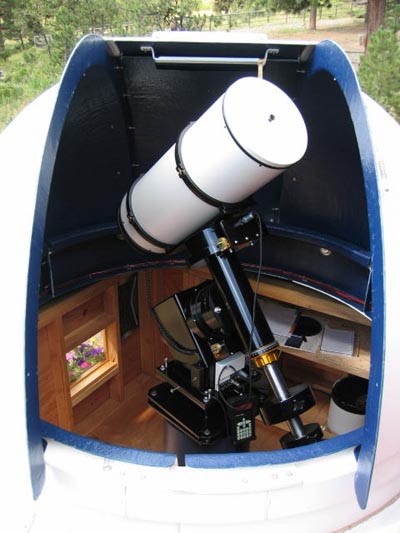 I got ambitious last year and purchased a nice 10 inch Mak. Delivery time was almost a year, so in a normal world, this would be plenty of time to get an appropriate mount, right? Well, we all know what kind of world some of the astronomical products live in. I don't need instant gratification, but I wanted a premium quality mount that could handle heavy loads (large scope, piggy-backed small refractor, accessories, cameras, etc.), and I wanted it before "The-Big-2003-Mars-Event". I also wanted a mount that could handle mild abuse from college students doing occasional undergraduate research.
Joe at Parallax delivered exactly what I wanted, complete with significant customization in just less than 2 months (!). The Parallax HD150C has been a pleasure to use and handles the heavy loads with ease. In 6 months of use, I have been increasingly pleased and very happy. The $8600 cost of a premium mount will make most folks quiver (including me), but Joe's prices are fair and in line with other reputable mounts.
Features
The standard HD150C mount comes with the following features (see the Parallax web site for additional details):
100lb payload.

9 inch Byers Starmaster gears in both DEC and RA. Gold anodized.

Stainless steel worms.

Large 1.5 inch stainless steel RA and DEC (and counterweight) shafts.

33lb counterweight with brass locking pin (I purchased different sized weights as well).

Simple polar adjustment.

Powered by Astro-Physics GoTo Electronics.

Straight-forward tension adjustment on the gears.

Super-easily adjusted clutches.

Setting circles (not used with the electronics, but you never know...).
In addition to the standard features, I had Joe replace the supplied 10" pier with a custom pier adapter to mate the mount with my observatory's concrete pier. I also had Joe replace the standard latitude adjustment with a beefy, rock-solid fixed latitude (for extra stability). I had some extra holes drilled in the saddle plate for easy mounting of telescope rings. And finally, I wanted a simple way to hang the electronic Astro-Physics hand paddle, so I had some horizontal bolts added to all four sides of the mount. (I replaced the supplied bolts with slightly longer ones for security when fumbling around at night with gloves.)
Assessment
To paraphrase one well-known astrophotographer, "you can just about tell the quality of a mount by the quality of the packaging." Well if that's any indication, then the Parallax mounts are without compare. The heavy-duty, felt-lined, custom-built wood boxes weigh a ton but ensure that the mount arrives safe and sound without a scratch. The shipping boxes are so nice, that I've kept them intact in the attic. I'll probably never use them again, but who could bear to tear them down?
Everything looks beautiful, with a nice glossy black finish and a professional research-facility appearance. The mechanical setting circles are especially nice. The gears are mostly covered, but you can peak around the corners and glimpse the high quality servos and worms. The slight exposure worried me at first - occasional wind storms can stir up the dust and pollen in Colorado, and I wondered about the impact of grit on the nice Byers gears. In retrospect this seems to be a non-issue, though I am certain that Joe could make a custom cover if I was concerned enough to order them.
Mount installation was simple and straightforward. I didn't even bother with directions. Joe had already described the process over the phone and emailed me pictures of the assembled mount. Everything was intuitive. My mount lives in a small backyard observatory, but it would be trivial to assemble and disassemble for portability. Just watch your back - this 80lb behemoth is solid and heavy. The two sub-pieces are around 40lbs each, which means the standard HD150C mount is transportable to the field, but will be a handful.
The only surprise was that the mount did not come with the required 12volt (minimum 3amp) power supply. There was a cigarette lighter adapter supplied with the AP electronics, and in all fairness, that's the normal mode of operation for most users. But my mount is part of an observatory and never travels, so I had to wait impatiently for a 120vAC to 12vDC 5amp power supply built by Pyramid (which has since failed and been replaced for free by Pyramid).
Polar alignment was straightforward and aided by the exceptionally nice AP electronics. A few iterations and everything was set. The alignment hasn't needed adjustment for over 6 months. The actual polar adjustments were handled by the custom pier adapter designed to mate my pier geometry to the mount geometry. Six bolts are used for the adjustment (four for alt, two for az), and one of my few quibbles with the mount is that tightening the stiff bolts would sometimes make the alignment jump in unexpected directions. Not a big deal. The standard (not customized) mounts have a simpler and different design that I'm guessing is slightly easier.
The pointing accuracy of the mount has been nothing short of superb. One star alignment is usually sufficient if the mount is bumped out of position (an all too frequent reality in my small observatory), and two star alignment is nice if pinpoint accuracy is essential. On any number of occasions, the mount has a sat unused for days, then been fired up at noon and told to point at Venus, Jupiter or Saturn. Perfect placement every time.
The Astro-Physics electronics are a big selling point (well worth the extra cost). The ease-of-use and loaded features make observing a pleasure. The hand-paddle is bright enough to be seen during the day (if shaded with a hand), and dims pleasantly at night, though I would sometimes like a slightly dimmer display. The vacuum florescent display can handle those sub-zero Colorado winter nights unlike an LCD. I've had problems with freezing laptop monitors and freezing hand-paddles, so this is a nice feature. Occasionally, for those really faint DSOs I'll dim the display by covering it with a dark red see-through plastic.
I've used the mount with both a small four inch refractor and a large 45lb Mak. Balancing was essential to prevent the mount from stalling. A simple balance is done by releasing the RA and DEC clutches, but an ultra-accurate balance can be done by disengaging the gears themselves. Surprisingly, I have had a few difficulties with balancing the smaller refractor, presumably because the binoviewers+diagonal+extension+etc put all the weight on one side of the refractor. The heavier Mak corrector always puts some weight in front and is less sensitive to the balance. I solved the refractor's problems by disengaging the gears, carefully balancing, and then marking weight positions on the DEC shaft for each potential combination of accessories. The mount has never stalled since. When I load up with accessories, I just slide the weight to the correct location on the shaft.
The 100lb payload seems to be an accurate estimate. The heavy 45lb Mak loaded with accessories slews quietly and with no difficulties at all. Mounting the Mak's rings required four holes drilled into the saddle plate. Unfortunately, the plate holes were drilled slightly off specs. These holes were another customization provided at no charge by Joe, and the improper placement was probably due to a miscommunication on my part. New holes were easily replaced with a drill press. (Heck, a good hand-drill might have fixed this, but I wanted nice orthogonal holes with a clean finish.)
The mount is solid as a rock and damps rapidly when bumped. In fact, at high frequencies the mount barely vibrates at all. Any unnoticed low frequency vibrations are certainly due to the concrete pier. The fixed-latitude customization adds significantly to the mount's stability, and I highly recommend this modification for observatories. Joe was more than happy to add this feature. In fact, he was downright pleased, because he agreed that a fixed latitude would provide maximum stability.
Backlash is minimal, and can be adjusted by the tension on the gears. The AP electronics also handle backlash adjustment.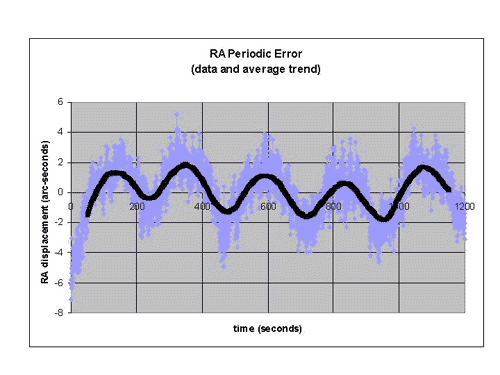 Periodic error is exceptionally small, even without the AP electronic periodic error correction. The plot of Arcturus' position illustrates typical periodic error for the mount. These data were collected on August 10 2003 during the day when Arcturus was about 1 hour west of the meridian (see what I mean about good pointing accuracy?). I used a ToUCam Phillips webcam and the K3CCD drift explorer tool with the focal length, aperture, chip size, and pixel size properly entered. For higher accuracy, the focal length was measured immediately before the periodic error measurements (using the same equipment in the image train -- diagonal, extension tube, and 2" to 1.25" converter). The focal length was consistently measured for the Mak at 3494.25mm (using multiple star-drift tests and a Celestron micro-guide eyepiece). The aperture of the Mak is 254mm. The ToUCam pixel width is 5.60 microns. The number of pixels is 640 (width) by 480 (height). This combines for a telescope theoretical resolution of 0.45 arcseconds, and a webcam pixel resolution of 0.33 arcseconds per pixel. The ToUCam was used with the default camera settings (5 frames per second).
Notice the +-2 arcsecond noise in the data due to atmospheric turbulence. This is not gear noise since the same +-2 arcsecond noise is present on the DEC drift data as well, and the DEC drive is not moving while tracking. The "moving average" plotted on top of the periodic error is a reasonable estimate of the trend that removes the +-2 arcsecond noise. Each point on the trend is the average of 500 data points (249 previous data points, the data point itself, and 250 after).
The excellent +-2 arcsecond periodic error exhibited in this plot is typical, but changes slightly depending on the sector of the RA gear being used. In all fairness to the mount, I have not seen any sectors with larger periodic error, so I am presenting the worst case scenario. In fact, I have seen sectors where the periodic error drops down to a superb +-1 arcsecond. Note that shorter, unguided, one minute exposures can routinely expect better than +-1 arcsecond error if the skies are stable (based on the trend presented in the plot). Obviously, for longer exposures the periodic error (and any leftover polar drift) can be almost completely removed using the AP electronic periodic error correction.
While I am not an imaging expert, I am pleased with my preliminary imaging results using this mount. Even with a camera, the large scope is well under the 100lb weight limit, so the mount behaves smoothly and well. As I gain more imaging experience, look for updates posted here.
Pros
Fancy Astro-Physics electronics with excellent pointing accuracy and loaded features.

Stability. Rock solid.

Heavy 100lb payloads.

Exceptionally low periodic error (+-2 arcseconds before electronic correction).

Professional appearance and construction.

Custom enhancements.

Personal customer service.

Timely delivery.
Cost. $8595.00. Good mounts don't come cheaply, but you get what you pay for.

Some exposure of gears and worms (really not an issue in an observatory, and gears could be easily protected with a custom cap).

Sensitive to balancing (true of most good mounts).
Overall Impression
This is a superb mount. The quality is obvious from the moment the mount is unpacked. Joe's customer service is personable and excellent. The solid construction is perfect for observatories and can handle abuse by prying fingers (e.g., schools or public settings). The AP electronics are a pleasure to use.

Article: Parallax HD150C Mount