CNers have asked about a donation box for Cloudy Nights over the years, so here you go. Donation is not required by any means, so please enjoy your stay.


0
Epsilon Telescopes Modular Pier System
Discuss this article in our forums
Epsilon Telescopes Modular Pier System
User Review Ray Byrne 7-8-2006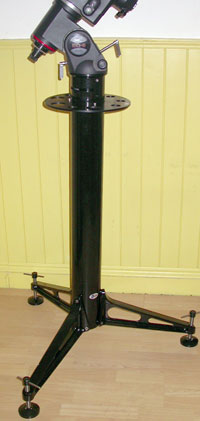 As usual I would like to state that I have no affiliation with this company whatsoever
A bit of history
I've taken the route of having a general purpose GEM for use with whatever telescope OTA I may own as this gives me the flexibility to have scopes for various uses and I've also been striving to find the best combination for my interests which are Lunar, Planetary, white-light and Ha Solar observing and imaging. My current telescopes are a Celestron C9.25 for Lunar and Planetary use, a Meade ARS Refractor (with various upgrades) and a Coronado SolarMax40 Ha scope, which rides piggy-back on the AR5 for Solar work. My GEM of choice is a Skywatcher EQ6/Orion Atlas
Why a pier
The weather in the UK is notorious for being changeable and lugging-out a tripod and equatorial head with its counterweights, then polar aligning can take quite a bit of time, and then breaking it all down again in the early hours of the morning becomes a drudge especially if the skies look "iffy" which is a lot of the time here. To get good results in planetary imaging one does have to be dedicated though, so the answer is some type of permanent installation to easy the pain and help with the willingness to go out on those marginal nights. I'm planning on moving house in the near future and don't want to go the whole-hog and build some kind of observatory so a semi-permanent facility was what I was after.
I had the idea "in embryo" for some kind of pier but one that I could remove easily when I move house, and also one that would be weatherproof. I like my gear to look cool as well, as I'm sure we all do, so appearance and top quality was also a factor. The plan was to deck the rear part of my rather small backyard and have a concrete base that a pier could be attached to (to prevent theft) but not a pier that would be concreted into the ground.
Why Epsilon
My good buddy Mick Hyde has built a permanent observatory for his C9.25 and concreted a mild steel tube into the ground but needed an interface to this and his CG5 mount. He had trawled the web for a supplier in the UK that could supply what he needed and ordered a pier head from Epsilon. When it arrived it was a well thought-out CNC engineered piece of equipment and looked the "the business" I was impressed. Mick has worked as an engineer, knows good value for money, and researches things before buying them so I trusted his choice.
I visited www.epsilon-telescopes.co.uk to find out what else they had to offer.

Epsilon Modular Pier System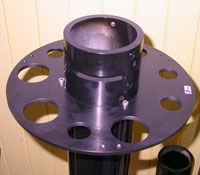 Epsilon, in my mind have thought through what an amateur astronomer may want now, but also may want in the future, so they offer their standard Mark II pier with a flexible way of adapting it to suit changes in scopes, installations and accessories. The basic Mark II pier consists of the pier tube itself .375" (9.525mm) wall thickness aluminium tube in a gloss black powered coat with three cast aluminium legs that have an M12 threaded hole at the end for the optional levelling feet. The legs are attached with 6 stainless steel machine bolts (Allen wrench supplied). For a permanent installation M12 studding can be supplied at extra cost. This core item costs £189.99.
To attach a particular mounting system to the pier, Epsilon offer pier heads to suit most popular mounts and telescopes. There are also eyepiece holders of various designs and other widgets that an astronomer may need.
What I ordered
When I initially visited the Epsilon site there wasn't a pier head for the EQ6 on offer so I emailed and asked what could be done. Rob Januszewski the proprietor, said that if I could supply him some photos with a steel rule in them and possibly some drawings he could custom build a pier top to suit, with a lead time of around three weeks. I subscribe to the Yahoo EQ6 group and found some excellent engineering drawings and for good measure also sent some pix. Epsilon had a batch of these pier head adaptors made so I haven't had to pay any extra for a custom job - the cost £84.99
So I ordered my MK II pier, Pier Head for the EQ6, Levelling Feet, 16" Pier Extension, Combination Eyepiece Shelf and Shelf Retaining Clamp Ring. This order wasn't an inexpensive purchase at around £550 inc. delivery. But was it worth the money? É
Delivery
The Pier and all the parts arrived as promised (48 hour delivery) actually despatched on a Wednesday afternoon and arrived first thing Friday morning. There were two packages one containing the basic MKII Pier, and another containing everything else. The Pier itself was very well packaged with several layers of corrugated cardboard and bubble wrap and there wasn't any damage to anything. The "everything else" package had smaller boxes within, that were labelled as to what they were and each had a plastic bag with the relevant fasteners and the correct tool to fit them. Although it would be self evident to some how to assemble everything, there were no instructions for anything.
Inspection and Assembly
When you see a tube of around 3/8" wall thickness that is 4.5" in diameter in total it does seem pleasingly thick so I was very happy with this. The quality of the finish was flawless also. I first up-ended the pier and stood it on my wooden kitchen floor to attach the legs. Each leg has three holes that are counter-bored to accept the stainless steel machine screws. This was a bit tricky as lining-up the holes in the legs with the holes in the pier needed to be spot-on. I made the mistake of threading the first fastener all the way in and couldn't get the second fasteners in properly as it seemed to be going in at an angle. This occurred on all three legs and with the rest of the assembly. I think the tolerances are tight and everything should be loosely assembled then tightened-up afterward. To make sure of a smooth assembly I used WD40 on all the screws and threaded holes and didn't force anything.
Once the pier itself was complete I attached the levelling feet. These needed to be disassembled to remove the head and toggle bar, then reassembled afterward. The levelling feet have small screws and a plate attaching them to the ball joint affair, which one could disassemble to fit them to the legs, I chose the togglebar option because I was supplied with an Allen wrench that fitted the screw at the top of the togglebar "guess-a-metrics" here.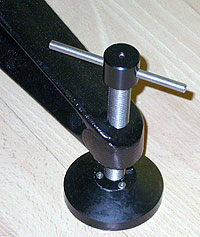 Levelling Feet
It was pretty easy to figure out how the circular Combination Eyepiece Shelf (CES) was fitted I thought by first attaching the retaining ring to the desired position tightening up it's screw and then sliding the CES down the pier and attaching it to the retaining ring with the machine screws supplied. You can't fit this after the head is attached BTW. The CES is a really lovely piece of engineering although black anodised so it looks slightly different. The retaining ring had three felt pads stuck to the retaining ring and because of the tight fit these started to tear off and leave white glue on the pier tube for an otherwise pristine bit of equipment this was a slight let-down.
A nice feature
The Pier head should be attached to whatever mounting head you use first then slotted into the top of the pier. There is a slot in the pier about 1.5" down that enables you to tighten the mount up (once polar aligned or whatever) with the aid of a "tommy-bar" (supplied) which fits into a capstan-like nut that is attached to the relevant bolt for your particular mount. This feature is very well thought out and easy to use - I like this a lot.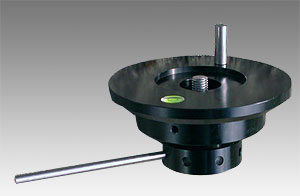 In use
Well as solid as a rock and so much easier to level than a tripod. You don't have to worry about tripping over a tripod leg and it looks superb. My observing has now taken on a new impetus as all I need to do is attach which ever scope I intend using, switch on the power and I'm up and away.

Pros
On a level with Losmandy quality-wise, perhaps better
Very flexible options
The capstan/tommybar way of adjusting in azimuth and tightening
So easy to level
Can adjust the height for a refractor (high) or SCT (standard) with pier extension
Can take it with me when I move
Looks really smart
Weatherproof within reason

Cons
No manual
The little pads on the pier retaining ring slipping
Was it worth the money?
Yes it was!
Article: Epsilon Telescopes Modular Pier System