CNers have asked about a donation box for Cloudy Nights over the years, so here you go. Donation is not required by any means, so please enjoy your stay.


0
Manfrotto 501HDV Head with the Oberwerk L- Adapter
Discuss this article in our forums
The first time I used my new Oberwerk 15 x 70 Ultras I set them up on an aging Bogen-Manfrotto 3011 tripod with a 3126 head. The binoculars were wedded to the head with a Nikon 8177 tripod adapter. When I turned my Obies toward Jupiter approximately 40-degrees above the horizon—bye, bye Jove! The magnificent orb slowly drifted up and out of view—the 3126 head could not hold the weight of the 15 x 70s at that tilt angle. Also vibrations made the Jovian moons look like moths flying around a shaking candle. Clearly the Nikon adapter—intended for Nikon Monarch and Action binoculars—was too anemic to stabilize the beefier 5 lb. weight of the Obies.
Since I purchased the binoculars from Big Binoculars, so I went to their website to see look for an appropriate head and adapter. (I have no relationship to Big Binoculars except as a very pleased customer.) I settled on the 501 HDV head to replace the 3126.
The 501 is one fine piece of engineering. Designed for the heavier HD camcorders, it provides more than ample stability for most large astronomical binoculars. The all-metal construction with a 13.3 lb payload limit gives it the ability to not only handle the Oberwerk 15 x 70, but also sizes up to 25 x 100. The head has smooth fluid movements and separate pan and tilt locks. The tilt lock easily held the 40-degree tilt angle that the 3126 could not. This was assisted by the 501's counter-spring mechanism design specifically to hold heavier loads when tilted significantly above or below the level position.
Other features of the 501 HDV include a dovetail quick release plate with safety lock. The plate has both 1/4" and 3/8" screws. Whether you are left- or right-handed, you are covered since the handle mounts to either side. The head mounts to any 3/8" tripod.
I also replaced the Nikon tripod adapter with the Oberwerk heavy-duty binocular-to-tripod L-adapter. This brought the vibrations down significantly to a point that all was stable in less than 2 seconds.
Even on my old Bogen 3011 tripod this combination provides a stable and portable platform for nearly effortless viewing. The one complaint I have with the 501 is that it will not tilt to a full +90-degrees, so viewing at the zenith requires that the tripod be tilted back a degree or two.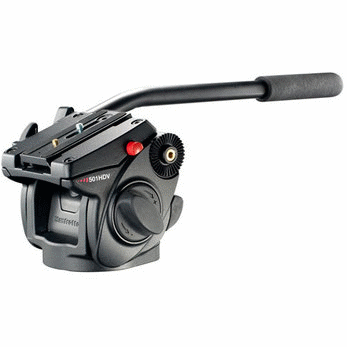 Manfrotto 501 HDV Head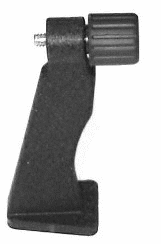 Oberwerk Heavy-Duty
Binocular-to-Tripod "L" Adapter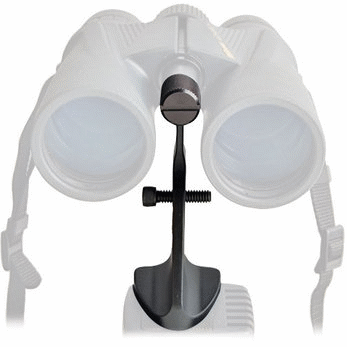 Nikon 8177 Adapter
Article: Manfrotto 501HDV Head with the Oberwerk L- Adapter