CNers have asked about a donation box for Cloudy Nights over the years, so here you go. Donation is not required by any means, so please enjoy your stay.


4
My Losmandy G11T review
Discuss this article in our forums
My Losmandy G11T review
by Jeff Marston (CN Member "Jeffmar")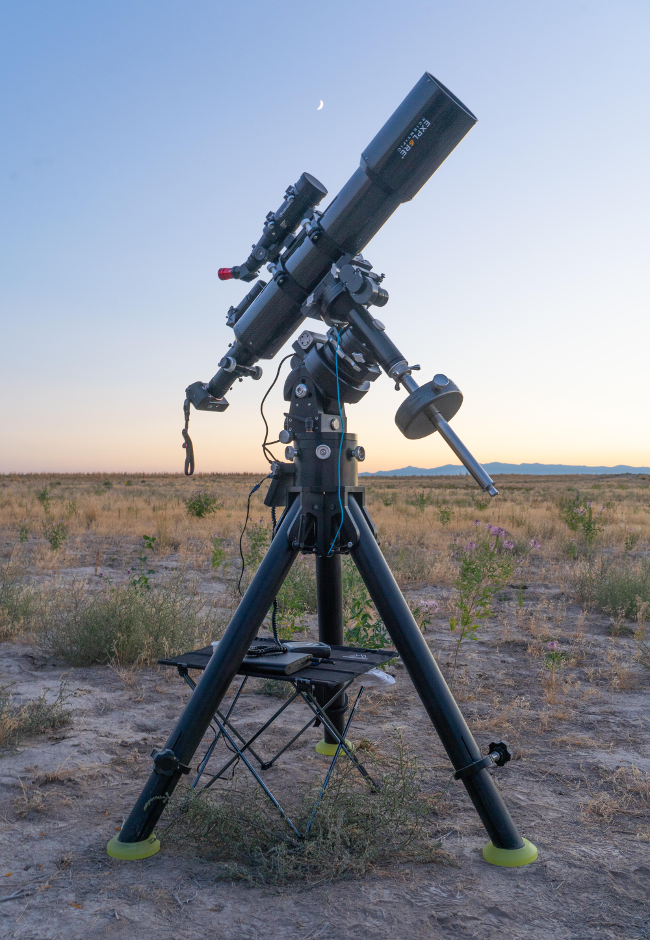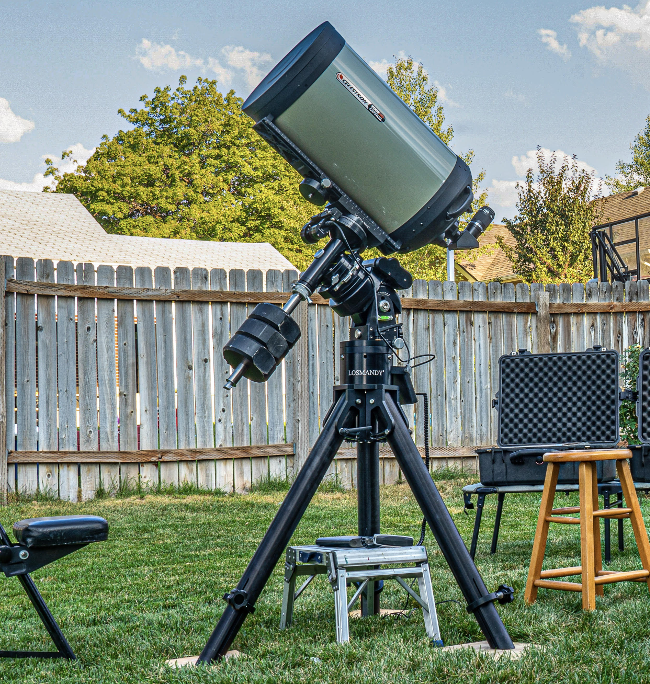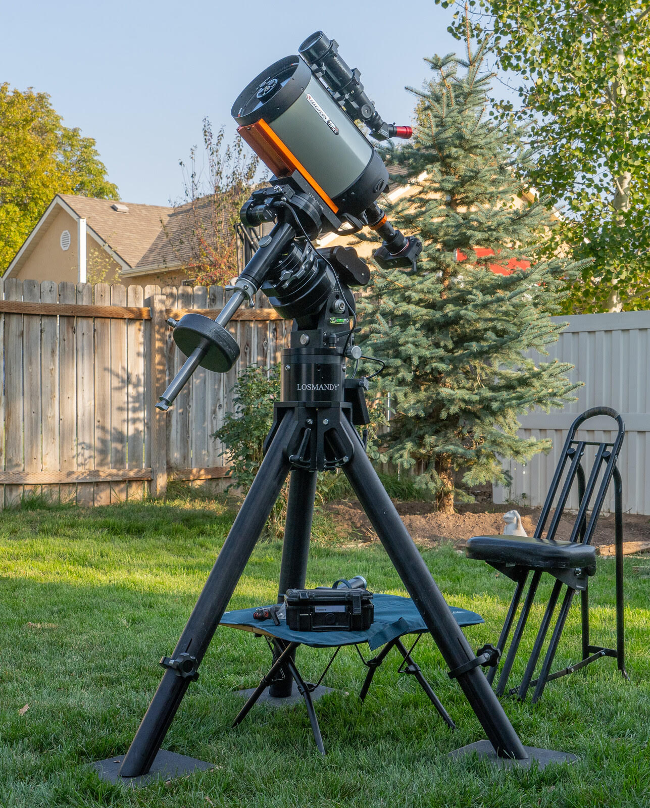 I have now owned my Losmady G11T for about a year. I have used it almost exclusively for astrophotography and star parties ever since I got it. I looked through the reviews and articles in Cloudy Nights and didn't see anything specifically to the G11T, so I thought I would write about my experiences with this mount.
I have been doing this hobby for over 20 years. I started out with a C11 mounted on the original sand cast fork and heavy tripod Celestron SCT's were mounted on in the early decades of the company. That old mount did one thing. It had sidereal tracking. I had to find objects in the sky the old fashion way. For years that was good enough, but I noticed that people who owned mounts with goto capabilty could look at dozens of targets a night instead of the half dozen I usually found.
Over the next 15 years I have gone through a succession of mounts to use with my C11. I started with a CG-5. As you can imagine it wasn't a great match. The next mount was a CGEM. It was much better for visual but still left a lot to be desired for astroimaging. Sticking with Celestron, I got a CGX after a few years. Finally I had a mount that would handle my C11 pretty well. It was awesome for visual and pretty good for astrophotography. I was able to keep more of my subframes than I deleted.
At this point I had upgraded my scopes along the way, getting a new C11 Edge and C8 Edge. Since the Edge models weighed basically the same as the regular models a new mount wasn't really needed. The thing that changed everything was getting a scope I had dreamed of owning since I started this hobby over 20 years ago. I bought a C14 Edge and stuck it on my CGX mount. It required at least three 17 pound counterweights and I was back to more wobble than I wanted. Three months after getting my big scope I upgraded to a CGX-L. Even though the CGX-L and the CGX look almost like the same mount, the CGX-L has bigger worm wheels, a thicker counterweight shaft, and a much more substantial tripod. For about a year I was alternating between my two Celestron mounts, depending on the scope I was using, and was pretty happy this things.
About 15 month ago I turned on my CGX mount and I got a couple of error messages. It said something like error 16 and 17. Those weren't the exact messages, but the numbers are accurate. That meant that the mount was basically dead. I decided right then I was going to get away from chinese mounts and get something that would last longer. I also wanted two functional mounts in case one of them decided to take a vacation. After a few weeks of research I narrowed down my choices to Losmandy and Astrophysics. I really wanted to get the AP1100 but there it was twice as expensive and had a lengthy waiting list. I think the big factor was the long waiting list,so I ordered the G11T from Losmandy. It took a little over a month to get, but it was better than waiting up to a year.
When I got the G11T I assembed it with some difficulty. The instructions were straight forward, but Losmandy hadn't sent me any tools that were specific for that mount, like they usually do. When I finally got it together and started slewing the mount it would stall. I was getting a "heavy load" message on the hand controller. I knew that Scott Losmandy had videos on care and maintenance on his site. It took me a few tries but it worked and I was up and running.
In the year since I have had my Losmandy mount I have used almost exclusively for everything. It holds my C14 very well. The G11T/C14 combination is really good for visual and decent for astrophotography. I can't blame the few astro imaging problems I have had on the mount because a 3910mm focal length creates problems all on its own. I have had a lot of success using my 5 inch refractor and my C8 on the G11T. With both of those scopes the mount auto guides flawlessly when I get the setup done correctly.
What do I like about the G11T? It is a very well built mount. It looks like when a 1/2 inch thick piece of aluminum could have been used in construction, Scott Losmandy used an inch, or more. The mount is simple to work on. I have heard that nearly every mount Losmandy has made for decades is upgradable ot current models. It is capable of very accurate auto guiding. My scopes don't move in mild winds. The mount and tripod are very sturdy. It is just a beautiful piece of work. I have had my Celeston and Losmandy mounts apart enough to see a huge difference in construction. Celeston sometimes uses parts the are just sturdy enough to make the mount function. That means things like plastic gears and loose tolerances in the motor gearboxes.I am the only one in my astonomy club who owns this model and other members often come over to admire the mount and ask questions about how it works.
What is just so so about the G11T. It is heavy. The RA unit weighs well over 40 pounds and DEC unit weighs 18 pounds. I keep the them in separate cases because one 70 pound case would be too much. The goto on my Celestron mounts seemed to be more accurate. I could do a 2 or 3 star alignment and I would usuall get any target right near the middle of my eyepiece every time. The G11T will get there, it just seems to require a lot more alignment stars to get the same accuracy. My Losmandy mount isn't as dummy proof as my Celestron mounts. I have had to be very careful setting the RA limits or the mount will bang parts together. The CGX mount series had hard stops and I didn't have to worry about that. I also have to pay closer attention during the startup phase of my mount. Not paying attention to the startup data can be a real issue.
Very recently my mount refused to track (sidereal) and wouldn't autoguide for very long. When I turned of auto guiding stars were marching across my computer screen like an old space invaders game from way back when. Even with poor polar alignment stars should have stayed in roughly the same place for minutes rather than a second. I got the the Losmandy forum and even emailed Brian at Losmany. Brian and at least one other guy said I may have had the wrong mount model checked in the menu. I set up the mount in my back yard last night, replaced the battery in the Gemini 2 box, just in case, and got it going. I had to reenter the basic information because of the battery swap. At first the local time and date I had put in were not being retained. My mount was going nowhere near the calibration stars. After a few tries I went back to look at the startup menu and noticed a set button. I put in the correct time and date, again, and pushed the set button a few times. That seemed to fix everything. the Calibration stars were where they should be and sidereal tracking was back. I even tried autoguiding and got some really good results given the rough polar alignment I did.
In general I really like my G11T. It is well built, should last for decades from what other owners of Losmandy mounts say. It seems to work really well with auto guiding. It is very stable even with my C14. It is very different from my Celestron mounts and to be fair It took a while for me to learn how to use those mounts also.
Bob S., LarryAlvarez, Mert and 42 others like this
Article: My Losmandy G11T review