CNers have asked about a donation box for Cloudy Nights over the years, so here you go. Donation is not required by any means, so please enjoy your stay.


4
Nexus II Review
Discuss this article in our forums
Nexus II Review
SUMMARY: The Nexus II is an outstanding piece of equipment that allows anyone to use their Smartphone or tablet and see where their telescope is precisely pointed. It is an extremely cost effective and easy way for someone to add digital setting circles and a "Push-To" function to just about any telescope.
The Nexus II is one member of a family of digital setting circles devices developed by Serge Antonov, owner of Astro Devices. While the Nexus DSC product itself is a full featured DSC system consisting of the hardware/software and LED displays that enable anyone to dial in a selected astronomical object, the Nexus II is essentially the same thing, minus the digital readout. It takes the input from a pair of encoders mounted to the telescope and wirelessly displays where it's pointed on a tablet or Smartphone. This is a review of only the Nexus II and to use it you also need an app that will interface with the unit. For my purposes I use Sky Safari 5+ on an Android device.
A quick background: I built my 12 ½" F5.2 Dobsonian telescope, described in a CN article here, with "manual" setting circles and by manual I mean a printed 360° azimuth circle glued to a 18" diameter hardboard ring that encircled the rocker box of the telescope. For altitude I used a digital inclinometer. After going through a tedious alignment procedure to level the telescope and point it and the 0°/360° mark of the azimuth ring precisely north I would then look up the Alt/Az coordinates of an object I would want to view. Once the telescope was slewed to the specified coordinates I was usually in the neighborhood of what I was looking for but I still had to resort to old fashioned star hopping to zero-in on the object itself. It was far from a perfect system and I wanted something more efficient.
After a thorough search I selected Astro Devices for several reasons.
1. Most important; Astro Devices provides a one-stop shop supplying everything I would need and by everything, I mean the encoders and mounting hardware specific to my type of telescope as well as the Nexus II itself. I felt in case of an "issue" I would only have to deal with one person, one company and not have several different vendors pointing fingers at anyone else.
2. Serge's customer support reputation, as described on CN, was outstanding. I expected at some point I would need some help (more on that later) and he did not disappoint.
3. I saw no reason to spend the extra money for a DSC system with a digital readout. I reasoned that this era's Smartphone or tablet has more than enough computing power to do that. The Nexus II basically tells the app on my phone where the telescope is pointing.
I emailed Serge the specifications of my telescope, he emailed me back with some specific questions regarding some needed dimensions such as the distance from the center point of the altitude ring to the base of the scope and I received the kit (from Australia) that included everything I needed, all for a total cost of $350.00 ($200 for the Nexus II + $150 for the encoders and hardware.)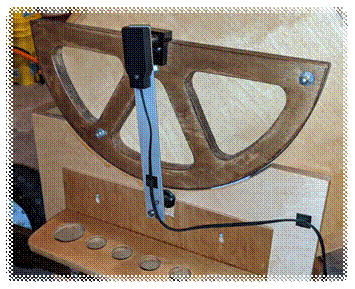 The package included, in addition to the Nexus II device, a pair of 8196 step magnetic encoders with all the wiring and connectors as well as all the mounting hardware and instructions. Installation was easy and accomplished in about an hour. It's important to note, one critical piece of hardware needed and included with the kit is a modified stainless steel azimuth axis pivot bolt, one with a head that has a machined out socket for the encoder shaft, and a tapped setscrew to lock it in. For other scopes you might need something else but there are numerous kits shown on the Astro Devices website for different brands and types of telescopes. For my case, because it's a home built scope I also needed to tell Astro Devices the exact length pivot bolt needed.
The Nexus II itself is housed in a metal box roughly 3" x 5" x 1 ¼", small enough to fit inside the base of the rocker without interfering with the bottom of the mirror box of the telescope when pointing at the zenith. It's connected to both encoders with a single RJ-45 connector and that's all there is to it. The internal battery is good for 11 hours of observing and since it's a rechargeable battery, if and when it no longer holds a charge it can be replaced. (NCR18650B). It will also work with external power. After three years of use, I have not yet needed to replace the battery despite recharging it many times.
Once switched on the Nexus II creates its own little Wi-Fi network. With your smart device you connect to the Nexus network then once Sky Safari is opened and configured to the network's IP settings, you click "Connect" and when you move the scope you will see the target on your device's screen move. In my case, the first time I used it, when I moved the scope up the target would move down. I then simply had to change the Sky Safari encoder settings for the "Alt" axis from "+" to "-" at which point it moved in sync with the scope in both directions. You then go through the Sky Safari alignment process and you're in business for the evening.
Now here's the part where Serge's support was critical. At some point, after two years of use with zero problems, all of a sudden Sky Safari wouldn't connect with the Nexus II. It looked like the phone would connect with the Nexus network but once Sky Safari was launched there would be no connection. I thought it might be a battery problem so what to do? I emailed Serge and he called me on the phone (from Australia mind you, 16 hours ahead). We stepped through a couple of tests and he confidently diagnosed that somewhere along the line an Android update was causing my phone, because it detected no internet access, to automatically disconnect from the Nexus network and reestablish contact with my home network. Whether or not this would happen out at a remote site with no home network in range I wouldn't know since I never tried it but the solution was to tell my phone to "forget" my home network. By doing this, the phone stayed in contact with the Nexus II without any issues. Once done for the evening I would simply reestablish my home network on my phone. Note: Android has since issued another update where a pop-up window now asks if I want to continue to use the Nexus network. If you don't answer "Yes" you will lose the connection.
Whenever I observe I'm always absolutely stunned with how well the whole system performs. When in use, the Nexus II is extraordinarily accurate. (And when I say "Nexus II" I mean the entire system, the device, the encoders and app). I can select whatever I want to look at on Sky Safari, move the telescope where indicated and the object, without fail, will be within the field of view of an 18mm eyepiece. I no longer need to even bother with my scope's finder and it makes an evening's observing session so much more efficient and rewarding. I have since removed both the azimuth circle and the inclinometer from my scope. They're no longer needed.
I can highly recommend the Nexus II as well as the encoders supplied by the company for those who want to add a very accurate and reliable DSC system to their telescope but are looking for something a little more economical than a full blown self contained system. For those who might be unsure about dealing with someone in Australia, rest assured Astro Device's support is top notch but there are also several dealers that have been set up in the US as well as the UK, Europe and Japan. If you want a reliable, easy to install "Push-To" DSC system, this is the one to get.
Jeff Morgan, paul, Denkmeier,Inc. and 25 others like this
Article: Nexus II Review