CNers have asked about a donation box for Cloudy Nights over the years, so here you go. Donation is not required by any means, so please enjoy your stay.


0
Orion EQ-26 Mount Review
Discuss this article in our forums
Orion EQ-26 Mount Review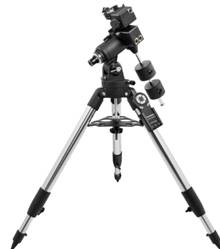 Packaging: Adequate; No damage
Finish: Matte Black; Appears to be powder coating
Setup: Basic EQ Mount setup, nothing out of the ordinary
Tripod: [Sturdy] SS 1.75" Dia. Legs
Weight Rating: 26lbs
Function: All areas of the mount worked appropriate out of the box
Power Requirements: 12v, 5A
Extra Notes:
· Specs state 12v, 5A power requirement; However, I ran this off a 12v 3A power bank with no problem
· There was a small amount of cosmetic overspray appearance inside the mount where you would remove the cap for the polar scope view (front of the mount), but this was minor in appearance only, no real issue
· There are posts to allow the use of knobs (supply your own). While they are not meant to be used when motors are connected, if a motor dies in the future or you decide to go manual, the mount allows for the option. I mention this as it was a concern of mine to be able to go manual if desired (by removing the motors of course). I have seen some that appear to not have the knob posts as options when they are motorized. There are no clutches on the motor drives, but there are the standard mount head clutches for both axis's.
· Polar scope cap actually stays put. 😊 These sometimes have cases where they are to lose, so it was nice to see one that stayed on.
· +1 Point for having a level built into the mount head.
Scopes [Currently] On The Docket For Use On This Mount:
· Celestron C5
· Orion 6" Astrograph
· Orion 70mm White-Light Solar Refractor
Planned Usage For This Mount:
· Visual
· Sketch
· Basic Short Exposure Astrophotography
Orion Specs: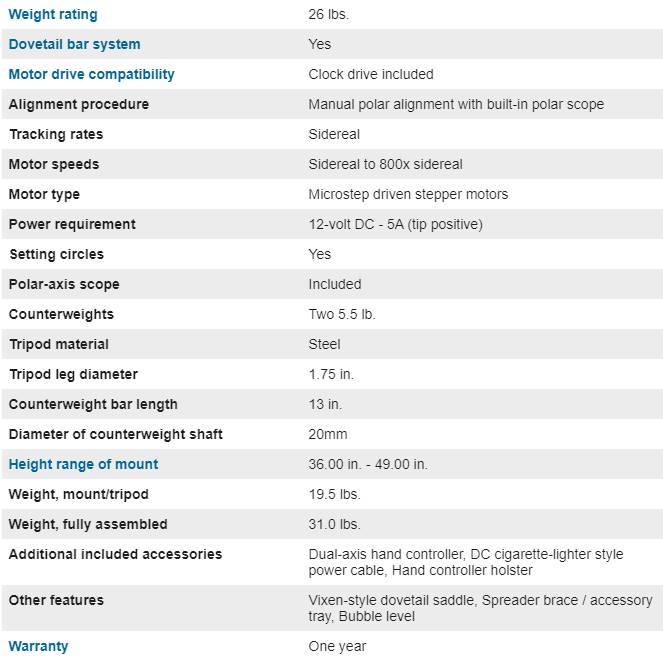 Review Categories
Finish
The finish on the mount is a matte black that was shown to be smooth & clean in appearance. The EQ setting circles seem to be solid in place and should last a long time. The polar scope being included I thought was a nice touch as many mounts say this is "extra". I think if you are selling an EQ mount, it should be "included". The knobs on the clutches and tripods seemed adequate. I would recommend adding a little white paint, or something visible in dark areas, to the clutches as they really blend in with the matte finish.
Stability
The mount head & SS 1.75" tripod legs were shown to give off the appearance of stability for sure. During viewing and tracking (with the noted scopes above for testing) the mount was steady & solid. Vibration, even at high mag, was suppressed almost immediately.
Motion
The manual balancing & swinging (manual hand slewing) of the mount seems smooth, but not loose feeling. The mount feels like it is solidly built
Tracking
The tracking was shown to be right on and tracked well. The slewing speeds available are more than enough. While I don't have the patience for motor slewing when going all the way across the sky & prefer to just manually get it close than switch back to the drives, the mount's max slew speed was fast enough to get you there if you are so inclined.
Weight
The weight of this mount is nothing to sneeze about. While I would not call this a "grab-n-go" mount, I would say the weight seemed pretty balanced if you were planning on doing some hulking around. I have this sitting on some 3-Wheel dollies (2" wheels) & it rolls with just the right amount of friction; not too rough to where it's a pain, but not so smooth to where the wind blows it into vibration town. Note: the 1" wheel dollies would work, but not that smooth to move around. The mount comes with two(2) 5.5lb counter weights.
Hand Controller
The hand controller, simply put, is simple. It has no fancy thrills & I considered it to be pretty intuitive. Set your desired slew speed and move as needed. It automatically tracks when starting up and goes back to tracking speed when you release the associated slew button(s). One thing to note, the power cable also plugs into the hand controller and then powers the drives through this. I mention this just for basic wire management when moving around and mindfulness placing power banks. I have not done so yet, but plan on cleaning up some of the bird's nest of wires I seem to have going on right now on the starboard side of the mount. 😊 With the mount not extended much, I have more cable than probably needed – insert zip ties here
Sound
While this is a category I really am not concerned about, I have seen this on many reviews where motor drives are concerned, so this may be helpful to some. I do not consider this mount to be loud at all. I would say even at the highest slewing speed, the drives were not loud enough to be concerned with. While I ran the mount with a 3A power bank vs. a 5A (as the spec notes), to make sure I was giving the best information, I did plug into a 5A power chord to ensure I wasn't giving false data. I did not notice any sound difference between the 3A and the 5A power source.
Conclusion
In conclusion, at this stage of testing, I would recommend the mount to anyone that wants a stable mount with tracking, but does not require Go-To. While I cannot speak to any long astrophotography tracking, it seemed well enough for visual and short exposure astrophotography which suits my [current] purpose. This looks to be a keeper.
Some Images of 1st setup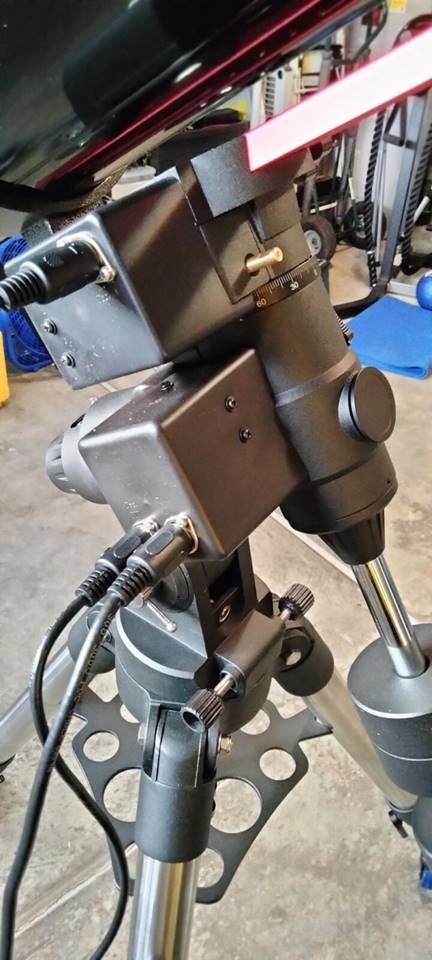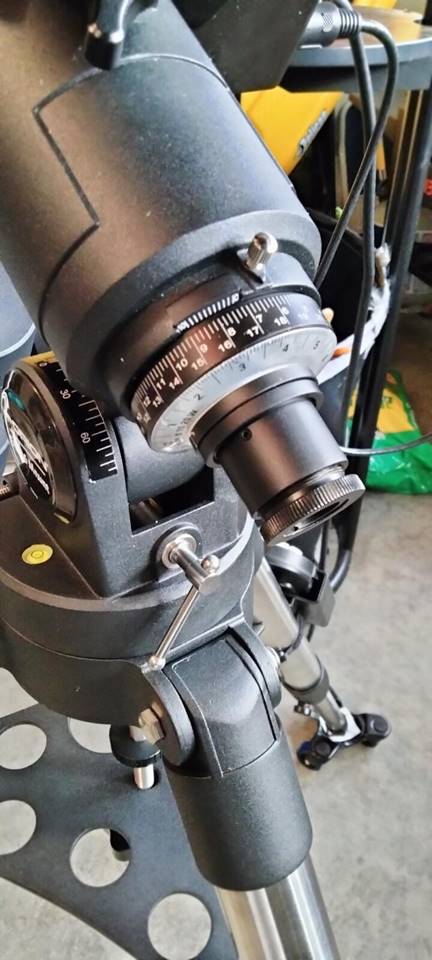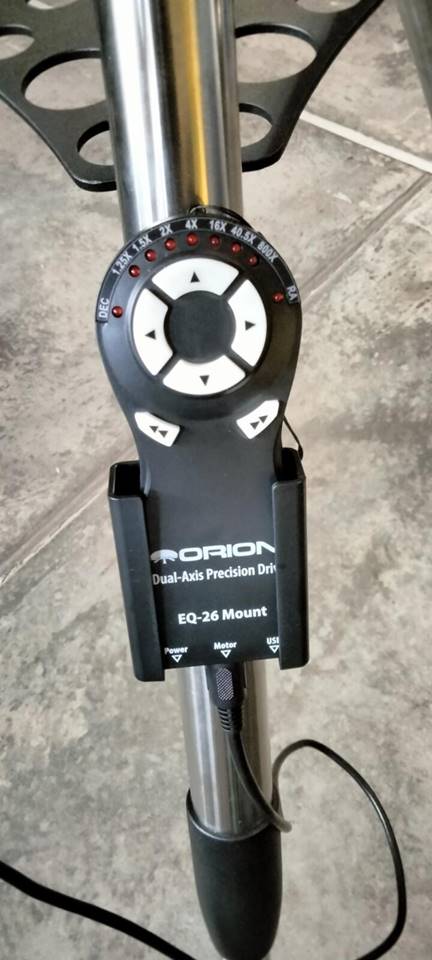 mcoren, Charles B., Red Brick and 4 others like this
Article: Orion EQ-26 Mount Review