CNers have asked about a donation box for Cloudy Nights over the years, so here you go. Donation is not required by any means, so please enjoy your stay.


0
Owend Kronos 20x60 Binocular
Discuss this article in our forums
Owend Kronos 20x60 Binocular
By Abbas Jafri
I was always seeking a good quality optics but didn't find any because of less availability in this region.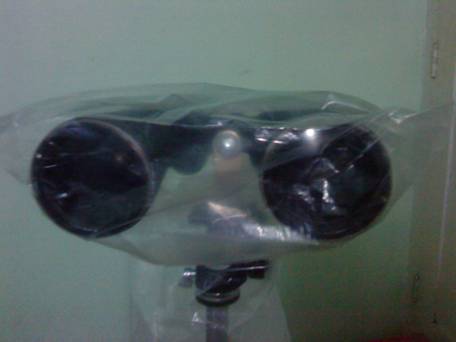 Figure 1. Early setup for re collimated Kronos 20x60
Specification
Magnification:

20x

Objective lens Dia:

60mm

Angular FOV

: 3 deg

Over all dimension:

265x218x77mm Owned Kronos 20x60 binocular.

Weight

: 1.45kg
How to get & first look
One of my friends gave me the suggestion to ask one of my known persons, that man replied "my binos are not capable to view, buy them if you are interested I will sell them". That way the chance for me to get those. I requested him: "could you please show me your binos?" He replied "ok I will inform you".
I was keen to inspect them what kind of binos that man passes, without taking a look I wasn't able to say anything.
After one day he called me & I decide for a meeting. I rush to the destination, WOW a neat & clean optically & mechanically finished relatively large size that I had already owned Crown 8x30 Japanese one binos in his hand.
I checked them carefully hence not found any dent on the body or any damages in optical element. Optics were very clean and showing high quality anti reflecting coating (may be fully multicoated), the focuser worked very smoothly. Overall that was a good pair of binoculars.
Collimation
I bought them for aproximately $100. First task was recollimating them, as the bino was very much out of collimation. Normally I had never experienced eccentric collimation except with a Zenith 10x50 Japanese Binocular. After a 30 hour job I finally got success, the bino were re collimated.
Mount & Tripod
As I knew 20x magnification is not suitable for hand held observation one must acquire a mounting system. Again the same problem occurred, which is: there is no availability of any type of binocular mount system which can fulfill the conditions. I realized I had to design and fabricate by myself from household stuff and junk. Found a tube and threaded rod can serve as a basic Alt/Az moun , arranged several parts and welded some required necessary stuff such as weight hanging rod and circular locking screw. Install all parts by using nuts & bolts and attached on used camera mount borrowed from one of my astronomer friends Imran. That mount worked very well only required a paint job.
I dismantled all parts and gave to the painter for dark red bake color
After 4 days I received them back, all tuenred out beautifully. At the very same day the Karachi Astronomers Society already announced their dark sky observation session called Rutjaga (night without sleep) at the Haji Ismail village Balaochistan. That was the best time for testing optics and mechanics of my observing setup.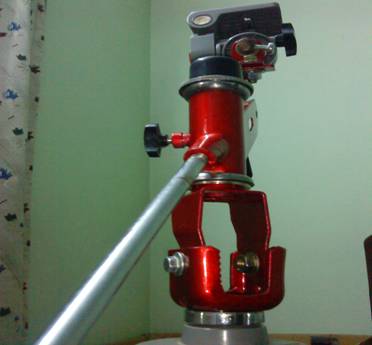 Figure 2. Custom mount for 20x60 binocular on a camera tripod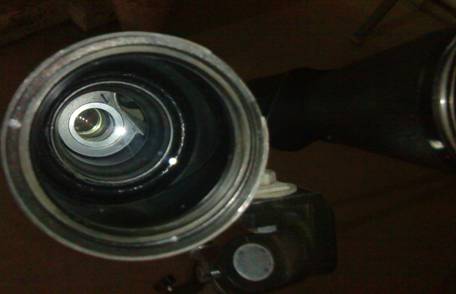 Figure 3. Objective lens. Some broken body at up right.
Kronos binos' first time in the field
The team reached there in the afternoon, the weather was cold & windy. The sky was clear with no sign of clouds. I assembled the mount, set all components of the binocular and installed it on a camera tripod.
The whole team observed the moon at 6PM. Soon after that Jupiter appeared which can be observed with the naked eye, which made me realize to install my Kronos binoculars and set it in the field where all team member rush towards the equipment. They all wondered: "how did you manage this setup?" Non of them believed I built it by myself. Soon I started a successful collimation on the star Sirius.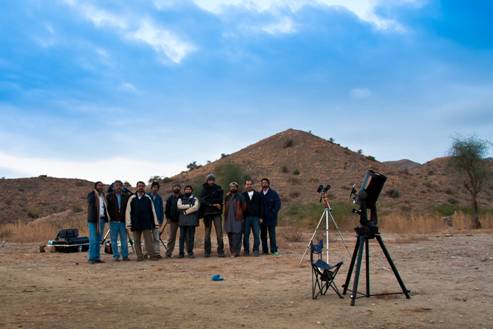 Figure 4.
The first time I observed the lunar surface they showed good detail without any ghost image. By turning towards Jupiter a tiny object with four moon was seen.
I would love to mention the quality of Russian optics when turned towards Andromeda Galaxy which filled the entire FOV.
On M42 it has showed first time such a breathtaking detail than in any binocular.
Globular clusters M3, M5, Omega Centauri were clearly observed and looked like soft cotton balls.
M13 appeared very crisp in the FOV, the seeing conditions were very lovely, but some times the sky was partially covered by clouds.
Conclusion
Typical collimation set up.
Solid body structure.
High grade Optical coating.
Suitable for DSO.
Relatively fine achromate star color appearance.
I used many binoculars but Kronos 20x60 are rated as 9.5 out of 10, 0.5 marks decrease due to the complicated collimation.
Abbas Jafreey
Karachi, Pakistan.
Karachi Astronomers Society.
Article: Owend Kronos 20x60 Binocular