CNers have asked about a donation box for Cloudy Nights over the years, so here you go. Donation is not required by any means, so please enjoy your stay.


0
DMK USB 2.0 Camera
Discuss this article in our forums
First Impression Of New DMK USB 2.0 Camera

This nice looking camera came with a nose piece and USB cable 1.5meters,in a carton box
This AVI'type camera is made to take stunning pictures of moon and planets AVI=film strips)
Before this camera DMK only provided the fire wire type of camera ,and you need a firewire port in you PC to run the camera, now that's in the past becourse DMK has made a USB 2.0 camera . so no longer struggling with firewire ports etcet ,just plug the camera in your USB 2.0 port ,install the software and get started.
After you take a AVI (film) of the moon you run the whole thing in registax free software and you'l end up with a picture of the moon or planet .
This camera is not supposed to use for deepsky and long exposures.
So here's my first night out with this new USB type camera of the firm DMK Imaging. I am very pleased with the concept of a USB DMK camera. I have tested it on the almost full moon at rates between 15 and 60 fps and I have not lost one single frame - fantastic!
The software works fine by me. No complains about that.,and a nice layout,and is easy to use
The camera offers some good features:
- a nice histogram settings panel, while you are taking AVI's.
- The noise reduction - a super feature for bad seeing conditions - great!
One small minus point: If you use noise reduction, you may see a raster on your image after processing with RegiStax but photoshop fixes that in a mum of time . The software is great. It works fine, without freezing and I there are no bugs found until now. The chip is a little on the small size, but its sensitivity is enormous. I have taken some shots of the moon with my Meade apo and have tried out different filters, such as IR PRO, IR blocking, H-alpha. The seeing was terrible ,but I wanted to play with my new toy;-)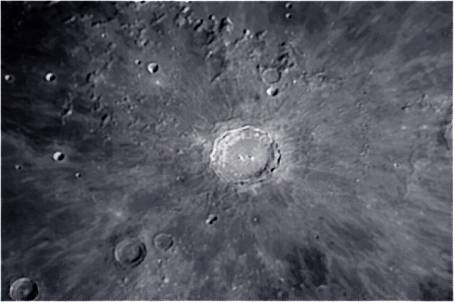 This USB camera is a breakthrough for astrophotographers, who wish to capture the Moon and planets. While other firms leaving the planet astrophotographer standing in the cold with stopping there production of AVI type cams ,DMK provides us with this brandnew USB 2.0 camera . It is a great experience and a pleasure to work with such a good camera (USB 2.0) and great software.
And for me It's the best so far after my old toucamII and atk-2hs camera . And a fantastic first night out,so it only can begin to improve from now;-).
My site is at
http://users.skynet.be/mpraet
Greetings,
Marnix
Article: DMK USB 2.0 Camera