CNers have asked about a donation box for Cloudy Nights over the years, so here you go. Donation is not required by any means, so please enjoy your stay.


0
MallinCam Color Hyper Camera
Discuss this article in our forums
First Light Report on MallinCam Color Hyper Camera from
October 18, 2006
; Crozet
Virginia
22932;
Observing tools: MallinCam Color Hyper Camera (a highly specialized video camera) with focal reducer and 10mm extension (a configuration for the widest field of view possible) – placed on a 12.5 inch Truss Tube Dob that was mounted on a Compact Platform. Camera output was examined on a 9 inch DVD player screen (a relatively poor monitoring capability, which was our own limitation).
Summary of MallinCam Color Hyper Camera:
The MallinCam Color HYPER is a full-featured advanced astronomical observational video CCD camera featuring a Peltier-assisted radiant cooler, 6 and 12 second extended shutter integration (in addition to the standard 2.1 second integration mode), and a color bar generator for properly calibrating the monitor. The 12 bits system APC feature allows full picture enhancement of vertical and horizontal pixels, a freeze image feature, two Gamma selections, a high light feature for Lunar and Planetary images. The camera comes with a custom designed high precision 1.25" adapter, a Class 1 CCD sensor, and Grade 1 components. It also contains unique custom manufactured high gain circuitry. The 3 sections of the internal parts of the camera are the ccd sensor, the main board (dual CPU and Dual Memory with a total of 32 megs), and the video section where the image is sent to the correspondent monitor or capture card. Outputs include both BNC and S-video connections.
When the shutter is open at 6 or 12 seconds, the photons are accumulated like a full size cooled ccd imager made for astronomy. Once the accumulation is done, it is sent immediately to the memory via the main CPU that processes and applies functions that are selected in the menu of the camera. The DSP (digital signal processing) is adjustable. There are two memories in the MallinCam. Both memories are 16 megs, which are split to offer functions that are controlled by a second CPU. The output always remains at 30 frames per sec. (Otherwise, a TV or monitor would not be able to "lock in" the signal.)
Conditions: clear; one day past a cold front passage that brought lots of rain; high humidity for the 2-hour session; calm winds. Everything was wet by the end of the 2 hour period.
Observation area: about 3 miles East of the
Blue Ridge Mountains
in
Central Virginia
. Our back yard observation "pad" is at 850 feet elevation. Sky pollution is low to medium in the East from
Charlottesville
and low in the West from
Waynesboro
.
Background: This was our first attempt to use the color hyper camera. Our previous experience was with the B&W Pro Dob (same designer/manufacturer) whose output went to a Toshiba high resolution B&W monitor. We have used Pro Dob camera about one year. Our first video astro camera (a Stella CAM EX) was purchased about three years ago but is no longer in use. We have used video astro cameras for about 3 years and have been observing about 5 years with a C8, 12.5 Dob, and C5i. We consider our observing skills about average. About half of our observing is with small groups (children and adults). Over half of our time on the scopes is using video astro cameras. We have about 5 years experience with observing. Having passed the ½ century mark, our eyes are not "young" – we like things that make viewing of objects easy to study. We unashamedly enjoy and encourage the observation of God's created heavens.
Objective of this observing period: This 2-hour period was the maiden voyage for our MallinCam Color Hyper Camera, which we knew was only enough observing time to test the camera basics in a chosen configuration and a few key camera settings. We chose a nosepiece configuration to get the widest field of view, which means attaching the manufacturer's focal reducer as well as a 10-mm extension piece (extends the field just a bit more). We wanted to test the "sense up" accumulation mode (a 2 second period), the extended 6 and 12 second modes with TEC (thermo-electric cooling). Specifically, we aimed to test the camera as we just described on a few DSOs for orientation and comparison. We bought the camera because of a long-standing desire to observe live with color, so we wanted to see what color brought to our table.
Camera settings and operation:
We generally used the 128 sense up (2 second) mode with TEC (thermo electric cooling) turned on as we looked for each chosen object. The 2-second lag time is tolerable when moving the Dob in a small area as we settled on a specific field of view. Then we adjusted to 6 or 12 second mode as appropriate. Overall operation of the color hyper camera was no more complicated than the Pro Dob camera, which is not hard to operate. The buttons and locations are the same on the back of the camera. It does not take long to get used to their position by "feel". In comparison, the intuitive "feel" and operation of the buttons is similar to our experience with Sky Commander, which is also very intuitive and easy to learn.
Color adjustments on the color hyper camera are available. We stayed with the manufacturer's recommended settings on RED, which were reduced a bit, and BLUE, which was heightened slightly, because of the inherent sensitivities of the color CCD chip. Later in the period adjusted the RED to slightly improve its sensitivity but it was still set just below the "zero" or central point of the scale.
The focus that was achievable with the color hyper camera was very good – a little better than the focus we could achieve with the Pro Dob. In general, one uses faint stars to focus these cameras but seeing stars as "point" sources is usually tough in the "accumulation" mode. This camera (among the three we have used) comes closest to making the stars "point sources" when physical telescope focus is correct. As a result, it makes actual viewing of star patterns and star color variations a pleasure. (We only have a rack and pinion mechanical focuser to adjust telescope focus but it is tight and easy to adjust to gain the maximum from the video astro cameras.)
The in-focus travel that I needed for the color hyper camera with the focal reducer as used on my f4.5 Dob is more severe than the Pro Dob camera in-focus requirement, but focus was achievable with a low profile 2 inch/1.25 inch adapter.
Viewing summary:
We looked at approximately 15 objects—a mixture of globular clusters, galaxies, nebula and planetary nebula. Our comments on a few of the objects follow. Keep in mind that we have 3 reference points: (1) observing with the same scope with the Pro Dob and the Stella CAM EX, (2) a virtual observation period online on 14/15 October with the color hyper camera attached to a 14 inch CGE at a SW US observation site--while we observed the output live on a laptop and a large projection screen in Louisiana, and (3) observing with EPs (Panoptics, Radians, Denk II binoviewer with Antares W70 EP pairs).
Dumbell Nebula/M27. The object on 2s mode was already better than what we could see in an EP and, of course, the color was nice. The focal reduction meant that the object took no more than 15 per cent of the 9 inch DVD screen. Going to the 6 and 12 second mode enhanced color and definition very nicely. It was a delight to see the array of blue/green in most of the object with red at some of the edges. The view was nearly as good as that which we saw online from the 14 inch CGE with the same camera. We turned to "zoom" feature on and saw the object fill screen with definition and color. There was no noticeable break down in the image on zoom. At that point, we concluded that the camera was worth the cost—even if we only had a few objects that were as beautiful. I cannot wait to look at the stellar cloud "folds" in some of the outer sections of M42 this winter.
Ring Nebula/M57. It was as enjoyable as M27. We had no difficulty seeing the central star and the one star in the central region that is off center. The coloration was wonderful; contrast was excellent. The nice thing about this object in color is the "core" color that gently contrasts the ring color. The picture held nicely with the Zoom set at maximum on top of 2 inch Televue Barlow.
M76/Planetary Nebula. Compared to the "google" pictures, we saw the same detail but in color, and there was some color.
NGC 6992 (one strand). This is such a large object that we did not know what to expect and surface brightness is not that good. We examined one strand of 6992 on the 2 s, 6s, and 12s modes – each with increasing (as one would expect) nebulosity evident. The reds were nice and helped us see the strand in the midst of faint stars.
M71/globular cluster. There was good resolution of stars. Different colorings among the stars could be observed. The color hyper camera actually adds enjoyment to seeing globular clusters compared to the Pro Dob because of more precise ability to focus the camera and the variation in the colors of the stars in the cluster.
M13/Hercules cluster. I was pleasantly surprised that the view was much better than the view I could see with the Pro Dob camera, which is also good. Resolution of stars was good, color variations could be seen, 2 s and 6 s modes did very well. The "core" was not washed out.
M33/spiral galaxy. This was our last major object. It filled the screen. Arm definition and overall shape that we could see was fair to good; color was evident and improved our viewing pleasure (faint reds were especially noticeable), smaller "fuzzies" in the field could easily be seen. Compared to the Pro Dob, the color added to the picture and the definition/resolution was almost as good. However (and please note this confession), as I was checking the telescope right after we observed the object I found that my secondary was completely misted over with dew!! We would have seen much better without the misted secondary, but object was still beautiful. We were so focused on the screen that I forgot to check the condition of the optics. The last 3 or 4 objects we looked at were probably affected by the same problem.
General star and star pattern observation note: My wife and I really enjoy studying objects and the color sensitivity of this camera makes this camera a "keeper" for us. However, we also enjoy looking at stars and their patterns in many parts of the sky. We were very pleased that our ability to focus stars with the color hyper camera and the ability to see star color variations were much better than we had expected.
Bottom line: From our experience, we know that the MallinCam Color Hyper will be our primary higher magnification sky viewing tool. It is worth the extra money and viewing ability as offered by the Pro Dob camera, which is still a very good tool. The Stella CAM EX, which is an older video astro camera, is not as good as the Pro Dob camera. While we still view with eye pieces, the MallinCAM color hyper camera enables us to see detail, color, and contrast that we could never see using an eye piece on the same night with the same scope. With a change in our output viewing device (our DVD screen was not very good as an output viewing device), it will be an outstanding live viewing device for us or for a group. What a lovely night it was; and what lovely nights we will be having!!
Roland and Linda Beard
Crozet, Virginia
Members,
Charlottesville
Astronomical Society
Addendum—Observing Period with Color Hyper Mounted on 16" RC (local private observatory):
Our second "test" night was with another local astronomy club member, Dean Wilder, whose 16 inch RC is mounted on a pier and in an observatory at 3200 feet (on top of Flat Top Mountain just East of the South section of the Shenandoah National Park. The views of the Saturn and Cat's Eye were beautiful; the Dumbbell filled the 14 inch monitor screen with detail and structure we had not seen in our 12.5 in Dob. We also had a nice view of M74's spiral arms and pinkish center/core. Since Dean had not tried a video astro camera like this before, we took of the rising moon at the end of the session by reducing the appropriate gains and changing camera settings for fast electronic shutter exposures (accumulation/integration modes were turned off). This permitted what we call a 'low-altitude pass' over several parts of the moon's surface. The 2-hour session was a real pleasure. Dean's reporting to the local Charlottesville Astronomy club were very similar to our conclusions from our home observing pad: he really liked the camera and wants it for a similar set-up for public gatherings at his observatory.
RB
Further information on the camera or image examples:
www.WaningMoonII.com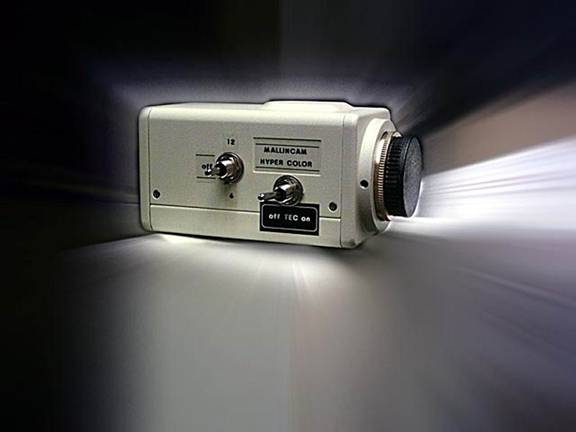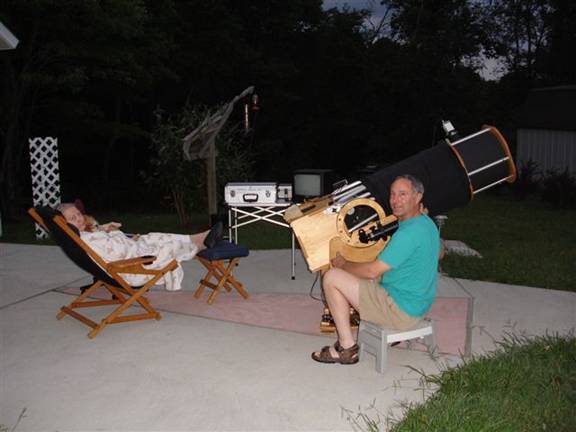 Article: MallinCam Color Hyper Camera