CNers have asked about a donation box for Cloudy Nights over the years, so here you go. Donation is not required by any means, so please enjoy your stay.


0
Canon Powershot Digital Camera for Basic Astrophotography
Discuss this article in our forums
Canon Powershot A60 –2 million pixels
Disclaimer
I''m not affiliated with Canon or any software described within this article and I only write this as a guide to people wishing to start out in Astrophotography. I/we cannot be held responsible for any damage resulting in modifications to the camera. I mainly focus on the A60, but from my knowledge more recent versions of the camera function in the same way. I''m a beginner in Astrophotography so I wont be providing detailed information.
Introduction
Astronomy has always been a passion of mine and thought it was about time it became a serious hobby. I really wanted to get involved with the Astrophotography side of the coin but found out that due to the high cost of CCDs and more advanced digital cameras this could be difficult. Luckily Canon released the Powershot series, which can provided some beginner steps into this amazing hobby.
I bought the Canon Powershot A60 just over a year ago for my 24th birthday and at the time it cost £120. At first I mainly used it to take landscape images as I was beginning to become interested in photography and one of the main reasons this camera stood out from the rest was the addition of a manual exposure setting. Since I didn''t have a telescope my first shots were of the nights sky, but once I purchased my first scope, quite impressive amateur images were achievable afocally through the eyepiece.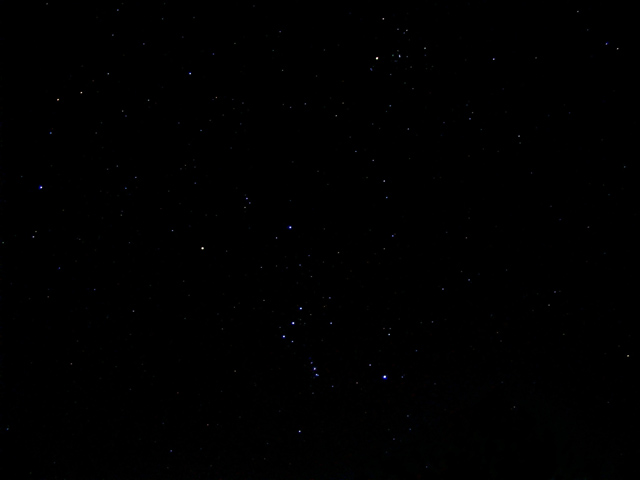 Shot taken by Matthew Hannum - Orion widefield, 3 15-second exposures, ISO 400, stacked in Registax 3.0 and post-processed in Photoshop Elements
So what can this camera do?
Quite a lot actually…
With a maximum of 15-seconds of exposure and four ISO levels ranging from 50 – 400, I felt this was probably the best camera (best price too), to begin my journey in Astrophotography. The Canon Powershot has been a great addition to my telescope and even when I didn''t have a scope I found it great for taking shots of constellations and satellites. I don''t know a vast amount of information on post processing images as I''m still learning this side of it, but Cloudy Nights has some very experienced member that are more that happy to help.
Handheld imaged taken afocally have been very impressive on bright objects such as the Moon and larger planets, but the best results come from mounting the camera to the telescope with a 10 second delay to let the vibrations settle. A mount can be purchased form various companies around the web, probably costing £20 - £30.
To focus the image, set the camera to infinity while pointing through the eyepiece and focus the telescope. The LCD screen does help with this process, as you have an image to assist with focus. Some users plug the camera into a Television as it has a TV out socket, which provides a greater image scale to work with.
Lunar detail seems very good with my A60 and gave excellent images and colour. The more advanced versions will no doubt give even better results with a greater amount of pixels on offer.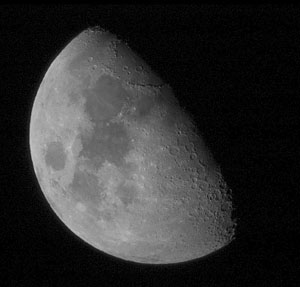 Shot taken by Chris Graham (author)
What if I'm interested in deep sky objects I hear you say?
I have seen images of the Ring Nebula M57 taken with a Powershot and was very impressed. The amount of colour and detail acheived by the imager is outstanding and I take my hat off to them all. The deep sky objects are definitely within the cameras reach just as long as you have some means to track in Right Ascension and are able to stack multiple shots. The images that I have seen from amateurs on this site are very impressive.
Shot taken by Michael Kolstad - M42/M43
January 9, 2005
Afocal Method
8" Newtonian f/4.9; 25mm Plossl;
Canon Powershot A75 (Digi-T Adaptor);
400 ISO;
15 sec. exposure ~ 2 Frames Stacked/Dark Frame Subtraction (Keith's Image Stacker);
Photoshop (level adjustments)

Shot taken by Michael Kolstad - M13
September 20, 2004
8" Newtonian f/5; 25mm Plossl;
Canon Powershot A75; 400 ISO
15 sec. x 18 Frames Stacked/Dark Frame Subtraction
Photoshop (level adjustments)
Tips and Tricks
Taking multiple shots of 15-seconds can be time consuming, as the user would be required to sit next to the camera and manually hold down the shutter button. This would induce a lot of vibration and give blurry results. So how would you go about carrying this out automatically?
Some members have created a holder for the camera and attached a shutter release cable to the button so as it can be pressed constantly when on 15-second, multi-shot exposure, but if your not very good at building things (like me), you can use elastic bands wound tightly round the camera with a small folded piece of paper or half a cotton bud, on top of the shutter button. This is great for taking exposures while mounted to the telescope, as it is very light. I''m sure other Powershot owners will have different means of achieving this so please feel free to post your ideas in the Cloudy Nights forums.
The images below describe how I manage to get the shutter button to constantly take images.
The cotton bud also has an advantage that should you wish the camera to stop taking images all you need to do is press the blue plastic stem. You may think this looks funny but it is so easy to do and the results will really impress you, it also makes the camer very light.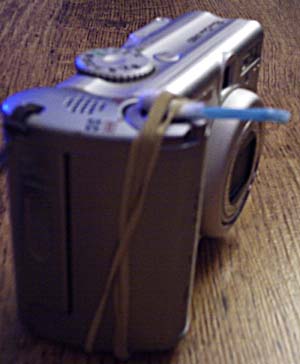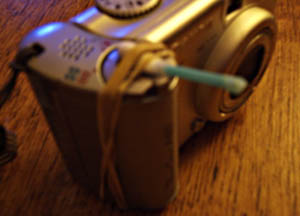 Are there other ways to attach the camera to the scope?
Well yes there is and its very cheap.
You can buy some sections of plumbing pipe with rubber adaptors that seem to work great. The pipe is placed over the eye piece and the camera placed at the end of the pipe. The images below show how this was done and I have tested it out and am very happy with my results. A mount for only 78p you can get much cheaper than that.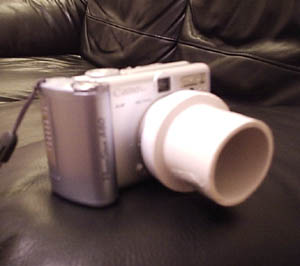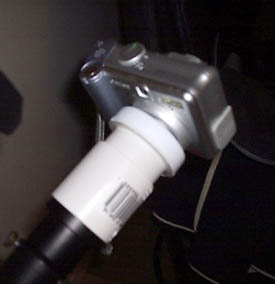 I have managed to get some interesting star trail shots around Polaris buy using the method above, set on a camera tripod. Another important tip is to make sure the LCD display is turned off, as the batteries won''t last much longer than 20 minutes. It is probably a good idea to purchase rechargeable batteries.
Some Cloudy Nights members have achieved great shots of Saturn and the Moon with stacking multiple shots; even single images of the Moon have high amounts of detail.
Shot taken by Chris Graham (author) - ISO 200, 50x15 second exposures, stacked in Registax
Shot taken by Michael Kolstad - Saturn, January 24, 2005
Orion 8" Skyview Pro
Canon A75 and 3x Zoom (not digital Zoom)
10mm Plossl (with 3x Barlow)
Video Mode (with 10 sec. shutter delay)
902 images stacked (Keith's Image Stacker)
Level adjustments with Photoshop 6.


Shot taken by Gary Blevins
This all sounds too good……but are there any problems?
Unfortunately due to the camera not having a removable lens it cannot be mounted at prime focus. I have dismantled the camera (not advised) to attempt to remove the lens but as I don''t have much experience with electronics I didn''t get too far.
At high ISO levels with long exposures, there can be a lot of noise within the images. The noise could be removed with post processing in Photoshop or other graphical software.
It must also be noted that there can be a delay in saving the long exposures to compact flash.
Colour in faint objects at a high f /ratio seems green in colour due to the low contrast of the object on view.
You cannot save the image as a RAW file.
Conclusion
If you''re just starting out in the great world of Astrophotography I would highly recommend this camera. Given the different options and manual exposures there is a lot to learn and can provide you years of great images until you are ready to go a step further and are willing to spend ££££ on new equipment.
Compact Flash memory''s price is dropping quite fast and is definitely a plus for storage of so many images.
I hope you have enjoyed this article as much as I have writing it.
Thanks to everyone that provided images, I'm sorry they could not all be used..
Clear Skies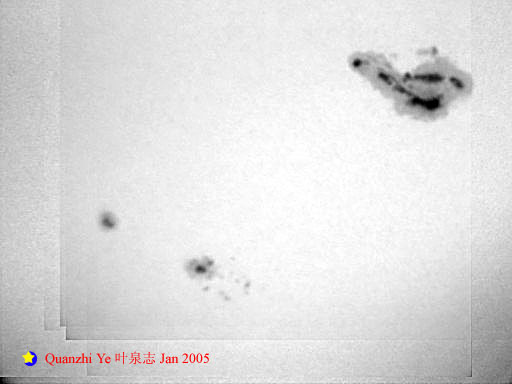 Shot taken by Quanzhi YeSkyWalker 5' & Canon PowerShot A70.51 x 1/160s
Article: Canon Powershot Digital Camera for Basic Astrophotography