CNers have asked about a donation box for Cloudy Nights over the years, so here you go. Donation is not required by any means, so please enjoy your stay.


4
Review: 10Micron GM2000HPS
Discuss this article in our forums

10Micron GM2000HPS
My journey into the high end market started a little over two years ago. I was imaging with an NEQ6 from my balcony at home under reasonable skies and wanted to go automatic and possibly remote, a task that the NEQ6 is not really suitable for. The search began.
I had managed to absorb some information about what properties in a mount are good and what properties are not. Let me just briefly go through some of my base criteria.
Stability and payload
The mount should be mechanically very stable and without slack up to the specified payload. A lot of mounts can perform well by using tricks like shaft heavy balancing, but I really felt that it should be a base property and not something that has to be worked around.
Encoders and homing and guiding
Obviously, encoders are an added benefit for any high end mount and something that could very well lead me to the goal of unguided imaging. Guiding is not one of my favourite pastimes, and even though I never had any real issues with it I find that it sometimes fails and always steals valuable imaging time.
Automatic homing is something that can solve many of the remote operation issues, but also something that can be seen as a bolt-on solution to the problem of not having absolute encoders. If the latter are present, there should be no need for homing, and if there still is, something is fundamentally wrong with the encoder design.
Computer dependency and software
One may ask why I raise this issue as I am an imaging only person who never does visual observing. The answer lies in my background with electronic systems engineering and the fact that everything I have designed over the past 35 years has been based on distributed intelligence and part-autonomous components. So, my mount needed to do well on its own in order for me to be calm. Having written software since the early to mid 1970's I have very strong opinions about software. In order to be flexible, ASCOM should be the path of choice.
My choice
I finally fell for an Italian job with ridiculously good looks and specifications; 10Micron GM2000HPS. Having booked a week at Olly Penrice's Les Granges Astronomy in Provence, I decided to order a mount and pick it up at Baader Planetarium on the way to Provence. Apart from a mishap with a transport damaged cable that created a problem with the control box, the trip was a success. Real first light for the mount would come at a later stage.
Brief overview
The mount was, at the time of purchase, available in two versions with two different control boxes. The monolithic version of the mount has the complete head as one unit, while the "Ultra Portable" version (ha!) can be easily split in two. The UP version, that I ended up getting, can be put into a set of three flight cases for travel and transport.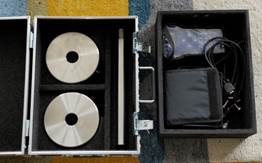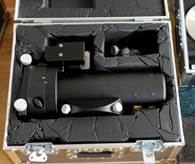 The mount base with right ascension axis and the declination head are easily assembled to a unit, which is then put on top of the control box. Cables between the box and he mount head number three; one for the encoders and one for each motor. All attach to the base of the Ra housing. The boxes available at that time were a round one acting as a pier extension, and a square, smaller one on the side.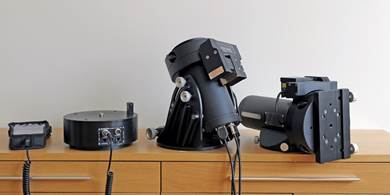 The drive system consists of AC servo motors with incremental encoders, a belt-driver first reduction stage and finally a traditional pre-loaded worm design. An absolute encoder with more than ten million ticks per revolution is fitted to each axis, and the information from the encoder is included in the feedback control loop of the motor control. With the two stage feedback (motor and final axis), periodic error is virtually eliminated and PEC is not necessary. As the encoders are absolute, they do not lose their position information when powered off, so you can move the mount around by hand, power off or power on, and they will know exactly where they are when power is reapplied without the need for homing – for which there are no procedures or sensors as the concept of homing the mount simply does not exist.
With absolute encoders present, unguided imaging starts to enter the scene, especially considering that the mount control system tracks not only in right ascension, but also in declination. Enter the model.
Alignment and modelling
With absolute encoders and an in-mount controller system, the concept of pointing and tracking models are implemented in the mount itself without need for external software. Standard polar alignment is performed by roughly aligning the mount to the north and syncing on three stars. After that procedure is taken care of the mount knows approximately how much of a polar alignment error is present, and the hand controller gives instructions as to how much to turn the elevation and azimuth knobs (in decimal turns, like 0.15 right, meaning 0.15 turns on the knob that moves the mount to the right). There is also a procedure in the hand controller where a star is centred by means of the adjustment knobs, all to the same end and from the same information obtained from the three (or more) alignment points.
Having polar aligned the mount with one or two iterations, the polar alignment error is usually under one arc minute, which definitely is good enough for most situations. Further iterations can bring it down to single digit arc seconds, but at that accuracy the precision of your knob turns are beginning to disturb the process.
By adding alignment points, or stars, to the mount by means of syncing, the model is refined. The mount hand controller is always ready to tell you what kind of accuracy you can expect from the present model. The modelling in itself is similar to T-Point and concerns both tracking and pointing. The tracking part is not handled by nudging the mount, but rather directly in the motor control loop.
First light
For the first light of the GM2000HPS I used the 10Micron Centaur tripod that I got with the mount kit. It is a steady beast by all standards and very difficult to disturb (and haul around). I used a William Optics FLT-98 mounted on it and did around 10 to 15 alignment points after the polar iteration. I then exposed, by means of Nebulosity 3, a five minute exposure without guiding and found, pleasantly surprised, perfectly round stars in the image. Increasing the exposure to ten minutes made no difference to the star shape.
Further on
When I bought the mount, 10Micron relied on the fact that the controller supports more or less the complete LX200 and AP command sets. I did, however, find that the ASCOM drivers for LX200 and AP where not perfectly suited, a fact that prompted me to quickly learn ASCOM development and write my own ASCOM driver for the mount. I also started on an application to automatically build the models by means of repeated plate solving, a tool I find essential when operating a mount of this calibre.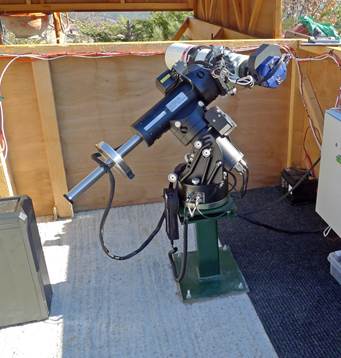 10Micron released their own ASCOM driver eventually and have implemented many new features in the firmware. The model can now consist of up to 100 points, while the firmware two years ago only supported 25.
Present day use
After having served on my balcony for a year and a half, the mount is now housed in a permanent remote observatory in Provence, south of France. It has never been guided for imaging and has produced wonderful results. In Provence, it has a Takahashi FSQ-106 mounted, a telescope that is about to be replaced with a TEC-140 this coming summer. The Tak is going back home to sit on my newest mount, a 10Micron GM1000HPS, the smaller brother of the GM2000HPS. That combo will go into my next remote observatory to be built on an island in the Stockholm archipelago this summer.
Things to consider
Unguided imaging requires a rock steady rig. There can be now unpredictable flexure or any other form of instability. Some telescopes are simply not stable enough for modelling. I had to rebuild my Skywatcher 190MN primary mirror cell in order to make it work on the GM2000. The FLT-98 worked initially, but as my models became bigger and required even more rigidity from the telescope and imaging system, it had to go.
Getting unguided imaging to work can be a tedious task, but the way it is implemented in the 10Micron mounts makes it a breeze – provided you give it a stable enough telescope.
In summary
This is a high end mount that delivers extraordinary performance and unguided imaging. It does not come cheap, but when comparing to other offerings it is important to note that this has absolute encoders – and they don't come cheap.
Positive
·         The 10Micron GM2000HPS has been a wonderful companion so far. It has never failed to provide unguided imaging and it has been easy to use.
·         The mechanical design is excellent with nice finish and absolutely no slack what so ever.
·         Absolute encoders are wonderful to have.
·         The frictions are top notch and very reliable.
·         Power up and go capability – no realignment
·         Extreme slewing – 20°/s – good for satellite hunting
·         Points exactly on target after a meridian flip
Negative
·         It is a bit heavy to lug around to say the least, but it is luggable and very quick to set up in the field.
·         I initially found the lack of software problematic. That has since been corrected, but the offer could still be better.
·         They discontinued the round control box. Now you have to choose the square detached one.
·         You need a good telescope system in order to enjoy it fully.
Facts
| | |
| --- | --- |
| Mount type | German equatorial, monolithic or divisible head |
| Weight | 28 kg (13 + 15 for ultra portable version) |
| Payload | Imaging: 60 kg |
| Lat range | 23°-70° N or S |
| Azimuth adjust | +/- 10° |
| CW shaft | 40mm stainless steel |
| Axes | 50mm alloy steel |
| Motors | AC servo motors, encoders |
| Pre-stage transmission | Nylon timing belt |
| Worm | 215 teth, 172mm B14 bronze |
| Power | 24V DC 0.7 – 5A |
| Slew speed | 2°/s to 20°/s |
timmbottoni, UrthWorm, Balok and 8 others like this
Article: Review: 10Micron GM2000HPS