CNers have asked about a donation box for Cloudy Nights over the years, so here you go. Donation is not required by any means, so please enjoy your stay.


1
Review: davejlec's Paralellogram Mount
Discuss this article in our forums
About me:
I'm a 50-something amateur astronomer. I started with my first telescope, a 2" reflector, in my pre-teens. I've been an active amateur astronomer for all but an eight to ten year period when my responsibilities as a young parent and my military career made it all but impossible to be active in astronomy. I currently own an 11" SCT, a 4.7" Short Tube Refractor and a 4" Long Tube Refractor.
A few years ago, back surgery forced me to modify my astronomy routine. I didn't feel up-to-the-task of setting-up an 11" SCT daily. As a military member up for transfer every few years, the transient nature of my life didn't allow for an observatory. As such, I integrated binocular astronomy into my routine. I currently own approximately one dozen binoculars, from hand-held 35mm binoculars to two 100mm models.
I live in southeast Virginia, east of Richmond, VA. My primary observing location is my home – located in what I would call a semi-rural area (a subdivision located on what was formerly farmland). There is a very distracting streetlight out front, but otherwise I feel lucky to have a fairly decent dark sky with a 5.5 limiting magnitude.
The following review is based upon my experience with a custom parallelogram I purchased on CN Classifieds. I want to be clear: I paid full-price for the parallelogram and I have no financial stake in the device. There has been no quid pro quo between the designer/builder and myself.
About the parallelogram:
I first became aware of this particular parallelogram from the 2015 Stellafane Convention web page. I was too ill to attend personally this past summer, but I saw CN member "davejlec" featured on their web page after the convention. He had entered his parallelogram in the "Mechanical" category and won "Second Place Special Award". After a few months, I saw the parallelogram advertised on Cloudy Nights Classifieds, the other astro-classified site, and even the popular online auction web site. Several months ago I was in the market for a parallelogram and, after exchanging a few messages, I purchased his product.
Rating Scale:
My rating system will be on a 1-10 scale, with the higher number indicating a better rating. I will rate the parallelogram in each category and I will simply add up the results of the categories at the end for an Overall Rating.
Unboxing:
This rating includes packaging, padding, and organization of the items when they arrived to me.
The parallelogram arrived in two boxes. I opened and assembled the parallelogram in my garage.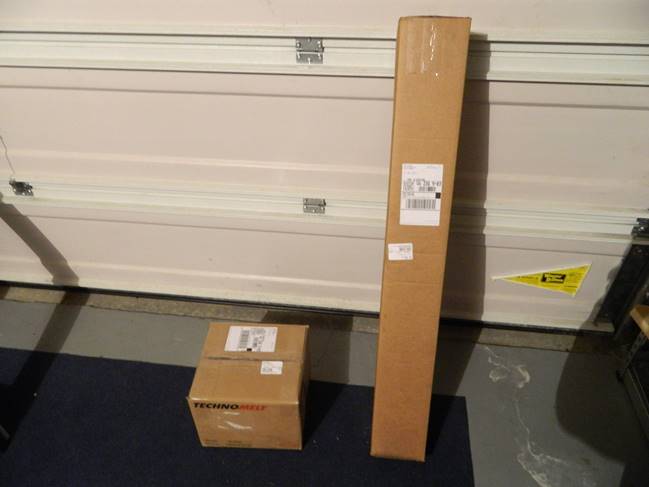 Everything was extremely well padded. Each piece of the tripod and parallelogram arms were padded and individually wrapped in packing paper to ensure there would be no nicks, scratches or damage of any kind during shipment.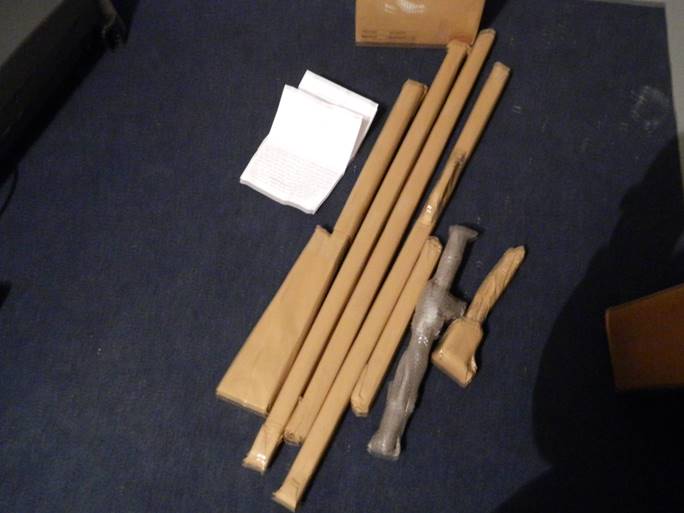 The designer/builder took the time to think of "the little things" – like including and taping two allen wrenches to the inside of the smaller box.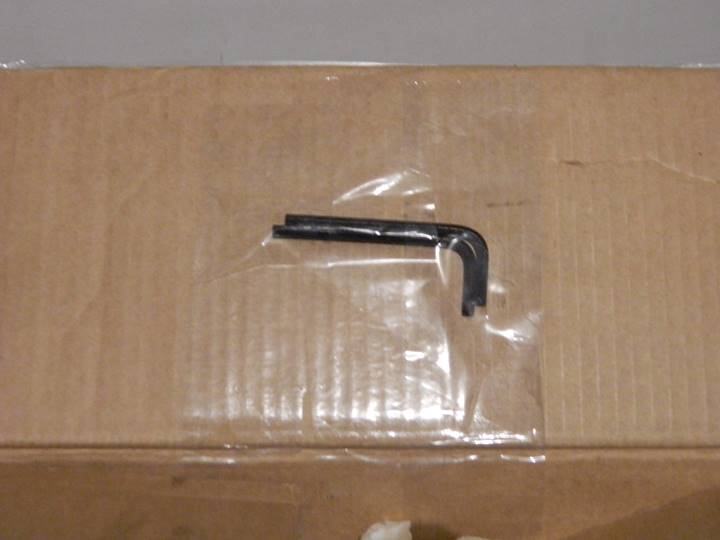 I unwrapped everything & laid-out the parts in an organized manner to assemble the parallelogram. The hardware was labeled and arrived in multiple plastic zip-type bags.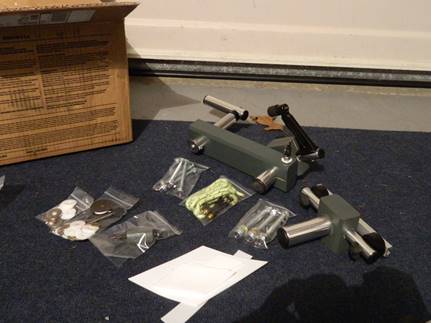 Unboxing Rating: 10 of 10
Assembly:
This rating includes the documentation included with the parallelogram and the ease of assembly.
The parallelogram arrived with some written instructions but no pictures, no diagrams, nor an overall Packing List.
Admittedly, I'm not the most mechanical person. I like and need pictures or diagrams when I assemble something. People who know me would likely say that I rarely, if ever, read directions. That's not true – I look at the diagrams & pictures of the items I'm assembling, then and only then do I read the instructions after I get stuck! But in this instance, I had nothing but basic typed instructions to guide me through the assembly process.
When I began assembly, I queued-up every picture I could find online of the assembled product (from all posted ads as well as the Stellafane web site). This helped significantly. However, during and after the assembly process I emailed davejlec to ask a few questions and to verify my assembly was correct. To his credit, he was extremely quick to respond. Once he even gave me his phone number and asked me to call him.
I gave davejlec some feedback during and after the assembly process (and he subsequently told me a computer literate friend of his was going to help him create improved assembly instructions to include pictures). As I mentioned previously, I am not a mechanically inclined person. As such I feel I should grade and rate this category on a slight curve. However, pictures, diagrams, and/or more thorough instructions to include a Packing List would have helped me tremendously.
My rating: 7 of 10.
Here is the assembled product.
Attention to Detail:
This category is based upon the thoroughness & thoughtfulness of the design [and designer] and how well the parallelogram is engineered.
The designer/builder definitely thought about the small things.
The fact the designer/builder included extra hardware is commendable (how many times have we all gone to assemble something and we found one less screw or other missing hardware omitted from the box?). He even included an extra knob/wing nut and extra bearings for all of the connection points. I definitely have "spare parts & hardware" should I ever need it in the future.
There is also a small chain on the tripod head and a metal ring on the bottom of the binocular arm of the parallelogram. This is a safety to keep both arms stationary (and to stabilize the tripod) when adding weights to the arm. If you connect the arm to the tripod head through the hook and chain, there will be no unexpected movement that could harm the parallelogram and your expensive optics.
If you look closely, you might be able to see the gold ring under the binocular mount. The chain is on the side of the tripod head facing away from the photographer and is not visible in this photo.
Even the reflective tape helped me tremendously on several instances. Lastly, the tripod head has a bubble level to ensure proper set-up.
My rating: 10 of 10
Customer Service:
This category is self-explanatory: how well did the designer/builder support & help the buyer.
I have nothing but positive things to say about CN member davejlec's customer centric attitude. Not only did he provide me his phone number to have questions answered as mentioned previously in this review, he also provided me pre-purchase customization.
I have a pair of 1980s vintage Celestron® 14x100 Binoculars. These 7.3 lb. binoculars do not have a center post. They were sold and packaged with a large metal tripod mount (see below).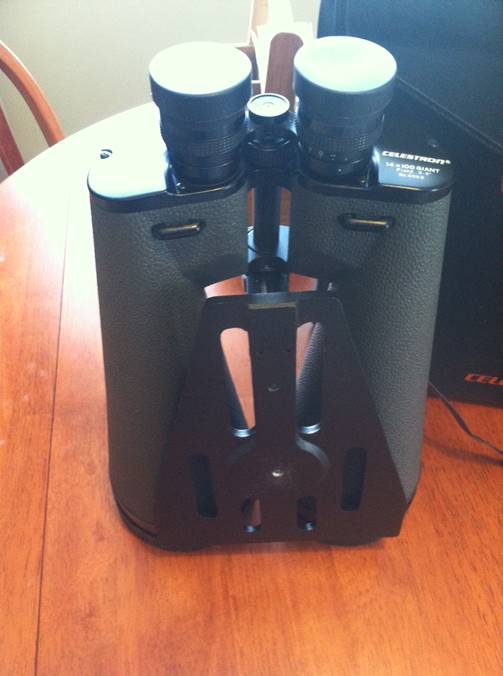 As you can see, that's a large binocular adapter! Davejlec asked me to send him this picture before he shipped the parallelogram. He then designed a special parallelogram-to-binocular mounting solution that is as long as the center of the 14x100's adapter plate. His specially designed mounting solution essentially has three contact bolts that provide extra stability to the binoculars.
My rating: 10 of 10
Weight Balancing System:
The builder offered me two weight balancing options with his parallelogram. He could supply the weights (at an additional charge plus additional shipping), or the buyer/user can supply his/her own. I chose the latter (he told me that it's not cost adventageous for him to supply the weights because shipping is more expensive than the value of the weights).
The counter-weight arm was designed to fit commercially available steel weight plates (not the thick, plastic weights). I already owned steel weight plates in 2.5 lb, 5 lb, and 10 lb increments that would fit the balancing arm. (see below):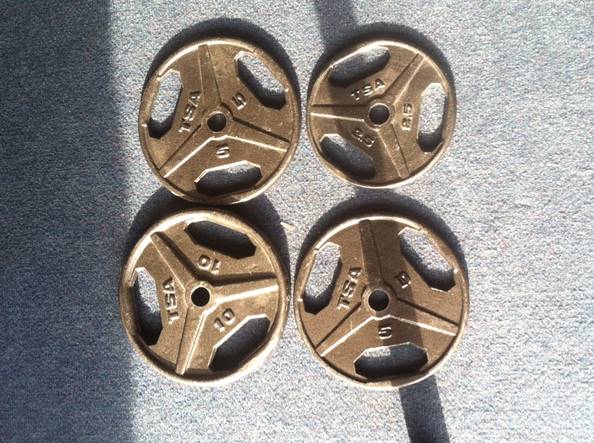 Having 2.5 lb, 5 lb, 7.5 lb and 10 lb increments., I have considerable flexibility to support the balancing arm in multiple combinations. And yes, I can support 10 lbs on the balancing arm and my 10.3 lb. 25x100 binoculars on the optics end of the arm. I'm not aware of a weight rating for this parallelogram, but I'm confident I could support (but not exceed) 12.5 lbs on each end of the arm. However, my 10 lb weight plus a 2.5 lb. weight would be too thick to secure and to thick to lock-down with the standard size locking mechanism. I have no reason to balance more than 10 lbs.
Note: The design I purchased will not support a Binocular Telescope. However, the designer/builder recently told me he is customizing a more robust mount to support a 17 lb. Binocular Telescope for another CN member.
I do have one small problem with my counter-weights. The 2.5 lb weight, even with a spacer that was made for me, cannot be locked-down. I have a 3.1 lb. Pentax 20x60s that I'd use a 2.5 lb. weight.
Considering the fact I'm using my own weights and the system wasn't necessarily designed for my specific TSA branded weights, I can not hold the builder responsible. If I can find large enough washers online, I plan to glue or expoxy several together to make a one-piece spacer that I can use with the spacer the builder made for me.
My rating: 10 of 10
Practical Application:
Now, the road test!
For the record, this is my second parallelogram purchase. I bought a parallelogram from a different source that was supposed to support my 10.3 lb 25x100 binoculars. But after owning and using that, I found that in reality I can't go beyond 5 lbs. (a 70mm binocular) – that's quite a difference. Since that first paralleogram under-performed my needs, it gave me a reason to consider and eventually purchase this parallelogram.
I have used a half dozen different binoculars on this parallelogram raging from 3.1 lbs to 10.3 lbs. You'll notice from the pictures included with this review that my 14x100s are in every photo. Due to substantial and copious dew in my area, I decided to take all of my review photos over a brief period so I could promptly promptly store my camera.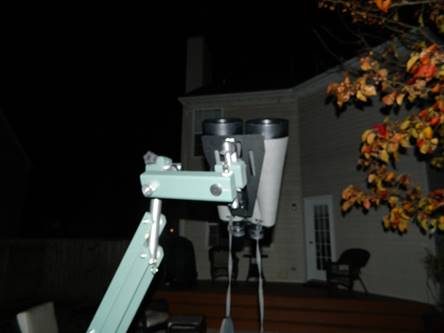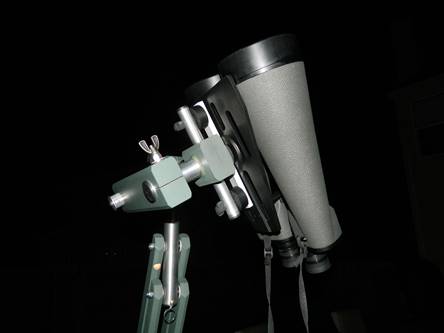 I feel the practical operation of the this parallelogram is simple and straight-forward. For those without experience using one, within a few minutes you'll feel like an experienced pro.
The tripod and parallelogram are extremely stable. I haven't encountered any vibration issues in the 3-months I've owned it.
The movement is sillky smooth. And when changing altitude, the parallelogram works. I can raise or lower the parallelogram, once locked-on to a target, and the traget remains in the center of the FOV.
The builder also provided me two interchangable parallelogram-to-binocular mounting brackets: a center post adapter and one that attaches to the adapter screw of a binocular. Both tightly secure your optics. And both have silky smooth altitude movement.
Frankly, I could not be happier with how the parallelogram functions. A 10.3 lb. 100mm binocular performs flawlessly just like a 3.1 lb. 60mm Pentax.
Note: Make sure you become familiar with attaching your counter-weights. I initially thought I had lock-down problems with multiple increments. My only problem was not practicing first in the daylight!
My rating: 10 of 10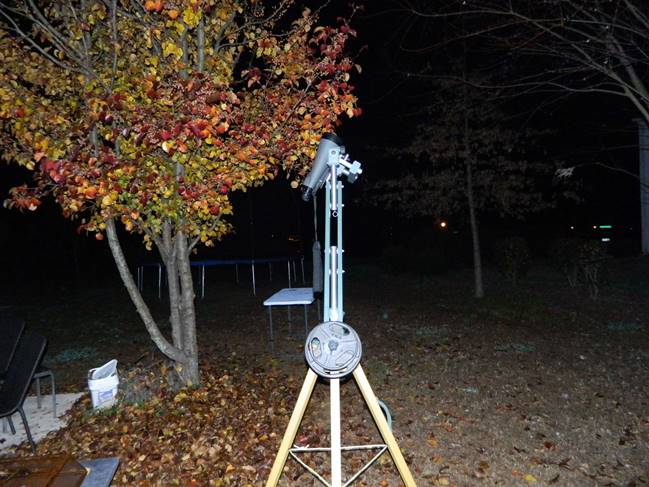 Quality & Workmanship:
This category is simply based on the quality of the product including the machined components & hardware, the quality of the workmanship, and the perceived durability of the unit.
As I have previously stated, I've only owned this custom parallelogram for 3-months. But I can readily tell this unit should last the rest of my lifetime.
The tripod is a heavy-duty - but not too heavy to move - wooden surveyor-type tripod. It has a large, heavy-duty head with a bubble level and sturdy legs. The 3-point tripod has a rope connecting each leg to make leveling a bit easier.
All of the knobs are large and ergonomically easy to adjust.
The parallelogram, like the tripod, is also made of wood. The parallelogram has finely machined metal components. Every joint or moving part moves silky smooth. Each arm has recessed metal washers and thus the joints never loosen nor does over-tightening of the bolts cause damage to the wood.
My only slight complaint: changing the binocular mounting solutions – the center post adapter and the binocular screw adapter components are difficult to insert, remove and swap. The fit, with the plastic bearing, is very tight no matter how loose the knob is. However, I'd rather have a tight connection than a loose connection.
My rating: 10 of 10
Summary:
It's time to total the ratings.
Overall rating:
| | |
| --- | --- |
| Unboxing: | 10 of 10 |
| Assembly: | 7 of 10 |
| Attention to Detail: | 10 of 10 |
| Customer Service: | 10 of 10 |
| Weight Balancing: | 10 of 10 |
| Practical Application: | 10 of 10 |
| Quality & Workmanship: | 10 of 10 |
| | ------------------------ |
| Total: | 67 of 70 |
| | (96% or a 9.6 avg. Rating per Category) |
Conclusion:
I believe the numbers speak for themselves. CN member davejlec designed and built an excellent product. His price was extremely reasonable (especially compared to the commercially available options for 10lb. capacity parallelograms), and he went above and beyond to support me – the buyer.
If you are looking for a parallelogram for 100mm binoculars and below, look on the CN Classifieds (or other source) and contact CN member davejlec before you buy anything commercially available. If you need something to support a heavier weight, I've already mentioned he is currently customizing a more robust parallelogram to meet the needs of a 17 lb. Binocular Telescope. In fact, as I was preparing this review he told me that each of his sales has involved some sort of customization, thus no two parallelograms are exactly alike though they do share the same DNA.
There is one last thing I want to stress: CN member davejlec is currently building his parallelograms to support fellow amateur astronomers. He builds these in his basement workshop and they are definitely not a mass produced product. With each build, he customizes and improves the design based on the feedback of each buyer. Having the ability to buy a quality yet customized binocular mounting solution for a reasonable price is great for the binocular community.
Clear skies to all of the amateurs out there – and thanks for reading my first Cloudy Nights Review!
T.V.R.
(CN Member "H-D Moose")
Vesper818, deepspaceguy, okiestarman56 and 11 others like this
Article: Review: davejlec's Paralellogram Mount