CNers have asked about a donation box for Cloudy Nights over the years, so here you go. Donation is not required by any means, so please enjoy your stay.


0
Review: iOptron 6002 900X70 Refractor Telescope
Discuss this article in our forums
Review: iOptron 6002 900X70 Refractor Telescope
by James Burke
Hi! I am new to Cloudy Nights but I am not new to astronomy or amateur telescope making, having ground and figured an 8" f/7 from an Edmund kit way back in '66 when I was 12. I worked all summer for 75 cents an hour as a janitor's assistant for the kit and a few parts and the job not only paid for the stuff, it beefed me up (a scrawny kid) so I could "walk around the barrel" to grind it. Anyway, I must be boring you. My current collection consists of two 8" reflectors, a 6" f/8, a 4 ¼" RFT, a thick Pyrex mirror 12 ½" f/4 Newtonian (not a float glass thin mirror), miscellaneous SC and Maksutov cass. types, and a 6" triplet, a 127mm, a 90mm, multiple 8omm classics, way too many 60 mm classic, refractors and other stuff I have forgotten about.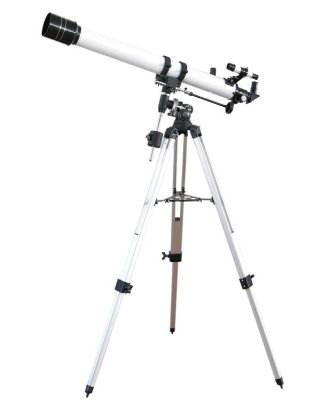 I saw that a major discount chain was fire sale pricing the iOptron model 6002 900X70 Refractor Telescope (Blue), equatorial mounted, (not the red model) last summer so I bit. The freight was free as well. The scope came well packed. The manual is good. The dew shield is marked with the ubiquitous two aluminized bands on plastic that characterize the current generation of Chinese telescopes being imported. The mount is solid and all-metal except for the scope mounting rings which are plastic of some sort but they work well.(I wouldn't suggest opening them on a bitterly cold night but you shouldn't need to). The telescope tube is aluminum with a central stop. The finder is a simple coated glass lens affair. The tripod legs are aluminum. The 1 ¼" diameter eyepieces are simple Huygenian types and the barlow is a simple lens. The objective is coated on one or two surfaces (just like classic Japanese mid-grade telescopes from yesteryear) and is an air spaced achromat in a cell that I couldn't remove from the tube (the cell, that is- the lens is held in place with the usual threaded retaining ring and comes out for cleaning). Originally supplied with a 60 degree roof prism diagonal.
First light: Dim! I couldn't figure out why a 70mm glass was producing so little image brightness. Also, there were some strange ghosts in the image. The mount had play in the polar axis slow motion, and the tripod, while better than many vintage scopes, left a lot to be desired. The plastic clamp ring on the focuser was another issue- the screws were tipping the star diagonal. The diagonal was cutting off the image also. However, the image was very well color corrected and crisp as far as I could tell.
I decided to take it in and take it apart. First discovery was the star diagonal was defective. I phoned iOptron and they rushed me a mirror 90 degree replacement under warranty which is fine. I replaced the offending focus tube lock ring with a carefully adjusted gear hose clamp for a few cents which straightened out the diagonal angle problem Next discovery; the tube stop was in the wrong place, effectively stopping the objective way down. I moved it to the correct location and added a second stop. I lined the somewhat shiny black plastic dew cap with black felt also. I adjusted the worm of the polar axis by loosening the bolts and holding it in place while tightening the bolts. I reinforced the tripod legs at the plastic "ears" where they attach to the tripod head by drilling with a portable drill and installing roll pins as spacers. These parts are a couple of bucks at most at rip off retail level. The simple lens finder was stopped down so I opened up the stop. Simply tightening up the eyepiece tray screws helped a lot.  It performs better than classic Japanese stuff treated similarly now.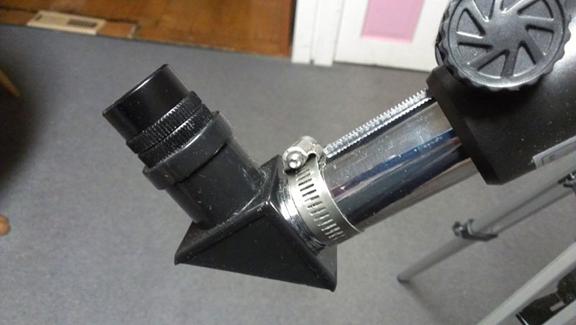 Second light: Diffraction rings very good. Extra focal shows a purple "bulls eye" although very slight. Venus showed a ghost near the top of the image that corresponded to the tube and not the diagonal. A laser collimator quickly showed the problem to be the plastic focuser- although centered, the pressure of the rack causes the (plastic) focus tube to tip, causing a ghost. I slightly oval cut the top hole toward the objective and tipped it imperceptibly. Focusing is adequate at high power.
With the above, this is a great little grab and go. It is wonderfully light. The eyepieces are adequate but with RK types and above, it shines. Why did they stop it down? Tearing apart later classic Japanese scopes has revealed melted plastic stops so this may have been done to avoid burning a hole in the focuser during solar projection. Don't try it before or after and use an objective filter. The scope takes a clock drive that is available and sort of standard (battery powered).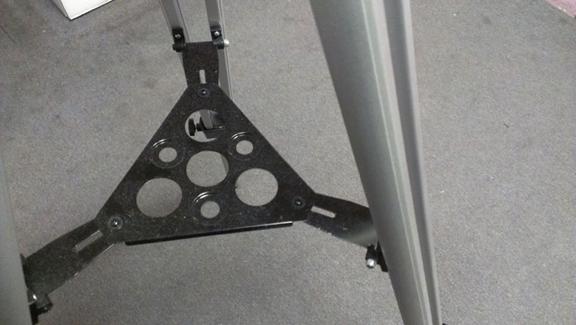 Do I recommend this scope? Any scope in this price range is going to need work and the classics often use oddball threads and come with worn and broken parts. They are incredible bargains in the 60mm range but they haven't held value; a 50 mm scope costing $25 in 1965 should sell for $175 at least. An 80 mm classic will set you back $200 or more and should cost far more. At well under 100 bucks for a 70mm f/13, these are a bargain. Just be prepared to make a few changes.
Jim B
Article: Review: iOptron 6002 900X70 Refractor Telescope