CNers have asked about a donation box for Cloudy Nights over the years, so here you go. Donation is not required by any means, so please enjoy your stay.


1
Review of Explore Scientific ED127 APO Refractor
Discuss this article in our forums
Review of Explore Scientific ED127 APO Refractor.
by Tom Fowler
I purchased this telescope about one year ago from Hands on Optics.  I chose it after earlier purchasing an Explore ED80 APO, which greatly impressed me.  It is 127 mm clear aperture (5") apochromat, f/7.5, with focal length 952 mm.  It comes with a dual-speed Crayford-style focuser, diagonal, finder, dew shield, and heavy-duty trunk-style case.  It is typical of the new generation of faster refractors that utilize recently developed low- and ultra-low dispersion glass.  Explore Scientific also makes the 80mm version mentioned above, and a 155mm version which is not yet on their website (www.explorescientific.com).  I have about 50 years of experience in astronomy, and currently have two scopes, this one and a Celestron EdgeHD 1100.  My observatory is the back part of my flat roof, in the middle of Washington, DC.  I have used many types of scopes over the past half century, but this one is especially easy to use and a great performer; I can say without reservation that its great optics never disappoint.  It excels at lunar, solar, and planetary viewing, as expected of a refractor; but it also delivers great views of deep sky objects, subject to its limitation of 127mm, a limitation that shows up primarily on deep sky objects, where light gathering power is paramount.  Note that a well-designed 5" refractor, with no central obstruction, can yield resolution equal to or superior to a 6" reflecting scope—compare the modulation transfer functions (MTF)—and because of better resolution and thus sharper star images, almost the same effective light gathering capability. 
The construction of the ED127 is superb, with great attention to detail and finish.  The two-speed 2" focuser works very well—quite smooth, with lots of travel and a calibrated scale on the draw tube that facilitates quick replication of setups, especially for astrophotography.  The f/7.5 focal ratio yields a compact tube, just 32" long (without the dew shield), including the focuser.  The finder is real gem—erect images, very sharp and clear, with an illuminated reticle.  In many ways the 127mm aperture is a perfect compromise, especially for city and close-in suburban locations.  It suffers less from atmospheric turbulence (a problem with my Celestron 1100, especially on solar viewing), is light enough to be readily portable, does not require a large, heavy mount, but is still large enough for serious work.  After some investigation, I choose a Celestron CG-5 mount to use with it (about $600).  I looked at the Losmandy, and though it is no doubt a superior piece of equipment, at about 4 times the price, I decided to go with the less expensive Celestron mount to see how it would work out.  In the event, the Celestron mount and tripod is perfect for this telescope.  You will however need to purchase an additional counterweight to use with the mount (#94186).  I use it on an Antares 4" pedestal at home, where it stays outside all the time except when I travel to star parties, and then I use the tripod.  I keep the mount and pedestal covered with a Telegizmos 365 cover (#T309).  I do not leave the refractor outside.   The scope is very stable on this mount, and of course all major astronomy programs work with it (see Figure 1).  Sometimes I use the ED127 as a robotic telescope, controlled by SkyCharts (free).  The mount also works well with the Orion WiFi telescope module (#05969, actually made by Southern Stars), which allows me to control the scope with my PC and SkyCharts (or any other software the uses the ASCOM interface), or my iPad with the Orion StarSeek Max program (actually Southern Stars' Sky Safari program, which also runs on Android devices, but because these devices do not presently support Ad Hoc networking, they can't be used to control the mount with this software).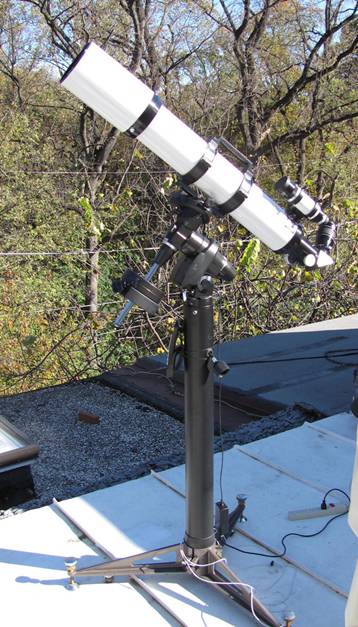 Figure 1. Scope, mount, and pedestal
The scope cradle fits the Celestron mount, and is designed so that the top is a nice handle to carry the scope when it is off of the mount—another great idea.  It has still another feature that I will discuss below in connection with my solar telescope.  The telescope comes with a very nice heavy-duty case, though I find that more rugged (and much heavier) than necessary for local travel.  So for local travel to star parties I purchased an Orion case, and another canvas case for carrying the tripod.
I have a modest collection of eyepieces, and have found that just about any eyepiece works well in this telescope, from my 40mm Pentax down to my 4.7mm Explore Scientific.  Stars are pinpoint sharp and with good eyepieces, sharp edge to edge.  The Explore Scientific eyepieces, in fact are great—the new 14mm 100o gives stunning views.  The scope works well with the Orion binoviewer (#52071), though it does require use of the Barlow lens that comes with the viewer in order to achieve focus.  Figure 2 shows the binoviewer and two TAL 25mm Plossl eyepieces, which gives a magnification of 76, especially good for solar viewing.  My experience with binoviewers is that while they give great views, and seem to show more detail than regular eyepieces (using two eyes definitely has advantages), they can be tricky to use.  It is hard to keep one's eyes properly positioned.  For that reason I usually use Orion eyecups (#07405) on the eyepieces (not shown in all photos), since then I know exactly where to position my eyes.  If I set the binoviewer up using the sun, I can get it adjusted just right, and then it is fairly easy to use in the dark on planets, clusters, etc.  My experience with the binoviewer is that for deep sky work, you lose about ½-2/3 magnitude—that is, halving the light going to each eye isn't fully compensated by having two eyes looking at that light.  Still the views of star clusters are quite striking through the binoviewer.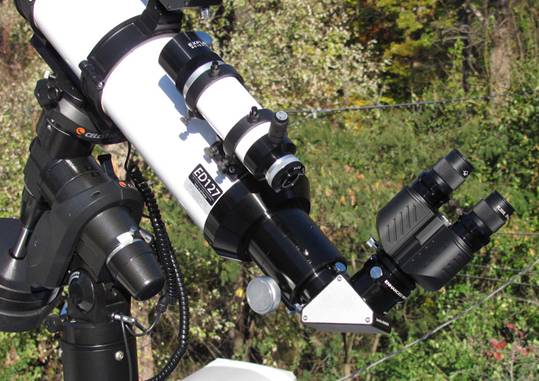 Figure 2. Scope with Orion Binoviewer
It is also possible to use an electronic focuser on this scope.  I found that the Orion Accu-Focus unit (#07395) can be readily adapted for use by removal of the left focus knob, and some minor modification of the mounting bracket that comes with the focuser. 
A nice feature of this telescope cradle is that it permits attachment of devices that are not too heavy on the top of the cradle handle, which has been thoughtfully cut out for this purpose (see Figure 3).  I use it for mounting my Coronado PST.  The PST mounts with two ¼" bolts, 1¼" long, on which I put brass sleeves to facilitate attaching the PST.  The great thing about this is that the alignment of the PST and the main scope is almost perfect, so I can quickly shift from viewing through the PST to viewing through the main scope.  I also sometimes mount by Canon T1i on the top of the cradle handle, for piggy-back astrophotography.  For the ED127's solar filter, I use the Orion 6.58" solar filter (#07737), modified with 3/16" foam insulation strip (available from any hardware store) to reduce its effective inside diameter (see Figure 4).  The filter then fits snugly over the dew shield on the ED127.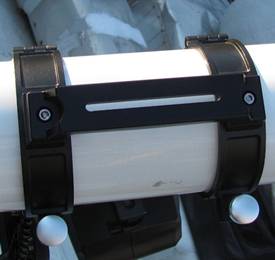 Figure 3. Cradle showing cut-out handle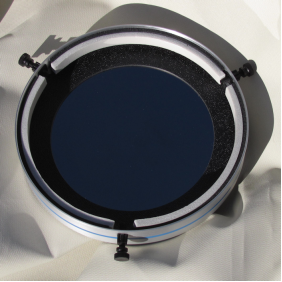 Figure 4. Orion Solar Filter Showing Insulating Foam (grey) to Ensure Tight Fit on Dew Shield
This combination works fantastically well for solar observing.  In Figures 5-7 you can see the complete setup, including the binoviewer.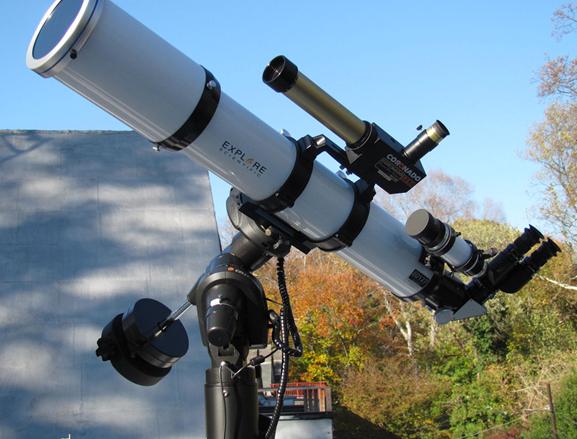 Figure 5. Solar Observing Setup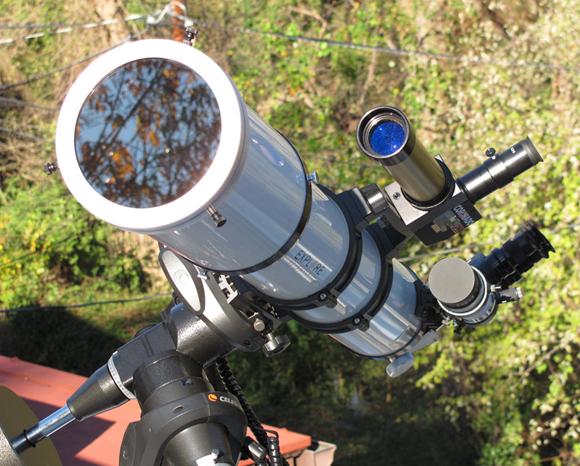 Figure 6. Closeup of Solar Observing Gear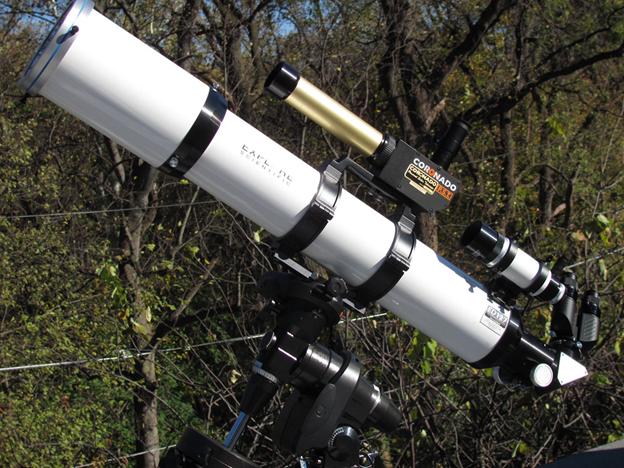 Figure 7. Another View of Solar Setup
For astrophotography, I currently use an Orion StarShoot camera for lunar/planetary/solar work, and a Canon T1i DSLR for deep sky work.  I also use the Canon for spectroscopy.  The StarShoot just fits into the 1¼" eyepiece adapter.  The Canon of course requires a T adapter, and a 2" tube for insertion into the draw tube.  I live in the middle of Washington, DC, where light pollution is a very serious problem—3rd magnitude is usually about it.  However, the ED127 still allows for good deep sky photography.  The photo below of the Double Cluster in Perseus (NGC869 & NGC 884) shows what can be done with this telescope even under the poor conditions of a city, and use of a general-purpose DSLR.  A total of 7 30 second exposures were stacked by Deep Sky Stacker (free).  The photo of the Andromeda galaxy is the result of stacking 22 30 second exposures.  For these photos the camera was controlled by the Astrojan program (free).  A moon photo is also shown, the result of stacking about 500 images from the Orion StarShoot camera (most of which were rejected by the stacking software, AVIStack, which is also freeware).  Be aware that it is not possible to use a focal reducer with this scope.  I have an Antares 0.5 focal reducer, but when used with the Canon on this scope it gives significant field distortion--which is not unexpected since it reduces the focal ratio to f/3.75!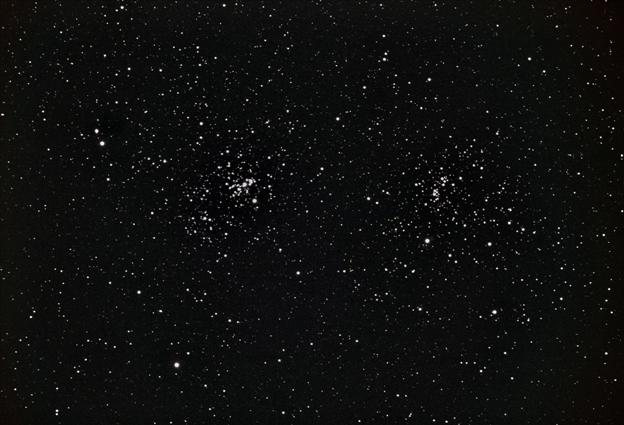 Double Cluster taken from middle of Washington, DC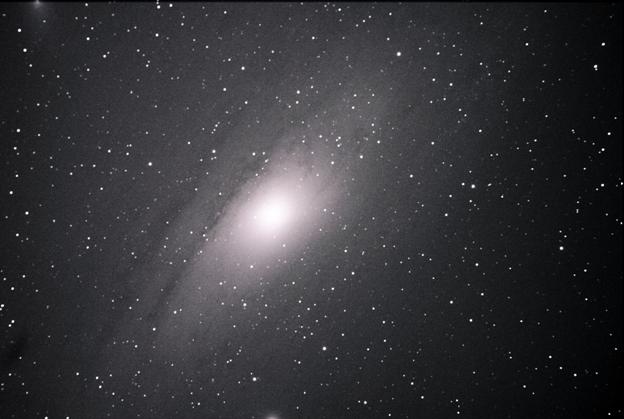 Andromeda (M31) taken from middle of Washington, DC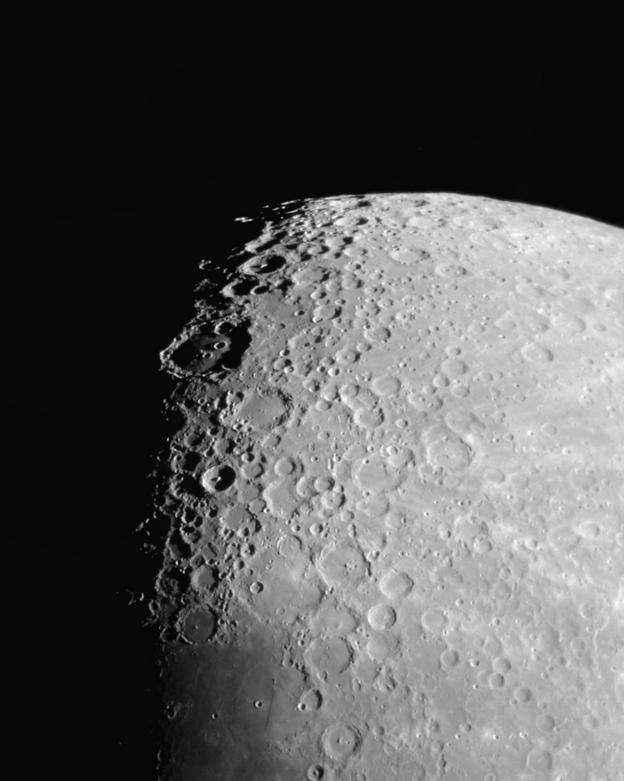 Moon taken from middle of Washington, DC
Overall I have found the ED127 to be a great telescope, very flexible, with extremely good optics, but small and light enough for travel and for quick setups.  It works with a wide variety of accessories, and is a joy to use always.  I highly recommend it, especially for city dwellers and those who enjoy solar, lunar, and planetary observing.
Live_Steam_Mad, dpastern, Arun Mehta and 4 others like this
Article: Review of Explore Scientific ED127 APO Refractor