CNers have asked about a donation box for Cloudy Nights over the years, so here you go. Donation is not required by any means, so please enjoy your stay.


1
Review of Orion Telescope's StarShoot G3 Deep Space Monochrome Imaging Camera
Discuss this article in our forums
Review of Orion Telescope's StarShoot G3 Deep Space Monochrome Imaging Camera
by Barry Etter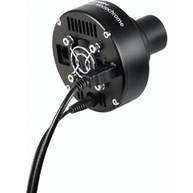 Orion Telescope's StarShoot G3 Deep Space Monoschrome Imaging Camera
MSRP (US): $499.99 from Orion Telescopes and Binoculars
Can a camera with such a small sensor compete in a market where the average amateur camera has a sensor more than twice its size? With all of the choices available to amatuer astrophotographers, is the G3 for you? Just maybe.
I have been imaging for five years, and recently moved from a modified Canon DSLR to a mono CCD from SBIG. I've had pretty good success with both cameras under my suburban North Carolina skies with my 8" f/4.9 imaging telescope.
Recently, Orion Telescopes contacted me to be a beta tester for their StarShoot G3 camera. I accepted, but had reservations -- the chip on the G3 is tiny compared to my ST-8300.
I requested the monochrome version of the G3 along with some LRGB filters and a manual filter wheel. The total value of the equipment was $799 with the G3 being $499 of that.
The important specs are:
Sensor size: 7.40mm x 5.95mm
Pixel array: 752 x 582
Pixel size: 8.6um x 8.3um
Cooling: Regulated TEC, -10C from ambient
Read noise: 9e-
Backfocus: 19.00mm
The CCD arrived along with the filters and filter wheel, and a software CD that included:
Orion Camera Studio
ASCOM drivers
Software installation was simple, and I was quickly taking my first indoor test images. The camera requires two cables – one for USB and one for the cooler (TEC) power (12VDC). The camera will operate without the 12VDC power since the imaging electronics run from USB power. It's only when you need cooling that power is required. The camera comes with a 12V car adapter (no AC adapter is included). I hooked up my AC-to-DC 12V converter, and quickly fried the TEC. Apparently my AC-to-DC converter was slightly out-of-spec with an output voltage of 14.4VDC. The G3 could not handle that high of a voltage. Orion Support promptly sent a replacement. As of this writing, Orion has plans to update the firmware so the G3 can handle input voltages up to 14.5VDC.
I tested the dark noise of the G3 and compared it to the (much more expensive) ST-8300 from SBIG. I found a very interesting result:
The G3 exhibited less noise at equivalent temperatures than the ST-8300!
This is offset by the fact that the SBIG camera can cool much more with its larger peltier, but interesting nonetheless.
Preparing for an actual imaging run with the G3, I played around with the Orion Camera Studio. I was unimpressed. It worked, but seemed unpolished. I didn't feel a great sense of stability from the application, so I reverted to using my existing image capture application, Nebulosity 3 from Stark Labs. When you have only limited dark time, you tend to play it safe, and I didn't feel comfortable with a new image capture application. Besides, the ASCOM drivers that came with the G3 seemed to work flawlessly on my Windows 7 laptop.
The targets for this camera are limited due to its small sensor, so you will need to do your homework before heading out. Use a field of view calculator (available online) to help find targets that will fit comfortably on this sensor. Most likely, such targets will consist of planetary nebulas, galaxies and smaller emission nebulae.
I went for the Dumbbell Nebula (M27) and the Bubble Nebula. Thumbnails are below, full versions can be found at http://www.astrobin.com/users/better/.
The biggest takeaway I had from these two imaging sessions is that I didn't have to use darks, flats or bias frames for calibration. Why?
The G3 has exceptionally low noise, so darks were not necessary
The field of view is so small, that vignetting was not present with my optics (f/4.9 reflector)
This is actually a big deal for beginning imagers and those looking to move from a DSLR to a CCD. You can get into the CCD arena without having to worry about calibration frames.
My software stack is as follows:
Windows 7 x64 Enterprise SP1
Nebulosity 3 – Image Acquisition
DeepSkyStacker – Stacking
Photoshop CS5 – Processing
In summary:
Pros
Low cost
Regulated TEC cooling
Very low dark noise
Good sensitivity
The camera can double as an ST-4 autoguider, though I did not test this functionality apart from confirming that PHD Guiding recognized the G3.
Cons
Small sensor size. Due to the small sensor size, I would not recommend the color version of this camera. The Bayer matrix will reduce resolution and hinder sensitivity.
Limited capability of TEC cooling -- only -10C from ambient
Who should buy this camera?
New astrophotographers who may not want the hassle of calibration frames. They just want to get started quickly.
Astrophotographers looking to move from DSLR to CCD, who can accept the smaller field of view in exchange for lower noise and the ability to capture LRGB and narrowband images.
Anyone who wants to try imaging but doesn't want to break the bank.
Who should not buy this camera?
Experienced CCD users who demand larger fields of view
Users in exceptionally hot climates such that the TEC is ineffective
pgs/sdg and AndrewXnn like this
Article: Review of Orion Telescope's StarShoot G3 Deep Space Monochrome Imaging Camera