CNers have asked about a donation box for Cloudy Nights over the years, so here you go. Donation is not required by any means, so please enjoy your stay.


0
Review of the Seahorse SE720 Eyepiece Case from "My Case Builder"
Discuss this article in our forums
Review of the Seahorse SE720 Eyepiece Case from "My Case Builder"
By Brent Campbell
I have been an amateur astronomer for the last 5 years and I have had two eyepiece cases including a medium sized one from Orion, and a "Harbor Freight Special".  I live in Olympia WA where weather can ruin your day so when the weather and my busy schedule allow time for observing then I like to get going with a minimum of fuss.  I recently came to the conclusion that I needed a new eyepiece case when I was spending so much time arranging things.  I also have two large Meade UWA and SWA eyepieces that just simply didn't want to stay put in pluck foam.  The value of my eyepiece collection also figured into this decision because I was stuffing almost a thousand dollars' worth of eyepieces into a $45.00 case that wasn't working for me.  Thanks to the Cloudy Nights forum I learned about the mycasebuilder.com website which not only offered affordable cases but also a custom cut foam service so that I could adapt the case to my needs.
The case: 
The Seahorse SE720 case is available directly from mycasebuilder.com website.  The case is actually not an eyepiece case but a generic case that can be customized into a great eyepiece case with custom cut foam.  The software design tool on the mycasebuilder.com web site will select the correct outside foam dimensions if you use a case that they already have the dimensions for.  Since I purchased the case from their site the CAD software had the perfect dimensions built in.  The case comes in three colors, gunmetal grey, black, and safety orange.  I choose safety orange.   Here is a picture of the case next to my old one: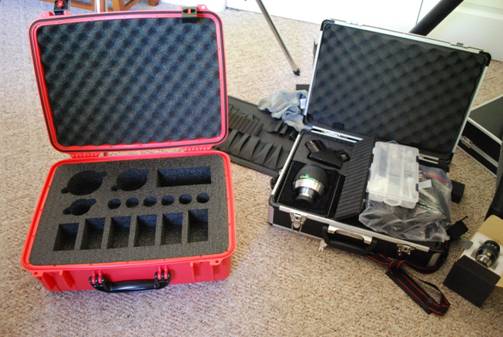 The case is solidly constructed.  Not quite a pelican but 90% there.  You would expect this case to be much better than the Harbor Freight pluck foam case and it is.  To be honest I really like the Harbor freight case for what it was but the value of the eyepieces and the need to rearrange really mandated a new better case.    This case plus shipping and the custom cut foam costs me $138.56!  The inside dimensions are 18.29" x 13.19" x 6.62".  It features a watertight seal on the lid and it is supposed to be watertight to 25 feet.  The latches are heavy duty as is the hinge.  Overall this case is solidly constructed and well worth the money!  This case compares to a Pelican case such as the im2450 which would typically be about $60.00 more.  The only noticeable omission is the lack of a pressure release valve but since I don't plan on airline travel this is a minor inconvenience.
The custom cut foam service:
In one picture I can explain why I wanted custom cut foam:
Custom cut foam gives you the ability to precisely control the cuts for specific equipment in a way that pluck foam just cannot do.
I used the CAD design software on the mycasebuilder.com web site to design the cutouts.  After a brief learning curve I was off designing my case in a couple of hours.  It took me approximately 12 hours to design the case in three sessions of 4 hours each.  During this phase I tried four different designs before I settled on one that I really liked. 
In order to get accurate measurements of the equipment for the design I used a construction "combo square" (similar to the picture below) to measure both the height and the width of the eyepieces to get the measurements correct.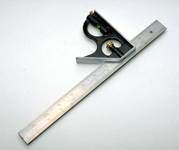 To measure the eyepieces I simply set the eyepiece on a level flat surface and used the square to measure both the diameter and the height.  It worked flawlessly for both diameters and height.  In fact accurately measuring the equipment is the most difficult part of this job.
The foam service offers an insurance option for an additional $7.99 against miss-cut foam called "failsafe".  I elected to get the insurance but I didn't need it, everything fit perfectly the first time!
I had a couple of questions on how to design things and phone calls to the staff of mycasebuilder.com were very helpful.  My questions were answered promptly and service was impeccable.
As for my design, I wanted to have the 2" eyepieces vertical with a minimum of ½" padding on the bottom.  I wanted my ultra wide explore scientific 1.25" eyepieces stored horizontally for ease of extraction and so that I could design a "generic" eyepiece bay that can fit many different eyepieces.  This allows changes to my eyepiece collection without having to continuously re-design the case.  Someday I will have to re-do the custom cut foam but I don't think it will be for a long time.  I also allowed space for filters in the top right corner.
The real advantage of the custom cut foam is that the owner can decide what they want for themselves. You can select foam custom cut to a case that you already have or one select a design that is pre-measured to a case that you purchased from them.  There are at least 100 different cases to select from on the mycasebuilder.com web site, including pelican and storm cases, so there are plenty of options.
Conclusion:
I am glad that I did this!  Here is a final picture of my eyepiece case!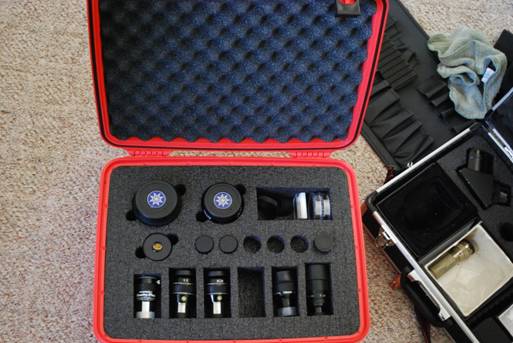 As for the old eyepiece case, for now I will use it for accessories.  Eventually I plan to purchase a second identical custom cut foam case for my accessories.
Mycasebuilder has cases large enough for small refractors, SCTs, cameras, etc., so their service isn't just limited to eyepiece cases.  There are even gun cases available up to 51 inches in length which would be excellent for a small refractor.  What you use these cases for is up to your imagination.
Article: Review of the Seahorse SE720 Eyepiece Case from "My Case Builder"