CNers have asked about a donation box for Cloudy Nights over the years, so here you go. Donation is not required by any means, so please enjoy your stay.


1
Review of USB_Focus v3 (UFO)
Discuss this article in our forums
Review of
USB_Focus v3 (UFO)
(An "affordable" robotic focusing system for astronomers)
Ralph Stein Laplanche
January 15, 2014
Greetings:
I would like to start this review by first stating that I have no affiliation with USB_Focus and I do not represent them or their products in any way. I am merely a customer who decided to take the chance on a new product that may prove to be the most affordable means to automate or remotely control the focusing of one or more telescopes. I have been seriously interested in astronomy since I purchased a small 500mm mirrored spotting scope back in 1994. Within six months, I caught the aperture bug and trade my 500mm spotting scope for a 10" Meade LX200 Classic. My first image was taken of the moon with a Nikon N6006 film camera. Since then, I've owned two SCTs, three refractors, three equatorial mounts, and four DLSRs. I had never attempted photographing deep sky objects until 2008 when I purchased a Canon EOS 350D. Living in Rockford, Illinois, which is located in a red/white zone on the light pollution scale, is not the ideal location for astrophotography but I seem to have made it work. Twenty years, later, I have my own observatory, two refractors, one SCT, several eyepieces and accessories, white light and H-alpha solar filters, two astronomy video cameras, and a DSLR. It's a never-ending circle of upgrades and new equipment, which brings me to my latest find.
USB_Focus is a company based out of France, which provides a turnkey solution for astronomers to achieve and maintain sharp focus throughout an imaging session even with the rise and fall of the ambient temperature day or night. USB_Focus hasn't been around long, but you wouldn't know that by the way Vincent Auvray, the owner, handles customer service. He's been quick to answer all questions within 12-24 hours either through email or the USB_Focus Google Group located at the following link.
https://groups.google.com/forum/#!forum/usb_focus
Vincent also releases software updates in a timely manner whenever a bug or other software related issue is reported. He also responds well to user suggestions and feedback that help contribute to the success of the product. During the three short months that I've communicated with Vincent, he had released two new software, several updates, and two new versions of USB_Focus (UFO) units. I had purchased v2 but upgraded to v3 as soon as it was available a couple weeks after my purchase for a very small upgrade fee. I had to, of course, send my old unit back for the trade.
Now for the good stuff:  the purpose of this review is to inform my fellow Astro-photographers, who are looking to automate or remotely control their focusing, without paying an arm and a leg to do so, of a truly turnkey solution. I would like to bring to light and make known a brand new player in this wonderful hobby we call astronomy. If I've got your attention, then chances are, you are just like me. You want to do it all but you lack the finances to make it happen. I've tried tethered focusing solutions like the Orion Accu-Focus, and the Meade Zero Image Shift-Electronic Micro-Focuser. There are also solutions that can be controlled from both, a hand pad or PC, such as those made by MoonLite, Starlight Instruments, and Optec. Now that you have an idea of where I was and where I thought about going, have you looked up the price differences? I wasn't ready to replace a mid-level focuser on a mid-level scope like my Orion EON 80ED and Orion EON 120ED, with a high priced premium focuser. In my opinion, that would have been insane. I was able to outfit both of my refractors with a high quality, high resolution, and high torque stepper motor, from USB_Focus, for less than the price of a comparable MoonLite focuser. As an added bonus, the UFO has the ability to automatically compensate for temperature changes. I can only tell you so much. You need to visit USB_Focus Website at the following link to read all of the specifications of a UFO unit and the various packages they offer. I will be specifically telling you about my experience and overall impression of the product and vendor.
Be sure to download the presentation PDF by clicking the orange, UFO '14 Presentation tab at the bottom of the web page for more detailed information.
Then and Now
Well, there isn't much I can show you since Vincent has totally redesigned the UFO and has also revamped the website to introduce the ground breaking release of v3 UFO. The two previous versions had control boxes that were made entirely out of plastic, the type of project boxes that can easily been purchased at a local electronics shop. There were cables coming out at both ends, which didn't seem to be fastened very securely to the box. All the cables were rather short and in need of extra extensions cables which were not provided. The good news it that each version got progressively better in appearance and functionality thanks to the welcomed reception of user suggestions and feedback by Vincent. Version 3 was upgraded with an elegant metal cased control box, large blue focus buttons, and flush mounted connections ports to attach a separate USB and serial cable. The previous versions were all functional and adequate, but after reading the specifications and seeing a technical drawing of v3, I immediately contacted Vincent at USB_Focus to arrange for a pre-order upgrade of my recently purchased v2 UFO. I now own two v3 UFOs…what a difference.
UFO v2 (1st Pass)                                                                 UFO v3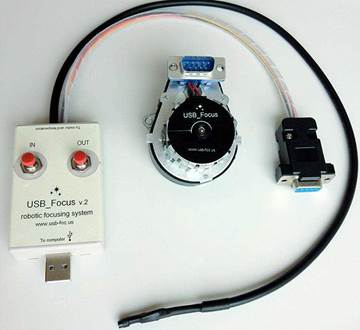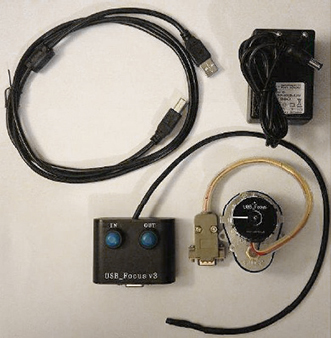 The 2nd pass release of UFO v2 had a short 6" USB cable extending from the bottom instead of the flush mounted USB connection pictured above.  There was a third short cable added on top of the control box to plug an external power source similar to the power supply included with the UFO v3. Also, the motor serial connection received a 6" cable as seen in the UFO v3 picture. As you can see, there has been a steady and constant improvement of this product in the three short months that I've been following its progress.
Native USB_Focus Control Software
Let's move on to the GOOD STUFF. Well there are lots of good things about USB_Focus v3. I'll start with the latest version of the control software called USB_OpticalTelescopeController v0.2. There's a third piece of software called USB_Dewpoint (UDP) that monitors and calculates dew point in real time, but I will not be reviewing that one. You can find more information in the [UFO'14 Presentation] PDF mentioned earlier or inquire about it in the USB_Focus Google Group.
USB_OpticalTelescopeController v0.2                        Details Panel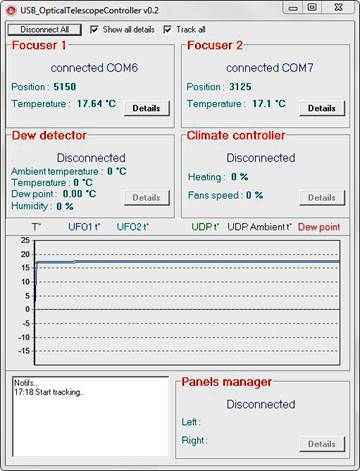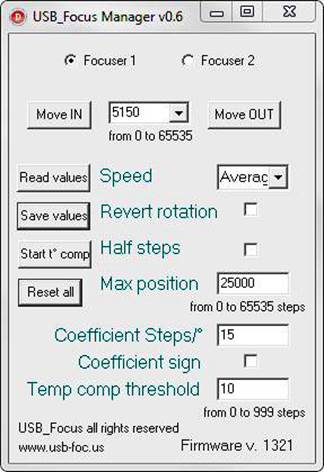 If you take a look at the main panel on the left, you can see that USB_Focus has additional modules that can be controlled and monitored through this software. The additional modules can be purchased separately through the website once they become available to the public. At the time of this review being written, they were still undergoing the testing phase.
As you can see in the above screen capture, I have two USB_Focus units currently connected and the individual data from both is being displayed and monitored. When you click on the [Details] tab, the panel on the right opens up. From there, you can configure and control each focuser by selecting the corresponding radio button. I will explain the configuration in a next section. This software offers more control of the focusers than connection via the ASCOM drivers. If all you need is basic in and out focuser control without temperature compensation, then connection via the ASCOM drivers will be preferable. You won't need to open these extra windows.
When connecting via ASCOM, you will have a few choices of drivers. Each offering their own set of features and advantages.
32bit v1.2.2 Driver                          32bit v1.2.2 2nd Driver                    64bit v2 Driver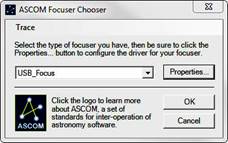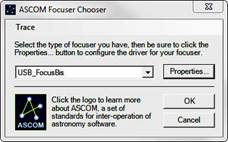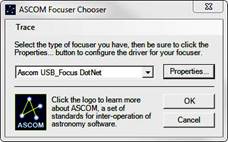 Only the 32bit drivers offer the means to connect two focuser via ASCOM if your imaging software allows dual focuser connections. At the time of this review being written, only the single 32bit [USB_Focus] driver is accessible through the main USB_Focus Website. The 32bit [USB_FocusBis] driver and the 64bit [Ascom USB_Focus DotNet] driver can be acquired from the USB_Focus Google Group site.
If you click on the [Properties] tab, you will see that two-32bit driver and the 64bit driver look slightly different in terms of available setting and window. Neither one has a selection for temperature compensation. But if you use ASCOM POTH connection and choose Ascom USB_Focus DotNet driver, you will open the POTH control panel. From there, you will have temperature compensation available. But what's the point? You may just as well use the native software provided by USB_Focus and have every feature available and easily accessible.
USB_Focus/Bis                POTH Panel                             Ascom USB_Focus DotNet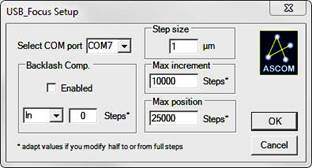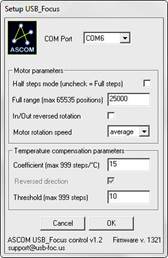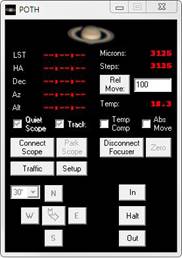 My Independent Test Results
I received my UFOs during the worst time of the year in Northern Illinois. For almost two full months, I had to endure cold winter rain, heavy snow fall, blistering cold winds, double digit below "0" temperatures, and not one single clear night to work with. Therefore, I had to create my own artificial test environment indoors. I used my enclosed three seasons room as my lab and an artificial star strategically positioned at the far end of the room as the focus point. I made use of my Orion EON 80ED and Orion EON 120ED refractors; both equipped with separate UFO v3 control boxes, high-resolution stepper motors, and temperature compensation probes.
UFO Stepper Motors                                                      User modified temperature probes.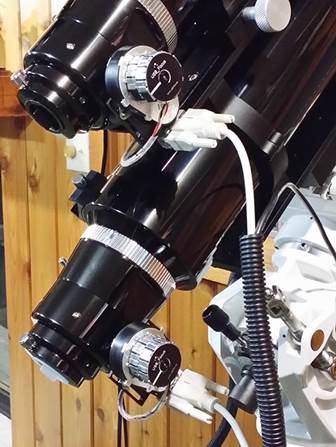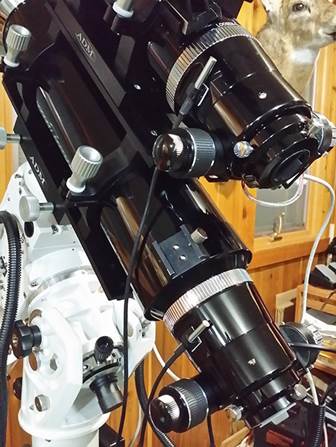 I also made use of a couple of space heaters to slowly raise the ambient temperature 20°F-30°F degrees and allowed the room to naturally cool down over a 6-10 hour period. This gave me a large enough temperature range to gather the data I needed to best calculate and configure the temperature compensation feature of the UFO units for each scope. I used the native software, USB Optical Telescope Controller v0.2 to monitor the temperature changes and focuser step position. The software was able to monitor and control both units at the same time without any problems even with two ImagingSource cameras connected to SharpCap and FireCapture software and transmitting two separate live view data, of my artificial star, in the background. I attached Bahtinov Masks to each telescope to see how much the focus changed as the ambient temperature increased or decreased. As it turns out, my two EONs lost optimal focus at a different rate. Once I calculated the rate of focus change from the new step position and temperature variance, I was able to plug in the necessary numbers and begin automatic temperature compensation. As expected, once I started to raise the temperature again to confirm my setting, I watched both stepper motors change position in unison as temperature increased and reversed direction as the temperature decreased. Both telescopes maintained optimal focus as the ambient temperature went up and down. I was very impressed and excited. I will no longer have to run out during a cold imaging session to check on focus changes throughout the night. The calculations were very simple to determine using the formula in the following section.
Two USB_Focus v3 Control Boxes attached to my pier via a Velcro strap.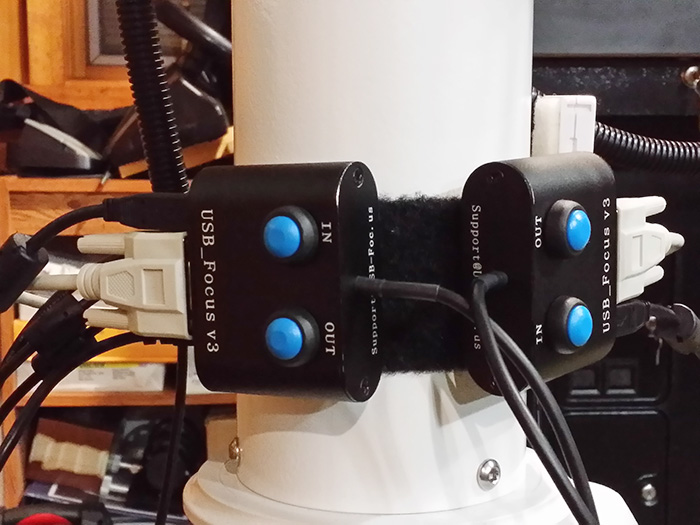 How To Set the Parameters in the USB_Focus Manager
SAMPLE MEASUREMENTS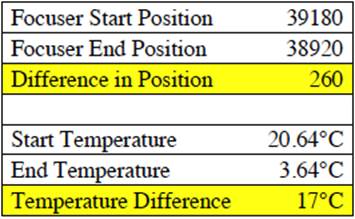 CALCULATIONS EXPLAINED
Coefficient Steps/°C
To determine coefficient steps, I had to divide the difference in focuser position by the temperature difference 260 / 17°C = 15.29 steps per degree Celsius. This calculation tells me that my EON 80ED needs a focus adjustment of approximately 15 steps for each degree Celsius change in temperature.
The only other number that you will need to input is the Temperature Compensation Threshold, which is determined by the critical focus zone (CFZ) of your particular. My (CFZ) just happens to be (+/-) 10 steps before the artificial star appeared to be losing focus.
Temperature Compensation Threshold
The threshold depends on the Critical Focus Zone (CFZ) and type of focuser. Critical Focus Zone (CFZ) is the range at which an object is still considered in focus.
Example: If it takes (+/-) 10 Steps before an object appears to be moving out of focus, this would represent the Critical Focus Zone (CFZ). This will vary from one optical system to the next. With a Temperature Compensation Threshold setting of [10], as illustrated above, the temperature compensation will not initiate unless a move greater than 10 steps is required to maintain optimal focus. To follow all temperature variances, use a Temperature Compensation Threshold setting of [1].
USB_Focus v3 – Quick Look
· USB_Focus is a modular system that is compatible with other brands such as MoonLite and RoboFocus
· 8000 steps high precision high torque stepper motor with a step scale of 65535 positions
· Full Step accuracy of 5 microns or 0.0002 inch
· Half Step accuracy of 2.5 microns or 0.0001 inch
· 1/10°C external ambient temperature probe
· Push button control box for manual control of focuser
· ASCOM Platform compliant drivers
· Dedicated software to control, monitor, and configure USB_Focus to your specific needs. (Three motor speed settings, full/half steps, clockwise/anticlockwise, and temperature compensation mode)
· 6' High speed USB 2.0 type A/B cable connection for power and communication
· External power supply for extra torque (if needed)
· Three types of motor/focuser brackets that fits most popular focuser brands
· Flexible couplers that fit focuser shaft diameters from 4mm-8mm
As a turnkey modular system, individual USB_Focus components may need a few tweaks to adapt to your particular setup. For example, you may need to modify the motor bracket to fit your particular focuser properly as I had to do for both of my EON telescopes; I added a pair of hex mounting studs to the motor serial connection in order to securely attach a serial cable extension; I upgraded the temperature probe to a much longer cable with a stainless steel probe cover; I added a 6' straight through male to female DB9 serial cable extension; and a shorter 3' USB 2.0 type A/B to reduce the amount of unneeded cable length around my mount.  Although most of these modifications and additions were personal choices, you may find the need to perform at least one of them. The following images will identify the specific changes and additions that I made to the system.
6' DB9 Straight Through M/F Serial Cable               3' High Speed USB 2.0 type A/B Cable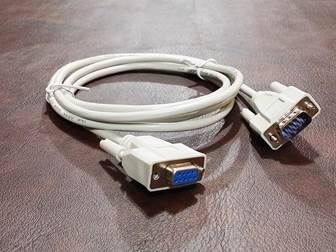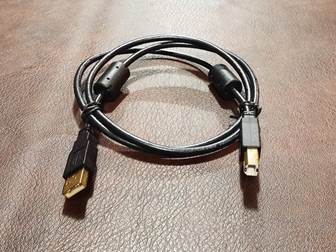 Modified Motor Bracket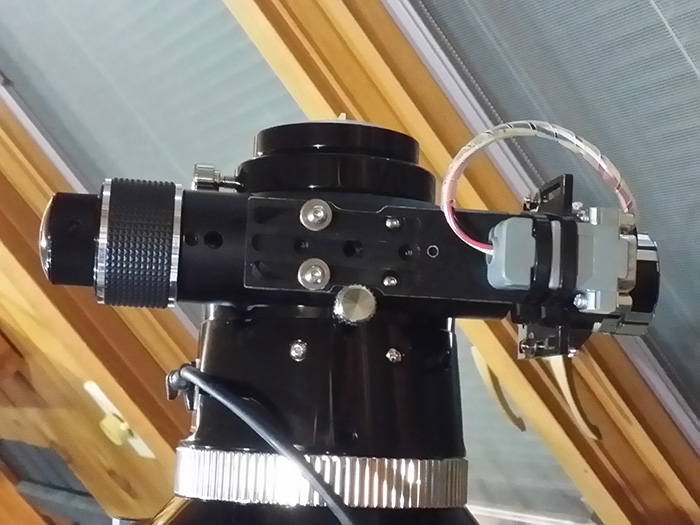 The Motor Bracket needed to be filed down to accommodate the focuser tension screw on the EON focuser. I filed both sides, in case I later decide to relocate the motor to the other side. Notice how I secured the serial interface with zip ties to the motor bracket. This prevents adding unwanted strain to the thin wires that connect directly to the motor. (See next photos)
Front view of Motor                                                        Side and back view of Motor.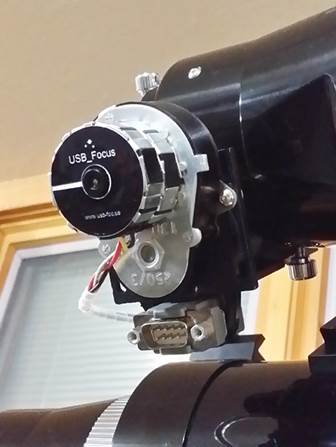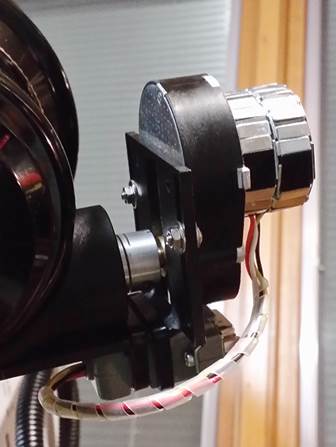 Notice how the three strands of wire connect directly to the motor.
1/4" Hex Studs added to DB9 Interface                    OEM Motor Bracket & Flexible Coupler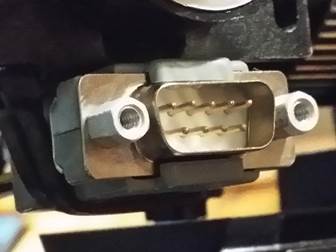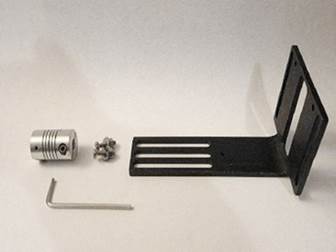 The studs were purchased on Ebay and they are plain finished aluminum hex standoffs with #4-40 screw size x 1/4L x 1/4W. You will need to file down the two receiving screw on the female DB9 interface on the motor as well as on the male DB9 interface on the cable by 1/16", otherwise, the screws will bottom out against each other and the cable will not be fully seated.
OEM 17" (DS18B20) Temperature Probe                 Upgraded 42" (DS18B20) Temp. Probe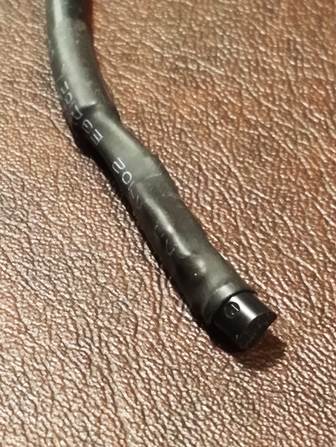 This waterproof digital temperature sensor probe was purchased form Banggood.com for only $3.72 per unit. You can also find similar units on Ebay. As long as you purchase a (DS18B20) chip model, they will all have the exact same specifications as the original being replaced. The only difference is the stainless steel casing around the probe. If you can solder, you can perform this upgrade yourself in just 10 minutes. The longer 42" cable length will allow more flexibility for the location of the probe.
USB_Focus v3 Controller Ports                                 7 - 8 Volts External Power Adapter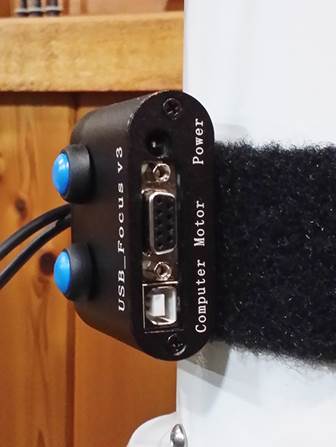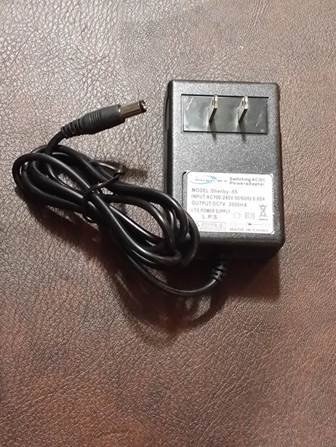 The controller must not be powered simultaneously via the USB cable and the external power adapter. You will need to decide on one or the other. By default, the UFO is set by default, to be powered via USB connection from a computer or powered USB hub. There is a jumper located inside the controller box that must be switched if you decide to use the external power adapter. The USB cable, in that instance, would be used only for communication. It will not draw any power from the computer or USB hub. Then why do you even need external power, you ask? An external power source is needed if for some reason you need more torque to move a heavy camera. You can find the necessary documentation concerning this on the USB_Focus Website.
USB_Focus v3 – Pros and Cons
PROS:
•        A totally modular system
•        Compatibility with other brand motors
•        Adaptable to any Crayford focuser
•        High precision absolute stepper motor with 65535 step positions
•        Full/Half Step setting
•        3 Motor speed settings
•        High accuracy and sensitive temperature probe
•        Temperature compensation
•        Manual and automatic computer control
•        Fully ASCOM Platform compliant
•        Second ASCOM driver to operate two focusers
•        Dedicated control software
•        High speed USB 2.0 connection
•        Powered via USB or external power for more torque
•        Brackets that fit most popular focuser brands
•        Affordable for those on a tight budget
•        Exceptional customer service
•        Product website
•        Technical support via Google Groups or email
CONS:
•        Short temperature sensor cable
•        Internal jumper switch for power source selection
•        Week wires between motor and DB9 serial port
•        Dedicated software updates not readily accessible
•        Have to look for updates and links in Google Group
SUGGESTIONS:
•        Need a longer temperature sensor cable
•        Need an external micro switch for power source selection
•        Need a thicker shielded cable from motor to DB9 serial port
•        Software need be easily accessible in one central location
Overall, I am very happy with my purchase of TWO USB_Focus v3 complete kits. In fact, I am so satisfied, that once I find a used FeatherTouch focuser for my 10" Meade LX200GPS, I will purchase a motor,  bracket and coupler for the FeatherTouch. It's great to be able to buy only what you need. There is absolutely no way that I would have considered taking this step towards automation, with any other product. Although I don't have the very best focusers on my telescopes, I was at least able to make the most of it by adding one of these units to my system without breaking the bank.
In conclusion, I hope that you found this review to be helpful and informative enough to peak an interest in this wonderful, new product for the astronomy community. A lot of thought and considerable effort has gone into bringing the USB_Focus v3 to us, at price point that we can all afford. From $99.00 to $329.00, you can get started with individual parts or go all in with the most powerful complete setup USB_Focus has to offer. The most expensive USB_Focus kit is still one of the least expensive automated focusing solutions in the market. In my opinion, you can't lose by going this route.
Check it out!
My Setup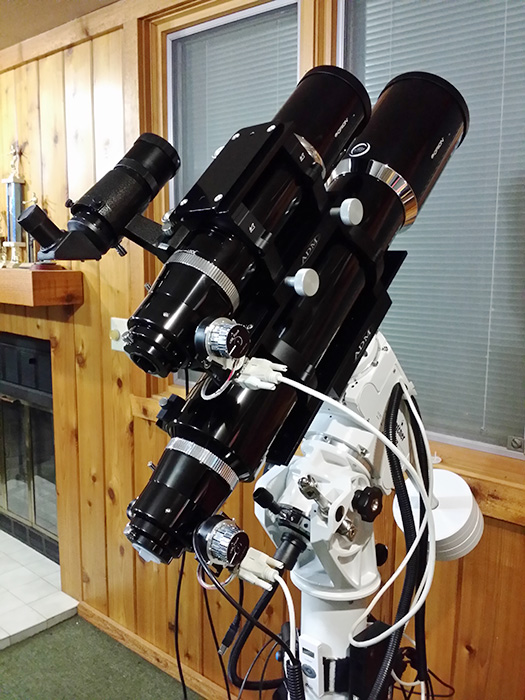 starling, Cymrych79, w1978 and 1 other like this
Article: Review of USB_Focus v3 (UFO)