CNers have asked about a donation box for Cloudy Nights over the years, so here you go. Donation is not required by any means, so please enjoy your stay.


0
Rigel Systems nFocus Review
Discuss this article in our forums
Rigel Systems nFocus Review
by Joe Sullivan
Rigel nFocus + 12 Volt DC Motor ~200.00 US after tax
I am an amateur astro and solar imager living in southern California. I have been avidly engaged in imaging for the last 7 years. My goal has always been to get the best possible images at the most reasonable cost. Occasionally you have to let go of a little money to get a product that will better your pursuits. The nFocus is one of those products.
Whether you trying to get a solid focus from inside a warm/cool room or tucked under a shroud looking at an image on the computer and don't want to come out to focus, the nFocus quickly becomes your new buddy.
A friend allowed me to demo my first nFocus unit on a nice feather touch 10:1 focuser. It was sheer perfection. Later on the nFocus went to my stock Celestron single speed focuser. The nFocus performed so well on both that it is now part of my permanent inventory.
There are a lot of pluses going on with this system. My personal favorite is the ability to attach multiple lengths of cable to get to a comfortable viewing place. I have used the unit with up to 120??? feet of cable with no noticeable problems.
Obviously the 12Volt system crushes the competitors 9 Volt systems for moving light cameras used for planetary and solar imaging, even on stiff focusers. On long drawtubes the system really shines. This is how the nFocus system looks on the two focusers I mentioned: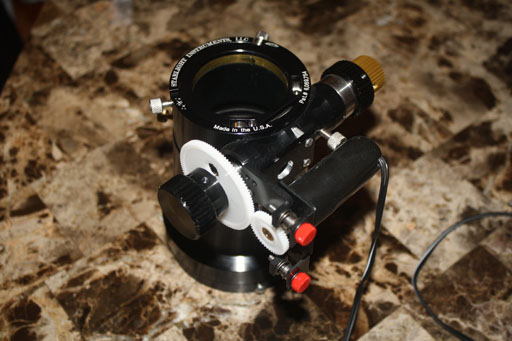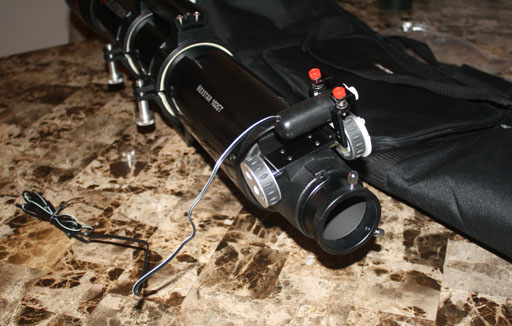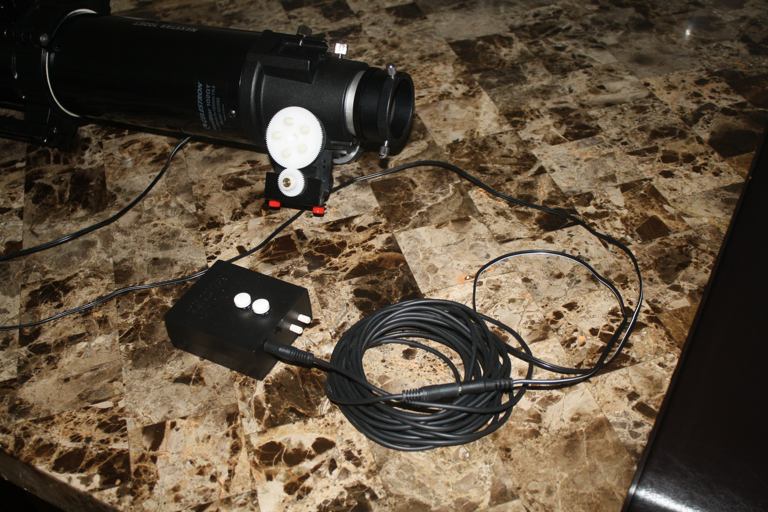 The nFocus gives you the ability to select a smooth rollout along the path of tube travel or a stepper like function. The nFocus is smooth even with my comparatively sloppy and stiff, stock focuser. When seeing is good and using the stock focuser, I am able to hit focus with my 5X Powermate very quickly. That used to be a struggle manually. No more. Hitting focus at lower magnifications is a snap.
Finding the correct sweet spot between inside and outside focus now takes far less time. That leaves more time for imaging.
The unit allows you to easily disengage the motor when you prefer to manually focus or put the scope away.
Some assembly is required but it is easy.
If the folks at Rigel Systems don't have a focuser for your telescope on the shelf they are happy to come up with a focuser that will fit your system for the same price. It's pretty hard to beat that kind of deal.
If you are looking for a step up from the 50-dollar focusers this is the smart choice.
Clear skies!
frolinmod, Jeff Struve, gene williams and 3 others like this
Article: Rigel Systems nFocus Review