CNers have asked about a donation box for Cloudy Nights over the years, so here you go. Donation is not required by any means, so please enjoy your stay.


4
SharpStar Askar ACL200 200-mm f/4 astrographic telephoto lens
Discuss this article in our forums
SharpStar Askar ACL200 200-mm f/4 astrographic telephoto lens
Reviewed by Michael Covington
Michael Covington is the author of Digital SLR Astrophotography and other books. By day, he develops artificial intelligence software in Athens, Georgia.
---
DISCLOSURE: The lens reviewed here was lent by the manufacturer for review, and the reviewer was then allowed to purchase it for 30% below list price. Apart from that, the reviewer has no financial or business relationship with the manufacturer and was unacquainted with them until shortly before requesting to review this lens.
All photos here are by Michael A. Covington, including technical illustrations. Larger versions of the sample astrophotos can be displayed in a new tab/window by clicking on the review image.
---
A telephoto lens just for us
Telephoto lenses — can't live with 'em, can't live without 'em. They are basic tools of wide-field astrophotography, but even the best ones often disappoint us. Too many of them aren't sharp all the way to the corners when shooting star fields, and much of their cost comes from features we don't need, such as autofocus, zoom, and electronic aperture control.
Wouldn't it be nice if someone made a good telephoto lens just for astrophotography? It's being done. You've probably heard of the first major product of this type, the William Optics RedCat 51, a 4-element, 250-mm, f/4.9 lens specifically for astrophotography.
Now China sends in a formidable competitor. The Askar ACL200 is a 200-mm f/4 lens with 6 elements, two of them made of ED glass, and is very ruggedly built. Using a 48-mm T-ring, it fits any DSLR and, with extension tubes, dedicated astrocameras. Figure 1 shows its features, and Figure 2 is an example of what it delivers. The manufacturer is SharpStar, officially known as Jiaxing Ruixing Optical Company, of Jiaxing City, near Shanghai. See http://www.askarlens.com/.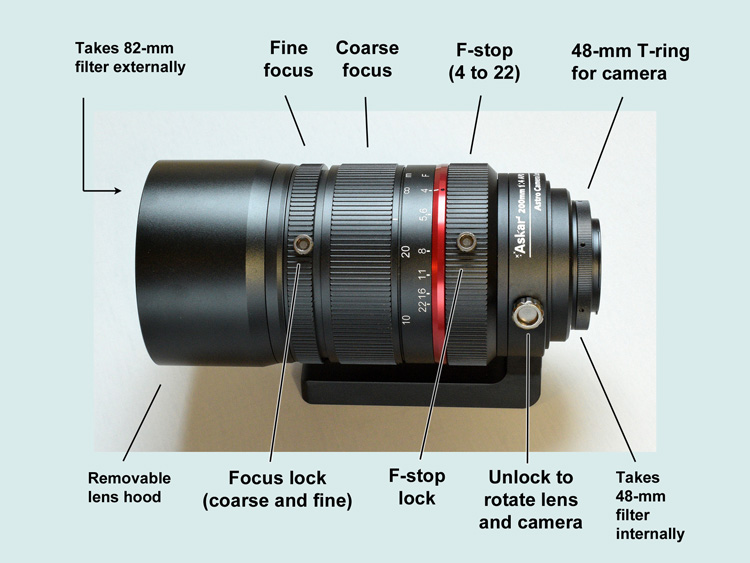 Figure 1. Askar ACL200 has coarse and fine focus and aperture rings, all lockable, and provision for 2 sizes of filters.

Figure 2. Mu Cephei nebula. Askar 200-mm lens at f/4, stack of 16 2-minute exposures with H-alpha-modified Nikon D5500 at the Deerlick Astronomy Village.
Using it
The ACL200 is strikingly easy to use for astrophotography. Focusing is purely manual, of course. There are two focusers, coarse and fine, both lockable, and the lens will focus appreciably past infinity (to accommodate filters) as well as down to 10 meters (for nature photography).
Unlike the RedCat, the ACL200 does not include a Bahtinov mask. Of course, you can easily add one. But I found it best to focus for maximum visibility of faint stars on the camera screen in Live View.
The tripod shoe below the lens has 1/4" and 3/8" tripod sockets, and, more importantly, the whole shoe is a Vixen-size dovetail (Figure 3). Many equatorial mounts will take it directly, with no additional hardware. In Figure 4 you see it on my Celestron AVX mount.
A newer version of the lens, just now coming on the market, has a Vixen saddle on top as well as a Vixen dovetail below. That way you can mount a small guidescope on top of the lens. The new lens collar, with shoe and saddle, is available as an upgrade to go in place of the one supplied on the original-model lens.

Figure 3. The built-in tripod shoe is also a Vixen dovetail that fits directly into your equatorial mount.

Figure 4. The dovetail fits directly into many telescope mounts with no additional hardware.
If you put the ACL200 on an equatorial mount, you may need a lighter-than-normal counterweight. With my AVX, no Celestron counterweight was light enough, so I used a 2-kilogram counterweight made for the iOptron CEM40, whose shaft is about the same diameter.
Note that the ACL200 may be too heavy for lightweight camera trackers. It weighs 1.8 kilograms (4.0 pounds), not counting the weight of the camera. That's more than twice as much as a Nikon 180-mm f/2.8 ED AI lens, for example, or a Canon EF 200-mm f/2.8 L, even though those lenses are one stop larger in aperture.
You can install a 48-mm filter inside the rear section of the lens (Figure 5). I have not tried this. That is the filter size used with 2-inch eyepieces and many astrophotographic systems.

Figure 5. You can install a 48-mm filter internally inside the rear section of the lens mount.
Finally, the lens attaches to your DSLR camera with a 48-mm T-ring — not the standard camera-store 42-mm T-ring, but just like it except for the diameter. As with conventional T-rings, the back focus is 55 mm. If you wish, you can use 48-mm threaded adapters to fit the lens to a dedicated astrocamera.
Optical design and performance
The lens design is not quite like anything I've seen elsewhere. It's inspired by classic telephoto designs with a positive achromat in front and a negative achromat in the rear, like a refractor with a Barlow lens. However, the ACL200 has two big positive groups in front, each of which has an ED-glass element, and a negative group at the rear. Obviously the designers were thinking for themselves, and they have achieved a good result.
This lens is apochromatic, more highly corrected for chromatic aberration than ordinary lenses. That was obvious to me as soon as I focused on a star in Live View mode with high magnification. Other lenses, even very good ones, show red or green fringes around star images that are slightly out of focus. Not this one — the star is always a white disk or point. I found that all the more impressive because I was using a camera with extended hydrogen-alpha response, so it picked up light outside the region of the spectrum that lenses are designed for.
I saw not a hint of decentering or miscollimation. Telephoto lenses are often poorly collimated by astronomical standards, for two reasons. First, manufacturing tolerances are considerably looser than for telescopes, and used to be looser yet. Second, the collimation of a lens suffers when it spends several years hanging around a busy journalist's neck and occasionally banging into objects. And those are the lenses we commonly buy secondhand. Compared to many other telephoto lenses I've tested, this ACL200 is unusually precisely made and assembled. Of course, that's just one; I can't tell how much variation is possible.
I took short exposures of star fields to compare the ACL200 at f/4 with my vintage Nikon 180/2.8 ED AI, also at f/4. Image analysis with PixInsight showed the two lenses to be equally sharp. The difference is that the ACL200 gave star images that were basically round all the way to the corners of an APS-C frame. (In the corners, they did have slight, faint coma.) Star images with the Nikon lens were compact but irregularly shaped, becoming triangular at the corners. Bear in mind that this is an old lens, but the shape of the star images reflects its optical design. Overall, the ACL200 wins.
I did not have a chance to test with a full-frame sensor, but Cloudy Nights user "Astrojedi" did — click here for his results, which also show almost perfect star images all the way to the corners, certainly much better than any conventional telephoto lens.
Curiously, the ACL200 did not become sharper at f/5.6 or f/8. It really is optimized for f/4. At f/4, there are no diffraction effects from diaphragm blades because the opening is circular; stars have no spikes. Diffraction effects kick in as soon as you stop it down.
Conclusions
My ACL200 has become a workhorse. It is one of the few astronomical instruments I've owned that can be relied on to do a truly excellent job of what it's designed for. Below are a couple more pictures to show what I've done with it. (The Pleiades picture shows that it's free of internal reflections.) Like Figure 2, Figures 5 and 6 were taken with the lens and camera riding on a Celestron AVX mount with PEC but no autoguiding — a very portable setup.

Figure 5. North America nebula. Askar 200-mm lens at f/4, stack of 20 2-minute exposures with H-alpha-modified Nikon D5500 at the Deerlick Astronomy Village.

Figure 6. Pleiades, strongly stretched to show scattered nebulosity. Askar 200-mm lens at f/4, stack of 16 2-minute exposures with H-alpha-modified Nikon D5500 at the Deerlick Astronomy Village.
I strongly recommend the ACL200 for wide-field astrophotography. It also has some uses for (fully manual) nature and landscape photography. The optical performance is exceptional, and the physical construction is unusually well suited for astronomical use. Its main drawback is its heavy weight (too heavy for lightweight star trackers). It costs appreciably more than the secondhand telephoto lenses we often use, but less than a good 180- or 200-mm lens new. Further, you do not need to buy a tripod collar or dovetail, nor large-diameter filters.
bill w, dswtan, Jim Waters and 20 others like this
Article: SharpStar Askar ACL200 200-mm f/4 astrographic telephoto lens