CNers have asked about a donation box for Cloudy Nights over the years, so here you go. Donation is not required by any means, so please enjoy your stay.


0
Imaging Source DMK 21AU04.AS Camera for Solar Imaging
Discuss this article in our forums
The DMK 21AU04.AS is a B&W cam from imaging source answering the call for an inexpensive cam that offers good performance for beginning imagers to moderate imagers on a limited budget. At the time of this writing, the cam was priced at a just under $400 USD but in my opinion is worth every cent.
This cam is worthy of most astrophotography available to the amateur imager but I will stick with its use for solar imaging in order to get a more detailed review. Firstly, I began imaging around 2 years ago and hopefully, have come a long way in astro-imaging thanks to some good quality imagers combined with relatively inexpensive good quality scopes reaching the market. I image from Cape Cod in an area with around average seeing. Nothing spectacular but MUCH better than some areas I've seen around the state of Mass.
For the purpose of this review, the scope used was a Lunt LS60T CaK. Registax 5 was used for processing, and IMerge was used to combine the images into a single image. The cam has a very wide range of settings allowing for hours long to microsecond exposures which is perfect when capturing both the solar surface and the dimmer proms often the subject of astro-imaging. Using the Lunt scope, with its 500mm F/L and F8.33, you will need 4-5 images to merge to capture the entire surface and about 6-8 for the proms, depending on their size etc. but the cam easily reaches the correct exposures needed for solar imaging. In my case, depending on your scope, the time of year (how far up is the sun) etc, I needed exposures around 1/500 sec for the surface, easily allowing the cam to capture images at its full 60fps capacity. For the proms however, a little more effort is often required as the exposures needed with my setup required around 1/15 sec so setting the cam to capture at lower fps was necessary but still provided good images and just made capturing large numbers of frames a longer process than it was for the surface.
Good:
Great image capture software (ICapture)
Very forgiving for beginners but able to capture dimmer features
Cost!
Rugged construction
High FPS
Bad:
Relatively small CCD chip requires several images to capture the entire disc.
Small USB cable
In review, if you are looking for a very low cost solar imager that will be useful even when you gain alot of astro-imaging experience (the cam makes a superb cam for use with guiding software when you are ready for a higher end cam) then the DMK 21AU04.AS is right for you and is available in several configurations (firewire etc)
The image included is a mosaic of 5 images (200 subs per) of the surface overlaid atop 7 images (100 subs per) capturing the proms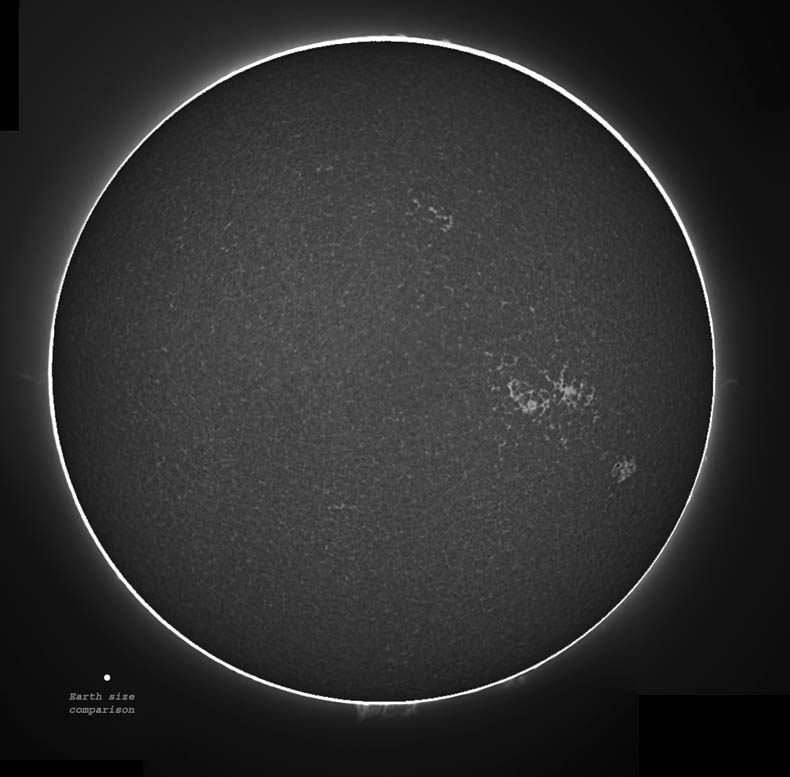 Article: Imaging Source DMK 21AU04.AS Camera for Solar Imaging