CNers have asked about a donation box for Cloudy Nights over the years, so here you go. Donation is not required by any means, so please enjoy your stay.


0
Orion AstroView 100mm refractor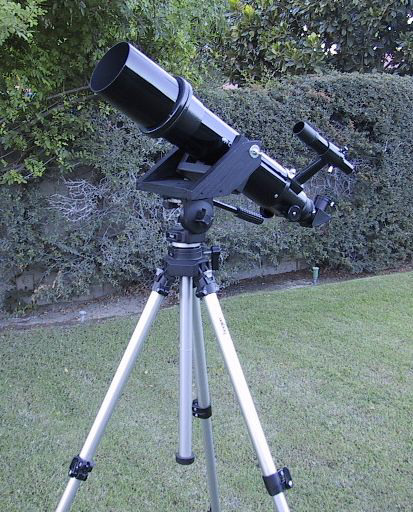 I'm primarily a binocular observer. I find it very satisfying and relaxing to observing the sky, and deep sky, with relaxed both-eyes-open upright binocular viewing. However recently i've been thinking i wanted something with a bit more power to supplement my binos in the field. I really didn't want to spend too much money. And i didn't want to replace the binos, just add to their enjoyment. I decided to buy a small refractor and chose the AstroView 100mm f6 from Orion Telescopes. I purchased the optical tube only without mount for $249. This includes 2 eyepieces (25mm and 10mm Sirius Plossls), a mirror diagonal, and 6x30 straight-through inverted finder scope.
Less than 48 hours after placing my order on the Orion website the scope arrived at my work place via FedEx 2 day service! On my lunch break i took my new toy home. These are my initial impressions.
The scope comes double-boxed and securely packaged from Orion. An instruction booklet written by Orion is included as well as the "student" edition of TheSky astronomy software on CD. I didn't really need the instructions but they are plain and well written and include basic assembly, how to calculate the power of eyepieces, some tips on observing, as well as how to collimate the scope. (More on that later.)
The only real assembly involves mounting the 6x30 straight-through finder and installing the star diagonal and inserting an eyepiece. The finder uses a simple two thumbscrew design pushing against a spring loaded 3rd bearing point. Much easier to align than the traditional dual ring finder mounts that have 3 thumbscrews in each ring. I happen to like a straight through finder although i may upgrade to one of the "red dot" finders eventually.
The scope is quite nicely finished with a glossy black main tube and texture painted dark gray aluminum castings for the lens cell and focuser assembly. The 2 inch to 1.25 inch adapters are all aluminum. One of the adapters is also threaded to accept a camera T-ring. A 4 1/2 inch deep metal dew shield comes attached to the front of the scope. Passing a magnet over the scope it appears most everything is aluminum. However the internal baffles seem to be steel as they attract the magnet when it's passed along the tube. The only plastic parts are the focusing knobs and the little dew shield on the finder scope. All other parts are metal.
The 2 inch rack and pinion focuser seems quite smooth although nothing like a top of the line unit. It showed no tendency to shift focus either. The focuser supplies 3 inches of motion. I found with the star diagonal installed that eyepieces focused on infinity with the focuser racked out about 1 inch. There is also a focus locking thumbscrew.
Orion includes a collimation eyepiece and instructions in the booklet on how to use it. I popped it in and had a look. Alignment was dead on! Very nice. (It's nice for once not to have to worry if TWO optical tubes are aligned or not. Ah, the simplicity of a telescope.) If collimation is required the lens cell has three push-pull adjusting screw pairs around the cell. A small Phillips screwdriver is included for one set of these screws but you'll also need an Allen wrench for the other set. (I thought it odd the screwdriver was included but not the Allen wrench.)
I set up the scope in my driveway on my sturdy Bogen tripod and put in the 25mm (24x) eyepiece. The scope has an aluminum mounting plate tapped for a standard photo tripod thread. Since it was daylight i focused on a mountain peak about 2 miles away. The image was very nice. Quite crisp and i noticed no color fringing. Shrubs and boulders on the peak were very clear. The field was sharp right up till maybe the outer 10% where it got just a bit soft. Putting in the 10mm eyepiece (60x) i was pleasantly surprised to see the eyepieces are parafocal requiring no refocusing. Being a warm day heat currents were very noticeable with the high power eyepiece so i couldn't really tell about its sharpness. The scope balanced quite well on the tripod for low angle viewing. When viewing near zenith the scope tended to want to fall backwards. This is not the fault of the telescope but of my simple tripod mount.
Something i found interesting was the main cell lens cap. It has a removable center cap giving a 2 inch aperture. I assume this is for use when viewing a bright moon or maybe to improve sharpness when seeing is bad.
The OTA alone weighs 6 pounds. With finder, diagonal and eyepiece the scope is just under 7 pounds. Overall length from dew shield to outer corner of star diagonal is 27 inches when the focuser is fully retracted.
I should say up front that i'm not an expert on evaluating telescopes being that i'm more accustomed to binoculars! I'm also a lot more familiar with dim fuzzy objects and with the bright moonlight most of those were not looking very good.
I started with Venus in early twilight, about 6:30pm local time. Using the 25mm Plossl (24x) Venus was a very nice little crescent. When centered in the field i noticed no colors. Just a white crescent. There was still quite a bit of thermal interference so the planet wasn't completely steady.
Bright stars for the most part were sharp but not pinpoints and tended to show little spikes at times. However i'm quite sure this is mostly the fault of my eyes. I see similar spikes in binoculars. Also, with the telescope, when i rotate my head around the eyepiece the spikes move with me. However stars through the telescope did seem sharper than through my Fujinon 16x70 binoculars for the most part.
When bright stars were centered in the field and centered in the eyepiece i didn't notice any spurious colors at 24x. Arcturus was orangish and Vega white. (At 60x Vega did show purple fringing.) I did see a bit of violet color when i shifted my eye off center even at low power. If i moved my eye to the right in the eyepiece i'd see a bit of violet on the left side of the star. And visa versa if i moved my eye to the left. I noticed the off axis colors a bit in both the 25mm and 10mm eyepieces. But again, with stars centered there was very little (if any) color fringing noticed at 24x.
Mizar resolved nicely at 24x. At 60x it was quite wide. With my 16x70 binoculars i can just split the pair.
The wide components of Epsilon Lyra were of course easy. And at 60x i could just detect that each star was a bit oblong... one perpendicular to the pair, the other parallel. That's something i certainly can't see in binoculars. Also in Lyra the Ring nebula M57 was interesting. My 16x70 just shows a little star-like ghost. The AstroView at 24x held the planetary quite well. At 60x it was a cute little bagel with a nice hole in the middle.
M11 in Scutum resolved into a lot of stars at 60x. Could even see a bit of a dark lane through the cluster. Didn't think i'd be able to see that with the moonlight. The Fujinons only resolved the single bright star.
Now over to the almost full moon. And i feel i need to comment again that i'm even less a lunar observer than i am a telescope user so take these comments with that in mind. The moon is bright! (And i'm a dim fuzzy guy.) With the moon centered in the field and centered in the eyepiece i saw no colors around the outer limb. However, similar to my observations with bright stars, if i shifted my eye a bit to one side i did see some violet/purple fringing on the opposite lunar edge. I noticed this with both supplied eyepieces.
One more object i viewed tonight was the open cluster M7 in Sagittarius. I must say it was gorgeous. Using the 25mm Plossl (24x) the cluster was beautiful. Even with the almost full moon. I noticed little associations of stars that i'd never noticed with binoculars. Very nice. I'm afraid i may be becoming a bit of a refractor convert. But then again binoculars are just dual refractors so i guess i shouldn't be that surprised.
In summary i would say the lens performed very well at the relatively low powers i employed. I'm certainly pleased with the views and quality of this scope. On the other hand, i don't really have experience with many (or for that matter any) high quality refractors. But i'm very happy with the scope and i'm very much looking forward to trying it out under some dark skies... alongside my binoculars of course.
Article: Orion AstroView 100mm refractor