CNers have asked about a donation box for Cloudy Nights over the years, so here you go. Donation is not required by any means, so please enjoy your stay.


0
Teleskop Service 102mm f/6.5 Refractor
Discuss this article in our forums
Telescope-Service 102mm f/6.5 refractor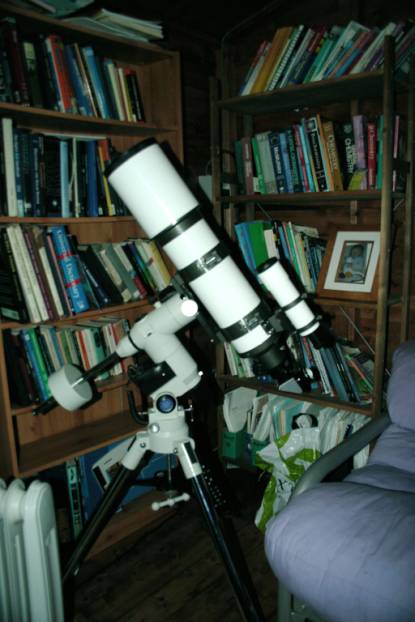 Introduction

I've always been a fan of refractor scopes for over a decade. When properly made, these instruments serve up ultra-sharp optics and contrast rich views of the Moon, the planets and deep sky objects. In the past, I have owned several achromatic and apochromatic refractors in the 60-125mm range. Much of the time, my instrument of choice for observing the Moon, bright planets and double stars was a good quality 4-inch f/10 achromat. But for wide field sweeps of the Milky Way and bright deep sky objects, I have resorted to using short-focal length apochromats up to 80mm in aperture. Ultimately though, I missed the extra light grasp afforded by larger achromats and apochromats; and that got me wondering. Was it possible to obtain a good quality, yet relatively inexpensive refractor that could do both well? There are of course superb telescopes manufactured by a number of companies that already deliver on all fronts, but they do so at a very steep cost premium. Undeterred, I stumbled across a German-based company called Teleskop-Service (TS) which offered a 102mm air-spaced doublet achromat with a focal length of 660mm (f/6.5); a compromise between the ubiquitous short tube f/5 and the longer and somewhat more awkward f/10 instruments. The company advertised these scopes as being solid performers on both solar system objects and the deep sky. Luckily, one such instrument came up on the second-hand market and over the last few weeks I've spent countless hours evaluating its optical and mechanical performance in the field.


Fit and finish

When the scope finally arrived, I was delighted to see how sturdy it was. The white, aluminium optical tube assembly (OTA) weighs in at 5.0 kg - that's significantly heavier than I had imagined. If there's one word to describe this instrument it's got to be 'overbuilt'. Even though the objective lens was only 4-inches, it came with a massive dew shield nearly six inches in diameter. The objective lens had nice smooth multi-coatings which give a deep green daylight tint.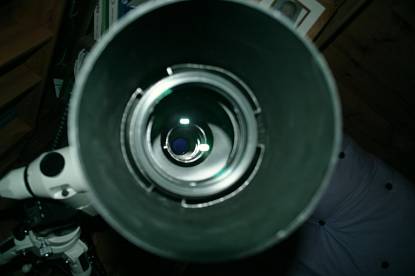 Three baffles help to dampen any stray light and the interior was painted an even matte black. Turning my attention to the 'business end' of the scope, I was delighted to find a very high quality rack-and-pinion focuser, which moved very smoothly with a fair amount of tension. It could also accommodate a two inch diagonal and had provision for the attachment of a DSLR. The OTA is also graced by a high quality 8 x 50mm finder, which was mounted securely on the main scope. Placing the OTA (which came with tube rings and a dovetail plate) on my LXD75 mount, I was immediately thrilled by how good-looking the whole set up was.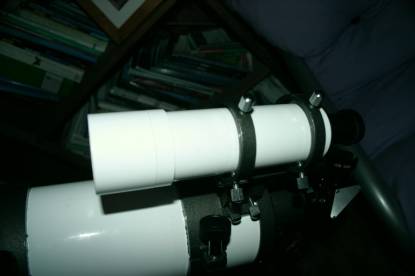 Optics

So, how well does it perform- Overall; very well indeed! During daylight hours, I set the scope up to look at the leaves of some distant trees. Inserting a good quality 26mm plossl eyepiece, the TS102 snapped into focus serving up very bright, crisp views with little distortion - even at the edge of the field. The slower f ratio (f/6.5) compared to the ultra-fast F/5 short tubes was a definite plus here. Then I began cranking up the power. With a 9mm eyepiece yielding 74x, the image remained very sharp, with only the merest hint of blue fringing caused by chromatic aberration. It's only when I inserted eyepieces yielding powers over 100x that the chromatic aberration became prominent enough to notice easily, but in no way did it otherwise compromise the quality of the image. So far so good. But how would it perform under the stars- As it happens the sky was very clear and dark the same night as the scope arrived at my home in rural central Scotland, and I was able top put it through its paces.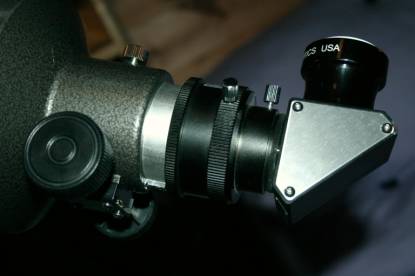 First inserting a 26mm plossl eyepiece yielding 25x, I examined a whole host of objects including star clusters, galaxies and nebulae. First stop was the Perseus double cluster. The view was superb, with mounds of stars remaining sharp pinpoints nearly all the way to the edge of the field. The Andromeda galaxy (M31) was simply breathtaking, with its spiral arms filling the field of view either side of its bright, condensed nucleus. This is where the telescope really excelled.

Next up; a star test. Looking at Vega in focus using my 4mm orthoscopic eyepiece yielding 165 x, the TS102 showed a nice tight stellar image in focus. It was surrounded by a faint 'purplish' halo which was quite unobtrusive. Racking the image inside and outside focus revealed a nice concentric airy disc in moments of good seeing. There were no obvious signs of spherical aberration. Since there was no bright planets or the Moon in the sky I resorted to splitting some closely separated doubles. Both Epsilon Bootis and the Epsilon Lyrae (the famous double double) were easily resolved with this scope with magnifications of 200x and 73x, respectively.

A few weeks later I finally had a chance to look at the Moon at low and high magnifications. Inserting my 26mm plossl and aiming the scope at a first quarter Moon served up a wonderful amount of detail.

Yes, the lunar edge had a blue fringe but one could easily have forgotten about it given the amount of detail that was on offer. A 1.25 inch Baader semi-apo filter inserted ahead of the diagonal effectively removed the glare and much of the blue fringing without significantly shifting the colour of the lunar surface. Cranking the magnification up to 205x yielded very good images but no finer details could be seen beyond about 165x.

Those interested in doing a bit of photography will find lots about this scope that's good. For one thing, its solid, over-built construction easily handled the additional weight of a DSLR camera body and off-axis guider. Short exposures of 30 seconds or so confirmed what I noticed visually: stars remained pinpoints of light almost to the edge of the field. You can improve the situation still further by attaching a focal reducer to reduce the focal ratio and flatten the field some more. Bright stars show faint purple halos but these can be effectively cut down by using a number of filters. The Baader semi-apo filter I tested was very good in this respect.

Conclusions

All in all, I was very impressed with the optical and mechanical quality of the TS 102mm short tube achromat. The company sells these scopes as optical tube assemblies complete with a 50mm finder and tube rings. Alternatively, you can choose to purchase the instrument with a mount at additional cost. If you're after extreme portability, you might find this scope too heavy to handle. On the other hand, if you're after a budget-priced telescope with decent light grasp that can do a good (or even very good) job on most celestial targets, then this could well be the scope for you.

Postsript: The author has no affiliation, commercial or otherwise, with Teleskop-service.


Article: Teleskop Service 102mm f/6.5 Refractor