CNers have asked about a donation box for Cloudy Nights over the years, so here you go. Donation is not required by any means, so please enjoy your stay.


0
Vixen ED103SWT Refractor
Discuss this article in our forums
Vixen ED103SWT Apochromatic Refractor
by Pernel Johnson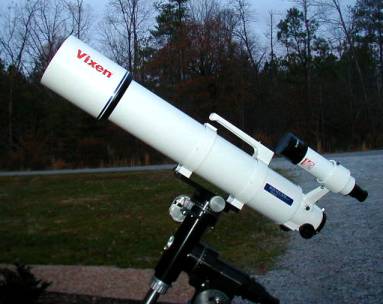 Introduction
I've been an amateur astronomer for about 10 years. I have owned 12 different scopes ranging from a 4.5" reflector to a number of SCTs to a few short tube achromats and a number of 4" APOs. My main observing interest in equal amounts of time are lunar and planetary, deep sky and double star. I decided to write this report due to the fact there is a limited amount of information on the internet about this scope to date. The content of this report is my opinion and should be read with this in mind.
My criteria used when considering this purchase was 1) the scope is an APO design of medium focal length; 2) the scope must have at least a 102mm objective; 3) must be portable and lightweight; 4) must have quality construction; and 5) not break the bank. After considerable research I decided on the Vixen ED103S model as it fits within the above mentioned criteria. This is a new doublet ED offering by Vixen at a somewhat unusual focal ratio of 7.7 or 795mm focal length.
Technical stuff
On the day of delivery, Fedex drop off a single box with a recorded weight of only 14 lbs. As I opened the well packed box the optical tube along with the tube rings, carrying handle and dovetail plate were surrounded by styrofoam rings at each end of the tube. In one small box was a 7x50 finder with the mounting bracket wrapper in plastic and inserted a styrofoam block. A small second box contained the 1.25" flip mirror, which I didn't even open since I would be using a 2" diagonal.
According to Vixen's website the optical tube weighs less than 8 lbs. I would concur with this as it's almost feather light compared to other 4" refractors I've owned. This optical tube makes for a very portable scope with a measured length of 32" with the dewshield and 27" when removing the slide off dewshield.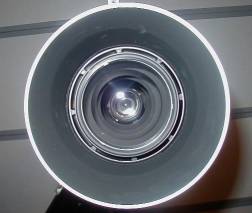 At the business end, depending on which angle you were looking from the objective lens has a medium green uniform or light magenta coating and was set in a non-collimatable cell. The interior of the tube has 3 knife edge baffles and painted with a flat black paint. The dewshield is painted flat black on the inside and has a felt strip to hold it in place. The overall exterior paint job was okay, but not as nice as some of the paint jobs I have seen on other premium refractors.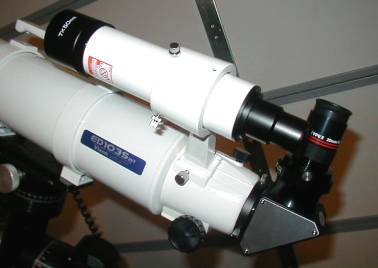 The screw-on rack and pinion focuser, features a 4.5" draw tube and a 2.3" inside diameter with an attached 2" adapter, is extremely smooth and has a tension adjustment knob. As a matter of fact, I did not even have to adjust the focuser's tension out of the box. The focuser draw tube was also painted with flat black paint on the inside. The focuser knobs are made of plastic and are big enough to make focusing easy. On cold nights these plastic knobs might feel better to touch than metal. The 7x50 finder is of decent quality, but I didn't like where the mounting bracket placed it once mounted on the scope as it seemed to get in the way of observing. I think a reflex type finder would serve this kind of scope better.
Mounting the optical tube on my GM-8 was simple. First I replaced the Vixen dovetail with the Losmandy dovetail by removing 2 hex screws and swapping dovetails without having to change the spacing of the rings. When attaching optical tube to mount, one of the knobs on the tube rings used to tighten the rings bumped up against the saddle and prevented the dovetail from sliding onto the saddle. This was easily solved by loosening the knobs until there was enough room to slide dovetail onto saddle.
How did the optics perform?
In summary, they performed quite well. My first night out the seeing conditions weren't the most favorable, but good enough for me. I tried to observe at least one of each type of object listed as my main observing interest. Since Venus was already getting low in the west I targeted it first. It showed a very nice crescent shape with a small amount of false color inside the crescent. Next I looked at the double-double in Lyra. This was an easy split into four separate components at 66x. Moving over to Vega I saw a pure white pinpoint with no color. The star test using Vega showed almost identical images in focus and out focus with just a hint of magenta showing up outside of focus. The Moon was sharp with no color at all. The contrast was great with Plato and the Alpine Valley showing a wealth of detail as did Copernicus. Out of curiosity, I set the zoom at the 8mm setting and inserted it in a 3x barlow (that's almost 300x) with no image breakdown on the Moon and I actually felt I could have gone higher. Mars was sharp, but not much detail was visible. The Pleaides and Double Cluster were framed very well in my 20mm Widescan III with about 80% of the field sharp.
The following night I did some additional observing to confirm these results. Again the seeing conditions were less than favorable. Orion was rising in the east so I decided to check out M42 and Rigel. Considering it was only about 40 degrees high, M42 was very contrasty and I was only able to see the 4 bright stars that make up the trapezium. I was able to split Rigel at 88x in moments of good seeing.
Summary
Overall I'm pleased with this scope. It's very light and portable, has a pleasantly smooth focuser and provides views comparable to some other APOs I've look through. There is the potential for some aftermarket upgrades such as adding a reflex finder or compression ring 2" adapter to the focuser. My main concerns with this new scope have been put to rest and I foresee many nights of wonderful observing.
I hope this is an enjoyable reading and that it was will be instrumental in getting some information out about another new product in the saturated 4" APO market.
Article: Vixen ED103SWT Refractor