CNers have asked about a donation box for Cloudy Nights over the years, so here you go. Donation is not required by any means, so please enjoy your stay.


0
Nikon D60 & Orion Starmax 127
Discuss this article in our forums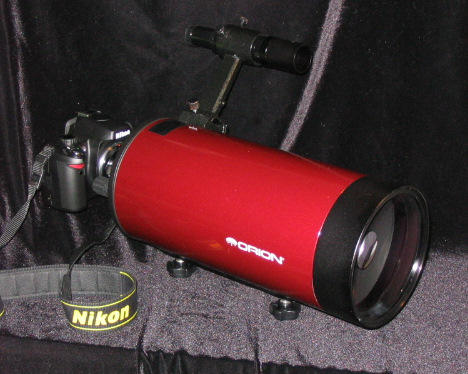 I purchased a 5" Orion Starmax 127 Maksutov Cassegrain telescope a few years ago as a grab-n-go alternative to my 6" Meade LXD75 AR6 achromatic refractor. The AR6 yields sharp views with remarkably high contrast for such an inexpensive optical system, but I found myself skipping too many observing opportunities because of the time it took to get everything out and set up. Alas, more advanced rigs, such as the Meade LX90-ACF, which utilize GPS to facilitate automated alignment, were not within my budget.
The Starmax, although having only an inch less aperture than the achromat, weighs several times less, takes up one quarter the space and requires significantly less time to get up and running, so I wound up keeping it in the trunk of my car for unplanned observing sessions. Unexpectedly, the Starmax has turned out to be even more useful during daylight hours.
The dovetail plate on the Starmax has two ¼-20 screw threads, which allows it to be mounted to a standard photographic tripod. With the addition of an inexpensive T-mount adapter, such as this one from Adorama, the scope is easily transformed into quite a formidable telephoto lens. Connected to my Nikon D60 DSLR, I've taken some spectacular long distance terrestrial images. As you can imagine, it has really turned quite a few heads at public events.
Article: Nikon D60 & Orion Starmax 127