CNers have asked about a donation box for Cloudy Nights over the years, so here you go. Donation is not required by any means, so please enjoy your stay.


0
Orion 120mm f/8.3 Refractor
Discuss this article in our forums

Here you can see the Orion 120mm on an equatorial mount with my William Optics zenith star 66 sitting as a guide scope.

This is my review of the Orion 120mm F/8.3 achromatic refractor. I have been an amateur astronomer for about 8 years now and have a dozen or so small to mid size scope but have always wanted a large refractor. And since I do not have the money to shell out 4 to 5k dollars for a new premium 4-5 inch apo, I would give this one a try and I thought that this scope was well worth a review.

Since I already owned an equatorial mount for a 10" Newtonian I just purchased the o.t.a., and that is all I will be reviewing. The scope came about a week after I ordered it and it was very well packed. At first glance I was kind of in awe for I have never seen in person a refractor of this size, the only other refractor I have ever owned is William optics zenith star 66 which I will also review at a later time. So in other words I was very impressed at first glance. The build on this scope is very nice not as nice as my William Optics but for $319.00 (u.s.) you cannot beat it. But there was some very minor tweaking needing to be done.

1. Focuser
The standard 2" rack and pinion feels like it was lubricated with glue! Not cool at all. But after about an hour of taking It apart and spraying it all down with degreaser and lubricating it with some lithium grease it works like a gem. Also the mechanics of this focuser are probably the best I've ever seen (in a rack and pinion).

2.Dew shield
The dew shield is just a very cheap design. It just slips over the objective end with some felt on the inside, it does fit snuggly but a retractable shield would have been much nicer. These are the only two complaints that I have with this scope but when you think about it Orion sells this scope for just over three hundred bucks. I mean you have to sacrifice something's to get a scope that cheap and I would prefer to have the mechanics suffer rather than the optics. All and all the mechanics are top notch for 300 bucks, with some minor tweaking.

First light.
First light was an experience I will never forget. It amazed me the amount of detail you see with 4.7" of clear aperture.
Luna:
The lunar limb came alive with little crater-lets and mountain ranges that blew me away. With quite a bit of false color on only the brightest objects like the moon you will need a minus violet filter if the false color annoys you, which on the moon it did annoy me but with the filter it was perfect jet black background with the lunar limb nesting in it with virtually no false color present. Also on the moon there was some stray light visible when the moon was just out of sight but I think this is due to the poor baffling inside the o.t.a. But once again this was ONLY on the moon and mars.
D.S.O.'s.

"Wow"!..first words out of my mouth when I first pointed to Sagittarius: M21,M22,M8,M20,M16,M17 all just stood out like I have never seen before. And after that I quickly pointed to M31 and almost fell to the ground. I had time to take a couple of pics with my canon power shot A95 of M45 to give you an idea of what you can see.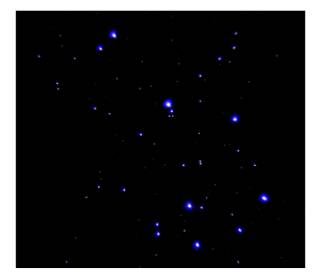 M45 eyepiece projection with canon A95 6X15 sec. Stacked in registax and processed in Photoshop Faintest magnitude seen here is 9.85.

Mars:
Mars was a real treat. It was the first time I have seen it with this much detail. I do not have the right mount for high power photography but let me just say that it was a real gem through this scope.

Now for the real review, the optics:
First off the collimation was spot on right out of the box, which surprised the heck out of me. Stars showed a perfect airy disk with the first diffraction ring being bright and concentric all the way around. In and out of focus showed almost no differences. I did not notice any field curvature or astigmatism of any kind. Here you can see the doublet lens and baffles.



Three baffles?
The optics are near perfect. But yea know I cannot complain about anything on this scope, with some very minor tweaking to the focuser and maybe having a baffle system custom made for it, this is the perfect scope for me and was exactly what I wanted.

Pros:
Lightweight, very nice fit and finish, good quality doublet lens, 4.7" CLEAR APERTURE $319.00
Cons:
Focuser needs adjustments, Dew shield of poor design, fair amount of false color on the moon.

Final Thoughts:
If you are looking for a very nice "big" achromatic refractor, this is the best bang for the buck! I cannot see any better way to spend 300 bucks