CNers have asked about a donation box for Cloudy Nights over the years, so here you go. Donation is not required by any means, so please enjoy your stay.


0
TEC 140 APO
Discuss this article in our forums
Tec140


In September of 2005, I sold my 4" APO as well as some other equipment to purchase my dream scope: The Tec140 APO. My wife had gotten tired of having to sit home waiting for the UPS man to deliver my latest scope and advised me to sell my prior scopes and buy the one scope that I would be completely satisfied with. She is one wise lady and her advice worked (for once)!

I am strictly a visual observer and wanted the additional 1.5" of aperture for my mostly lunar and planetary views. I also view deep sky objects but due to heavy light pollution in my South Florida skies, I mainly concentrate on the moon and the planets.

I have read numerous times that going from a 4" to a 5" APO Refractor yields a larger increase in the view than going from a 5" to a 6" APO refractor. The Tec140 is a 5.5" APO refractor and kind of Òsplits the difference" in the aperture gain. It is also much cheaper in cost than a 6" APO and is less expensive than many 5" APOs as well.


Buying a Tec140

The scope is sold as an OTA only and tube rings, mounting plate, star diagonal, finderscope, carrying case, and any other accessories you might need must be purchased separately. Along with my Tec140 OTA, I purchased the Tec Tube Rings, mounting plate, Astrophysics 8 x 50 finderscope and the finderscope mounting bracket. In addition, I also purchased the Stellarvue 2" Dielectric Diagonal. I did not purchase the Scopeguard Carrying Case as I do not need one.

There can be a long wait for this scope depending on when you order. In my case, I only had to wait a few months but waits of up to a year have occurred. I also liked the fact that whenever I called Tec about the status of the scope, I spoke to the owner, Yuri. He was very friendly and was always willing to answer all of my questions. I was also impressed with the pride Yuri expressed to me over the phone regarding the optical quality of his scopes.

The scope was well packed and padded inside a long box and was delivered to me on September 9, 2005. It arrived in perfect condition. The attached picture is of my son, Seth, and was taken the day the scope arrived.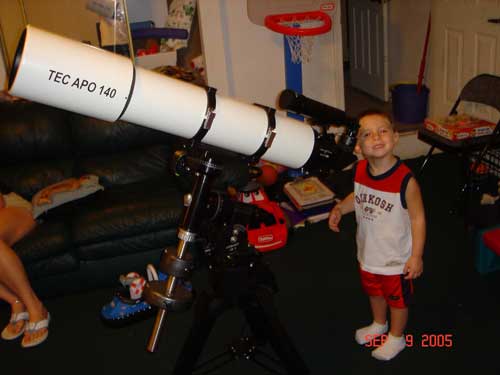 Mechanics and Quality of Construction

The Tec140 has an oil spaced triplet objective. The tube is powder coated in an off-white color which I find to be very attractive. I was pleasantly surprised at the quality and appearance of this scope when I first removed it from its shipping box. The ota is only 34" long and it weighs 18.5lbs. A few pounds more when the tube rings, mounting plate, and star diagonal are added. Nevertheless, I had no problem using this scope on my Losmandy GM8 mount and have even tried it on a recently acquired Celestron ASGT goto mount. The scope worked well on both mounts with minimal vibration and dampening times less than 2-seconds with either mount and closer to 1-second when using vibration suppression pads.

Another nice feature of this scope is the 3.5" Feathertouch focuser. It is truly a joy to use and perfect focus is easy to obtain. Also, it does not use a set screw but a collate ring which you turn to secure the diagonal to the scope. This focuser can also be rotated. This is an important feature as refractor owners often find the eyepiece pointed in an awkward direction after finding the object to be viewed. Simply rotating the focuser takes care of this and allows for comfortable viewing. If you have never used a feather touch focuser before, it will blow your socks off when you finally do. It certainly did to mine. It was truly a pleasure focusing this scope when using the 9-1 dual speed feather touch focuser knobs. Best focus was easily obtained using the fine focus and I was able to spend more time studying an object than fiddling with the focus wondering if I could get it just a little bit better as I often did with my prior scopes..

Even the front lens cap is well made. It is made of metal and is spring loaded so it just locks into place protecting the front objective lens. The way is locks on is important as there is no way it can accidently fall off while the scope is being transported or set-up.

The sliding dew cap is about 12" long and works very well. I have not had any dew problems with this scope even after viewing for several hours in the very humid South Florida weather. The dew cap slides into place and does not move while observing. It is solid and well built.

Looking down the ota reveals 4-baffles and a beautiful objective lens!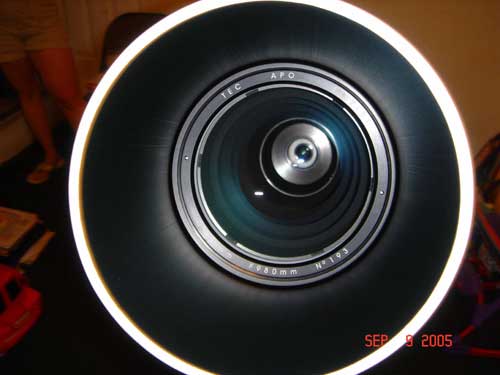 Star Test

Of all the scope I have ever owned, this one has the best star test of them all. Using Suiter's book as a guide, I could not find any problems with the star test. The out-of-focus rings were the same on both sides of focus and stars focus to nice, tight points. At high powers, this scope provides me with textbook airy discs

There is no false color on Sirius or Vega until well over 300x and even then it is very minor and kind of dances around depending on the seeing. This scope is color corrected even better than my two prior 4" APOs and this actually surprised me since it is a 5.5" refractor.


Planetary Views

I have viewed the following planets since receiving my Tec140: Venus, Mars, and Saturn.

Venus does not show false color and looked nice and white with some dusky markings visible. I enjoyed the scopes ability to focus the planet to a nice tight crescent.

Mars looks amazing with this scope. I have easily seen the polar caps as well as many dark markings on the planet. Syrtis Major and the Eye of Mars were especially easy to see. The contrast this scope provides on Mars is incredible. It was easy to recognize the surface markings on Mars and follow them as the days went by. Mars focused nice and tight and the scope held up well at high powers. I often used my Televue 3-6mm Nagler Zoom when viewing Mars. This eyepiece provides magnifications ranging from 163x to 326x and this entire range of powers was used on the red planet. Often with little to no image breakdown. I even used my 2.5mm Type 6 Nagler for 392x with very good results. Needless to say, this scope holds up much better than the 4" APOs I previously owned at high powers. Also, the larger aperature of the Tec140 ensures that the image does not become too dim to see detail as the magnification is increased.

Saturn looks fantastic as well and I can easily see the A, B, and C Rings. Cassini's Division is visible at very low magnifications and is a beautiful dark gap at higher powers. It does not appear as a thin black line but an actual gap. I could also see a light band on the planet and darkening at the polar regions. No false color was seen when viewing Saturn regardless of magnification. The view of Saturn is extremely sharp through this scope and the planet is viewed against a jet black background making it truly stand out.


Unfortunately, I have been unable to view Jupiter as it is only now rising in the early morning sky. I do plan to give the scope quite a workout once Jupiter gets closer to opposition as I feel that this scope will provide me with outstanding views of the planet based upon how it has performed on the other objects I have looked at so far.
The Moon

The moon has always been my favorite object to observe with Saturn and Jupiter vying for second. This scope has absolutely left me stunned while viewing the moon. With my prior two APOs as well as an 8" SCT, I have never seen more than 4-craterlets in the crater Plato. The first time I viewed Plato with my new Tec140, I could count 8-craterlets. Not only were they easy to see but they looked like actual tiny little craters, not just spots. I then moved the scope just a little bit to the Alpine Valley and lo and behold, there was the Rille running down the the valley's center! The following night, I looked at the moon and again I saw the 8-craterlets and the Rille. Thus, the first night was not just a lucky night but evidence that this scope has excellent contrast and performance. In addition, there is no false color on the moon regardless of how high the magnification was. The moon stands out vividly from a black background as well. I have seen detail in Copernicus, Tycho, and other craters that I just never saw with my other scopes. This scope is one amazing lunar performer and that means a lot to me as the moon is my favorite object. I plan on spending plenty of time viewing the moon with this scope in the future.


Double Stars

The excellent color correction of this scope provides gorgeous views of double stars. One of my favorites is Albireo with it's blue and gold components glittering against a black sky. Almach, another colored double, is also very impressive. I have been able to easily split the Double-Double in Lyra at low powers as well as high.


Deep Sky Views

I recently purchased a Celestron ASGT goto mount and used it with my Tec140 at our local dark site here in South Florida. The views were nothing short of spectacular. M31, M32, and M110 were beautifully framed within the FOV of my 41mm Panoptic at 24x, my wide field of view eyepiece. In addition, the contrast of this scope enabled me to see a dark lane in M31. Also, I was treated to a very nice view of M33 as well. This object can often be difficult to see yet I had no trouble at all viewing it. I had no problem seeing 6-stars in the Trapezium of M42 as well as plenty of nebulosity standing out against a black background. The Double Cluster looked spectacular with both clusters fitting nicely into the same FOV. Tons of pinpoint stars were seen as well in both clusters. This scope has excellent contrast with deep sky objects standing out against a jet black background.


Conclusion


To sum up my review, I have to say this scope is a superb performer. It easily outperforms my prior 4" APOs without much portability lost. The Tec140 is a little larger and heavier but still fits on the same mount. I need to use an additional 11 pound counterweight but that is about all of the portability difference. However, once sitting at the eyepiece, it is easy to appreciate the views this larger scope provides. They are nice, sharp, and contrasty.

This scope is excellent optically and mechanically. It is obvious that it was built with pride and care.

Over the past few years, I have gone through several refractors including two 4" APOs and three 6" achromats and this scope is the keeper for me. It handily outperforms them on all objects. Once you go up a little in size to most of the 6" APOs, a larger and heavier mount is required. This scope is the perfect size as it can be used on medium size mounts which are not too heavy.

Thank you Tec for a terrific scope!! I have been having a great time with it! Even my wife agrees!!

I purchased this scope directly from Tec and have no undisclosed interest in the vendor or product.
Article: TEC 140 APO