CNers have asked about a donation box for Cloudy Nights over the years, so here you go. Donation is not required by any means, so please enjoy your stay.


0
TravelStar 11" f/5
Discuss this article in our forums

TravelStar 11" F/5
by William Paul
12/13/2005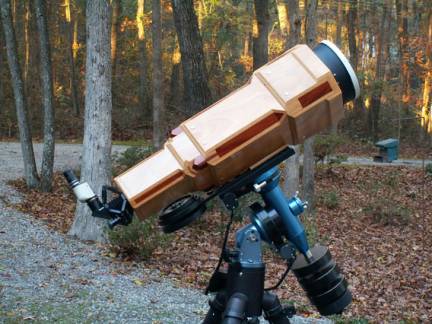 TravelStar astride a Losmandy GM200

Art and astronomy, what a beautiful combination! For those not acquainted with this project, the TravelStar telescope is the brainchild of Joseph Drapell. Joseph is a Canadian inhabitant and artist of Czech birth; his art can be found in galleries all over the world. Like many of us, he has a considerable interest in the cosmos. Joseph's idea was to build a "large" aperture refractor package that is fast in focal ratio yet light in weight and portable; his desire was to do wide-field, deep sky work while enjoying the contrast and sharpness inherent to refractors and to employ both eyes via a binoviewer without added magnification. Naturally, this meant a shortened tube. Finally, the cost had to fall into a range a good bit lower than an apochromat of equivalent aperture, so an achromatic doublet was to be employed. To this end, I believe Joseph has succeeded in achieving all of his design criteria with the 8" version of this scope and most of them with the 11" reviewed here.
Joseph's original design, an 8" F/6 was recently reviewed and the review is posted on the web on Astromart, as well as, Cloudy Nights. The 11" version reviewed here is an afterthought of the original design. It is slightly faster at F/5 and pushes the limit of the original concept in a couple of areas that will be covered later in this review.
As are most of its smaller brethren, the 11" scope is an achromatic doublet; unlike the one 8" version already reviewed, it was not constructed using ED glass in either element. The tube is made of marine mahogany; it is very light in weight, and the woodworking on this unit is first rate. In a year of light use in the southeastern US, the humidity capital of North America, the finished appears no worse for exposure to the weather. The tube is comprised of three interlocking sections held together by a total of 16 fasteners. The OTA can be disassembled and reassembled in a matter of minutes with the aid of one Allen wrench. Each section has a nameplate similar to what is seen in the following picture.





Assemble the OTA with all three nameplates on the same side of the tube, and all is well. The OTA is internally-lined with black velvet, and it appears as a black hole when looking in from the objective side; there are no field stops inside the tube. The OTA with lens and focuser is about 50 inches long and about 14 inches at its greatest width; with objective and Losmandy dovetail, it weighs in at 60 lbs. on my bathroom scales. Obviously, the front section is the largest and heaviest; it weighs about 39 lbs. This makes the front section of the 11" a good bit heavier than the entire 8" version.

The objective is yet another piece of work; as can be seen below, the coatings are a very deep violet.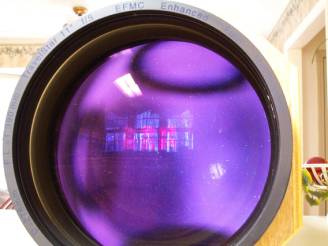 The silkscreen on the front trim ring says it all: D = 278mm, F.L. = 1,390mm, 11" F/5.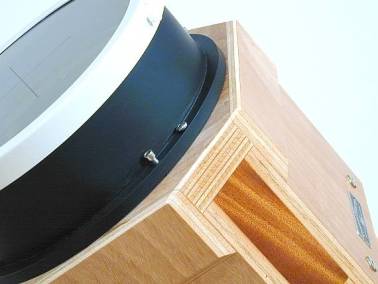 As seen in the above photo, the cell is a push-pull type, so collimation adjustments are possible; prior to this review, I have not felt the need to collimate the scope. It is of note that the 11" TravelStar incorporates a 4-point collimation system instead of the typical three for a primary objective. No foil spacers are readily visible between the optical elements; due to the high variance in the curvature of the two optical elements, a 19mm, aluminum spacer is required. The glass is retained in the cell by the normal threaded collar driving down against another unthreaded aluminum ring or spacer. No rubber gasket is utilized between the glass and the metal retaining rings as I have seen in some mass-produced achromats.
This unit arrived with a Clement focuser; it is very robust with no image shift, but I would like to see the three Nylon set screws replaced with something that might relieve my anxiety; a 2 inch diagonal with a binoviewer and a pair of long focal length eyepieces are a good bit of leverage to be restrained by Nylon. The manufacturer states the tips of the Nylon set screws are actually Delrin attached to the Nylon with a stainless steel roll pin, and they can rotate independent of the Nylon shaft. He offered to replace the Nylon shaft pieces with Delrin tipped stainless steel set screws, and I have taken him up on the offer. I do not think this is as much concern, if the OTA is utilized on an alt-az mount.

Four 1/4"-20 screws attach the OTA to the dovetail. The tube is very front-heavy; the diligent observer might have noticed the 25 lbs. of barbell plates balancing the tube in the initial photograph. These are necessary since the telescope was really designed for alt-az mounting and use. I do not think balance would be an issue in alt-az mode since most of the weight would be over the mounting point most of the time. A flexible dewshield made for a 14" SCT covered the end of the tube fairly well.

To utilize the telescope, I employed a Meade 2" diagonal, Denkmeier standard binoviewer and 1-1/4" Sirius plossels; these are not the pinnacle of observing tools, but they are what I have. As I have virtually all of my life, I live in the suburbs of Atlanta, GA, and the skies are dreadful; I have watched the skies slowly deteriorate over the course of the 9 years I have been an amateur observer. I do not keep up with star magnitudes very much, but at best, I live under magnitude 3 skies most of the year. Occasionally, I drive out to a rural area an hour east of town and the skies are maybe magnitude 4-5.
Right from the start, I have been highly impressed with the wide field views from this scope. The first object I viewed was the double cluster with either 32mm or 40mm eyepieces; both clusters fit into the field of view with resolution that is normally only available at twice the magnification and very nice contrast. It is a sight to behold! The first night out, I sat for an hour just sweeping through the Cygnus/Cassiopeia/Perseus sections of the Milky Way with my mouth open. I have previously owned several refractors; four achromats, one ED refractor and one TMB apochromat. Obviously, this scope is not on par with the work of Thomas Back, and it does not have the contrast of the one ED I have owned, but it is better than my 14" SCT. None the less, no other telescope I have owned has provided the combination of wide field in conjunction with the resolution that a refractor of this size can provide. This scope provides better views of globular clusters than my 14" SCT even with a binoviewer and the Schmidt at F/6.3 or F/10. When viewing most areas of the Milky Way, it is possible to see a "background optical noise" I remember from my astrophotos of a few years ago. A couple of times, I have employed an extension tube to allow use of my 2", Orion Plossel, no other scope has ever provided the view of the Pleiades that the TravelStar can. After a year of viewing, the scope continues to delight with its views. I particularly like the "look" of globular clusters up to 100x; with an LPR, the contrast is definitively better than my SCT. The views provided by this OTA remind me of views through an 18" reflector that belongs to a member of the local astronomy club; they are not as bright, but the reflector was not as easy to use as TravelStar.

Just for arguments sake, I employed TravelStar for some planetary viewing; I started with the Moon. Below 100x, the viewing is awesome, and fans of binoviewers know what I am talking about; at higher powers, chromatic issues retard my desire to continue. At 200x on Mars, the purple fringing and false color were the likes of which I had never seen. An Orion anti-fringe filter knocked most of it out, but my SCT gives easily superior planetary views; this is to be expected. An achromat this short on focal ratio that does not employ expensive glass cannot be utilized effectively at high powers. However, there was something about the image that troubled me a little. Thusly, I went into clinical analysis mode.

With a Ronchi in place, the spherical correction initially appeared to be about 1/4 wave or better, but the gratings pattern had a little bit of asymmetry to it. There appears to be some amount of irregularity in stellar images at higher powers, but it is very slight. In fact, I never noticed it until I decided to get clinical for the purpose of this review; normally, I never try to use this instrument in such a manner. None the less, the high-power stellar images are consistent with the lack of sharp focus I saw when viewing Mars. The aberration appears as a little bit of flaring.
Frankly, I do not think this an issue with the scope; it must be monumentally time consuming (read: expensive) to make an 11" set of glass without a little astigmatism. If you want perfect optics, I'm sure there is a gentleman in the Midwest that will sell an 11" apo for about ten times what Drapell charges for this achromat.
The other notable detail about this OTA is it really falls outside of Joseph's original idea of a unit that is readily portable. The tube is more than 4 feet in length and weighs 60 lbs. plus the weight is biased heavily toward one end. Again, this OTA was simply not designed to be routinely "thrown" upon an equatorial mount. If it is to be equatorially mounted, I recommend doing it permanently. The average person is not going to want to lift this unit on a regular basis.
If you want to do planetary work, this is probably not the scope for you. But if deep sky work with a fast refractor is your main desire, this one provides copious aperture and resolution at a very reasonable price.
Joseph Drapell has produced an instrument that is truly unique in the astronomical community: To my knowledge, no other entity produces a similar product that is readily available to the amateur community. The optical quality is every bit as good as one can expect at this price. Besides, the mere presence of TravelStar in a room will generate quite a bit of conversation!
.
Article: TravelStar 11" f/5