CNers have asked about a donation box for Cloudy Nights over the years, so here you go. Donation is not required by any means, so please enjoy your stay.


0
Meade 60mm Refractor : Paperweight or Powerhouse?
Discuss this article in our forums
Never go on Ebay if you don't want to spend money! One night I was rooting around to see what great deals I could find. There was a time when I missed out on a $5,000 sports car that I could have bought for $450 had I just looked in the next barn! Do not want to make that mistake again especially when it comes to telescopes. I Saw a Meade 60mm refractor advertised for 10 (US) dollars. Of course I knew that it would go for more since it was listed elsewhere for $60-$100, so I put a bid on it for 11. It is a model 231 with 1.25 eyepieces, plastic hybrid diagonal and aluminum Alt/AZ mount. Just another one of the hated, 60mm "dime store" telescopes sold by the thousands every year. Of course I got it for 10! It was delivered by UPS for the princely sum, shipping and all, of 21 dollars.
My intention now is to see if these scopes are as worthless as many think. Since I started out with a 50mm scope I am always suspicious of statements like "junk telescopes," "they're unusable", "don't waste your money" and my favorite, "it doesn't even make a good paperweight!" If they are so terrible then why do reputable companies still sell beefed up versions of the same thing? With low cost dob's abounding these are probably not really the best beginner scopes available but people keep buying them for their kids anyway. Still, many of us started with this scope or even smaller so I think it is worth evaluating.
After assembly I took the scope outside. You can lift it and move it with one hand. Of course you can't actually use the micro altitude control that is one of the selling features. You just have to loosen up the knob on the "micro" control so that the bar will slide freely in and out. Then loosen up the nuts on the yoke to where it moves freely. The micro-adjustment can be used but it is more trouble than it is worth. The tripod is a bit shaky but still usable.
Using the 25mm MA eyepiece supplied, I turned the scope on Orion. Nothing, dark as could be! Well it helps if you take the lens cap off! After a few moments of focusing I found M42. Wow, it is hard to believe that I am looking through a $21 bargain basement, Ebay telescope! You could see the wing shape of the nebulosity and the trapezium. I could make out all the stars of the trapezium, not bad optics for a low cost scope. It gave clear, crisp views and you could even see the dark lanes in the nebulae.

The next object was Betelgeuse. It shone with a reddish tinted glow, seemingly floating in the eyepiece. The image again was clear and crisp, even when the star exited the field of view of the eyepiece. Several field stars were apparent as well. When I moved the focus in and out the rings were quite even and looked as if the scope was well corrected. There was no hint of any Chromatic Aberration (false color)!
The next time I had the scope out, the object was to look at the almost full Moon and Mars. If there is any chromatic aberration it should show up on these 2 objects. Mars was the first target. The conditions were less than optimal, with high clouds moving through the field of view. With the 25mm eyepiece Mars was just an orange pinprick of light. A tiny disk could be seen but there is just not enough magnification to make out any details. Still its orange color was quite striking. The big gun was then rolled out! The second eyepiece provided with the scope is a 9mm Huygenian that provides 77 power. Theoretically this should be an absolutely terrible eyepiece! The 9mm eyepiece was placed in the diagonal and the disk of Mars popped into view. Even with the poor seeing I was able to see a hint of dark markings and a polar cap! I was barely able to see this with my ETX-90 that I had set up side by side with the 60. All throughout these observations no hint of CA was seen.
By the time I had set the little scopes sight on the moon the conditions were really deteriorating. It was obvious that the observing session would soon be over. The moons color was very white in the plains and gray in the Maria's. No purple fringing of CA was seen and no hint of yellow that observers sometimes see with achromatic telescopes. If the full moon does not evoke false color then probably nothing will!
This is an image of the scope as it was shipped. It was well packed and arrived in good condition. When you get something this cheap you are always concerned about missing parts or broken parts so it is a pleasant surprise when it comes complete!

Below is an image of the assembled telescope. It took about 10 minutes to unpack, assemble and photograph. It can be lifted with one hand and does not take up much room in storage. All in all it was straightforward to assemble.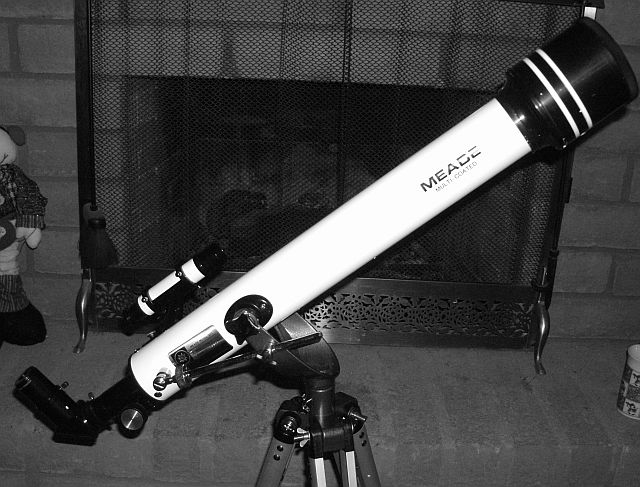 Here is a sketch of Mars done with the 60mm Meade refractor at the time mentioned above. It is a 700 mm focal length scope with a hybrid diagonal. The eyepiece was the supplied 1.25", 4mm Huygens at 178 power. When Mars was centered the white polar cap was obvious. A fuzzy, dark, triangular shape was blurring in and out of the area between the equator and the polar cap. The sketch was made indoors as soon after observing as possible (I couldn't keep Mars centered and sketch at the same time!). I did not try and identify anything until after I sketched it out. I was shocked to note that the smudge of dark I saw on the face was actually Mare Acidalium, at least according to Mars Previewer II. Thanks to Carlos from the Cloudy Night Sketching forum for the digital edit!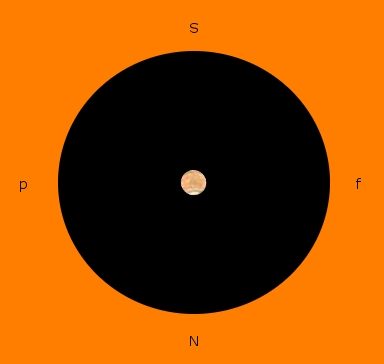 Overall, this set up is a surprising performer. The mounting is a bit shaky and the focuser could be a little better, but it was still quite usable. I suspect that my 50 years of experience probably made the setup and learning process a little easier than it would have been for a beginner. The plan is to use it for a while in its "stock" condition to see what it can do. Then it will be upgraded to a better focuser, mount and eyepiece to make a "Super 60." If the quality of the optics is as high as it seems then it could become a real performer with just a few minor upgrades!
If you know someone who received one of these little scopes, all is not lost! With some experience, adjustments and care you can make them into decent performers that will provide many hours of enjoyment.
EastAnglian, lwpcolonel, unclejpl4x4 and 3 others like this
Article: Meade 60mm Refractor : Paperweight or Powerhouse?