CNers have asked about a donation box for Cloudy Nights over the years, so here you go. Donation is not required by any means, so please enjoy your stay.


0
TeleVue 70mm Pronto ED Doublet Refractor
Discuss this article in our forums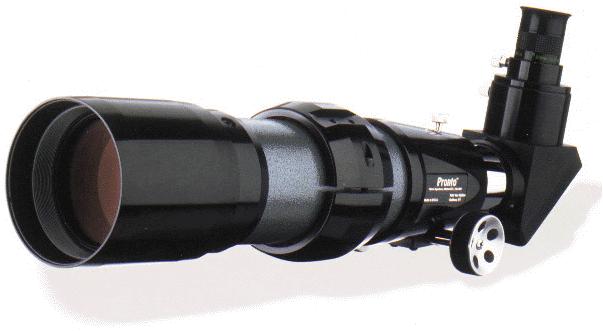 In March 1993 TeleVue introduced the 70mm "Pronto" ED doublet refractor telescope. Since then, the "Pronto" has become highly successful for birding (considered a "Reference Standard" in it's class), and has been well accepted by the astronomy community too. The Pronto has the field of view and versatility for many uses; with a use able magnification of up to about 150X this will clearly identify the major planets. The "Pronto" is very compact, rugged, and simple to use. So much so that it gets used more often than larger telescopes where quick set up or incidental considerations are high priorities. In its furnished carrying case, it is easily transported:
NOTE: I bowered the picture and prior paragraph fro Company Seven's web page.
My wife and I were visiting Yellowstone national park when we came upon a group of cars and people obviously watching an animal. I walked over to one of the people and asked him what they were watching. He replied that there was a wolf lying down in the shade of a pine tree about ¾ of a mile down in a valley and offered to let me look at the "wolf" through his spotting scope. I looked at the "wolf" though his spotting scope and decided that I needed a better look, so I setup my 70 mm Pronto and focused it on the "wolf". I then asked the gentleman who had been watching the "wolf" for about two hours if he would like a better look at his "wolf". He took a peek through the Pronto said wow that's a lot clearer than with my spotting scope. He then packed his chair and spotting scope up and left. Guess what he had been watching so intently for two hours? A LOG. This little story points out the difference between the average inexpensive spotting scope and a well made telescope. You generally get what you pay for.
Mister T. and bwallan like this
Article: TeleVue 70mm Pronto ED Doublet Refractor