CNers have asked about a donation box for Cloudy Nights over the years, so here you go. Donation is not required by any means, so please enjoy your stay.


0
William Optcs 66mm SD and 66mm Petzval
Discuss this article in our forums
William Optics 66mm SD apo vs. 66mm Petzval Semi-apo
22/1/07

I'm sure we're all familiar with the scenario. The view through a large bulky, big aperture scope is awesome but the effort to lug it outside, set it up and wait for cool down is also awesome. So we decide that we need what many call a "grab and go scope." Something tiny, portable, easy and that needs no cool down. This was me exactly. Add to that my desire for a really nice terrestrial spotting scope and I found myself on the web looking at small refractors.

I've had little Chinese made scopes like the Celestron 100mm f5 and whilst they represent great value for money wanted something with a little more class both in presentation and optics. I ended up buying a 66 Petzval semi apo direct from William Optics, and I should add that their service was second to none! For various reasons I also bought a second hand William optics 66 SD apo on Astromart. Having the two side by side, I thought it an excellent opportunity to do a comparison review since many folks in the market for a small William Optics refractor will doubtless face a similar choice.

Finish and presentation

The finish is exquisite on both scopes, they are truly works of art and are as well made as any one could ask for. It's like picking up a Nagler eyepiece, it just feels like "quality". A straight 10/10 for finish.

Mechanics

The sliding draw tube and rotatable focuser housing work well on both models as does the well thought out and sturdy tripod mount. The dual speed Crawford focuser is also nice though I found one to have slightly rough rubbing action on coarse focus whilst the other was buttery smooth. I don't mention which because both scopes use the exact same focuser and I think the difference is just a little QC issue. Application of a little bearing grease to the 10:1 reduction mechanism eliminated the problem. When working properly the focuser is really nice. The fine focus is just what you need when using a lightweight mount (as you usually are on a portable), as the scope doesn't wobble nearly so much as with a single speed. Not withstanding the little QC issue, I felt the mechanics warranted 9/10.

Optics

Outwardly, The STM coatings on both objectives were flawless, dark and uniform - nothing to suggest anything other than good optics.

The design philosophy between the two scopes is a little different so naturally so is their performance. The SD apo offers crisp contrasty views both in daylight and astronomically. The Petzval also provides good views though there is just a touch of chromatic aberration when you increase the magnification above about 50x. The Petzval offers a great flat field for astrophotography and if prime focus astrophotography was your "thing" this residual colour would be of absolutely no consequence. Ironically, the residual colour in the petzval is less distracting on astronomical targets than terrestrially.

I set both scopes up on a Manfroto slow motion camera tripod head and turned them skyward. I also brought out my excellent Orion 100 ED apo refractor to see what the little extra aperture would do. I have to say that I was surprised how good both these little scopes were. M42 showed some structure, as did the Eta Carinae nebula. Both objects were brighter in the 100mm but the quality and contrast of the two little William Optics refractors gave very good account of themselves considering the aperture difference.

The next target was Sirius with a 3.5mm Nagler giving about 120x. You have to remember that with a 2.6 inch scope, 120x is close to 50x per inch so this is the upper limit of what they are supposed to be capable of. The SD apo had just a hint of violet round the in focus star along with well-defined diffraction rings characteristic of good optics. The Petzval wasn't far behind though the halo was more blue and slightly larger than the SD but the star was still well defined.

The final target for the evening was Saturn which yielded a few surprises. At 120x both the Petzval and the SD apo showed good detail including a faint cloud band on the disc of the planet. The sky around Saturn was darker in the SD apo with little, if anything, in the way of false colour. In the Petzval there was a slight blue fog in the dark spaces between the ring and the planet but all in all, it was quite a nice view for a 66mm instrument. The detail was a little easier to see in the 100ED because of the larger aperture but I have to say that the contrast in the WO SD apo was actually a little higher than in the Orion (which is itself a fine scope). Finally, I slipped a Meade apochromatic Barlow in front of the 3.5mm Nagler to see what would happen at "absurd" magnifications. Although no more detail was visible the image the SD apo held up quite well. I just didn't have any more eyepiece power to throw at it and it was still standing!

At the end of the day (or rather night) I gave the SD apo 9/10 for optics and the Petzval 7.5/10 because of a little coloured fringing at high magnifications especially when used terrestrially. William Optics describes it as a Semi-apo and that's probably fair.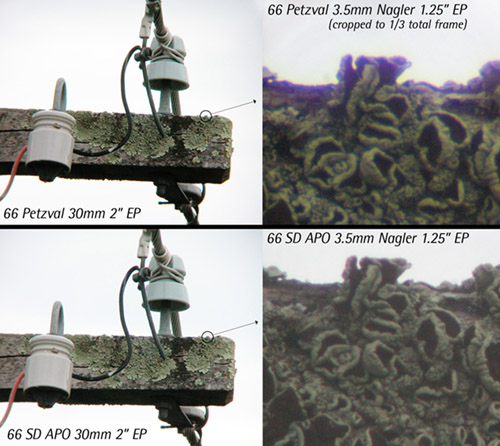 I've included a picture of the view of my local power pole through both scopes with a 30mm wide field eyepiece yielding 15x and a zoomed in section of the view with 3.5mm Nagler yielding roughly 120x (300x with crop). Any softness in the view is due to my camera work, not the optics. I chose this backlit target because it's a cruel test of colour correction, far harsher than normal viewing. As you can see, both scopes will give you a pretty good view even at 120x. At high magnification, slight fringing is noticeable in the Petzval but is almost entirely absent in the SD apo. At lower magnification there isn't much difference in performance. If anything the Petzval had the edge in daylight contrast though I didn't see this difference at night.

Conclusion

These are two very fine instruments. Let's remember that both cost less than the Nagler eyepiece that I used in them yet they were able to deliver optical performance that was at least in the same general ballpark as the finest 60mm class telescopes. My personal choice was the SD apo for it's better colour performance, but I'm not an astrophotographer. If you want a flat field you might be better with the Petzval - I don't know. I'm a visual observer so I kept the SD apo and sold the Petzval.

My William Optics 66 SD apo is one of my favorite telescopes and fills the role of a portable/terrestrial beautifully. It cost little more than the various cheap 60-100mm fast achromats on the market but in build quality and performance simply blows them clean out of the water. If you want a small refractor and have realistic expectations of what can be achieved with two and a half inches of glass I wholeheartedly recommend this telescope.
Article: William Optcs 66mm SD and 66mm Petzval