CNers have asked about a donation box for Cloudy Nights over the years, so here you go. Donation is not required by any means, so please enjoy your stay.


0
Highly Satisfying Astronomy on the Cheap – Two Very Inexpensive Used Telescopes
Discuss this article in our forums
Quite often I see notes from budding astronomers, asking which set of new equipment they should buy. It seems they are ready to fork out big $$ to get started in the hobby.
I felt it would be helpful if I gave a review not on a brand new expensive telescope, but rather on two telescopes that I was able to purchase for under $250 on the used market over the last two years. The 386 came with four eyepieces, and the Starfinder came with 3 plossls, an older RK 20mm, and a barlow, so both scopes had everything you needed to start observing right out of the box.
A Meade 386D refractor, and a Meade 10" Starfinder EQ.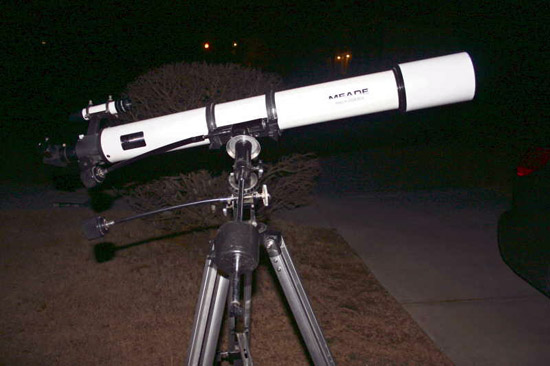 Meade 386D Refractor
The 386D is an EQ mounted 90mm F11 refractor. Meade made these around 1985-1990. The scope was sold with a 1.25" focuser, but it came with a 1.25" to .965" adapter, and all the accessories and eyepieces were .965".
The scope came in the original box with all the accessories and some generic 1.25" eyepieces and a diagonal. It also came with the 532 motor adapter. Everything on this scope is metal except for the focuser knobs, and it was almost spotless. I don't believe this scope had hardly ever been used in 20 years.
After adjusting the finder scope, I put in a 16.8mm ortho and swung around toward Orion. The scope had a very smooth focuser, and the slow motion adapters were also smooth. The scope at F11 has a nice movement into focus. With this refractor, it seems you have lots of room to reach precise focus. The stars were sharp. Concentric circles in and out of focus. Wide views are very nice and enjoyable.
I went to the trapezium. 4 stars, sharply defined and separated. I pushed as high as 250x with a 4mm ortho, and the image stayed pretty sharp.
I moved on to Saturn. With the 16.8mm ortho at 60x, Saturn snapped into focus, and showed lots of detail. No color yet. At 166x with my 6mm Saturn showed lots of detail, several bands were evident on the planet. The scope started shaking a bit in the wind on Saturn at 166x. 250x was a bit much for the mount.
The Meade Starfinder 10 EQ - a 10" F4.5 Reflector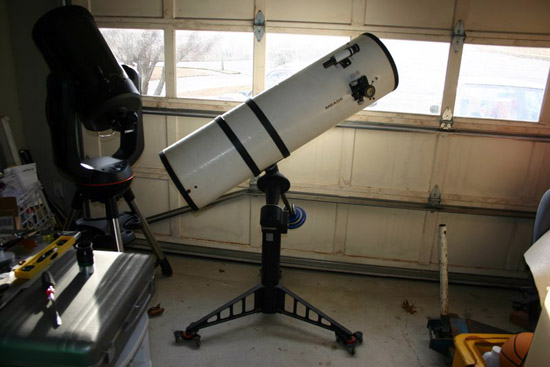 Mine arrived dusty and minus a counterweight, but with a nice upgraded 2" focuser. The mirror had a few holes in the coating around one edge, but otherwise was in very fine shape. I dusted off the scope a bit, added a 10lb barbell weight, centered the finder, and set it up in the yard.
A quick polar alignment and I was ready to go. 10" is a lot of aperture, and the views were very pleasing. The fast focal ratio of f4.5 provided very wide and bright views. I found myself just moving through the sky with a 26mm eyepiece and enjoying the views.
The optics were just fine for what I used it for. Jupiter was enjoyable to view, with several bands on the planet easily visible. I pushed it up to 127X with my 9mm eyepiece. This isn't a high end planetary scope, but it was still enjoyable.
Wide field views are where this older reflector really shines. Just browsing through the sky was very enjoyable. I found myself comparing the views to a few much more expensive SCTs I have owned. While the SCTs were much more convenient to use and had GOTO, they couldn't come close to the clean clear wide field views this scope provided. You could look at objects such as the double cluster for ages. It was breathtaking.
So – my advice to the budding new astronomer out there is – keep a weather eye out for a good used scope! I have found that for many people telescopes are like that TV workout machine – they buy them with the best of intentions but then they sit around gathering dust with clothes hung on them. I have found several great buys over the years where someone had bought a scope for their son who had gone off to college and they just wanted it gone. Also – telescopes are expensive to move, and I recently bought one for a song because someone had to have it gone, and didn't want to pay to move it.
And you also have fantastic resources like Cloudy Nights where you can buy a scope from someone who loves scopes and astronomy so you can know you are getting a nice, useable scope. Go hang out in the forums and start talking to people and they will tell you lots about their scopes. Buy a nice used scope to get you started in the hobby. Once you have your feet wet (actually, your feet will probably get more cold than wet, along with your hands) then go get that brand new scope of your dreams. You'll find you can sell your used scope for about what you paid for it - kind of like getting a book from the library! The odds will be the scope you wind up with will be one you will use and enjoy for a long time.
Article: Highly Satisfying Astronomy on the Cheap – Two Very Inexpensive Used Telescopes