CNers have asked about a donation box for Cloudy Nights over the years, so here you go. Donation is not required by any means, so please enjoy your stay.


0
Orion AstroView 90mm EQ Refractor
Discuss this article in our forums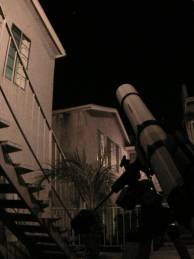 Review of an Orion AstroView 90mm EQ Refractor

As is the case with most amateur astronomers I began my hobby with a 60mm "department store junk" refractor. I could fill a page explaining how lousy the telescope was, but in the end it was the only telescope I had and it did its job well. Showing me loads of nebula, the rings of Saturn and the bold bands of Jupiter, that little scope opened up the Universe to me. Though when I finally got the chance to replace it I jumped at it. I began my search for a new scope on the Orion Telescope and Binoculars website. For years I had poured over the free Orion catalogs that would arrive every few months. I was always impressed by Orion's large selection and reasonable prices over competing telescope companies and figured Orion was the best place to start. I chose to use the Orion website, and didn't even get past the first web page. Before me was a picture of the beautiful AstroView 90mm EQ Refractor set before a dazzling picture of Mars. Turns out Mars would be "closer to Earth than ever before" and the web page proclaimed that this was just the telescope to see it with. Even better this particular scope was on sale for just this occasion. Having an affinity towards refractors I was drawn to it more than the Newtonians and Maksutov-Cassegrains also on sale. With a few clicks I was the proud purchaser of the AstroView 90mm EQ Refractor. Yes, this was an impulse buy, one of the biggest no-no's of telescope shopping, but I didn't see it that way at the time.
After only five days the scope was on the doorstep courtesy of the United Parcel Service. I was impressed, shipping had only been thirty dollars and I was told to expect the scope in seven to fourteen days. I immediately rushed it inside to open it. I was impressed again; the scope was double-boxed with a generous amount of foam peanuts. I picked up the instructions which were conveniently placed on top of the packing material. The instructions covered, in good detail, the assembly of the telescope and its operation. I started the task of assembling the telescope. With the instructions being as straight forward as they were, it only took me about ten minutes to have the entire scope unwrapped and assembled. The included Allen wrench and Philips head screwdriver and wrench were of great convenience in this. I inspected each piece as I unwrapped them. First off was the optical tube assembly which I found to be nicely finished from end to end. I pulled of the dust cap which proved to have a good seal. Checking out the optics I noticed a light purple glare revealing the multi-coatings that the ad had promised.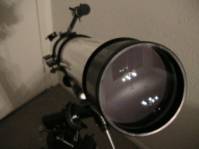 The lenses were flawless with not a scratch or even dust mote on them. I moved down to the rack and pinion focuser, I found this to have a very jerky motion, due most likely to too much sticky grease applied to it. The focuser travels about five inches from the tube.



It also has one screw to lock the motion of the focuser and one screw to hold any accessories. I found the accessory screw to be somewhat inadequate, a larger screw or two screws would probably be more reliable. Also, the end of the focusing tube is threaded for a camera adapter which I thought was a nice addition.

Next I inspected the mounting and the tube rings. The entire apparatus is steel (except for the right ascension gear housing), and nicely finished in a rough black paint.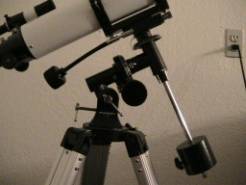 Upon closer inspection the setting circles appear useless.

They're hard enough to read in well lit room, I couldn't imagine them being readable by a red flashlight. Attaching the slow motion controls and playing around with them revealed them to be quite jerky. On top of that the declination control only has about thirty degrees of travel. One nice thing I noticed were the axes locking bolts, they firmly held both axes when only being finger tight. Adjusting the latitude is also a jerky process, its latitude markings are very vague, I just had to guess at how close I was to my latitude. Moving onto the tripod I immediately noticed how light it was, I knew this wasn't a good thing. The Aluminum tripod is about two and a half feet long collapsed. Fully extended, the tripod is about four feet tall, making the tube stand about five feet off of the ground. Between the tripod legs is a spreader piece on which rests an accessory tray.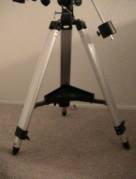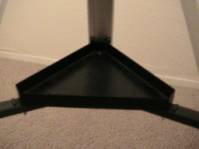 Included with the telescope are two eyepieces, both Plossls a twenty five millimeter and a ten millimeter. Both eyepieces have nice black anodized aluminum bodies with chrome plated brass barrels that are blackened and threaded for filters and rubber eyecups, in addition the twenty five millimeter plossl has a rubber knurled band.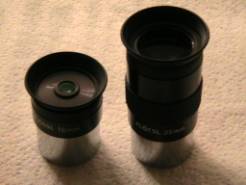 The twenty five millimeter's lenses have a purple tinge to them suggesting a multi-coating. I found no blemishes of any type when looking through the eyepiece at a light. The ten millimeter's lenses have a hint of blue revealing the full coatings that are advertised. Overall the eyepieces look very well crafted and are a nice addition to the telescope.

Finally the sun had set and it was time for my telescopes first light. Carrying the scope in one complete piece is not taxing, but can be awkward especially through doorways and down stairs. Plopping the tripod down in the darkest spot of the yard I got my bearings. I started off by roughly polar aligning the mount. I balanced the scope which was only a matter of sliding either the tube or counter weight along their axis. Since Mars was still about half an hour away from sufficiently clearing the roof top, I pointed the scope up to Vega. Inserting the twenty five millimeter eyepiece I gazed at the brilliance of Vega. The star field was beautiful, a giant leap over anything I'd seen in the sixty millimeter scope. I decided to test out the optics a little bit, centering Vega I replaced the twenty five millimeter with the ten. Moving the star in and out of focus I noticed the optics appeared very good, with no obvious defects. Vega in sharp focus revealed a nice airy disc with perfectly concentric diffraction rings emanating from it. The eyepiece itself appeared very good optically with no distortion when the star was moved from edge to edge of the field. One drawback is the small three or four millimeter eye relief. Pleased with what I'd seen I switched back to the twenty five millimeter. With only some slight curvature in the last three quarters of the field the view is otherwise flat and bright. Scanning the Milky Way around Cygnus proves to be one of the greatest experiences I've had at the telescope. I didn't realize that almost an hour and a half had passed, but glancing up from the eyepiece revealed Mars to be nearly at Zenith. I excitedly zeroed in on Mars, centering it I replaced the twenty five millimeter with the ten. I anxiously peered into the eyepiece. I was greeted by a wonderful rusty disk with a dark wisp cutting through it and a gleaming polar cap. Having never seen Mars in such a way I was floored, there was so much detail, with more appearing every second longer I gazed. Chromatic aberration was rather obvious as a bright blue haze surrounding the planet, though not ruining the image it reduced contrast on the disc somewhat and proved as somewhat of a distraction to an otherwise beautiful image. I tracked Mars almost till it set, slowly turning right ascension control for hours, staring in awe. I could tell I would be very happy with this scope for a long time.

After having owned the AstroView 90 for over two years now, I defiantly have a more refined opinion of it. I've gone from loving it to hating it many times over and again. I've bought many accessories for it, some very useful, some almost useless. The scope has moved with me three times, one time from coast to coast and has stayed in good shape. Its rugged construction and relative compactness is defiantly a strong point. I have taken some digital images of mars and the moon with great results in my opinion, considering its small aperture. To the prospective buyer I have this advice: this scope is wonderful and a bargain as it is bought, adding tons of accessories will only frustrate you and complicate observing. The only accessories I recommend are an R.A. drive (but NOT the cheap "AstroTrack" nine volt powered one), a broadband nebular filter, and perhaps a seven millimeter orthoscopic for high magnification planetary and lunar views. Upgrading this scope any further is just an attempt to make this scope what it is not. What this scope is is an affordable and very enjoyable way to get started with amateur astronomy.

As noted above I have used this scope for digital imaging of the Moon and Mars and am very happy with the results. I would like to share them with you to give you some idea of the views you can see with this scope.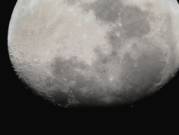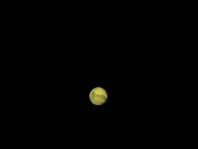 Both images were stacked and processed using Registax
Mars was imaged 10-29-05 and the moon was imaged 11-12-05

Review by Justin M. Dildine
San Diego, CA

All pictures by Justin M. Dildine

aa6ww, Lou3, Lilvipa and 2 others like this
Article: Orion AstroView 90mm EQ Refractor