CNers have asked about a donation box for Cloudy Nights over the years, so here you go. Donation is not required by any means, so please enjoy your stay.


0
Orion ED80
Discuss this article in our forums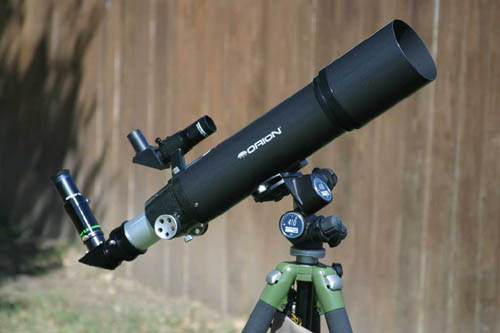 The picture was taken by myself, and I have no undisclosed interest in the vendor or products mentioned, which were all purchased via normal channels
I must be one of the first to own the new Orion ED80 telescope. I ordered it on the first day it appeared on the Orion website – I know a good deal when I see one. This new scope sells for $429 as an OTA only, and features an 80mm objective, 24in metallic-gray tube, f/7.5, 600 mm f.l., with a 2" Crayford-style focuser, a 2 to 1 ¼ " adapter, tripod mount adapter, dew shield, weight is 5+ pounds. The tube is actually the same as their 100mm scope (the objective is in a special cell), so you'll need 100mm rings instead of 80mm if you use tube rings.
The big draw of this scope is that one of the two lenses in the doublet objective is ED (Extra-low Dispersion) glass. I've owned at least a dozen different types and makes of scopes, so I believe I can give this one a good overview.
Overall Impression
The scope is wonderful for the price and function. I've had this scope out about 6 or 7 times now in my backyard. It is a clear winner. As a previous owner of a TeleVue 76, I can say that the TeleVue still wins on quality of build and image definition, but the ED80 comes close, and for a lot less money.
Image Quality
Image quality is excellent. I have observed no purple fringe at all. I used to own a CR150HD, so I know what the purple haze looks like. When viewing the full moon there was no yellow limb, no purple fringe whatsoever. There is just a white moon with a black background.
I find on my $49 eyepieces (Orion Expanse) there is some faint red and blue surrounding some images when not in focus. But this appears to be the lenses and not the scope. Also, using the Expanse lenses, I have noticed some coma at the edge of field. I'd say about 80% of the field is clear, however. Otherwise, the pin-point image of stars is amazing. It's the closest to an APO that I've seen.
Mars
Given that I'm writing this in September 2003, no review written at this time could be complete without a mention of Mars. Mars yields some surface structure (brown areas on a sea of yellow), plus the ice cap of course. I'm sure I could push it further if I owned the appropriate lenses, and if the atmosphere would hold out. I've mostly used a No. 25 red filter, but looks good without one too, just harder to see the darker features. None of the images of Mars look as good as what you see in magazines. You can barely make out the dark features, but are definitely there if you can wait for the seeing to clear. Actually, I can see details on Mars at 100x but it's a very small disk.
Moon
The moon is excellent, especially with a moon filter. As before, no fringe, purple or otherwise. I've pushed it up to 250x (the max of what I own) with no image degradation. I believe you could push it further with no breakdown. You will note the waviness in the atmosphere, but that's not the scope. With the 35mm Ultrascopic, the full moon is extremely sharp and clear, with incredible detail and no false color. I have never seen the moon look this sharp.
Deep Sky
M4 is difficult to see as it is not very bright but it's there and I can always find it. I've easily seen M5, M13, M57 (no donut hole), M29, NGC 6231, splits both Epsilon Lyras at 100x and 250x (barely, but it's there). Cleanly split Mizar at 20x. There is no false color on Vega, Arcturus, or any of the bright stars – just a bright star with a black background. As you would find with any 3" scope, it's not particularly a light-bucket, but does pull in a surprising number of faint fuzzies. Doubles are especially good, such as Albiero, as the color of the stars is right on (e.g., blue and yellow stars).
Focuser
The focuser works as advertised, and look Mom, no gears! Most of the Synta/ Orion/ Celestron refractors have a rack and pinion focuser which has a geared slide on the underside of the focuser. This new focuser works like the Crayford design of friction-based pressure against the tube. This makes for a very smooth focus, very fine in detail, with no jerking, even when loaded up with your favorite eyepieces. The rubber-lined "racing style" focus knobs are classy and very easy to maneuver. It's possible to get a very fine focus with this focuser. And fine focus is critical to getting a great image.
Finder
I've been using a 6x30 correct-image right angle finder, but have been forced to get a red laser dot finder as it is difficult to get a particular target in the finder eyepiece. This is attributable to my Bogen 410 head, which I highly recommend, but makes it hard to find that first star. Once you are there the 410 allows you to simply twist the knobs. Even at 250x the Bogen 410 fine adjustment knobs are very usable.
Mount
Bogen Tracker Tripod, Bogen 410 Geared head. I've tried the TelePod head and mount; and the AZ3 mount, but the the 410 geared head is the best alt-az head I've used. The Bogen setup is pure quality. When you hear the scope click on with the rapid-attach feature, you know it's on securely until you remove it, which is an especially important in the dark.
Eyepieces
The eyepieces used for this review were the Orion Expanse 20, 15, 9, and , plus a 35mm Orion Ultrascopic, 30mm Takahashi LE, TeleVue PowerMate 2.5x. Plus, I'm using a Lumicon Lumibrite 1 ¼ " diagonal. But, remember, the scope is only as an OTA – no finder, eyepieces, or diagonal.
Conclusion
This scope is a great value – I highly recommend it. It is extremely portable at about 5 lbs, takes relatively no cool-down time, and provides wonderfully clear images, better than any achromatic refractor I've seen. I've owned a couple SCTs and a couple of big Newtonians, but the ED80 images are more pin-point and have higher definition and contrast than those. The image color, contrast, and sharpness of a good refractor like this one are hard to beat.
Article: Orion ED80