CNers have asked about a donation box for Cloudy Nights over the years, so here you go. Donation is not required by any means, so please enjoy your stay.


0
Stellarvue 80ED Nighthawk Next Generation Deluxe
Discuss this article in our forums
Stellarvue 80ED Nighthawk Next Generation - Deluxe
By Scott Beith May 6
th
, 2008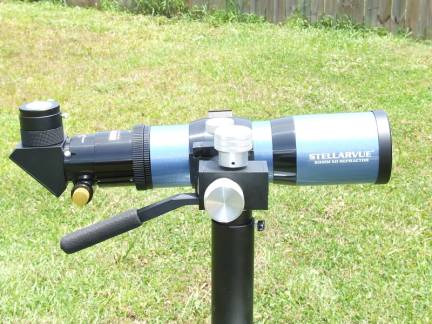 Background of the Author
I have been seriously active in amateur astronomy since 2002. I had an inexpensive refractor on a wobbly mount as a kid and I got hooked on this amazing hobby. I remember a few key things from my starting days in this hobby. First was the Moon, and second was a partial solar eclipse I viewed using the projection method with included accessories that came with my scope. I left the hobby for many years and I returned in 2002 when I purchased a 4.5" f/8 reflector on a wobbly motorized mount. I found M42 (the Orion Nebula) one night by pure accident and it took me two weeks to figure out what I had bumped into. I moved on to become seriously addicted to high quality refractive optics and I am known by some as a Slobbering Refractor Freak. By 2003 I bought my first high quality refractor from Stellarvue and the rest as they say is history…
My current list of scopes includes the following: 2 Stellarvue Nighthawks, Stellarvue SV102V, and the TMB 130SS.
Disclaimer
I have no financial or other interest in Stellarvue Telescopes, its distributors, or its products other than being a satisfied customer.
Full Disclosure
I was lucky enough to receive the Stellarvue Nighthawk Next Generation Deluxe (SV80ED Deluxe) on loan from Mr. Vic Maris - the owner of Stellarvue Telescopes in Auburn, CA. I had called Vic to place an order and to let him know I was writing two reports on Stellarvue telescopes that I own (the original Stellarvue Nighthawk and the Stellarvue SV102V) and he asked if I was interested in being loaned a SV80ED for review purposes. I jumped at the opportunity to play with Vic's newest version of the Nighthawk. I own two of the original Nighthawks and I was excited to see how the newest version stacked up against the well established performance and build quality offered by the original. Would the new version continue the Stellarvue reputation for high quality optics and excellent build quality? Only time would tell. Vic Maris assured me that the sample I would receive would not be hand picked for my evaluation, and that it would simply be processed and shipped as a regular order with the Stellarvue M1 Deluxe Alt-Azimuth mount I had just ordered. I also made it clear that I wouldn't pull any punches on this review. Good, bad or ugly - it would all be reported. Vic didn't flinch and simply said "Tell the truth" about the scope's performance.
Selection Process
When I spoke with Vic about being loaned a scope for this review he asked which color and model of the Nighthawk Next Generation I wished to review. The SV80ED is available in two versions:
1) Stellarvue 80ED Nighthawk Next Generation - Standard: This model is supplied with a standard two speed Crayford focuser with a micrometer scale. List Price: $599.00.
2) Stellarvue 80ED Nighthawk Next Generation - Deluxe: This model is supplied with a top of the line Feather Touch dual speed, reverse Crayford focuser from Starlight Instruments. List Price: $899.00.
Either version is available with one of two finishes. These are Stardust White and Stardust Blue.
I told Vic to send me whichever version and color he wanted me to review - the choice was entirely up to him. Vic informed me he was sending the Deluxe model in Stardust Blue designated on the Stellarvue website as item #SVNHNGD-SB.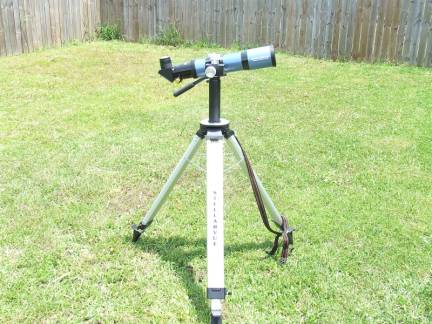 Specifications
Stellarvue 80ED Nighthawk Next Generation - Deluxe
80mm f-7 (560mm focal length) air spaced ED doublet
Feather Touch rotatable dual speed reverse Crayford focuser with 10:1 reduction
Adjustable Lens Cell
Retracting Dewshield with Stellarvue logo
Stellarvue cnc heavy duty clamshell mounting
Long Vixen style dovetail rail with safety catch
Stellarvue F2 Finder with multiple reticles
Stardust Blue tube
Binoviewer capable without the need for an adapter
First Impressions
When I heard that Vic had chosen the Stardust Blue version of the SVNHNGD I can honestly say my first thought was "I wish he sent me the white one". I love black scopes. Three of my Stellarvue refractors are black and I think they are beautiful. In second place in my order of selecting a color is a white scope. Blue? BLUE??? I held my breath and hoped Vic knew what he was doing with this choice.
A few days later and I was happy to note the arrival of some large brown boxes marked "Stellarvue". As always the items I received from Vic were very well packed and I noted no shipping damage to any of the items I received.
Enclosed within one of the boxes was a sharp looking metal case marked with the Stellarvue logo near the handle. Two metal hinges secure the case. I opened it slowly still not sure of Vic's choice of color for this scope. WOW!!! Was I ever wrong about blue scopes! This thing is gorgeous. I would have never believed how pretty the finish is if I hadn't seen it for my own eyes. The Stardust Blue scope sparkles in bright light and it grabs your attention like no other scope finish I have seen. Vic I apologize for doubting you.
With a firm pull I removed the black slip on style lens cap and I took my first look at the lens. The lens cell is marked with "STELLARVUE PRECISION FULLY MULTI-COATED ED DOUBLET LENS D:80MM F:560" and the lens is beautiful and exhibits deep green multi-coatings with no imperfections that I could find. By this time I am starting to get seriously excited about Vic's newest 80mm refractor.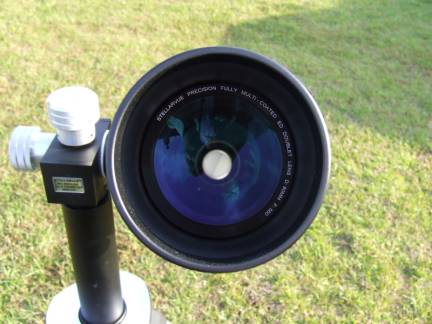 The dewshield is internally blackened, as is the tube, with knife edged baffles giving the interior of the tube a sharp businesslike appearance. I could not see any reflective shiny bits, and I don't think off axis light will be a problem with this baby. The tube has a removable section which allows the use of a binoviewer without the need for an adapter. I personally don't use BV's, but for those who do - this will be a big point of interest.
Next was the focuser. The Feather Touch focuser from Starlight Instruments is supposed to be the "be all, end all, cat daddy" of all focusers. It does not disappoint! I can honestly say that it is the finest focuser I have used. I have had other focusers which were truly excellent and made me happy every time I used them, but the Feather Touch is the next step up the ladder of refinement. Both the single speed and dual speed focus knobs turned with buttery smoothness. The rotatable nature of the focuser will be welcome when using this scope on an equatorial mount. The ability to quickly adjust the focuser, diagonal and eyepiece to a comfortable position will make observing that much easier.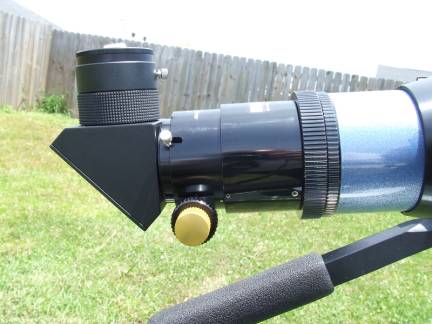 The dewshield extended and retracted with a firm and consistent feel. It isn't difficult to slide but there won't be issues of slippage when viewing at Zenith. The friction is "just right". The dewshield on the Nighthawk Next Generation is shorter than that found on the original Nighthawk. In South Mississippi we encounter high humidity and because of this we have to battle the dreaded dew which magically appears on optics as the temperature of the lenses drop. A good dewshield is important in the fight against dew. At no time did I have dew collect on the lens of the SV80ED when observing. The rule of thumb is that a dewshield should be 1.5X the size of the objective lens in length to be effective against dew. The Nighthawk Next Generation's dewshield is a bit below that ratio, but I can't complain since it has proven to be effective in keeping the lens clear from moisture. Aesthetically I prefer a longer dewshield like the one on my original Nighthawk.
Performance
I have used this scope for a couple of months now and I feel confident in my ability to pick out any strong or weak points which I noticed during its use. I utilized the Stellarvue M1 Deluxe mount, mount handle and the MECA column extension riding on top of the Stellarvue Heavy Duty Aluminum Surveyor's Tripod. I also used the Stellarvue Enhanced 2" Dielectric Diagonal during the testing of this scope.
As noted previously the focuser is simply top notch. Every 1 ¼" and 2" EP in my inventory came to sharp focus with no issues. This includes a range of EP's from my 3.2mm BO/TMB Planetary to my 52mm 2" Antares Erfle. The focuser brake made tension adjustments easy. This focuser will make the pickiest astronomer grin like a kid.
The scope is very easy to balance on the M1 and the combination of the SV80ED and the M1 alt-azimuth mount makes it seem like they were made for each other. The Stellarvue cnc clamshell secures the tube of the SV80ED with a single bolt, greatly enhancing the ease of finding the perfect balance point. The tube is held securely in the clamshell with only light tension needed on the bolt to lock it in place. The M1 Deluxe mount, MECA Column Extension, and SV Heavy Duty Aluminum Surveyor's Tripod made a stable platform for the scope. I always use my mounts on grass and set the tripod legs into the ground with a hard push downward on each one. With the mount set firmly on the ground the scope settled in less than 2 seconds when I conducted the "tap test" on the tube. I would recommend this combo to owners of any short 80mm scopes. Both movements (altitude and azimuth) were smooth and precise. This is the second alt-az mount I have found that I liked. The other is a TV Telepod used with my original Nighthawk. These will be the subject of another review.
I have used Stellarvue 2" Dielectric Diagonals for some time now and the newest addition to my collection showed no difference from my others. All are excellent.
The optics…
Anyone want to hear about the optics?
I spent a lot of time picking apart the optical performance of this scope. It is an air spaced ED doublet which is designed to reduce the chromatic aberration (false color) exhibited by refractors. CA usually shows up as a blue or violet haze around a very bright target and is caused by the blue light being slightly out of focus from the red and green wavelengths. Achromatic refractors exhibit more false color than apochromatic refractors which use special glass to reduce CA to minimal levels. Fast focal ratios (lower f/numbers) tend to cause greater levels of CA in refractors as do high magnification and bright targets. I picked the toughest targets I could find for this evaluation. The question of the day:
Is the SV80ED an apo?
By strict definition - no it is not. Vic Maris does not advertise it as such. An apochromat is expected to have three widely spaced color crossings which reduce the false color exhibited by achromats to near nonexistence. Apochromats are also corrected for spherical aberration at two wavelengths, rather than one as in an achromat. The SV80ED shows VERY LOW levels of CA when viewing the brightest objects in the night sky. The full Moon at high magnification showed none of the "blue blur" seen in achromatic refractors. Only on the lunar limb could a slight edge of CA be detected. The Moon during different phases showed amazingly sharp features. Craters, craterlets, mountains, Maria, etc… were viewed in stunning crispness with sharp contrast between the black shadows and white surface features. I ran the SV80ED side by side with the Nighthawk on the Moon. I used the Nighthawk both with and without a William Optics VR-1 minus violet filter which has proven to be amazing on the Nighthawk - reducing CA and sharpening the views. Even with the VR-1 installed on the Nighthawk, the SV80ED showed much lower levels of CA than the other scope. Remarkably so. I was shocked by this fact. Jupiter exhibited no observed CA when viewed with the SV80ED. The banding was sharp and impressive for a small 80mm scope. With the original Nighthawk a light blue edge can be observed on Jupiter when viewed at higher magnifications. The next target I picked was Sirius, the brightest star in the nighttime sky. High magnifications used on the star Sirius showed low levels of CA for an ED doublet at f/7. When compared side by side with one of my original Nighthawks (a very good achromatic refractor), I asked my neighbor to look through both scopes back to back at Sirius. I asked one question:
"What color is that star?"
With the original Nighthawk the answer was "Blue". With the SV80ED the answer was "White". I then had to explain to my neighbor about the special glass used in some refractors to reduce CA. The view showed a blue tinge of color directly on the outer edge of the white star. The original Nighthawk showed a much deeper blue color with a slight blue haze exhibited around the star as well.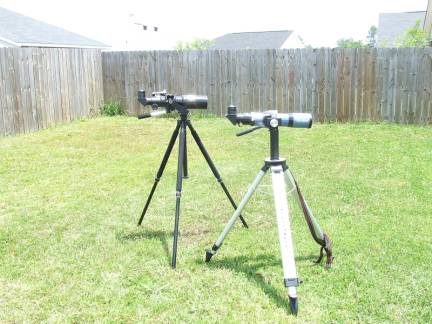 The optics showed spot on collimation when run at high magnification on a bright star. Even concentric rings were displayed inside and outside of focus with sharp definition to the rings.
When hunting DSO's the NHNG showed beautiful sharp star fields and nice contrast providing excellent views of clusters and nebulae. At f/7 it is forgiving of eyepiece design allowing sharp views at the edge of the FOV for all of my EP's.
While the Nighthawk Next Generation isn't a full blown apo, it is a scope which reduces chromatic aberration to such a low level that unless you are running it side by side with a triplet apo, a high end doublet apo like my Stellarvue SV102V, or you have a very critical eye for color, it just might fool you into believing that it is an apo or it will be close enough that if you are like me - you won't care. I am quite impressed with its nighttime performance.
I also put it through its paces during the daytime as well. During the day I observed the Sun using an Orion glass solar filter which I switched back and forth between the SV80ED and the Nighthawk. I usually conduct white light solar observing at relatively low magnifications as I enjoy the view of the full solar disc with occasional bumps in magnification to check out detail on certain sunspots. The solar disc in the SV80ED showed no CA on the limb. The solar disc in the Nighthawk showed a very thin blue edge on the limb. Sunspots in both scopes showed high contrast views of the sunspots with umbra and penumbra sharply defined. Next in line were some terrestrial targets. I like checking out shingles on rooftops. If there are any issues with CA in a scope, the dark shingles against a bright blue sky tend to bring it to my attention quickly. Side by side with the SV80ED battling the original Nighthawk, once again the reduction in CA shown by the Nighthawk Next Generation was remarkable. Not only were the edges of the shingles sharp with no discernable CA, but the view across the roof was sharper than with the Nighthawk. I tossed the VR-1 filter on the Nighthawk and while the view was much cleaner than the view in the unfiltered Nighthawk, it still couldn't stand up to the sharpness and contrast of the Nighthawk Next Generation. I have used my Nighthawk since 2003 and have been impressed with the views every time I use it. It has provided sharp contrasty views of both nighttime and daytime targets and has had me bragging about its performance since I picked it up. For the Nighthawk Next Generation to show such a substantial jump in performance over its previous generation counterpart really shocked me.
Pros
- Sharp optics with very low CA
- Feather Touch Focuser
- Beautiful Stardust Blue Finish
- Stellarvue Fit and Finish
- Compact for airline travel
- Binoviewer capable (if you wish to do so)
- Sliding Dewshield
Cons
- Not fully apochromatic performance
- Dewshield could be a hair longer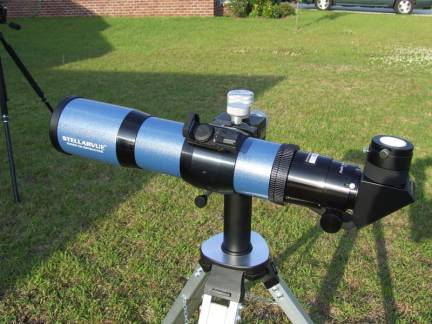 Conclusions
It may seem I was nit picky on the Nighthawk Next Generation by claiming it doesn't have fully apochromatic performance, or that the dewshield is a centimeter or two short of the "ideal" specs, but I want everyone who reads one of my reviews to have a full understanding of the performance of a product I tested. No surprises. As I previously stated, I picked the toughest targets I could find to draw out any CA that could be observed. It isn't even close to fair to call the SV80ED an achromat. It has proven itself to be quite superior to a high quality achromat using an excellent minus violet filter. No contest at all. The Stellarvue Nighthawk Next Generation is a worthy successor to the Nighthawk throne, and its superiority over the original is so pronounced that I called Vic and arranged to purchase the sample I had been using. It really is that good!
To obtain one of these excellent scopes for yourself contact Mr. Vic Maris at Stellarvue.
Stellarvue Telescopes
11820 Kemper Road
Auburn, CA 95603
(530) 823-7796
Article: Stellarvue 80ED Nighthawk Next Generation Deluxe