CNers have asked about a donation box for Cloudy Nights over the years, so here you go. Donation is not required by any means, so please enjoy your stay.


1
Stellarvue AT1010N Nighthawk
Discuss this article in our forums
Stellarvue AT1010N Nighthawk
By Scott Beith May 6
th
, 2008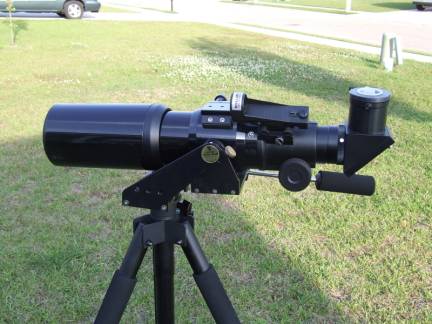 Background of the Author
I have been seriously active in amateur astronomy since 2002. I had an inexpensive refractor on a wobbly mount as a kid and I got hooked on this amazing hobby. I remember a few key things from my starting days in this hobby. First was the Moon, and second was a partial solar eclipse I viewed using the projection method with included accessories that came with my scope. I left the hobby for many years and I returned in 2002 when I purchased a 4.5" f/8 reflector on a wobbly motorized mount. I moved on to become seriously addicted to quality refractive optics and I am known by some as a Slobbering Refractor Freak. In 2003 I bought my first high quality refractor from Stellarvue and the rest as they say is history"¦
My current list of scopes includes the following: 2 Stellarvue AT1010N Nighthawks, Stellarvue SV102V, and the TMB 130SS.
Disclaimer
I have no financial or other interest in Stellarvue Telescopes, its distributors, or its products other than being a satisfied customer.
Selection Process
After a long process of figuring out just what I wanted from a telescope I decided to sell my Celestron 80WA (80mm f/5) achromat and purchase the Stellarvue AT1010N Nighthawk as my next short tube refractor. I wanted the ability to use the scope at a bit higher magnification than the Celestron allowed and I was looking for improved build quality. Stellarvue provided just what I was looking for. I had been following the development of Stellarvue"™s line of 80mm f/6 achromats since they first came onto the market. The original version was the AT1002 with a 1.25" focuser. The next generation of these scopes changed the focuser to a 2" model and was redesignated as the AT1010. The version I own received some major improvements including a more advanced adjustable lens cell and a sliding dewshield. This model is the AT1010N Nighthawk.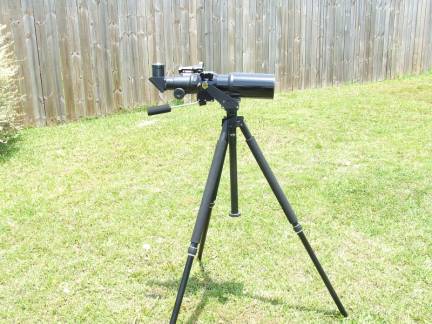 Specifications
80mm f/6 air spaced achromat
2" rack and pinion focuser with large rubberized focus knobs
Improved adjustable lens cell
Sliding dewshield
Stellarvue clamshell
Airline portable
Stellarvue red dot finder (RDF)
Stellarvue C-5 padded case
Screw on lens cap with Stellarvue logo
Black powdercoated finish
Price When Purchased: $399.00
First Impressions and First Light
First of all the Stellarvue AT1010N is a beautiful telescope. It has a glossy black coating on the tube and dewshield and a very nice screw in style lens cap with a raised Stellarvue logo. The 2" rack and pinion focuser is the smoothest R&P I have used with the exception of the amazing 4" R&P on my TMB 130SS. The large rubberized focus knobs provide a firm comfortable grip and make it very easy to find the precise point of focus.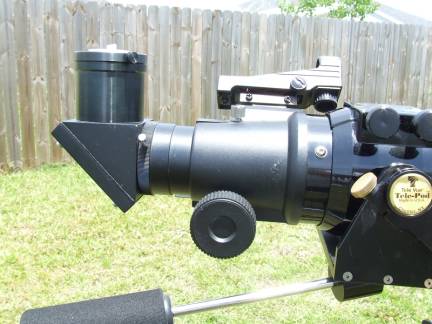 The interior of the tube is nicely blackened and the knife edged baffling will ensure that stray light won't be a problem. The interior of the dewshield is blackened as well and it slides firmly on the tube allowing easy extension and retraction while ensuring that it won't slip when observing at Zenith. The lens is beautiful and the multicoatings show a deep green tint.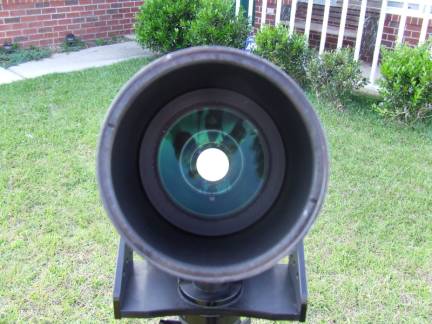 The clamshell is well made and is easily adjustable by using the two thumbscrews to allow finding the perfect balance point for the Nighthawk. The Stellarvue AT1010N Nighthawk is built like a tank. It is a heavy well crafted scope which will ensure many years of reliable service. The Stellarvue C-5 padded case is very well made and should last for years and years with no issues.
I use my Nighthawk with a Stellarvue Enhanced 2" Diagonal and it is made with the same high quality as the Nighthawk. No complaints at all.
I use a TV Telepod alt-azimuth mount with my Nighthawks. It makes a perfect travel setup.
The original Stellarvue RDF arrived in damaged condition, but a quick call to Mr. Vic Maris (the owner of Stellarvue Telescopes) solved that little issue and a new one was enroute to me immediately.
The following is a reprint of my first light experience with the Nighthawk from 2003:
"The first night with my new Stellarvue Nighthawk (Friday):
Could not tell if the scope was great or just a paperweight. The seeing conditions were so bad that I could not get a good focus on even the moon!!! The whole sky was swimming worse than I have ever seen it before. Clouds came in and I gave up and went inside. Worried through most of the cloudy weekend that the scope wasn't good.

Sunday Morning - Clear Skies!!!

Life is GOOD. Went outside about 5 a.m. and had one of the best observing sessions ever!!! Red dot finder was having problems - so what did I do? I tossed in my Orion 40mm Optiluxe 2" EP as a finder. WOW - with a 62 degree AFOV I had 12x and a 5.16 degree actual FOV!!! Sharp to 95% out from center. Only a slight softening at the very edge and I had to look from one side of the EP to the far side of the FOV to even notice that!!! This thing is GREAT. Spent time just staring at the star formations in the Milky Way, just slowly taking in the views. I was amazed.
Next were the Planets:

Saturn - About 2 degrees above my roof. I looked through my 25mm Sirius Plossl and the rings were sharp and clearly separated from the globe at 19.2x. Next was the 12.5mm Sirius Plossl and I could just barely make out Cassini's Division at the very outer edge of the rings at 38.4x, it wasn't clear by any means, but I could see it at the outermost part of the rings intermittently. Broke out the 9.5mm Orion Epic ED-2 EP and Cassini's Division was clear, but not razor sharp at 50.5x, and there was a hint of banding on the globe. I found that plossls work better with this scope than the 6 element ED EP's due to more light throughput from less glass. I next tossed in "el cheapo" my 6mm Orion Explorer II EP. WOW, Cassini's Division was razor sharp all the way around the rings and banding was very evident at 80x. I sat there and watched Saturn drop below my roofline until even the glow was gone.

Quick optics check: Found a bright star (don't know which one) and ran the focuser in and out of both sides of focus. Perfectly symmetrical concentric rings on both inside and outside of focus.

Jupiter - Started back with the 25mm Plossl, great image with three of the Galilean moons visible (fourth was either in front of or behind the planet). Went back and forth with the 25mm Plossl and my new 25mm Orion Epic ED-2. Plossl gave a better image in the Nighthawk. Went to the 12.5mm Plossl and I could clearly see banding at 38.4x, moons were perfect points of light strung out in a row. Jumped right to the 6mm Explorer II (Skipped the 9.5 ED), and the view was awesome. Four bands clearly evident with detail (changes in color and texture? in the NEB and SEB). CA was evident but not obtrusive at 80x in an EP that only costs $28.00. I watched Jupiter and the three visible moons and the background sky became lighter and lighter as the viewing session progressed, but I just kept viewing and marveling at the quality of the Nighthawk!!! My wife pulls up in the driveway (she works nights) and I realize that the sky is blue, no stars or planets are visible with the naked eye and I appear to be sitting in the front yard in daylight looking at NOTHING!!! She calmly looks at me and asks the obvious question "What in the world are you doing"? I told her - looking at Jupiter and she replied "Yeah - Right". I showed her the image in the EP and she was stunned. The Sun was now completely up and banding was still evident on the planet (NEB and SEB only by this time). While I continued to observe, she went inside and made hot chocolate for me (good wife!!!). Most people use their hand to block out the glare from street lights when viewing planets - I was using mine to block direct sunlight! I have never observed planets during daylight and I was amazed that banding was still evident on Jupiter. This was SOOOOO COOL!!!! By far one of the most memorable observing sessions of my life."
Performance after Four Years
After a couple of years I acquired a second AT1010N in used condition for use as a dedicated H-Alpha solar scope. This one also had excellent optics with the focuser being a touch stiff. With the exception of the slightly stiffer focuser, the fit and finish on the second scope is identical to the first Nighthawk I received from Stellarvue. Both scopes have served me well.
The Stellarvue red dot finders have proven to be the perfect aiming devices for these scopes. Easy to use with large sight windows, they allow quick targeting of the observer's night sky treasures. The battery life is stunning. I have only replaced my batteries once since I purchased the scopes.
One memorable evening I was lucky enough to use my Nighthawk to observe a very special event. I was attending the Special Agent's course at the Federal Law Enforcement Training Center in Glynco, GA and on March 28
th
, 2004 Jupiter was set to put on one heck of a show. A triple shadow transit with two moons crossing the face of the planet "" all at the same time! I had brought my little Nighthawk with me to the academy in case I had a chance to observe occasionally and it paid off. I was able to observe the triple shadow transit and I even caught one of the two moons as it traversed the planet's disc. The second moon was suspected, but not confirmed. A wonderful treat.
The Nighthawks never fail to impress me with their performance. They have traveled with me to multiple states, both by car and by air. These little scopes make fantastic traveling companions.
The Nighthawks come to sharp focus with all of my 1.25" and 2" EP's which range from a 3.2mm BO/TMB Planetary to a 52mm 2" Antares Erfle.
The optics show some false color on the brightest of night sky targets as is expected with an achromatic refractor at f/6. It does not take away from the enjoyment of using these wonderful scopes. In fact, the Nighthawk's ability to handle high magnifications on planetary and lunar targets makes this a very capable and well rounded scope. The Nighthawk's sharpness and contrast are impressive and it really brings out the detail in both solar system objects and DSO's. When paired with a quality minus violet filter like the William Optics VR-1, the Nighthawk can really impress with the lunar and planetary views it provides.
When using my Orion white light solar filter the Nighthawk provides sharp views of the solar disc with minimal chromatic aberration (CA) being observed only at the limb of the disc as a very thin blue line. Sunspots show sharp detail in the umbra and penumbra.
As a Hydrogen Alpha scope when outfitted with my 40mm Coronado SM40/BF10 combo it delivers jaw dropping views of the solar disc's mottling, filaments, prominences, and plage.
Pros
- Sharp Optics
- Smooth 2" R&P Focuser
- Beautiful Glossy Black Finish
- Stellarvue Fit and Finish
- Compact for Airline Travel
- Sliding Dewshield
- Built Like a Tank
Cons
- Some False Color on Bright Targets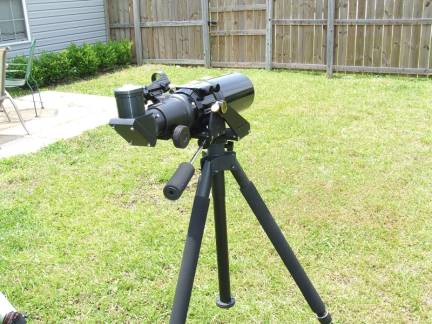 Conclusions
The Nighthawk provides a high quality achromatic refractor which performs well on both solar system objects and DSO's. It really is built like a tank "" I can't imagine any circumstance where the scope would be damaged under normal or even rough handling. The sliding dewshield and C-5 case make it airline travel friendly. The incredibly wide FOV available with these scopes makes them excellent for scanning star fields in the Milky Way. Overall I have never regretted my purchase. Heck, I liked the first one so much I bought the identical scope to keep it company! Although the AT1010N Nighthawk has been discontinued from the Stellarvue lineup, it is still occasionally available on the used market and is a worthwhile purchase for anyone considering a high quality short tube achromatic refractor that will last a lifetime.
Stellarvue Telescopes
11820 Kemper Road
Auburn, CA 95603
(530) 823-7796
Scott in NC and sean.seanlynch like this
Article: Stellarvue AT1010N Nighthawk