CNers have asked about a donation box for Cloudy Nights over the years, so here you go. Donation is not required by any means, so please enjoy your stay.


0
Takahashi Sky 90 apochromatic refractor
Discuss this article in our forums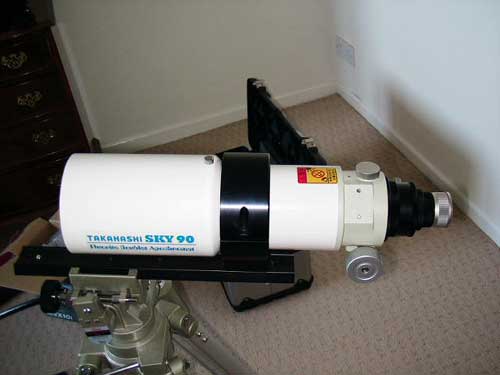 Sky 90 Apochromatic refractor with dew shield retracted –all photos by Kevin Berwick
I recently bought a Takahashi Sky 90 telescope and have being using it for around 6 months now. Let me say at this point that I have no undisclosed interest in the vendor or product reviewed here and I purchased the telescope via normal channels. At the time I bought the scope, my principal interests were in observing the (bright) deep sky with my TeleVue TV101 refractor, although since the publication of Charles Wood's 'Lunar 100' in Sky and Telescope I have become a very keen observer of the Moon. I live by the sea near Dublin, Ireland and the skies, while bright and obviously deteriorating over time, are fairly good over the sea where rapacious developers are, for now, held in check, barring the emergence of a Celtic Venice!
I love observing the sky and like many astronomers in cloudy parts of the world, wish I had more clear skies. Ireland does not have a good climate for astronomy and I found that I was not getting as much observing done as I would like. This is what triggered an interest in H- alpha Solar observing, since it struck me that if I developed an interest in Solar work that I would at least double the amount of potential observing available to me.
Originally, I intended going for a 40mm filter, but after corresponding with several kind individuals online and chatting to the people at Coronado, I eventually went for the SolarMax 90. I started using the filter on my TV101 but soon tired of the setup time. Like many observers, I find that I am extremely sensitive to setup time when it comes to actually using equipment. If setup takes even _ an hour, it could be overcast again here at home so 5-10 minutes is the maximum I will devote to setup .For that reason, all my telescopes are small alt-az mounted, rugged telescopes. Needless to say, if I had an observatory, this would change everything, but until that happy day arrives, hopefully after a move to a ranch in Arizona or New South Wales in Australia J .
In addition, I didn't like using my night-time telescope as a solar telescope in case I accidentally used the TV101 on the Sun without the filter attached one day. The likelihood of this was very low, but since the consequences are so serious, viz. instant permanent loss of my sight in one eye, I decided that it was worth building a dedicated solar telescope.
I wanted a light portable refractor of at least 90 mm aperture in order to mate it to the SolarMax 90. The Takahashi Sky 90 was literally an ideal match. The specifications looked very promising. It is very small, only 37cm (14.5 inches) long with the dewshield retracted, and light at 3.2 kg (7lbs) weight. The focal ratio is f/5.6 but this can be reduced to f/ 4.5 with an optional field flattener/ Reducer. Conversely, it can be extended to f/ 8.6 with an accessory called an Extender – Q. In addition, it is an fluorite apochromatic telescope, so it would have a very low level of chromatic aberration – not a problem for H-alpha observing, but a consideration for possible future night time use.
I ordered from Astronomics in Oklahoma, a very professional outfit who I have bought from before and would have no hesitation in recommending. The price had just dropped to $1849, down from $2279. I picked up the scope while on holiday in the US and brought it home. The telescope arrived in a cardboard box, well packed in polystyrene and beans. No case is included in the price. The telescope has a white enamelled finish, while the focuser and dew cap are light green. It has a very nice 2 inch focuser complete with a lock nut and a selection of rings allowing you to accommodate a variety of 2 inch and 1.25 inch accessories. The focusing wheels are grooved solid aluminium, and feel very nice. The extending dew shield feels really solid and has a very positive lock on it. Looking down the lens, the objective was dust free and fully multicoated, indeed at the right angle it 'disappears' altogether, a good sign in an objective. The scope also has 3 knife edge baffles, possibly overkill, but comforting nonetheless.
First impressions were that this is a very cute telescope. Despite having an aperture only 10mm less than my TV101, there is no comparison size – wise between the two. This instrument is a miracle of miniaturisation. The overall impression is that the scope is very solidly built, although a shade short of the build quality of an AP/ TeleVue/ TMB. In fairness this could be a consequence of trying to keep the weight down though. Everyone who sees the Sky 90 wants one and keeps saying how small it is. As I said, the overall impression is well built and ultra – cute - Britney Spears in glass and aluminium!!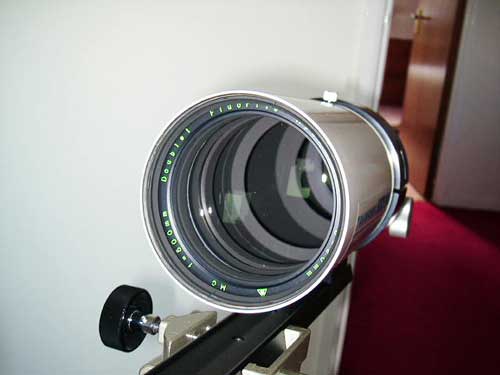 As Sherlock Holmes never said, 'This is baffling!!' Note the almost invisible window reflections indicative of the superb anti- reflection coatings
So enough about the aesthetics, does the Sky 90 perform?? I stuck in my Televue Everbrite diagonal and 3mm Radian and popped it on my Televue Gibralter mount and was troubled to find that the start test indicated that the lens seemed to be suffering from some type of collimation error. I am no expert star tester, but this was very obvious. Texas Nautical Repair deals with any warranty problems with Takahashi in America and when I called they said it was probably knocked out during shipping. They told me to ship it back to them and they would recollimate it. They adjusted the optics at no charge and even shipped it back to me in Ireland free which I thought was above and beyond the call of duty. If you have any concerns about support for a Japanese telescope outside Japan, my experience with TNR would certainly put your mind at rest. The service offered by TNR is literally no – quibble and second to none in my experience.
When I got it back, the star – test was textbook, the best I have ever seen, inside/ outside and at focus. Indeed, it lead me to compare it side-by-side to that from my TV101, resulting in my TV101 being sent to New York for recollimation.!!! My TV101 is a very heavily used telescope and has received a number of bangs as my Number 1 'workhorse'. The TV101 collimation problem was slight, but compared side-by –side to the Tak, it was unmistakeable.
Anyhow, after the star-test, I took a look at the first quarter Moon. The colour correction is very good, only slightly short of that in the TeleVue. It manifests itself as a slight violet fringe on the lunar limb, the Moon itself, was white. Overall, the image was extremely good…a super 'moonscope'.
In addition, I looked at the Double Cluster in Perseus. . The difference in brightness is definite, though small, when compared to that of the same object in the 4 inch. However, the wide field capabilities of the 90mm f5.6 really shone. You can easily frame both components of this object in a low power eyepiece. The view of the Double Cluster alone in the Sky 90 justified the outlay. It was stunning. In conclusion, this scope delivers fantastic wide field deep sky and super lunar views.
Apart from a look at M13 and M92 for testing purposes, this is where my night-time use of the scope ended. It has been essentially permanently mated to my solar filter, where it's superfast setup time is a huge advantage when the clouds clear.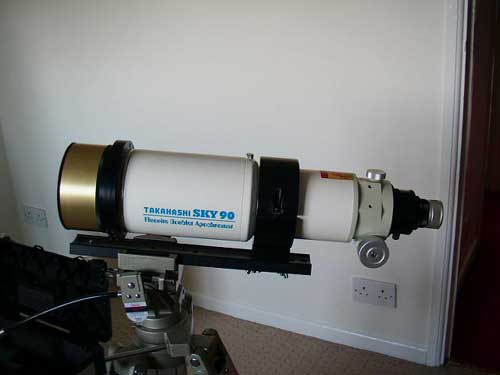 Takahashi Sky 90 plus Coronado SolarMax 90
If you want an ultra portable apo that will really perform I would have no hesitation in recommending this scope. To conclude, this is an outstanding telescope, worth every penny of it's surprisingly modest cost. Spend the money!!

Pros
Super light – and therefore cheap to mount

Ultra short

Highly Portable

Excellent optics for 2 element fluorite lens

Cheap…for an apo of this aperture

Only 90mm apo easily available today

Superb level of service

Well baffled

Stunning wide field views
Construction quality a shade short of TMB/TV/AP

2 element fluorite lens does not perform quite as well as more complex competing apo designs

Case is extra